How can you find the best Back to Top Button WordPress plugin?
This article will explain all the best WordPress plugins for Back-to-Top are the best. By selecting the right plugin and features, you can create an extensible first impression that will help you gain regular visitors. All the top WordPress themes are compatible with plugins.
Here is a list of WordPress plugins we've developed explicitly designed for the Back to Top Button. You can do so if you'd like to use them for other things.
We are now going to show you the top Back to Top Button WordPress plugins for 2022:
Allows The Visitor to Easily Scroll Back to The Top
The WPFront Scroll Top plugin is undoubtedly one of the most popular back-to-top plugins available in the WordPress directory.
This back-to-top plugin allows you to modify the appearance and behavior of the scroll-to-top button on your website in several ways.
In this plugin, a button that appears on a page can be configured to determine how large it should be and how long it should take the visitor to scroll back up the page after clicking it. You can also hide it by using a specific screen size.
In addition, you may customize the Back to Top button to reflect the unique branding of your website if you wish.
The plugin's settings page provides dozens of pre-styled image buttons that can be customized manually or selected from dozens of standard text icons.
💵 You can use the plugin for free!
Key Features:
You can display a button when the user scrolls down the page
The URL can be used to link to another page
You can link to an element within the page
You can create text, images, or Font Awesome button
Reverses the scrolling of the page with animation to the top
Random Reviews:
My favorite part is that I can quickly get back to the top of any website with a tap of my finger. I love the wide selection of available icons.
Adds a Floating Scroll Up Box At The Bottom Right Side
The To Top plugin is another popular and highly rated back-to-top tool for WordPress. In this back-to-top plugin, it is possible to control the appearance and behavior of your website's back-to-top button by adjusting a few settings.
However, you may choose to use an icon or an image as the back-to-top button. Aside from selecting an icon, you will be able to change the background color, size, and border of the icon. If you select an image, you will not be able to make changes to these settings.
It is also possible to configure the plugin to conceal the back-to-top button on small screens, move the back-to-top button on the page, or conceal it after a certain period of inactivity.
💵 Downloading the plugin is free, and there are no fees associated.
Key Features:
You can set icon/image opacity.
Showing/hiding to top button in admin pages is possible
You can scroll the page back to the top with animation
You can display an icon when the user scrolls down the page
There is a live preview via customizer available
Random Reviews:
I love Catch Themes. They offer amazing plugins, themes, and support. Thanks, Skandha!

It worked perfectly. I didn't even need to modify the defaults.
Adds Buttons to Every Page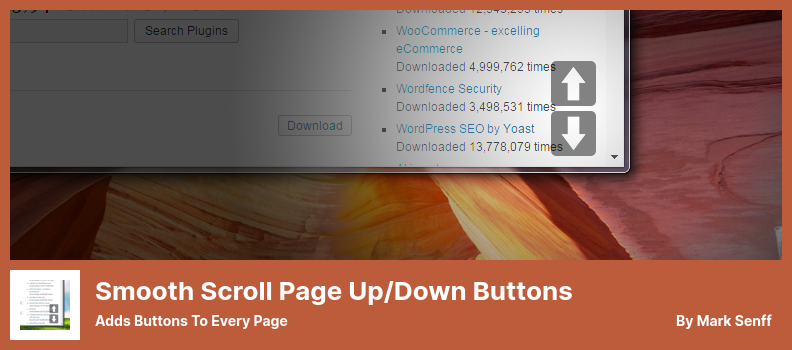 The Smooth Scroll Page Up/Down Buttons plugin will enable your readers to scroll up and down any of your website's pages.
As a result of installing this back-to-top plugin, you will not only be able to add a back-to-top button to your website, but you will also be able to add scrolling buttons to every page.
When it comes to changing button size, scrolling speed, and distance between buttons, only a limited number of options are available.
In this back-to-top theme, it is possible to arrange the buttons on the bottom right of the page either next to each other or above each other, depending on your preference. The user can also scroll half a page or a full page when clicking based on the distance selected.
💵 The plugin is free of charge. You can download it here.
Key Features:
You can customize the button size
Scrolling distance can be configured
There is an option for button positioning
The scrolling speed can be set
No knowledge of any coding is required
Random Reviews:
If you can change the color, that would be great

Great support from the plugin developer; thanks a lot
a Back to Top Premium Plugin
With Back to Top Pro, you will not only have an innovative WordPress plugin but will also be a simple-to-use one.
Additionally, you can modify the button's color, position, and style by configuring the plugin's settings.
The easy popup option is also available to promote specials and increase subscribers with custom image timers and coupons.
An easy-to-use back-to-top button is included in this back-to-top plugin, along with several other options, including the option to include a Facebook Messenger button on the back homepage and the option to include an email cart option.
Additionally, a header bar is available to advertise specials and increase subscriber numbers. Timers and coupons can be displayed on the website as well.
💵 Lite: Free, Premium: $46.
Random Reviews:
The design is excellent, the product works well, and it is easy to use.

The plugin has additional link-icon features I didn't expect to see on a free version.
Enable a Custom and Flexible Back to Top Button
Adding Back To Top functionality to WordPress through various plugins such as Elementor back to top button is possible. Still, the Scroll To Top plugin provides one of the easiest user interfaces.
In addition to setting the Back to Top button's position, color, speed, and distance, you can customize the icon and associated status message. Furthermore, you will be directed to a page where you can set the plugin properties when you click the icon.
In addition, if you are knowledgeable about CSS, you may be able to add custom CSS code to your Back to Top button to further customize its appearance and behavior.
With this plugin, you do not need to set up anything. You can customize the target and select unlimited colors and icons.
You may customize either text or icon by moving the text left or right, changing the animations, and adding CSS to the page.
💵 This service is FREE. There is no charge associated with it.
Key Features:
There is a custom target
No setup is needed
Unlimited colors are available
You can choose text or icon
There is the SVG icon available
Random Reviews:
Thank you! Simple and effective!

Friendly application: individual speed settings for scrolling
Allow Your Visitors to Scroll Back to The Top
Using the Smooth Back To Top Button plugin, you can easily integrate a Back To Top button into your WordPress site.
Various configuration options are available from the plugin's settings page, including the type of icon, scroll duration, color option, and position of the button. The button can be optionally hidden on smaller screens as well.
With this back-to-top plugin, you can view the scroll progress indicator to see how far you have scrolled down the page with the scroll down arrow.
With the plugin, you can customize several features, including buttons that appear when you scroll down the page, smooth animations for returning to the top, and scroll progress indicators that can be adjusted to adjust scroll durations, button offsets, and scroll durations.
💵 Free plugin Smooth Back To Top Button is available.
Key Features:
Custom CSS area is available.
You can customize the size of the button and icon
Unlimited colors are available
The button position can be set
There is a button auto-hide option
Icon fonts choose option is provided
Random Reviews:
Smooth, good job! I would give it five stars if this could be fixed:

This is a great product. It's easy to assemble, has many insert options, good functionality, and a great design!
Let me conclude with a final word
We have come to the end of our look at the best Back to Top Button plugins. You can choose one of these plugins to have a better website with one of them.
📌 Note: You may find our posts on the powerful WordPress blog themes of 2022 and the best WordPress blog plugins for improving your blog and boosting its subscribers and SEO.
We hope this post helped you determine which Back to Top Button plugin best suits your needs.
Please ask any questions in the comments below. Please share this content with your friends via Facebook and Twitter if you find it helpful.