Recently one of our visitors asked us which is the best WordPress Exit Intent Popup plugin?
We will show you below the best WordPress plugins for exit intent popups. You can use them today instead of wasting time trying to find and find a long list of plugins. All of these plugins will be able to provide you with different features and possibilities, even better than some of the premium plugins that exist. Finally, these plugins will work with all of the top WordPress themes.
There are several exit intent popup plugin choices, so we decided to stick with the absolute best. Nonetheless, you can continue to use these plugins with Popup Maker and Popup Builder.
Take a look at our top picks for the best Exit Intent Popup WordPress plugins in 2022:
Convert and Monetize Your Website Traffic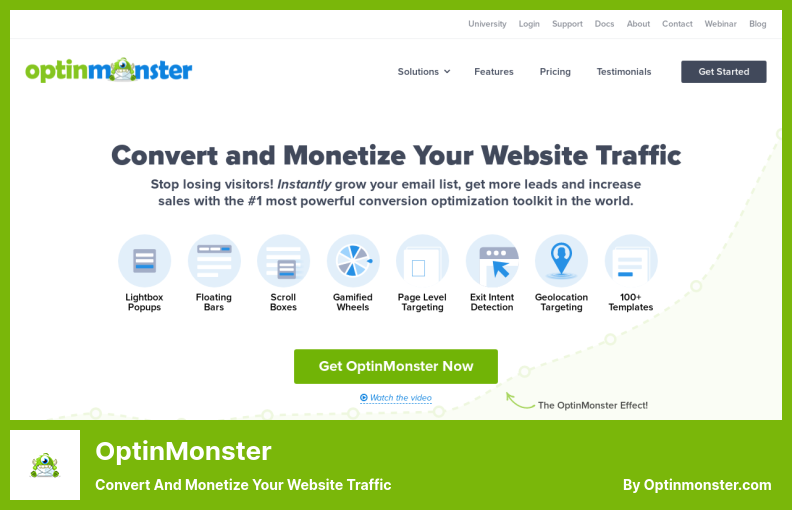 OptinMonster is the most effective popup plugin for WordPress with an exit-intent feature. It enables you to easily design astonishing exit popups owing to its drag and drop builder, which is simple to use.
With OptinMonster, you'll receive visually appealing layouts intended to re-engage site visitors who have abandoned their carts. Furthermore, this WordPress plugin may be installed and activated in minutes.
The disadvantage is that OptinMonster is more expensive than some other plugins, and its most basic subscription only covers a single website. In contrast, some other options may cover an infinite number of websites.
However, when used correctly, this is one of the most effective techniques for accelerating website growth immediately. Simply look, and you will be delighted and intrigued with the outcomes.
💵 For $9/m, you can purchase this well-designed plugin.
Key Features:
Identify the amount of time they have spent on your site in general
Analytics and A/B testing are supported
Integration with the most widely used e-mail marketing platforms
Analyze The number of times they've visited a certain page
You have the option of determining the physical location of the visitor
Find out whether they are first-time or recurring guests
A Powerful Lead Generation Plugin That Converts Abandoning Visitors On Your Website Into Subscribers
Yeloni is an amazing free WordPress exit intent popup plugin with various widgets, popups, and action buttons to customize your website. It should be noted, however, that the free edition of Yeloni comes with its own limitations, but in general it is decent for most of the users.
It's an excellent option for creating a straightforward exit-intent popup for WordPress. Yeloni supports three exit-intent triggers such as the clicking of a link, the clicking of the browser's back button, and the movement of the mouse.
It's worth the effort, particularly if you place a high value on concentration and quality above everything else. Just think about giving it a chance; the results may be fantastic.
You have the nice ability to create and modify your own widgets, and the plugin is also connected with a variety of e-mail marketing providers available on the market.
💵 Free and excellent plugin!
Key Features:
A compact product that would not slow down or obstruct the performance of your website
Chat Integrations are supported, which allows for more fantastic lead generation
Integrations with Email Marketing Services such as Mailchimp, Aweber, Active Campaign, Sendy, Store E-mails Locally
You have the fantastic option of having Multiple Widgets
Excellent assistance and support team that always has your back
Incredible Widget Configuration and customization is available
Random Reviews:
It took $9 to buy the full plugin, but the key didn't work. I tried contacting, but no one responded.

It doesn't work without API keys, which means your data is available to them. Not free or safe.

Excellent plugin. Highly recommended*
Converts One-time Visitors Into Lifelong Readers And Customers
A free popup software program, List Builder by Sumo, aims to assist website owners in collecting more client e-mail addresses and creating lead generations. Its exit-intent popups are outstanding and would even display properly on mobile devices.
You may customize the appearance of a popup by changing the colors of its buttons and background. Aside from that, it is also simple to include items such as photographs or text.
You should consider getting it if you want to improve your website and increase the amount of traffic that comes to it from search engines, especially at the point when people are about to abandon your website.
Furthermore, it is a rather inexpensive technology that, when properly used, may provide some quite positive outcomes. We urge that you, at the very least, test it out since they provide a free trial for all of their services.
💵 For Lite, it is free. For Premium, there is a $49/m.
Key Features:
Integrations and services for e-commerce that help consumers who have abandoned their shopping carts return and boost the average order value
Monitor the return on investment (ROI) from every e-mail subscriber and trade you make
Compliant with the General Data Protection Regulation (GDPR) and the most recent Google SEO rules, so you can convert more visitors and increase sales
Set up one-time marketing e-mails or e-mail drips to connect with your subscribers consistently
Increase the number of people who subscribe to your e-mail list by using timed popups on your website
Easily embed social media sharing buttons into your website to enable your visitors to easily share your information and items with their social network circles.
The use of A/B testing tools allows you to discover the content that converts the greatest number of site visitors
Random Reviews:
Loads a sidebar in the admin screen that cannot be removed and can't configure anything from within WordPress. Everything just takes you to sumo.com. Pretty sure the sidebar is there just to track the activity on how their customers use WordPress. And as others have said, it's a hog in terms of code, if you can avoid this please do so.

No matter what I do, it never works well, the share counts are always wrong, the password never works, and the plugin is generally useless.

I installed and activated the app (no configuration completed). The app added over 440kb to my homepage and made 21 external requests. I immediately removed it. I had previously installed and used it but removed it for the same reason.
Popup For Opt-ins, Lead Gen, & More
Popup Maker is yet another really decent WordPress plugin that may be used to display exit-intent popups.
With several forms of popups available, including mail opt-ins, WooCommerce upsells, and cross-sell popups, which means it is a potent and adaptable tool.
Although this plugin is free, you should be aware that to make exit popups, you will need to subscribe to a premium account. In addition, the scroll trigger function is only accessible on premium subscription packages.
Different sorts of popup campaigns are available, including lightbox popups, which shade the material behind them.
In addition, customizing the appearance of your popup is simple in the editor. Even the free edition has decent targeting features, such as the ability to only display on particular posts or pages.
Overall, it's a solid investment that has the potential to provide significant returns in the long run.
💵 It is FREE to use the Popup Maker plugin.
Key Features:
Integration with all common form plugins allows you to launch a popup window when the form is submitted or shut the popup window when a form inside the window is received
It is very adaptable and flexible, and it allows for amazing personalization
excellent customer service and development team that is always there to assist you
e-mail opt-in popups, content upgrade popups, lead generation popups, e-commerce popups, contact form popups, and even Announcements and breaking news on the Coronavirus/COVID-19 popups are available
Random Reviews:
Do what it is supposed to be done!

After using this plugin for a long time, it works flawlessly regardless of any major upgrades to functionality. Recently, I had a problem so I posted on their support page. I got a response within 48 hours and the issue was with my browser's cache. I cleared the cache, and everything worked fine. Thanks to the great support team.
Turn Website Visitors Into Leads With A Customizable Popup Forms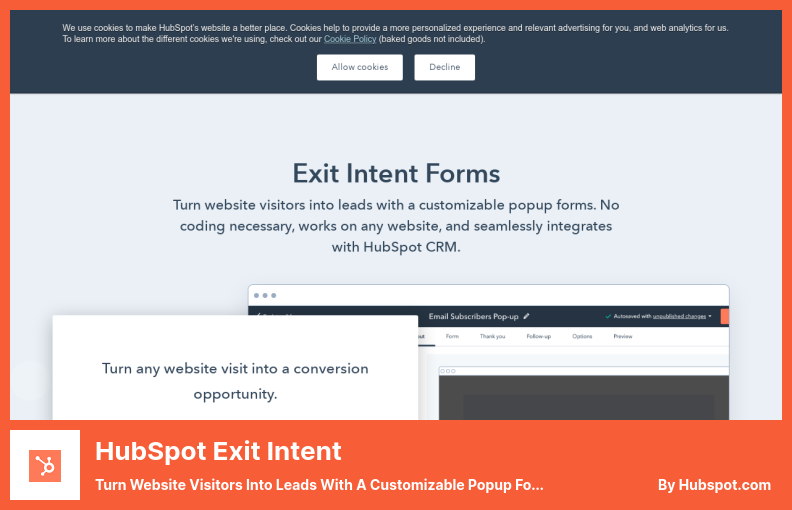 A terrific popup tool, HubSpot Exit Intent, may help you gather more leads and subscribers, particularly when users or visitors are ready to abandon your website.
According to the developers, this application can be smoothly linked with e-mail service providers such as AWeber, MailChimp, Get Response, Campaign Monitor, and others. You may also adjust the scheduling of your exit-intent notification to meet your specific requirements.
It is also a robust CRM, e-mail marketing, forms, and analytics plugin, with an amazingly high number of installations.
Aside from that, this popular plugin has a fantastic drag-and-drop system that comes pre-loaded with several ready-to-use themes. Popups are available in three various formats, with the box, banner, and slide-in options being the most popular. It may also be used in conjunction with a variety of marketing products.
💵 The advanced features of this plugin are included and you will have access to updates for one year by purchasing the plugin. It costs $45/m.
Key Features:
You may send a tailored follow-up e-mail to each consumer who completes your exit intent form, or you can target advertisements to particular customers at no cost
Fantastically enough, you'll get a single view that displays every engagement that contact has had with your company
By including the HubSpot tracking code on your website, you'll be able to monitor which pages your leads are accessing on an ongoing basis
Easily Configure the position and timing of your exit-intent form to suit your needs
By navigating to the main dashboard, you can see which marketing campaigns are producing leads, which channels are creating the most interaction, and how your sales force is doing overall
Thus, we can conclude.
The following list the best WordPress plugins for the Exit Intent Popup. Keep in mind that these plugins will allow you to enhance your site's functionality.
📌 Note: We offer a few posts about the best WordPress blog themes and the best WordPress plugins for your blog. Our readers frequently use these posts, vote for them, and shared by frequently.
Thanks for reading this article. We hope you enjoyed it.
If you have any questions, please post them below. Thanks for visiting! We encourage you to share this article on Facebook and Twitter.