Have you ever wondered how to effectively engage your website visitors right before they leave? Or maybe you're looking for a way to boost conversions and turn potential customers into loyal ones.
Well, look no further! In this blog post, we'll be diving into the world of WordPress exit intent popup plugins to help you find the perfect solution for your website.
In this article, we will be exploring the top 5 WordPress exit intent popup plugins, both free and pro versions, that can revolutionize the way you interact with your audience. We'll provide you with all the information you need to choose the right plugin for your specific needs, backed up by real-life stats and facts.
So, if you're ready to take your website to the next level and make the most out of every visitor, keep reading. We've done the research for you and hand-picked the best plugins that are user-friendly, effective, and customizable to suit your unique brand and website requirements.
We will do our best to provide you with some tips and tricks along the way to assist you in making the most out of these powerful tools. Looking forward to getting started? Let's do this!
Best Exit Intent Popup Plugins for WordPress
There are many top-rated WordPress exit intent popup plugins that will help you boost your website's conversion rate and make it easier to convert visitors to buyers!
Whether you're a beginner or a seasoned pro, these plugins are sure to captivate your visitors and encourage them to stay on your site longer. Don't miss out on the opportunity to skyrocket your engagement and increase your leads – check out these must-have plugins today!
Convert and Monetize Your Website Traffic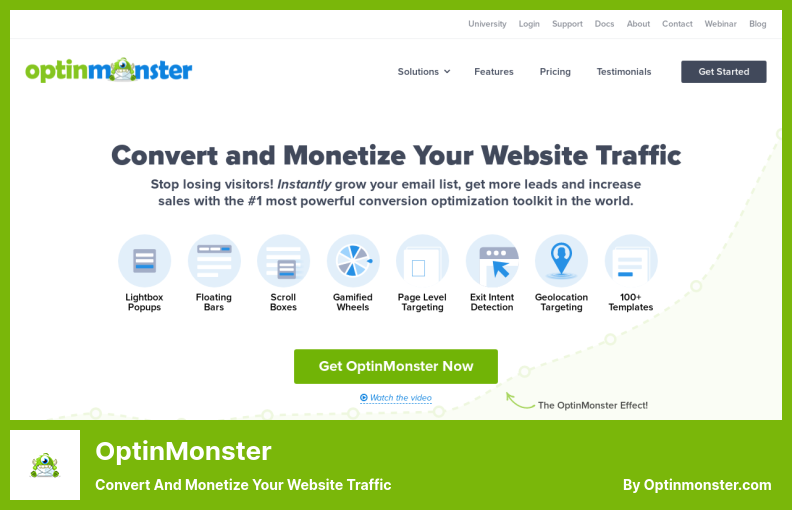 You can use OptionMonster with WordPress to re-engage visitors who abandoned your carts with visually appealing layouts. This plugin creates exit-intent popups that grab users' attention before they leave your site, so you can get started right away. It's very easy to set up, too.
One of the standout features of the plugin is its drag-and-drop builder, which makes designing stunning exit popups a breeze. You don't need any coding skills or technical expertise to create eye-catching popups that grab the attention of your visitors.
Whether you want to offer a special discount, promote a new product, or encourage users to sign up for your newsletter, the plugin allows you to do it all with ease.
If you implement exit-intent popups on your WordPress site, it'll increase your site's growth. If you target users who are about to leave your site, you can entice them to stay. Your brand and message can be customized in its exit-intent popups, so you'll get a seamless user experience.
It's important to note that OptinMonster may be more expensive than some other popup plugins on the market, especially considering that its basic subscription only covers a single website.
In terms of conversion optimization and engagement, many website owners can justify the cost. You can also sync your lead capture efforts with your email marketing campaigns with OptinMonster since it integrates seamlessly with popular email marketing platforms.
Key Features:
Analytics and

A/B testing capabilities
Seamless integration with popular email marketing platforms
Time-based visitor tracking
Page-specific visit analysis
Visitor location tracking
Distinguishing between first-time and recurring visitors
A Powerful Lead Generation Plugin That Converts Abandoning Visitors On Your Website Into Subscribers
With Yeloni, you can customize your website with a bunch of widgets, popups, and action buttons that help you with your exit intents. It's a really cool plugin for those who value quality and concentration. It's also easy to integrate with email marketing companies, so your website gets even better.
One thing to keep in mind is that the free version does have its limitations, but overall, it is still a decent option for most users. It allows you to create a straightforward exit-intent popup for WordPress, with three triggers including clicking a link, clicking the browser's back button, and movement of the mouse.
One of the standout features of the plugin is its compact design, ensuring that it won't slow down or obstruct the performance of your website. Additionally, it offers chat integrations, making lead generation even more fantastic.
The tool can also be integrated with popular email marketing platforms such as Mailchimp, Aweber, Active Campaign, Sendy, and even let you store emails locally using the Mailchimp API.
It's also great that you can have multiple widgets, so you can customize your website exactly the way you want. If you ever have trouble or need help, they've got an awesome support team that's always there for you. In case you have questions or problems, they'll be there for you.
Lastly, let's not forget about the incredible widget configuration and customization options Yeloni provides. You can easily customize and tweak your widgets to match your website's design and branding, ensuring a seamless and professional look.
Key Features:
Integration with popular email marketing services
Multiple widget options for customization
Excellent support team available for assistance
Incredible widget configuration and customization capabilities
Compact design for optimal website performance
Chat integrations for fantastic lead generation
Converts One-time Visitors Into Lifelong Readers And Customers
Sumo is a powerful and affordable technology that can yield positive results when used effectively. We highly recommend giving it a try, especially since they offer a free trial for all of their services.
One of the standout features of the plugin is its ability to customize the appearance of popups. You can easily change the colors of buttons and backgrounds, and even add images or text to make them more appealing.
If you're looking to collect more client email addresses and generate leads, its exit-intent popups are top-notch. They are designed to display perfectly on mobile devices, ensuring a seamless user experience.
The real value of the plugin lies in its ability to improve your website's traffic and enhance your SEO efforts. By capturing visitors at the exact moment they are about to leave your site, you have the opportunity to engage with them and potentially convert them into loyal customers.
Popup For Opt-ins, Lead Gen, & More
Popup Maker is a WordPress plugin that enables website owners to create exit-intent popups. This tool offers a range of popup options, including mail opt-ins, WooCommerce upsells, and cross-sell popups, making it a versatile and powerful tool for engaging visitors.
One of the standout features of the plugin is its ability to customize the appearance of your popups easily. Even the free version of this plugin provides decent targeting options, such as the ability to display popups only on specific posts or pages.
Another great aspect of the plugin is its integration with popular form plugins. This allows you to launch a popup window when a form is submitted or close the popup window when a form inside the window is received.
Because of the high degree of flexibility and personalization this plugin offers, it is an excellent choice for creating customized popups to meet the needs of your specific business.
In addition to its impressive features, the plugin also boasts excellent customer service and a dedicated development team that is always available to assist you. This ensures that you have the support you need to make the most out of this plugin.
By using Popup Maker, website owners can create eye-catching and effective exit-intent popups to increase engagement and conversions on their WordPress sites.
Key Features:
Excellent customer service and support from the development team
Integration with popular form plugins for seamless functionality
High level of adaptability and flexibility, allowing for personalized popups
Wide range of popup options, including e-mail opt-ins, lead generation, etc.
Easy customization of the appearance of your popups
Ability to launch and close popups based on form submissions
Turn Website Visitors Into Leads With A Customizable Popup Forms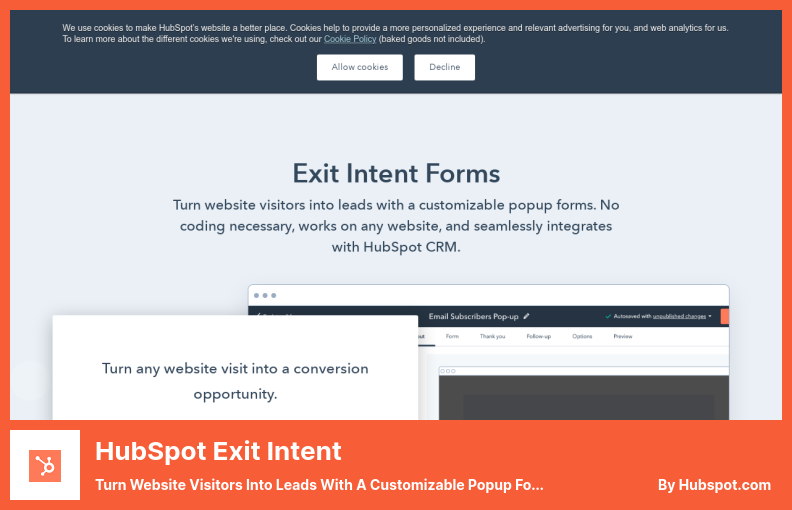 HubSpot Exit Intent is a powerful WordPress plugin that not only helps you capture more leads and subscribers but also provides a wide range of features to enhance your overall marketing strategy. With a high number of installations, this plugin is trusted by many website owners.
One of the standout features of the plugin is its seamless integration with popular email service providers like AWeber, MailChimp, Get Response, Campaign Monitor, and more. This allows you to easily link your email marketing efforts with your exit-intent notifications, ensuring that you never miss out on potential leads.
The plugin also offers a variety of customization options, allowing you to fine-tune the position and timing of your exit-intent forms to best meet your specific needs. This level of control ensures that you can strike the right balance between engaging your visitors and not being too intrusive.
Additionally, it impresses with its drag-and-drop system that comes pre-loaded with a selection of attractive themes. The three different popup formats, including box, banner, and slide-in options, provide versatility in how you present your exit-intent notifications.
As for its CRM capabilities, this plugin offers a robust system that allows you to send personalized follow-up emails to each contact who completes your exit-intent form. Furthermore, you can track and monitor the engagement of your leads by integrating the HubSpot tracking code into your website.
The main dashboard provides valuable insights into the performance of your marketing campaigns, highlighting which channels are generating the most interaction and how your sales force is performing overall. This comprehensive view allows you to optimize your strategies and make data-driven decisions.
Key Features:
Tailored follow-up emails for each contact
A complete view of every engagement with your company
Tracking of leads' page visits
Easy configuration of exit-intent form position and timing
Dashboard insights on campaign performance and lead generation channels
Frequently Asked Questions
What is an exit intent popup?
An exit intent popup is a type of popup that appears on a website when a user is about to leave the page. It is triggered by the user's mouse movement towards the exit button or closing the tab, and it aims to grab their attention and persuade them to stay or take a specific action.
Why should I use an exit intent popup on my WordPress site?
Your WordPress site can benefit from using an exit-intent popup for a lot of reasons. This lets you catch visitors' attention while they're on the way out by presenting them with a compelling offer, urging them to sign up for your newsletter, or reminding them of what's in their cart.

Your website traffic can be maximized by leveraging the power of search engine optimization, which can make it easier for customers to find your website.
What are some of the key features to consider when choosing an exit intent popup plugin for WordPress?
When choosing an exit intent popup plugin for WordPress, it's important to consider factors such as customization options, targeting and triggering options, design templates, integration with email marketing services, A/B testing capabilities, mobile responsiveness, and performance optimization.

These features will help you create effective and personalized exit intent popups that resonate with your audience and drive desired actions.
Conclusion
To wrap up our discussion on the five best WordPress exit intent popup plugins, both free & pro, we've highlighted some great options for you to consider when it comes to optimizing your website's user experience and capturing leads.
These plugins include OptinMonster, Sleeknote, and many more, all of which offer a wide range of features and customization options that can be customized to meet the specific needs of your business.
If you're hungry for more tutorials and articles on WordPress plugins and other related topics, be sure to check out the BetterStudio blog. We regularly update our blog with informative and helpful content to assist you in making the most out of your WordPress website.
For the latest updates and news, we encourage you to follow BetterStudio on Facebook and Twitter. By doing so, you'll gain instant access to our latest tutorials, tips, and insights, helping you stay ahead of the curve in the ever-evolving world of WordPress.
Before we wrap things up, we want to express our gratitude for taking the time to read this article. We hope you found it valuable and that it provided you with the information you were seeking.
If you have any questions or run into any issues while implementing the plugins we discussed, please don't hesitate to ask. Leave a comment in the section below, and we'll do our best to assist you.
Thank you again for being a part of our community. We appreciate your support and look forward to providing you with more helpful content in the future. Stay tuned for our upcoming articles and tutorials, and happy website optimization!