Are you tired of running out of storage space on your WordPress website? WordPress cloud storage plugins can help you grow your website. The underestimation of a lack of storage space on your website can be fixed using an advanced WordPress cloud storage plugin.
There's also a dedicated section for the best WordPress plugins for cloud storage that contains a list of the application's top features; it also provides thorough information on the most popular cloud storage plugins and how they can be used. Also, they are compatible with the top WordPress theme.
It has been estimated that a one-second delay in loading time can reduce the number of conversions on a website by 7 percent. Based on recent studies, that is an unbelievable amount of reduction which seems incredibly reasonable!
As outlined in this article, some of the most popular, effective, and easy-to-use cloud storage plugins for WordPress will be discussed along with their unique features. We will go over each plugin, outline how it can benefit your website, and explain how you can take advantage of it.
So, whether you're a blogger or a business owner, read on to learn more about what cloud storage plugin is right for you as well as what to avoid when installing it on your blog or business, and what the pros and cons are.
Upload Media Files to Cloud Storage
Using WP Offload Media Lite, you are able to upload media files through the WordPress media uploader readily available in the plugin to DigitalOcean Spaces, Amazon S3, or even Google Cloud Storage with just a few clicks of the mouse.
Even though this process isn't entirely automated, the files you upload and copy to the bucket do relieve your PHP server from having to serve all of the images and PDF documents, so your website will be able to run more quickly.
Look at the plugin's settings page if you want complete control over the process, it will teach you how to observe, pause, and resume the process depending on your needs.
A number of plugin controls can be accessed in the WordPress Media Library where you can perform a number of actions, such as selecting large numbers of files at once and moving them from the cloud to your local computer.
The media library can handle single files and switch between public and private access without letting you leave the window, and you can close the browser tab while the download is taking place in the background if you need to do something else.
Besides WooCommerce, Elementor page builder, and Meta Slider, it's also compatible with a bunch of other popular WordPress plugins; feel free to use anything you like.
Be aware that you probably won't be able to save copies or store media files from your current website on Google Cloud Storage, Amazon S3, or DigitalOcean Spaces.
In premium versions, meanwhile, media files that are already on the site can also be managed by the plugin, but only those that have been added after it was installed can be managed by it.
Key Features:
Relieve your PHP server from having to serve all of the images and

PDF files
Support and updates are provided by the developers
Easily upload media files to Cloud Storage
Complete control over the uploading process
Compatible with popular WordPress plugins
Select and manage large numbers of files at once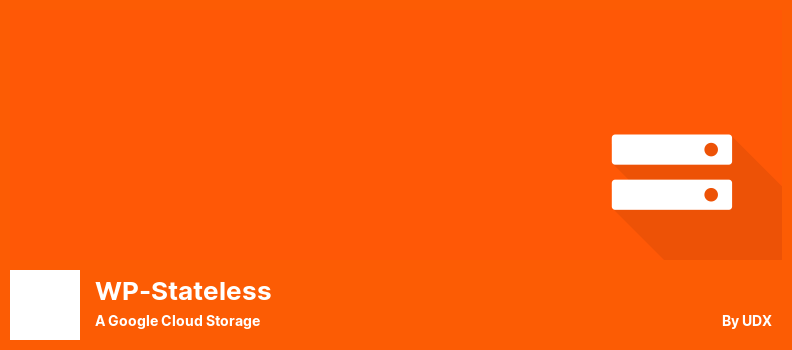 Plugins like WP-Stateless might be just what you need if you're a fan of Google Cloud Storage. It's very straightforward to use and comes with a setup assistant that will guide you through the process of installing the plugin on your site.
By using this WordPress file storage plugin, you will be able to connect your site to Google Cloud Storage in minutes without needing to manually create service accounts or buckets on your own as the plugin takes care of that for you.
You can split the content of your website across multiple servers without duplicating any media files. Your files are stored on Google's cloud platform, which has servers all over the world so your files will always be served locally.
You can mask the default GCS URL with your own domain and this WordPress google cloud storage plugin automatically replaces hardcoded media URLs in the post editor and meta with equivalent GCS URLs. With this and other features, load times are reduced, resulting in improved performance and speed.
This is another free tool that you will be able to use, allowing you to upload already existing images and files the way you want them. Also, it comes equipped with a synchronization tool that makes it easy to manage your files.
Key Features:
Connect to Google Cloud Storage
Global coverage is provided
Automatically replace media URLs
No Manual Configuration Needed
Distribute content across multiple servers
Comes with a setup assistant
Backup Your Files and Database Backups Into The Cloud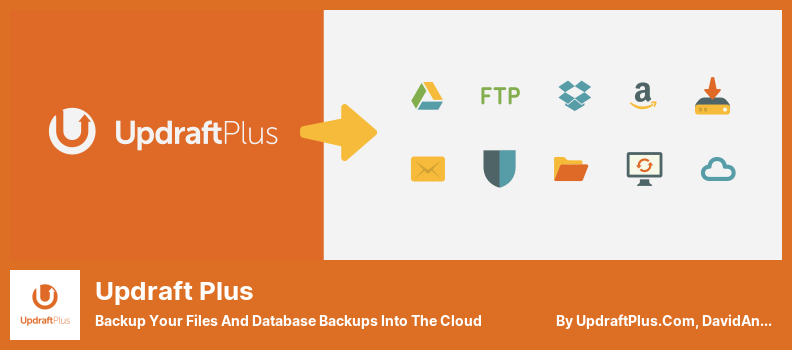 It has become increasingly popular in recent years to back up your WordPress website using Updraft Plus, a WordPress plugin that offers the same level of protection as a backup program and the option of storing your backups in the cloud also.
A key part of the solution's success is its UpdraftVault Storage remote storage component, which complements Amazon S3 and gives it a bunch of useful features like adaptability, dependability, and scaling, above and beyond Amazon S3.
There are no charges associated with using UpdraftVault, and you do not need to sign up for any other storage service. The service can also be used along with other services such as Cloud, Dropbox, Amazon, Rackspace, Microsoft OneDrive, etc, for free.
Using this WordPress image storage plugin, you can better manage your store, categorize backups and schedule automated backups so that your store runs more efficiently and backups are scheduled regularly. As a result, you will be able to schedule backups more easily and manage your store more efficiently.
By installing the Encrypted Transport Plugin for your WordPress installation, which enables multi-site compatibility as well as the ability to upload WordPress files to the cloud safely, you will help ensure the privacy of your WordPress files that are uploaded to the cloud.
Key Features:
Includes UpdraftVault Storage remote storage component
Store management, backup categorization, and automated scheduling
Compatible with various cloud services
No charges associated with using UpdraftVault
Offers cloud storage option for WordPress website backups
Provides the same level of protection as a backup program
a Dropbox Plugin for WordPress

There is no need to upload any files to Dropbox since Out-of-the-Box integrates Dropbox with your WordPress website, so all kinds of files and documents can be accessed and displayed straight away on your website without the need to mount those files to your server.
It is also possible for you to create automatic playlists, add preroll ads to videos, and utilize automatically generated thumbnails to enhance the user experience as well.
There's a search box and an app browser, along with a full-text search option to make finding files really easy. The media player lets you stream media files without impacting server performance.
You can easily integrate Dropbox with your WordPress website without any coding skills thanks to its easy-to-use, highly customizable features. The Out-of-the-Box Dropbox integration plugin does not require any coding knowledge.
You can customize how images, documents, and media files appear on posts and pages. Also, it integrates with form plugins like Contact Form 7 and WP Forms, so users can upload files. File sizes, formats, and maximum uploads can be restricted.
a Google Drive Plugin for WordPress
A user-friendly plugin, Use-your-Drive lets you use your entire Google Drive library in WordPress. You can find and insert any media in your Google Drive library with this plugin in your WordPress dashboard via a new file navigator.
A quick-add button is also included within the plugin so that the users can easily create shortcodes that output images while keeping the complexity of the content as low as possible without having to play with extensive settings.
Additionally, authorizing access with Google is simple and only takes a moment, so you don't need to be a coding expert to use this innovative Google Drive plugin for WordPress.
This WordPress object storage plugin is highly customizable, allowing you to display your documents, images, and media files in a beautiful way directly on your posts and pages without requiring any coding skills.
Those who use this plugin will find it perfectly suited to their needs whether they already have hundreds of pictures and videos on Google Drive or they simply do not want to use the WordPress Media Library to manage their media.
It is fair to say that Use-your-Drive represents an excellent choice for webmasters wanting to integrate their Google Drive library with their WordPress sites in a straightforward and highly customizable way.
Key Features:
Highly customizable to display documents, images, and media files
User-friendly interface with easy-to-use settings
Create image shortcodes easily with a quick-add button
Simple authorization process with Google
Use your entire Google Drive library in WordPress
Insert any media from your Google Drive
FAQs
What are cloud storage plugins for WordPress?
A plugin for cloud storage on WordPress is a tool that helps users store and manage their website's media files, such as images and videos, on remote servers or cloud platforms so that they can access them from anywhere.
How do cloud storage plugins benefit WordPress users?
WordPress cloud storage plugins offer several benefits, including increased website speed and performance, lower hosting costs, better security and backup options, and the ability to easily manage and access media files across multiple devices and platforms.
What should WordPress users consider when choosing a cloud storage plugin?
WordPress users should keep things like pricing, storage capacity, integration, ease of use, and customer support in mind when choosing a cloud storage plugin. The plugin needs to be compatible with their WordPress version and other plugins installed, too.
What are some popular cloud storage plugins for WordPress?
You should pick the right one since plugins like Amazon S3 and CloudFront, Google Cloud Storage, Dropbox, and Microsoft OneDrive offer different features and advantages.
Conclusion
We will finish right here with a few WordPress cloud storage plugins that can help improve your website and boost traffic to your website. The speed, security, and storage capacity of your website can all be improved with these plugins, which allow you to make it more successful online.
📌 Note: We offer a few posts about the best WordPress blog themes and the best WordPress plugins for your blog. Our readers frequently use these posts, vote for, and shared by frequently.
As well as the WordPress tutorials provided on BetterStudio's blog, a wide range of posts are delivered by the company on other digital marketing topics as well.
Stay up-to-date with BetterStudio tutorials and tips on Facebook and Twitter. We regularly update our social media channels with helpful resources to help you succeed online.
Hope this article improved your understanding of WordPress cloud storage plugins, thanks for reading it. Feel free to leave a comment below with any questions or problems you have about the information we provided, and we'll get back to you right away.