Are you tired of scrolling through boring, static images on your WordPress website? Do you want to add a more immersive and interactive experience for your visitors? Look no further than our list of the best WordPress 360 panorama plugins for 2023!
In this article, we'll explore the top plugins that will allow you to easily embed stunning 360-degree panoramic images on your website. From free options to premium upgrades, we've got you covered with a variety of choices to fit your specific needs.
Did you know that 360-degree images can increase user engagement and time spent on a website? According to a study by A-Frame, 360-degree images can increase engagement rates by up to 300%.
And with the rise of virtual tours and immersive experiences, adding a 360 panorama feature to your site is becoming increasingly popular. Let's dive in and see what these plugins have to offer.
In this article, we will provide an overview of each plugin, highlighting its features, compatibility, cost, and customer reviews. By the end of this article, you'll have all the information you need to choose the perfect plugin to enhance your website with stunning panoramic images.
Best 360 Panorama Plugins for WordPress
If you're looking to add visually arresting and immersive content to your WordPress website, nothing beats 360-degree panorama plugins.
Take your pick from our top 10 list, including free and pro versions, and see your site come alive with panoramic views. Don't miss out on these amazing plugins, check them out now!
360 Panorama and Virtual Tour Builder For WordPress
WP VR is a one-of-a-kind WordPress plugin that enables you to generate stunning 360-degree virtual tours using only 360 panoramic images.
Along with the WPVR Elements widgets, a shortcode, and Gutenberg blocks, you can make virtual tours on your website. It provides you with total control in customizing virtual tours using a keyboard and mouse.
Additionally, you can use hotspots to display various media, like images, videos, texts, and URL links. This plugin will help you track your progress, as well as see what you're creating on the back end to see what's happening. By using these media formats in your virtual tours, you can make them more fun and engaging.
With the plugin, you can link several scenes together using hotspots, which allows the client to choose which locations they wish to see inside the WordPress theme. This feature creates a feeling of virtual reality and makes your website stand out.
It is an effortless WordPress plugin, and users won't need coding experience or expertise to create impressive virtual tours. The plugin offers excellent customer support with fast response times, making it a great choice for any user.
Key Features:
Responsive virtual tours on all devices
Efficient support team
Equirectangular previews of 360-degree panoramas
Capability to add multiple hotspots and scenes
Gutenberg block integration for virtual tour embedding.
360 Degree Image and Video Viewer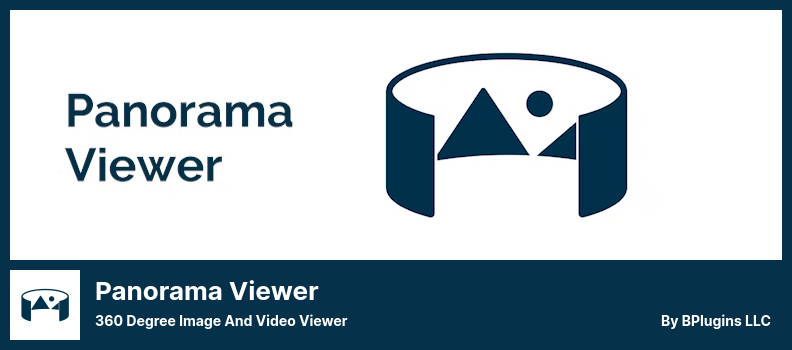 You can easily display panoramas and videos on your website with Panorama Viewer. It supports multiple panorama formats, such as JPEG, PNG, and MP4, so it's a great solution for any occasion. You don't even have to know how to use it because it has an easy-to-use interface.
In addition, this plugin allows you to rotate 360 degrees in two different ways. You can either do it by installing WordPress VR, or you can use the It widget, which allows you to take virtual tours.
Its JavaScript library runs very effectively on all popular browsers such as Chrome, Firefox, and Opera, as well as on mobile devices. The library is also highly compatible with all the major web browsers.
The plugin lets you embed your panoramic images and videos into your pages, posts, widgets, and even to your WooCommerce product pages. It also comes with everything you need to showcase your panoramic photos in the best possible way.
Panorama Viewer is a complete solution for anyone who wants to showcase their panoramic photos and videos. So if you are looking for an easy and straightforward way to take your website's visual appeal to the next level, this plugin is definitely worth a try.
Key Features:
Generate external links

for each panoramic image and video

Create a stunning gallery of your 360-degree panoramic images.

Works seamlessly with

Elementor page builder

.

Easily integrate 360-degree photos and videos into your Google Street View embedding.
Create Panoramas with 360 Panorama Addon for WPBakery Page Builder
Panorama 360 Addon for WPBakery Page Builder is a WordPress plugin that allows the creation of stunning panorama scenes using panoramic images.
The add-on for WPBakery Page Builder means you can create 360-degree panoramas for any device with gyroscopes and cardboard technology. With a single image, users can create responsive 3D view panoramas in less than a minute.
The plugin is perfect for impressing clients and visitors because it creates images that are very responsive. However, the only setback is that it is not compatible with older devices or tablets.
In terms of compatibility, the plugin is compatible with all Visual Composer themes and can work with many popular WordPress plugins such as WooCommerce, WPML Translation, and bbPress.
The plugin is not confusing to use because it comes with templates, and the documentation is readily available for free. Therefore, adding a 360-degree panorama to your website is simple and requires only a few seconds.
Ultimate WordPress 360 Degree View Plugin
Magic 360 for WordPress is a feature-packed plugin that enables users to display panorama images, 3D images, or videos on their WooCommerce or WordPress stores.
This plugin stands out from its competition with its HD effects and advanced features such as image resizing, automated WordPress caching, and SEO optimization.
This plugin is SEO-friendly and uses 'alt' tags to help website owners achieve Google rankings. It also allows users to embed 360-degree images anywhere on their site using shortcodes. With just a few clicks, users can choose a shortcode, select the photos to include, and let the plugin do the rest.
Magic 360 for WordPress comes with a range of advanced features such as quick spin on hover, martini spin, ultra-smooth 3D spinning, 360-degree product photography, and auto-spin on page load. The 3D spinning feature even includes a square magnifier for added convenience.
Key Features:
Optimize website for search engines
Displays images in 360-degree or 3D view
Allows embedding of images using shortcodes
Automated WordPress caching
Ultra-smooth 3D spinning.
lets You Create Excellent Virtual Tours for Clients From Directly Inside the WordPress
iPanorama 360 WordPress Virtual Tour Builder is a plugin that allows you to create virtual tours and send them directly to your customers from the WordPress administration area.
You can upload 360-degree panoramic photographs, which can be converted into building blocks using the Gutenberg block editor. With hotspots, you can jump between scenes or create pop-up windows with detailed information. The plugin allows you to restrict virtual tour creation access for specific roles.
With the plugin, you can add images or videos of your landscape and create short pins for visitors to see. The ability to designate different locations based on hotspots makes it easy for users to navigate. The plugin also offers a variety of scene elements, such as cubes, spheres, and cylinders, to create new scenes.
One of the most significant benefits of using this plugin is its ability to quickly and easily build new scenes by creating multiple 360-degree images and connecting them with markers.
With the block editor, adding a virtual tour to a page or post is effortless. Select an ID, set the width and height if necessary, and you're ready to go.
Key Features:
Provides images or video clips of your landscape
Ability to designate different locations based on hotspots
Use of various scene elements, such as cubes, spheres, and cylinders
Building new scenes by creating several 360-degree images.
Responsive WordPress Plugin
Flat 360° Panoramic Image Viewer is a shortcode-based plugin that can be easily used by people of all technical abilities. It enables website owners to create hotspots and scrolls from rectilinear flat panorama images, providing an immersive viewing experience.
This plugin is compatible with the new Gutenberg editor and can be added to any post, page, widget, or custom shortcode section without any problems. It also includes a lightbox option, making it a great addition to any WooCommerce product.
One of the most amazing features of this plugin is that it allows website owners to add 360-degree images to their WooCommerce products. This enables customers to visualize products in real-time, even as they make changes to their configurations.
In terms of other key features, the Flat 360° Panoramic Image Viewer offers auto-scrolling controls on the scrollbar, the use of site configuration for multiple instances, and the ability to create shortcodes with the use of a TinyMCE shortcode generator in WordPress.
Key Features:
Gutenberg editor compatibility
Rectilinear flat panorama image scrolls
360-degree image support for WooCommerce products
Use of site configuration for multiple instances
Shortcode generator using TinyMCE's WordPress editor.
A Freemium, Comprehensive, Stable and Frequently Updated Image Compression Plugin
ShortPixel Image Optimizer is a powerful WordPress plugin that optimizes all images to ensure that they load quickly without sacrificing their quality. It can work with any hosting package, including shared, cloud, VPS, or dedicated hosting.
The plugin can optimize all images displayed on your website, even those not found in Media Library, NextGEN galleries, or those uploaded directly via FTP. This plugin is the ideal solution to convert more visitors into customers while increasing your site's ranking.
The compression process reduces image size while retaining the image's resolution. It also supports the conversion of JPEGs, PNGs, or GIFs into Webps for better compatibility with Google.
The plugin is lightweight and easy to install. Once activated, it automatically resizes the images uploaded to your website. Additionally, it can compress all your past images and PDF documents by clicking just one button.
With ShortPixel Image Optimizer, you don't need to worry about compatibility issues with your other plugins, galleries, sliders, or e-commerce plugins.
Other features include the ability to create a staging version of your website to test it before going live. It also works with both HTTPS and HTTP websites, which means that you can use this plugin even if you don't have an SSL certificate.
Key Features:
One-click compression for all images and PDF documents.
Compatible with both HTTPS and HTTP sites.
Allows you to create a staging version of your website.
Enhances optimization of web pages and organic search engine rankings.
Supports JPEGs, PNGs, or GIFs conversions to Web.
Automatically resizes images on upload.
Create Amazing Virtual Tours Through WordPress and Without Programming
MV 360 Tour is an exceptional WordPress plugin that allows the creation of breathtaking virtual tours without any coding experience. By uploading equirectangular images, users can easily add customizable hotspots and multimedia content to their tours.
This user-friendly plugin offers four different types of hotspots that can move viewers from one panorama to another, making the tour more interactive and engaging. What's even better is that the plugin is cross-browser compatible and supports browsers like Internet Explorer, Safari, Chrome, and Firefox.
It is incredibly versatile and can be used in conjunction with other WordPress plugins such as WPML for translating documents, Visual Composer for custom layouts, and Gravity Forms for creating forms.
Furthermore, users can also customize their websites further by utilizing the Divi plugin. With MV 360 Tour, the opportunities to create stunning virtual tours are endless.
Key Features:
Multilingual support for various languages
Expandability through additional functions
Easy creation of virtual tours without coding experience
Automatic image resizing.
Receives the Functionality of a Virtual Tour Video as a Gift
360° Photo Viewer is a plugin that allows you to create stunning virtual tours using Elementor and WPBakery Page Builder. It lets you display panoramic background images, making it perfect for showcasing landscapes, building interiors, and other stunning views.
In addition, there is an option of creating a marker that displays information from a post or product, which allows for the creation of a panorama with an interactive aspect.
With the plugin, you can add an unlimited number of markers and locations, and each can have a predefined action associated with it. You can also add HTML and shortcodes, making it an excellent tool for displaying product information, blog posts, or other relevant information.
The plugin also supports the creation of panoramic images by combining different photos or merging a panoramic photo with color. Besides, it can activate the rotation animation based on the object's orientation, adding to the immersive experience.
Key Features:
Display multiple panoramas
Create unlimited markers and locations
Add HTML and shortcodes
Interactive panorama experience
Rotation animation based on object orientation
Supports WooCommerce integration
A Lightweight and Simple to Use Addon for WPBakery Page Builder that Embeds a Panorama Image
360 Product Panorama Rotation is a WordPress plugin designed to help website owners to showcase their products from different angles. The plugin supports CSS3/JQuery navigation, looping, and moving, and allows users to zoom in or out of products.
Additionally, this plugin makes it possible to add one or more 360-degree images to your website, in order to give customers an interactive experience.
One of the main features of the plugin is that it's compatible with major web browsers. This means that customers can view your product panoramas on any device or screen size.
Additionally, the plugin also supports hotspots and zooming capabilities for 3D Robot product images, so it is easier to showcase your products' features by making them stand out in a crowd.
Another benefit of this plugin is that it comes with add-ons for WordPress page builders such as the WPBakery Page Builder and the Elementor Website Builder.
This makes it easy to build beautiful content for your website, simply by dragging and dropping elements. With the WPBakery Page Builder, you can edit WordPress content quickly and easily.
Key Features:
Comes with add-ons for popular WordPress page builders
Compatible with major web browsers
Supports hotspots and zooming for 3D Robot product images
Download upgrades and updates from the website.
Frequently Asked Questions
What are WordPress 360 panorama plugins?
WordPress 360 panorama plugins are tools that enable users to display 360-degree views of their surroundings on their websites. The plugins allow for interactive, immersive experiences that can be easily created and shared.
Do these 360 panorama plugins work on all devices?
Most WordPress 360 panorama plugins are designed to be mobile-friendly, compatible with all devices, and responsive to different screen sizes. However, it's important to check the plugin's specifications and features before installing it.
Can these WordPress 360 panorama plugins be used for commercial purposes?
Yes, most WordPress 360 panorama plugins can be used for commercial purposes, offering licenses for multiple websites and applications. However, it's important to always read and adhere to the plugin's terms and conditions before use.
Conclusion
In conclusion, we have discussed the top 10 WordPress 360 panorama plugins, both free and pro options. Each of these plugins offers unique features and benefits that can enhance your website's user experience.
We hope that this article has helped you find the perfect plugin for your website and that it will make your website stand out from the competition.
If you're interested in more WordPress tutorials and articles, be sure to check out the BetterStudio blog. We have a wealth of information on WordPress plugins, themes, and best practices for website design and development.
Additionally, we encourage you to follow BetterStudio on Facebook and Twitter to stay up-to-date on the latest tutorials and news. We value your feedback and appreciate your support.
Thank you for reading our article and we hope you found it helpful! If you have any questions or comments, please feel free to leave them in the comment section below and we will do our best to assist you.