Looking for the best WordPress Image Alt Text plugins?
We have carefully handpicked and compiled the best WordPress plugins for you to pick one optimally in 2022 and use to upgrade your website. Additionally, these plugins are quick and straightforward, with the excellent support of the latest WordPress themes.
Plugin choices for the Image Alt Text were based on their best performance and use. However, these plugins can also be used for Add Alt Attributes to Images, Auto Image Alt Attributes, Missing Alt Text, and Bulk Auto Image Alt Text.
Best Plugins to Add ALT Tags to Images for WordPress🥇
Let's check out the top 10 Image Alt Text WordPress plugins of 2022:
Bulk Auto Image Alt Text Optimization + WooCommerce
By installing the BIALTY plugin, you will be able to override the default image alt tags and add alt tags based on other pages, posts, product titles, and keywords. You can also edit existing tags in bulk through the plugin.
Besides helping you save time and increase the visibility of your website in search engines, this plugin supports six languages. It can be utilized with both Yoast and Rank Math.
By doing this, you can automatically add the focused keyword as an alternative tag, thus enabling you to increase your site's ranking.
This plugin is also compatible with several e-commerce platforms, so it is a valuable tool for anyone running an online store that relies on ALT attributes.
As with many WordPress plugins, this one comes in both a free and a premium version. The free version is available from the WordPress repository, while the premium plan features more advanced.
💵 Downloads include a Free version and a premium version with $89.
Key Features:
You can add alt tags to Images.
There are alternative ALT tags that can be substituted for existing ones
An integration of Yoast and Rank Math is possible
The text of each image is automatically tagged with ALT tags
Compatible with WooCommerce if requested
Random Reviews:
As a result, on a blog archive page with a list of the ten most recent posts (or on a homepage) the thumbnails accompanying the excerpts lack alt text.
An Alt Text Modification Plugin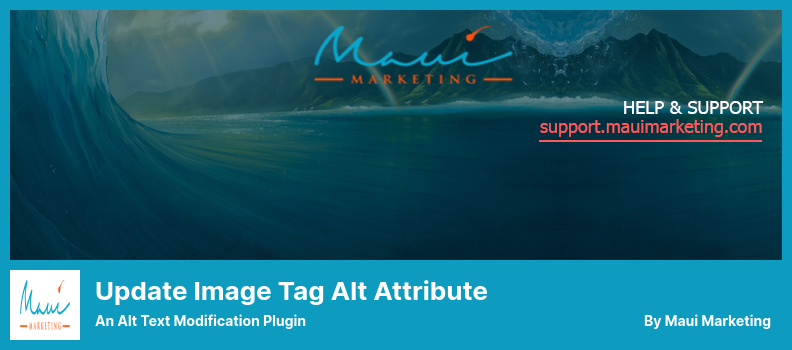 Like BIALTY, you can use the Update Image Tag Alt Attribute plugin to automatically create ALT text for images that do not require ALT tags. In other words, it allows you to control your media library by creating the image alt text, even for images that are not required to have ALT tags.
It will automatically scan your images in your library and determine those images that do not have alt tags. The plugin will create the alt tag from the title for images attached to a particular article or post. The plugin will take the tag from the file name for images that have not been used yet.
In addition, Update Image Tag Alt Attribute creates a file containing all of the images and text it changes so that you can keep track of all your changes.
You can download this plugin for free from the WordPress repository. Unfortunately, there is no way to search for image names or empty tags.
💵 Free lifetime updates and downloads are included with this plugin.
Key Features:
You can select the type of post that should be created
By selecting the date option, you can sort the results
It is possible to process large quantities of images at the same time
There is a possibility of automating the processes
The image title can be changed
Random Reviews:
While it updated all empty ALT tags, it did not use chars like ä and ö. It replaced them with a and o instead. Edit: This plugin uses the filename to create ALT tags, not the post title.
Automatically Adds Image Attributes
By uploading images with the Auto Image Attributes From Filename With Bulk Updater plugin, you can automatically add auto alt attributes to images.
As long as you utilize the file name in both your titles, captions, descriptions and Alt text of both types of images, you should be able to use it both for new and existing images to maximize their appeal.
Furthermore, bulk attribute generation can be performed using the plugin, which updates all the missing ALT tags on the fly to save you time.
The last step you should take is to eliminate symbols from the ALT attribute of your image to facilitate understanding your image's name.
There is a free version of this plugin in the WordPress repository, and a premium version is also available for purchase.
💵 Both the Lite (Free) and Pro ($49) versions have been integrated.
Key Features:
You will be able to update all the images in the library at once
Bulk auto image alt text is possible
By enabling and disabling the various features, the features can be altered
Symbols such as hyphens, numbers, and other symbols may be removed from filenames
The title, caption, description, and alt attribute of the image can all be customized
Random Reviews:
Besides the title, the video is fantastic! – 5 stars with no reservations! I appreciate you taking the time to develop it!

It's a great and unique plugin that I bought and so far, it works fine! Also, the support is top-notch!
Helps You to Automatically Optimize All Alt and Title Attributes
Through the PB SEO Friendly Images plugin, you can easily modify the attributes of the images that appear in your posts and thumbnails. This plugin enables you to edit the HTML version of your website to make these modifications.
Furthermore, this plugin has an additional function, besides automatically filling out the missing information, that will use the existing ALT text to generate the missing alt text or title. You may also override current names.
Furthermore, a sync function also uses the alt-value of the existing image as the title or the title as the alt-value if both values are unique. This feature is essential if you have already optimized some of your images.
This plugin has two versions available, one with basic functionality and one with more advanced functionality.
💵 $25 is charged for the Premium version and #free for the Lite version.
Key Features:
You may override an image's ALT attribute by selecting an appropriate setting
Synchronization can be achieved automatically
It is possible to modify all of the images in just a few clicks
You can optimize WooCommerce
Random Reviews:
This plugin was recently updated to load a full-width banner advertising the company's web development services on every admin page. The banner has no relevance to the plugin's purpose. I will switch to another plugin that doesn't spam my users or me. I will go with another plugin instead.
Optimize Images Alt Text & Names for SEO Using AI
Image SEO Optimizer is not only an excellent plugin for adding alternative text to your images, but it also offers a variety of SEO-friendly features, such as optimizing the title of your images, generating social cards, checking your ALT tags, optimizing your Pinterest images, etc.
Furthermore, the plugin automatically creates images for social media and allows users to edit the images manually. Its best feature is that Image SEO Optimizer is simple to use.
The plugin will automatically optimize the images on your site by adding alternative text tags to every image you upload to your media library. The bulk optimization option is also helpful in optimizing already existing images.
Also, it is compatible with all the SEO plugins available on the market and WooCommerce. Finally, it makes use of JPEG, PNG, and GIF files.
💵 Further, a Free version is included. The plugin's price is $49 for a Premium version.
Key Features:
Social media profiles are easily created with the auto-generated social cards
The entire process is fully automated
Checking the ALT tags is possible regularly
You can rewrite the title of an image by using the Image Title Rewriting option
It is possible to optimize Pinterest
Random Reviews:
My website crashed instantly after I installed it and activated it.

For WooCommerce Bulk change alt, it is not free: This topic was modified 6 months, 5 weeks ago by
Boosts Your Store S SEO
Like PB SEO Friendly Images, Woo Image SEO is an essential plugin that will automatically add ALT tags and titles to the product images without you having to do any additional work. This tool will automatically add both the Alt text and the title to the product photos without your further involvement.
This plugin has several features that are particularly impressive, including the ability to adjust the product attributes and build dynamic attributes such as the product title, category, and tags according to your business needs.
It should be noted that this plugin can only be used on websites that use WooCommerce. It is possible to download Woo Image SEO from the WordPress repository for free. Unfortunately, the plugin is not compatible with all WordPress themes.
💵 It is a free plugin and you will not be charged.
Key Features:
It is possible to optimize the performance
A dynamic attribute builder is provided
Specifically designed for use with the WooCommerce plugin
You can include a title and ALT attribute when displaying images

You can Boost SEO
Let's wrap this up
The best Image Alt Text WordPress plugins for 2022 are reviewed in this post. Build your website with these plugins.
📌 Note: You may find our posts on the powerful WordPress blog themes of 2022 and the best WordPress blog plugins for improving your blog and boosting its subscribers and SEO.
We hope you found this helpful article.
We are here to help if you're stuck or uncertain. Leave a comment. Share this article on Twitter and Facebook.