Are you tired of customers abandoning their carts on your WooCommerce site? One solution is to simplify the checkout process with social login plugins. But with so many options available, how do you choose the right one for your site?
In this article, we'll dive into the seven best WooCommerce social login plugins, both free and pro, to help you make an informed decision. According to a recent survey, 86% of shoppers say that they're more likely to make a purchase if they can use social login.
Not only does it simplify the process, but it also allows you to easily gather valuable user data. Let's take a closer look at these top-rated plugins and see how they can benefit your WooCommerce site.
Best Social Login Plugins for WooCommerce
In today's digital age, it's crucial to have social logins integrated into your WooCommerce website. That's why we've curated a list of the best plugins to make the process seamless for you. Be sure to check out our top picks below and take your website's user experience to the next level.
Login And Registration Form For WordPress Plugin

Social Login is a WooCommerce plugin that streamlines the checkout process by allowing users to sign in through social media, saving them time and increasing the likelihood of a purchase. This plugin is a great addition compared to the YITH WooCommerce It plugin, despite having fewer users.
With the plugin, customers can log in to their accounts using the same credentials they use for Facebook, Twitter, Google, Yahoo, LinkedIn, Foursquare, Windows Live, VKontakte (VK.com), PayPal, or Amazon.
This feature simplifies the checkout process for those who prefer to log in through social media, boosting trust and making it convenient for them to come back for more.
Unlike using verification systems that slow down the website and bore the customers, Social Login's quick login feature enhances the user experience and speeds up the checkout process, boosting conversions.
Using this plugin, there's no need to remember multiple usernames and passwords. New members signed up for each social network are displayed to administrators.
Plus, administrators can customize their social media login buttons, set a custom URL redirection, and enable customers to log in using the same social media account, leading to repeat sales.
Key Features:
The checkout process is automatically integrated
Account information is sent to the user via a message
Passwords and usernames do not need to be memorized
Custom URL redirection after social login
Increases trust and can lead to repeat sales.
Users Social Login Checkout Process For WooCommerce Plugin
YITH WooCommerce Social Login is a plugin that allows customers to sign up and log in through their social media accounts. This eliminates the need for filling out lengthy forms and providing personal information.
By making the account login process quick and easy, customers can easily purchase goods and services from your eCommerce website without any hassle.
Additionally, it offers integration with social media platforms like Facebook, Twitter, and LinkedIn, which accelerates the checkout process and improves conversion rates.
This plugin helps in lowering abandoned carts, which is a common issue faced by eCommerce websites. It offers the ability to target customers' social media profiles precisely and link them to the website's social media profiles.
This feature makes it easy for administrators to manage redirects and enhance the checkout page's personalization by modifying the text. With a display of users' social connections in one place and buttons that can be shown through a widget, this plugin provides a seamless user experience.
Key Features:
Sign up and log in through social media accounts
Integration with popular platforms like Facebook, Twitter, and LinkedIn
Improved conversion rates by accelerating the checkout process
Lowered cart abandonment rates by simplifying the login process
Targeted customer social media profiles for better management
Displays all social connections of users in one place.
Community and User Profile WordPress Plugin

UserPro is a WordPress plugin that allows you to create visually stunning profile pages for your members. It's a web-based registration and login system that enables your users to log in and register through their social media accounts, such as Facebook, Twitter, Google+, LinkedIn, and Instagram.
This can make logging into your website more accessible for your members. Moreover, the plugin ensures that the account information that your visitors provide is safe and secure.
Although UserPro's features are limited compared to other WooCommerce social login plugins, you can't control how your WordPress site works. It's great for creating multiple WordPress registration forms, each associated with a different kind of user, and you can make your registries based on their role.
It has a plethora of profile types, including a directory, badges, and member achievements – a valuable tool for keeping your members entertained and interested. These profiles can help your members create their own content and even provide sign-up forms for viewers and developers.
The plugin provides shortcodes through which members can follow and unfollow each other. These shortcodes can also be used to display who has followed and followed whom. This means that you can monitor the interactions of your members and see who interacts the most.
Log-in Through Favorite Social Accounts WordPress Plugin
Nextend Social Login is a plugin that simplifies the user registration process by allowing WordPress users to sign in with their social media credentials, including Facebook, Twitter, and Google. It comes with login widgets, shortcodes, and an array of other tools that can be easily tailored to suit your website's needs. One cool feature is that users' Facebook, Twitter, or Google profile images can be used as their WordPress avatars.
Customization is key, and Nextend Social Login offers plenty of options to tailor the login buttons' look to represent a user's numerous social media accounts. This customization can be done on various parts of the website, where you want your users to link to their social media accounts.
One of the benefits of using Nextend Social Login is that it can create engaging communities effortlessly. Visitors can easily sign up with their Facebook, Google, YouTube, and LinkedIn accounts, making registration much faster and more seamless.
There's also a one-click registration feature that allows the website owner to provide a custom URL redirect that may be customized after users sign up via social media accounts. With Nextend Social Login, the user experience is simplified significantly.
Key Features:
Multiple social media platforms supported including Facebook and Twitter
Best-in-class support and documentation are available

Customizable social media login forms integrated into the WordPress website

Social media profiles linked to WooCommerce accounts.
Social Login, Social Share & Commenting WordPress Plugin
WordPress Social Login is a plugin that allows website owners to give their users the option to log in using their social media accounts from Facebook, Twitter, Google, Amazon, Yahoo, LinkedIn, PayPal, and Disqus.
With this plugin, users can customize the share URL and order the sharing icons based on their preferences. Also, they can choose which icons will appear in each position in the share window.
Incorporating this plugin into your site will smooth the registration process and increase your website's conversion rate. The sharing counter's color, logo color, URL, caching, and auto-refresh can be customized to fit your site's needs.
With this plugin, you can personalize the WooCommerce registration procedure, making it as convenient as possible for your clients, especially for repeat clients, improving how they buy from you.
Moreover, this plugin offers statistics on user log-ins via social media, displaying social profiles across your different accounts, which you can access directly via an intuitive interface.
Key Features:
Customizable icon size for different needs
Free customization options for icons
Supports various social media platforms
Analysis of social media shares from around 100 social networks
Choose an icon shape: square, round, or rectangular.
Social Media Full Potential Tool For WordPress
A flexible WordPress social media plugin, Social Snap lets you easily share on your site. Among its many social media platforms are Twitter, Facebook, LinkedIn, Google, and Instagram. There's a convenient social plug-in collection for easy sharing on the site as well.
This plugin is lightweight and loads quickly, ensuring smooth and fast performance without affecting your website speed. One of the best things about the plugin is that it comes with a unique and custom design, allowing you to customize it to your specific needs without requiring any coding knowledge.
You can log into all social media platforms, boost older posts, and schedule your content with the plugin. These features would normally require multiple apps and plugins, but you can access them all in one package using this tool.
It works asynchronously, so it's user-friendly and efficient, plus it's super fast. You can track and oversee all your social media accounts easily, shorten URLs for convenience, and visually see how many people follow you. It will increase traffic and engagement on your site by letting visitors share your posts.
Key Features:
Offers flexible and customizable design
Supports popular social media platforms
Provides a convenient site-wide collection of social plug-ins
Comes with a unique and custom design
You can manage all social media accounts easily
Allows you to shorten URLs conveniently.
Social Share, Social Login and Social Comments Plugin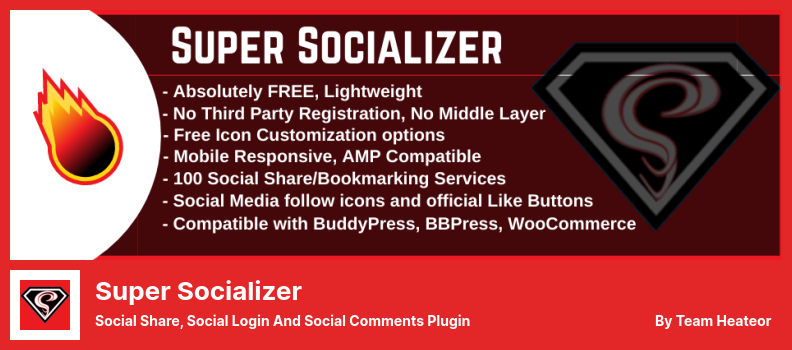 The Super Socializer plugin is a WooCommerce extension that brings social login functionality to your blog posts and pages by allowing you to share and comment on them through social media.
The plugin provides social login functionality, minimizing spam, as all social accounts are verified during user registration. Users' data will be stored in the company's database for customer interaction and retention.
It offers various options related to sharing and login icons, such as colors, sizes, and shapes, which can be used on any page, post, or custom post type. The plugin is ideal for WooCommerce, providing social login options on the customer login page and checkout page, along with social sharing buttons on products.
The plugin offers widgets or shortcodes for social sharing, social login, comments, and 'like' buttons. Users who log in with their social media profiles can automatically approve their comments.
Super Socializer allows users to log in and register using their social media profiles on WordPress Login, Register, and Comment pages, and place sharing icons in a more prominent position.
Key Features:
Social sharing buttons on WooCommerce products
Comments made by logged-in social media users are automatically approved
Sync users' social profiles with their WooCommerce profiles
Widgets or shortcodes for social sharing, social login, etc.
Social media login and register on WordPress pages
Prominent position for sharing icons.
Frequently Asked Questions
What are the benefits of using social login plugins for WooCommerce?
Social login plugins for WooCommerce offer multiple benefits, including a faster and easier checkout process, increased customer registration rate, personalized user experience, and reduced password-related issues.
What factors should one consider before choosing a WooCommerce social login plugin?
Before choosing a WooCommerce social login plugin, one should consider various factors such as the features offered, ease of use, compatibility with their theme and other plugins, customer support, reviews and ratings, and pricing and licensing options.
Do all social login plugins work with all social media platforms?
No, not all social login plugins for WooCommerce work with all social media platforms. Some plugins support only a few social networks, while others support a wide range of networks. It's important to check the plugin's documentation and compatibility list before choosing one.
Conclusion
To summarize, in this article, we reviewed the seven best WooCommerce social login plugins that are available both for the free and pro versions and discussed their features, pros, and cons.
If you found this article informative and helpful, we recommend checking out BetterStudio's blog for more related tutorials and helpful articles. We also suggest following BetterStudio on Facebook and Twitter to stay updated with the latest tutorials and news.
Thank you for reading this article and we hope it was helpful. If you have any questions or problems regarding this article, please feel free to ask us in the comment section below.