Can't find a plugin for WooCommerce Social Login?
This article will compare some of the best WooCommerce Social Login plugins for WordPress with detailed information and screenshots. Also, the plugins are good-looking, mobile-friendly, with good support, and speed optimized. An additional profit is that the plugins are works rapidly with all popular WordPress templates.
The below best WordPress plugins are all for users looking for a WooCommerce Social Login plugin. There were also plugins listed for WooCommerce Quick-Login.
📌 Recommended: In order to improve the appearance and functionality of your store, we recommend that you use a modern WooCommerce theme with both features and a nice design. You may also want to read our article on advanced plugins for WooCommerce to learn more.
The following are the top checked and ranked WooCommerce plugins for Social Login in 2022:
Login And Registration Form For WordPress Plugin

The WooCommerce Social Login is one of the best WordPress social login plugins that will save your customers time instead of a verification system. WooCommerce quick login increases the number of sales on your eCommerce website.
When you try to use the verification system, your eCommerce website will take much longer to load and your eCommerce users will get bored, which means you will lose revenue as your sales will decrease.
There are several ways to simplify the checkout process for visitors entering the site for the very first time. The checkout process can be simplified by using the guest checkout procedure. This procedure can pose a problem for those who wish to make more than one purchase on the website.
Thanks to the addition of Social Login to WooCommerce, subscribers can sign in to their accounts using their existing accounts for Facebook, Twitter, Google, Yahoo, LinkedIn, Foursquare, Windows Live, VKontakte (VK.com), PayPal, or Amazon, and avoid having to sign up all over again.
This plugin simplifies the WooCommerce checkout process even further. For consumers who prefer to log in through social media, it will provide the option to create an account during the checkout process for individuals who choose to log in through social media.
Several studies have shown that an easier checkout process increases the likelihood of a customer purchasing the product, this plugin makes the WooCommerce checkout process even easier for individuals who prefer that method.
In comparison to the YITH WooCommerce Social Login plugin, this plugin's only drawback is that it provides a smaller number of users than you would get if you encouraged users to sign up for your site's accounts.
You may receive different information from visitors who sign in via social media, depending on the platform that they use.
💵 The WordPress plugin costs $39.00 and has 1-year updates and support.
Key Features:
A message containing the account information is sent to the user
new members signed up for each social network are displayed
Passwords and usernames do not need to be memorized by users
The checkout process is automatically integrated
Administrators are able to drag and drop social networking buttons
Set a custom URL as a redirection if a social media login has been successfully completed
Social sign-in can be used for the purpose of increasing trust
Allowing customers to log in using the same social media account can lead to repeat sales by making it convenient for them to do so
Random Reviews:
I am very happy with this plugin. It works smoothly, has comprehensive documentation, and has a fast support system.

It works perfectly. 🙂 And the support is excellent, too.

This plugin has great documentation to get you started
Users Social Login Checkout Process For WooCommerce Plugin
With YITH WooCommerce Social Login, individual users can log into their social media accounts and sign up directly through their social media accounts. As a result, customers are no longer required to complete surveys or provide personal information.
As well to the ability to target your customers' social media profiles more precisely, you can also create a link between your website's social media profiles and the profile of your customers.
With the plugin, you can integrate social media platforms such as Facebook, Twitter, and LinkedIn, among others, and this will improve conversion rates by accelerating the checkout process.
You can easily enable users to purchase goods and services from your e-commerce website without having to fill in forms or enter personal information. By making the account login process quick and easy, users will be able to purchase goods and services easily;
It will enable customers to make purchases more quickly, increase conversion rates, decrease pending orders, and abandoned carts, which will result in a 23% reduction in abandoned carts.
It is common for customers to abandon their shopping carts as soon as they are required to opt-in or login manually in order to complete the order.
💵 You can buy this plugin for $79.99.
Key Features:
administrator's profile contains a listing of their active connections
All social connections of users are conveniently displayed in one place
Make the checkout page more personal by modifying the text
Logging in as an administrator allows users to manage redirects
Login buttons can be displayed through a widget
An overview of the connection can be viewed
Replace the text 'Login with' with the text you want
Community and User Profile WordPress Plugin

UsersPro is a product that focuses on the consumer, allowing you to create visually appealing profile pages for your members.
These profiles include a member directory, badges, and the achievements and accomplishments of your most active members – a vital tool for keeping your members interested and entertained.
With UserPro a web-based registration and login system that works with social networks, your visitors can login and register on your website through their Facebook and Twitter accounts as well as Google+, LinkedIn, and Instagram profiles.
From here on, you can create various types of WordPress registration forms. Each one can be defined in relation to a different role and each is associated with a different type of user.
Users of such websites have the opportunity to create their own content and may even be provided with sign-up forms, which can be accessed by viewers and developers of content.
You may even be offered the choice of programming the accounts so that a strong password is required to access the account information that the viewers provide.
The plugin provides shortcodes through which members can unfollow and follow each other. These shortcodes can also be used to display who has followed and who has followed whom.
There is a disadvantage of the UserPro plugin, which is it does not have as many features as the Yith WooCommerce Social Login plugin, therefore you will have less control over how your WordPress website will be configured.
💵 The plugin is easy to use, and you can buy it for $39.00.
Key Features:
Users may submit multiple registration forms, based on their roles, and each will be displayed in accordance with their preferences
Using the WordPress Customizer, you can create custom fields within your WooCommerce store
Administrative panel with drag-and-drop functionality as well as numerous icon and skin options
All of the popular platforms such as WordPress, BuddyPress, MailChimp, and others are fully integrated
Make your email notifications more personalized by sending them only to specific recipients
Create a user profile website and post engaging profiles on it
Random Reviews:
Having the ability to make it simple was great.

Money wasted! I cannot activate

Updates are not available for 2017 and almost none are available for 2018
Log-in Through Favorite Social Accounts WordPress Plugin
Using Nextend Social Login, WordPress users can sign in with their social network credentials rather than email addresses, usernames, and passwords. This includes Facebook, Twitter, and Google.
The Nextend Social Login application helps you to create engaging communities easily and quickly. Using the Nextend Social Login application, visitors can easily sign up with their Facebook, Google, YouTube, and LinkedIn accounts.
The website owner may also choose to provide users with a custom URL redirect that may be customized after users register via social media accounts by using the one-click registration function.
Through a one-click registration feature on the website, users can link their social media accounts directly to their accounts on the website.
We are able to customize the login buttons to represent your various social media accounts. This can be done according to the social media account you want to link your website to, and on which parts of your website you want as well.
A great feature of the Nextend Social Login is the ability to use the user's Facebook, Twitter, or Google profile image as a WordPress avatar. This feature can be used by any user.
By adding extra features, such as login widgets, shortcodes, and a multitude of other very useful tools, WordPress websites can make it so much easier for users to quickly change plugin settings.
💵 The plugin comes with updates and 12 months of support. The cost is $49.00.
Key Features:
For logging in to social media accounts, you will need both a username and an email address
Users may be restricted from logging into social media based on their role within the organization
Documentation and support are of the highest quality
Several social media sites are supported, including Facebook and Twitter
An integrated social login form appears on your WordPress website
Clients can link their social media profiles to their WooCommerce accounts
Social Login, Social Share & Commenting WordPress Plugin
The WordPress Social Login plugin is a business solution providing WordPress shop owners the opportunity to allow their customers to login through a variety of social channels, including Facebook, Twitter, Google, Amazon, Yahoo, LinkedIn, PayPal, and Disqus.
It is essential that you make the WooCommerce registration process as easy for your customers as possible, most especially for returning customers since the WooCommerce user account system enhances how the customer can buy from you.
Adding this plugin to your website will enable you to handle the registration process efficiently as well as increase conversions by optimizing your website's conversion rate.
Through the use of this plugin, you can not only provide statistics on user log-ins to your website through social media but also display social profiles across the various accounts in your account, as well as access those profiles from your account directly through an intuitive interface.
A common option for customizing the sharing counter is to change the color of the counter, change the logo color, shorten the URL of the sharing icon, cache the share counts, and automatically refresh the share icon based on the number of shares.
If you would like the share URL to be customized, you can select the top, bottom, or order the sharing icons according to the content. You can also configure which share icons will appear at each position in your share window.
💵 make sure to check out this WordPress plugin. It's Free.
Key Features:
Icons can be displayed in different sizes suitable for your needs
Customizing icons is free and there are several options available
Icons for various social media platforms
An analysis of social media shares from around 100 social networks
Select whether the sharing icon should be square, round, or rectangular
Share counts are supported by the following platforms: Twitter, Buffer, Reddit, Pinterest, Odnoklassniki, Fintel, and Vkontakte
Random Reviews:
A great social login plugin.

This service is very much needed these days… Thank you for your useful work and efforts!

I had an issue with the preconfigured app and they were able to fix it on meetup Thanks guys.
Social Media Full Potential Tool For WordPress
You can install and integrate Social Snap in a matter of minutes, with every social media plug-in you might need to be built right in. It is also lightweight and loads quickly, as well as has a convenient site-wide collection of social plug-ins for all the major platforms.
After logging into the site, users may share posts by tweeting or sharing them on Facebook. It supports login through popular social networking sites such as Facebook, Twitter, Instagram, LinkedIn, and Google.
In addition to being built with the latest standards in mind, this software assures a smooth and fast performance that will be both easy to use and will not slow down your website. It works asynchronously for smooth and fast performance.
As part of the Social Snap product family, the plugin is the newest addition. It is easy to install and doesn't require any knowledge of coding in order to get started. Social Snap offers all the functions that are normally available in multiple apps and plugins, all linked in one package.
You can log into all social media platforms, boost older posts, and schedule your content to be shared automatically through this plugin. For many of the above features, a number of applications and plugins would normally be necessary.
This tool is the most flexible social media plugin for WordPress, not only because it supports all of the functions listed above, but also because it has a unique, custom design that allows you to customize it to your specific needs.
💵 Updates and support are provided for 12 months with this plugin.
Key Features:
Assists in overseeing social media accounts
Allows you to shorten URLs for your convenience
Visually display the number of followers on social media links
Easily loads in seconds
Providing your visitors with the option to share your posts will increase traffic and engagement
Social Share, Social Login and Social Comments Plugin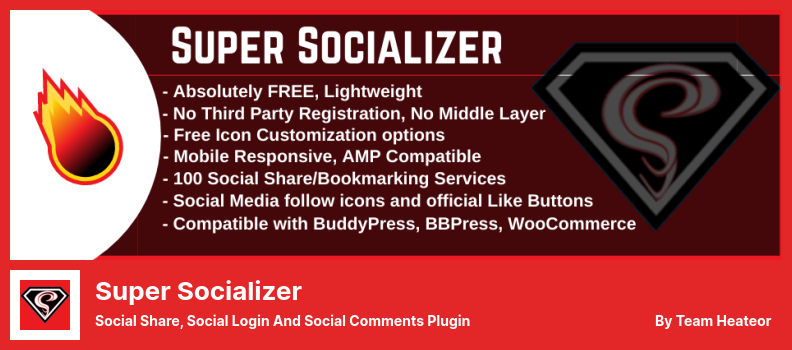 Super Socializer supports numerous social media platforms and allows you to share and comment on blog posts and pages through social media. It is an easy-to-install, free WooCommerce extension that gives you many options for providing social login functionality.
Several features of this plugin make it ideal for WooCommerce; namely, it provides customers with the opportunity to login using their social media accounts on the customer login page, and on the WooCommerce checkout page. Additionally, the buyer has the option to share your products by clicking the 'Share' button.
The WooCommerce social login plugin also minimizes spam as all social accounts are verified when the user registers on your site. Once the user registers, their data will be stored in your database. Your company can do so by interacting with the customer and developing long-term relationships.
You want Custom Login Button Options, Super Socializer offers you a wide range of options relating to sharing and login icons including a variety of colors, sizes, and shapes of these icons that you can use on any page, post, or custom post type.
💵 Free support is provided with this plugin.
Key Features:
Users' social profiles can be synced with their WooCommerce profiles
Social sharing, social login, comments, and 'like' buttons are all available as widgets or shortcodes
Allow WooCommerce products to display social sharing buttons
Allow users who are logged in using their social media profiles to automatically approve comments made by them
Login and register with social media on WordPress Login, Register, and Comment pages
Place sharing icons in a more prominent position
Random Reviews:
No way to choose which social sharing buttons you want to use. Reverts to a pre-configured selection of social media outlets including MeWe, which is unpopular in North America. Sassy Social Share has the same issues and glitches. Wasted a lot of time re-configuring over and over, trying to change the pre-set options.

I recommend this plugin which makes development life simple. I have used it and it is great. This topic was modified 5 months, 2 weeks ago by
The conclusion
In this article, we reviewed WordPress WooCommerce Social Login plugins for WordPress in 2022. Everyone with a website can use these plugins.
📌 Recommended: Our articles about the best WordPress blog themes and best WordPress plugins for bloggers are also highly recommended.
We hope that this article helped you in detecting the best WordPress plugins for WooCommerce Social Login sites.
Feel free to ask any questions you have in the comment section. We ask you to share this post on your social media accounts.