Quora is a question-and-answer based website where you can ask a question and it gets answered by the community. The website was made open to the public in 2010 and ever since it has taken the internet by the storm. In 2021, Quora is the most popular question and answer website which is used by millions of people around the world.
The reason behind Quora's success is the fact that it is being used by a lot of celebrities for AMA (ask me anything).
But is there a way to build a website like Quora with WordPress? The short and simple answer is Yes. You can build a Quora-like website with WordPress plugins and even with WordPress themes. If you are aiming to start a large-scale Quora website with WordPress you will need to have a great WordPress hosting plan. As it can be very demanding to process all of those questions and user interactions.
In this article, we would like to discuss how to create a quora website with WordPress?
How to create a Quora look-alike with WordPress?
Well, to start off you will have to install WordPress on your server which you have purchased. Of course, before purchasing a host and installing WordPress you need to register a domain name for your soon-to-be Quora-like WordPress website.
Once you have purchased a domain name as well as a host, you can begin the process of installing WordPress. Although most hosting providers come with one-click installation for most of their applications WordPress included. So, if you don't have any knowledge of how to install WordPress simply read our previous article.
How to Install a WordPress Theme?
Once WordPress is fully installed it comes with a few pre-built WordPress themes that you can choose from. However, we're going to introduce some of the best Quora look-alike themes that you can install and activate on your WordPress website to add the Q and A aspect of Quora to your website. Thus, without further ado let us begin.
WordPress Themes Like Quora
Ask Me is a modern looking WordPress theme like Quora that has a flat user interface. However, the Ask Me Quora WordPress theme comes with pre-built color schemes and a custom color tool that you can use to pick whatever color you prefer.
The design of the Ask Me WordPress theme isn't limited to the homepage. It covers your entire website even the registration, question, and answer submission as well as the login page of your website. This of course is designed in a way that would deliver a consistent user experience to your community which is very important.
The Ask Me question and answer WordPress theme comes with three main homepage layouts that you can choose from by clicking a simple button. Much like some Q&A websites, this theme allows your users to have their own profile page and the ability to earn points for engaging in the community.
Additionally, the user who submits a question can also help the community by picking the best answer. Moreover, with this theme, your users have the ability to follow questions. Often, people have the same question and with a simple search, they can either find the question submitted by another user or submit it themselves.
Most importantly, the Ask Me WordPress theme is fully responsive and enables your community to post both questions and answers whenever and wherever they are. Besides, the theme is WooCommerce friendly, which means you can even sell products on your website.
QAEngine is a powerful WordPress Q&A theme that is purely designed for people who would like to have a website just like Quora. By default, the theme comes with every little detail and feature you need to build a Q&A website with WordPress.
Much like the Ask Me WordPress theme, QAEngine comes with a point-scoring system that allows your community to rise up through the ranks and even earn some privileges such as the ability to edit their answers, ask more questions, and whatnot.
In addition, this theme comes with the ability to up or downvote a question. This helps your community to choose the best content to rise to the top. Also, the person who has submitted the question can upvote the best answer and making it easier to find the best answer for people who will have the same question in the future.
QAEngine is highly customizable. Thus, you can change its design and make it completely yours in every aspect.
Disputo is a WordPress discussion-based theme that suits question and answer websites perfectly. However, this theme works differently compared to other Quora-like WordPress themes mentioned on our list. In order to use this theme and everything it offers, you will have to install the bbPress plugin.
bbPress plugin is used to add a discussion forum to WordPress where visitors can ask and answer questions. Due to the way WordPress membership works you can dictate who can and cannot access your forums, let alone asking or answering questions.
The Disputo discussion WordPress theme comes with an internal private messaging system that allows your community to communicate with each other through a secure and encrypted system. In addition, it offers a like and dislike system that users can use to vote a post and/or questions.
Moreover, Disputo WordPress theme has an ads manager tool integrated into it which can be used to monetize your site and control how you would like the adverts to be displayed on the website. Most importantly, the theme supports eCommerce in general. Thus, it allows you to sell membership.
Discy is considered to be a superb WordPress question and answers theme. If you truly spend time and effort into learning Discy, you can easily create the next Quora on WordPress without any hassle. By default, the Discy WordPress theme comes with all the necessary features your site needs in order to become the next Quora.
Thanks to its highly customizable design you can change every aspect of the theme to make it more suitable for your use and match your taste when it comes down to having and question and answers website with WordPress.
Your community members can vote for each other's posts to make them stand out and reach more users. For example, if a community user is asking for the history of Japan, other users can vote either for the question or answer to make it reach out to more people who have the same question in their mind.
In addition, your community members each get their personal profile pages which makes it easier for users to find each other or learn more about those who have submitted either a question or an answer. Besides, with the user point system that is integrated into the theme, your users can benefit from rewards that you choose or see each other's rank in the community.
When it comes down to designing, Discy gives you full control over everything. You are free to choose from a range of color options that can dictate how your website is displayed to new or returning community members.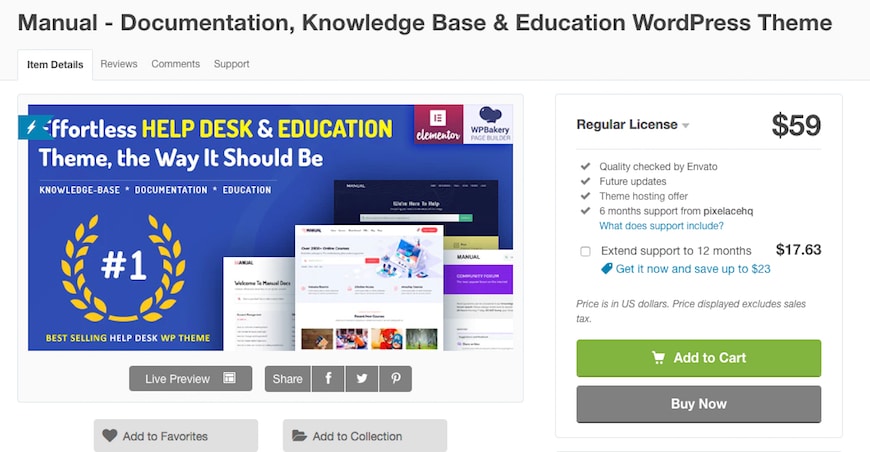 Manual isn't just a WordPress theme like quora. This theme is considered to be a multipurpose online documentation WordPress theme that can be turned into a simple yet powerful Quora website with the features it offers.
Other than launching a Q&A website with this theme, it is also perfect for those who are looking for a theme that helps them launch their own support site that is based on documentation as well as Q&A. The Manual WordPress theme allows you to have both of them at any given time rather than choosing only one of them.
In addition, if you are writing a tutorial that may require users to download a file or two, you can attach them to your post and have them download it. Also, all of your posts will be optimized and printer-friendly.
On the other hand, the Manual has a lot of customization options. It even comes with hundreds of fonts to choose from for your Q&A website. This of course can be used to work on your branding. Also, the theme comes with the premium Visual Composer page builder that you can easily use to drag and drop widgets to your website without having any coding knowledge.
If viewing statistics of your website is important to you, then the Manual them could be the answer to your prayers. This theme lets you quickly see how often your articles have been viewed. More importantly, your community members can easily share your content on different social media platforms such as Facebook and Twitter.
InfoCenter has simplified the whole process of building a Q&A website with WordPress. By default, they come with a gorgeous looking demo that can be used to launch your website within the first few minutes of having this theme activated on WordPress.
The content your community members post on your website can be voted thanks to the Ajax voting system that is fully integrated into the theme's core files which allows your visitors to rate the content they are reading.
The original design of the Q&A demo of InfoCenter comes with three different options that you can choose from. In addition, it comes with lots of other gorgeous looking templates for user page, discussion forum, and the FAQ section of your Quora-like WordPress website.
Overall, the InfoCenter WordPress theme is a ready-to-use theme that you can use as soon as you activate it on a WordPress hosting platform.
Answers is a pre-designed question and answer WordPress theme designed specifically to turn your WordPress website into an ultimate Q&A hub for everyone to access it.
In Answers, both questions and answers can be submitted directly from the forms that have been gorgeously designed by the folks at Templatic themes. Besides, the theme is fully compatible with eCommerce plugins such as WooCommerce to monetize the submissions.
The Answers WordPress themes like Quora is fully integrated with PayPal allowing any website owner to take advantage of this feature and monetize the theme.
Lore is a WordPress theme designed specifically for knowledge-based websites that mainly focus on creating discussion forums as well as publishing online documentation for a variety of subjects.
Lore is designed and developed to work around WordPress' original functionality. For example, tags, categories, permalinks, etc. Furthermore, Lore is very rich when it comes down to template design. It has a wide range of blog post templates as well as the FAQ section.
On the other hand, managing Lore is very simple. They have optimized the admin dashboard of the theme to be feasible for anyone who uses the theme. Whether you are an advanced user or someone who has just started learning WordPress, everything is easy to understand.
Moreover, your users can and have the ability to publish content on your website if you choose to give them the ability to do so. Community members can submit their questions, answers, and even post through the front-end forms.
In addition, for someone who has just entered your website, it is easy to navigate around the theme. The Lore WordPress themes like Quora come with in-content links, drop-down menus as well as other cool navigation features that simplify the process of going around the website for new users.
On the plus side, the theme is fully compatible with Multilingual plugins and even supports RTL languages. Thus, you can have your website in any language that you prefer and would like to offer services to.
If you are after a WordPress Q&A theme that is designed based on the material design, then we highly recommend Flatbase. Hence, the modern look that the theme gives your WordPress website as soon as you install and activate it. When you finish the initial process of installing the theme, you can choose between a selection of pre-designed Q&A demos that you choose from based on your preference.
In any demos that you decide to choose and use on your website, you get a search bar that goes through every single post, pages, comments, etc. of your website and displays the most relevant results as soon as your users start typing them.
Besides, the Flatbase WordPress themes like Quora offers a variety of templates for the individual articles that you have published or are about to publish on your question and answers website.
What does this mean?
Well, it means whenever you publish an article or an article gets published on your Q&A website, you should be able to find a template that works best with the published article.
Let's not forget that the Flatbase theme is fully compatible with the popular bbPress plugin allowing you to turn your website into a full-on discussion website that is built around forums and whatnot. In addition, if you would like to have your website in different languages you can do so. Since the theme is translation ready and fully supports multilingual WordPress plugins you have no issue having a multilingual website with Flatbase.