You are looking for the best-classified WordPress ads, But how do you do it?
⚡️ Need an answer quickly? The Publisher theme is an excellent solution that is quick and easy to use. It offered more than 100 unique demos and was designed to be highly customizable and scalable.
For you, we have gathered the best WordPress themes for Classified Ads of 2022. These themes will help you build a great site with primary navigation, modern features, and an appealing design. As a bonus, these themes are responsive, so you can attract readers on any device.
The themes listed below are also for creating a Classified Ads website. These WordPress themes are also helpful for people who deal with Classified Ads Listing, Classified Directory, Ads Listing, Listing Classified, Classified, Directory Listing, WooCommerce, Business, and much more in this field.
Listed below are the top WordPress Classified Ads themes in 2022:
Classified Ads WordPress Theme
The AdForest is the most prominent Classified Ads WordPress theme and is ideal for the directory, listing, marketplace, and RTL websites.
AdForest's built-in bidding tool is an important feature, allowing you to build advertising-specific websites like eBay.
When WizzChat is integrated, you cannot only manage listings through your comprehensive admin panel. There is an exception; this theme enables buyers and sellers to communicate to facilitate a successful transaction.
Moreover, this theme comes with over 25 layout templates, and you have the option to create your own using either WP Bakery or Elementor.
💵 For only $69, it offers six months of free support and lifelong updates.
Random Reviews:
It is easy to customize without any errors

Problem-solving was fast, thanks, Jacob K
Classified Ads WordPress Theme
Classima is a WordPress Classified Ads Theme for business directories, classified listing, job directories, and marketplace websites.
Classima offers a variety of homepage layouts, enabling you to design a classified WordPress website to suit your needs.
In addition to displaying advertisements on your website, you can charge users a one-time fee for creating and publishing classified listings.
Due to the drag-and-drop nature of the Elementor page builder in Classima, users do not need to be knowledgeable about coding to create a page.
💵 Purchase this theme for $44 and receive six months of free support.
Key Features:
Custom Fields Display is available in List View
Category & Location AJAX Filter are available
Google Map with API is included
Set Listing duration no of days
Fields control for detail View are included
The contact form is available on the Listing detail Page
Random Reviews:
RadusTheme support is first class, and the theme is exceptional. I highly recommend RadiusTheme!

I recommend the Classima theme as it has been the best sales theme I have ever used.
Classified Ads & Directory Listing WordPress Theme
Listivo is a Classified Ads & Directory Listing theme explicitly designed for listing directory, local directory, service directory, and websites.
In addition to having the flexibility to create any classified ad website, Listivo is also very customizable. With Listivo's bespoke module options, you can go beyond what Elementor can do by creating anything you need.
As well as adding new custom fields to your listings, Listivo allows you to modify existing custom fields.
By using this method, you will be able to control what type of information is stored on your website about every Listing.
💵 You can have a continuously updated theme by taking the $39 theme.
Random Reviews:
Greetings to TangibleDesign 🙂 < I am impressed by their professionalism and speed. They are an expert in their field.

Thank you for the quick response to the tickets and clean theme layout. If only all themes were like this!
Classified Ads WordPress Theme
Classiera is a customizable Classified WordPress theme suitable for ad listing, automotive, directory, and jobs websites.
You can easily set up your classified site with 15 pre-designed layouts regardless of your expertise.
Additionally, a front-end dashboard may be used by sellers to manage their listings and to buy exclusive advertising space. No admin input is necessary, as sellers are responsible for managing their listings and purchasing exclusive advertising space.
In addition, it features an easy-to-use chat box, SEO tools, and a mobile-friendly design.
💵 The cost of the Classiera theme is $49.
Key Features:
Elementor Page Builder is integrated.
Custom fields are available for each category
Built with HTML5 & CSS3 & Bootstrap 3
Child Theme is included
WooCommerce is fully integrated
Featured Ads By Category are available
Random Reviews:
The Classifier team is always available and always helpful! Excellent customer service. The theme itself is elegant! Well worth the investment. <
Classified Ads WordPress Theme
Adifier is a Classified Ads WordPress theme featuring design and functionalities suitable for the business, directory, and marketing websites.
It is a classified ad WordPress theme that offers a variety of features that can be used to create classified websites.
This theme does not only offer a variety of templates but is also highly customizable, making it suitable for a variety of different projects.
Website owners can receive customers' payments using the Payments & Billing Theme.
💵 You can purchase it at $49. It comes with automatic updates and six months of support.
Key Features:
Location Country Restriction is offered
Advanced Custom Fields are available
Messaging System is offered
Free Ads Upon Registration is available

Locations In Multiple Levels are available

Custom Fields Filter is available
Random Reviews:
I love your theme. I have been experiencing emails going to spam as well. I love guys!

Thank you for a great theme, and a BIG thank you for providing support. The replies to queries were prompt, and the solutions were to the point.
Classified Ads WordPress Theme
The Classiads is a Classified Ads WordPress theme suitable for a car dealer, marketplace, pet, RTL, and similar websites.
Classiads for WordPress offers full-featured classified advertising without the need for any coding knowledge. You will have access to more than 20 demos, a variety of clean internal layouts, and tons of practical tools that will help you start working immediately and efficiently.
Furthermore, Classiads can be customized by dragging and dropping elements, providing an extensive customization toolbox.
As well as offering monetization options, multiple payment gateways, social login options, and full support for RTL languages, the program provides several user-friendly features.
💵 For $59, you can purchase this theme.
Random Reviews:
Thank you so much. I am thrilled.

An excellent theme with great support.
Classified Ads WordPress Theme
The Classify is a Classified WordPress theme suitable for bbpress, corporate, job listing, and similar websites.
Additionally, it features an extensive theme options panel that lets you customize every aspect of your website's appearance.
A classified ad website can be created using the Classify front-end, and listings can be submitted, as well as membership plans created with the Classify back-end.
Your website users can also quickly locate the address of a business listed on your website using the Google Maps and Geolocation tool. In Classify's classifieds section, ads can be listed in multiple layouts, video can be embedded in ads, and a layer slider is used to facilitate navigation.
💵 For $49, get all the valuable features plus six months of free support.
Key Features:
Fully Responsive & Mobile Friendly
One Click Demo Importer is available
Built with HTML5 and CSS3
WooCommerce is fully integrated
Sliders are touch swipe compatible
Working Contact form is integrated
Random Reviews:
The theme is fantastic. It's been customized beautifully. The customer care is exemplary. And the customer service has gone above and beyond my expectations on numerous occasions to help me to fix problems. Their patience has been greatly appreciated. I'm thrilled with the theme and customer support I've received.
Classified Ads WordPress Theme
Lisfinity is a Classified Ads WordPress theme suitable for classified listing, directory, real estate, and WooCommerce websites.
In terms of its design, Listfinity is one of the best WordPress classified advertising themes, featuring a drag-and-drop editor and a customizable feature that allows users to create custom fields and classes.
Additionally, it integrates WooCommerce to monetize advertisements through special packages, promotions, and premium profiles.
Using Lisfinity, you have complete control over what content appears in your listings and how your templates appear when displayed.
💵 Upon purchasing the theme for $59, you will receive free updates for life.
Key Features:
Drag and drop page builder is available
Search builder is available
WooCommerce is fully integrated
Progressive discounts can be added

Elementor is fully integrated
Random Reviews:
Excellent! I'm glad you like it. Thanks!

I received support even after the six-month deadline.
Directory & Listing WordPress Theme
DWT is a Directory & Listing WordPress theme for listing classified, business listing, restaurant, food directory, and websites.
Furthermore, the theme supports booking systems, online reservation nearby location services, and expiration dates based on selecting a plan or package.
DWT includes a Reach native template that can be used to create Android and iOS apps. Using the Reach native template, you can publish your apps directly on your WordPress website based on DWT.
It provides various listing websites, such as real estate, yellow pages, job listings, and electronic bulletin boards.
💵 DWT theme costs $59 for purchase. You can also receive six months of free support with it.
Key Features:
Contact Form 7 is integrated
The shortcode is ready
Integrated with Google Maps
Fully integrated with WooCommerce
Single Click Demo Import is available
Back-to-top options are available
Random Reviews:
This theme looks very nice and clean. Highly recommended.

Friendly & helpful customer support
Multipurpose Classified Directory WordPress Theme
Knowhere Pro is one of the Multipurpose WordPress themes for Classified Directory that is designed for booking, city portal, job portal, travel guides, and websites.
Seller profiles only need to be approved by an administrator before seller ads can be uploaded and managed with a high-quality user interface.
In addition to preventing spam, it establishes your website as an authoritative source when buyers provide reviews on their purchases.
You will find it easy to collect payments on your website using the included and supported plugins.
💵 It costs $59, which includes All Features + 6 Months of Support + All Brings Plugins + Free Lifetime Updates.
Key Features:
Social networks login and registration
Woocommerce is integrated
Based on Bootstrap 3 grid
WC Paid Listings plugin is included
Two premade homepage layouts are available
Four variants of category layouts are integrated
Random Reviews:
It was a pleasure working with Sergii – thank you!

I recommend it as it develops very well.
Car Dealer & Classified WordPress Theme
Motodeal is a Car Dealer rental repair & Classified WordPress theme for automotive, car listing, vehicle dealership, classified ads, and websites.
A variety of excellent features, elements, and blocks are included in the Motodeal package. With these tools, you can easily and quickly create an entirely responsive website.
More than ten home demos, over thirty internal pages, and over 200 blocks are provided right out of the box.
As well as Motodeals, there are also review systems, comparison tools, a finance calculator, menu styles, different types of testimonials, headers and footers, and a finance calculator.
💵 This template was developed by a robust author for $49 and is currently available.
Key Features:
A

financial calculator

is available

11+ Premade Demos are offered
11+ Home pages are offered
Multiple Footer Styles are available
The product list and grid layout are available
Homepage filtering is offered
Random Reviews:
They have put a lot of effort into designing the theme's UI.

While it is a theme that fulfills its mission, although it is pretty complex to use, as you can edit many functions from too many places, I still give it five stars. I would recommend it.
Directory Listing WordPress Theme
Wilcity is a Directory Listing WordPress theme designed for app landing pages, restaurants, travel, and booking websites.
A wide range of features is available with Wicity, a MapBox plugin that provides maps in more than 50,000 configurations. Aside from King Composer, Elementor Page Builder makes this theme one of the most customizable themes available for WordPress.
Your listing website can be easily customized by modifying the current theme designs' layout, color, and style.
Besides video advertisements, the theme supports AdMob banner advertisements, interstitial ads, and rewarded videos.
💵 This theme offers many valuable features and six months of free support. It costs $69.
Key Features:
Best Business hours can be added
WooCommerce is fully integrated.
A new search page is available
Listing types shortcode is available

Customize listing location

The review listing feature is available
Random Reviews:
This theme is not just for a directory but also has many features.

They deserve more than five stars because they are always ready to help.
Classified Ads WordPress Theme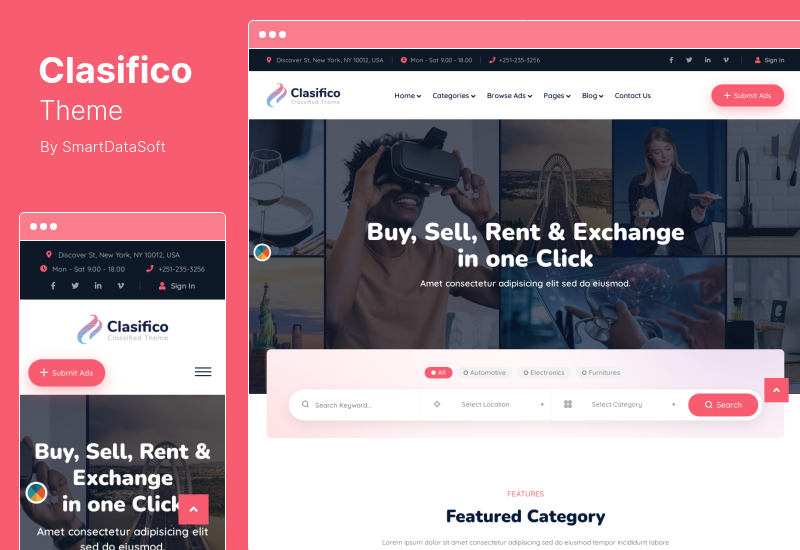 Clasifico is a Classified WordPress theme usable for bbpress, business, marketing, and corporate websites.
The theme is flexible and can be customized and expanded to meet the needs of any type of website, with three clean home pages, two header styles, and over 15 different inner pages.
This theme is Elementor compatible, allowing you to quickly drag and drop your layout; there is also a live editor on the site's front end.
In addition to the built-in features, this theme offers the option of customizing the layout to meet your specific needs. It has included all the essential features required for a detective-style website.
💵 For just $29. You'll get a complete documentation package and free six months of support time.
Key Features:
Elementor is fully integrated
Contact form 7 is fully compatible
Premium support is provided
Typography options are available
Multiple color schemes are integrated
Instant demo importer is offered
Random Reviews:
Clear, simple, very lovely. Excellent technical support<

I appreciate the excellent after-sales service and support. The theme is incredible, and the support team is fantastic and friendly. They helped me a lot with the website installation.
FAQs for WordPress Classified Ads themes.
Here are some frequently asked questions we provide users regarding our Classified Ads WordPress templates.
You should write down your troubles in the comments if you haven't gotten a response. We will reply carefully.
Do you know the best WordPress themes for Classified Ads websites?
We created a list of the best WordPress templates suitable for a classified ads website.

However, our recommendation is the Publisher theme, which has many good-looking demos. It also offers many popular plugins that are exceptional for Classified Ad websites. For Classified Ad websites, we also recommend the Astra theme.
What are the best WordPress classified ad hosting options for 2022?
Select a good host for your Classified Ads website. We recommend Bluehost since it has many valuable options for your Classified Ads website.
Final thoughts on choosing a Classified Ads WordPress theme
With this article, we found the best WordPress themes for Classified Ads. You should use them to improve your site.
We have an excellent recommendation for you! Select the Publisher theme. It is one of the best themes on the market. SEO and speed are both essential items for a site. The Publisher theme is both high-performance as well as SEO-friendly.
In addition, there are many progressive Classified Ads WordPress templates that you can use to promote your Classified Ads episodes across the internet. Also, we hope you find what you are looking for.
Would you know of any other WordPress templates for Classified Ads sites? If so, please share them in the comments. If you'd like to keep up with our posts, please follow us on Facebook and Twitter.