Do you need the best list of WordPress plugins for WooCommerce mix-and-match products?
This article will tell you about the best WordPress plugins for WooCommerce Mix and Match Products. In the end, we will also give you some suggestions for pure scenarios.
Having thoroughly evaluated and chosen these plugins, we are confident that you will be selecting the best WooCommerce Mix and Match Products plugin. We guarantee that all the top WordPress themes can be customized with the plugins.
All of these topics were developed for WooCommerce Mix and Match Products. Plugins were also integrated for WooCommerce Composite Products, Product Bundles, and Grouped Products.
📌 Note: Use an advanced WooCommerce theme that provides the features you need with a beautiful design to improve the appearance and functionality of your store. Also, for choosing advanced plugins for your store, check out our article about top WooCommerce plugins.
Our selections of the best WordPress WooCommerce Mix and Match Products plugins for 2022 are as follows:
Custom Product Boxes Bundles
Using this WooCommerce Mix and Match plugin, you can offer bulk purchases for your customers. This plugin allows bulk orders, which increases revenue by a whopping 30%.
WooCommerce Mix and Match products allow customers to customize their own assortment based on their preferences with plugins such as WooCommerce.
Besides custom pricing structures (just like the WooCommerce Composite Products plugin), you can also provide your customers with personalized gift boxes, allowing them to save time and money during their purchases.
With an easy-to-use user interface, customers will find it easy to add their desired products to your assortment.
Furthermore, you are able to set a minimum and maximum threshold for controlling the grouped products. In addition, you have the opportunity to suggest what should be added to the assortment.
Using this plugin, you can specify different pricing rules for different sections of your online store.
💵 A 12-month support package is included with the plugin for $39.
Key Features:
Add custom text with gift boxes
Based on the contents of the box, manage shipping costs
Make product boxes visually appealing and layout-friendly
Customize your WooCommerce product assortments
An option where store owners can add pre-filled products
Load products to the assortment based on the category
With an add-on, it works with WooCommerce subscriptions
Specify a number of products to add to assortments
Support all WooCommerce product types
Random Reviews:
Our plugin was supposed to display the zeros after the decimal point. That wasn't the case. We asked support to fix it within a few hours. Thanks.

Codecanyon's Mix&Match has the best box option, but I miss a few things in it. Nevertheless, the support is excellent.

The support I received from CreativeThing was exceptional. I wish all themes and plugins came with such fantastic support.
Allow Your Customers to Combine Products & Create Their Own Variations
The Mix and Match Products plugin allows you to create a variety of themed custom product boxes within a few minutes, which can be delivered as a gift to the fortunate recipient using the Mix and Match Products plugin.
It is possible to use this plugin to ensure that customers are encouraged to purchase the items they desire without being compelled to purchase items they are not interested in.
In addition to increasing conversion rates, this will also increase average order value as the customer will be able to select the contents and items they would like to include in their boxes. Additionally, a personalized message can be included in the gift box.
By limiting the maximum number of items that can be added to a customer's box, they can limit the number of items that can be added to their box.
It is possible to purchase by selecting items from a list. It is compatible with simple products and variations.
💵 The price of this plugin is $79.
Key Features:
Selling subscription boxes generates recurring revenue
Products can be added to each assortment at your discretion
Customers can track their remaining selection with the progress bar

Each personalized box can be priced dynamically or fixed

Personalize your box by selecting categories or products
Make your WooCommerce store more conversion-friendly
Allows customers to create personalized boxes with ease
A Smart Solution for Creating & Selling WooCommerce Product Bundles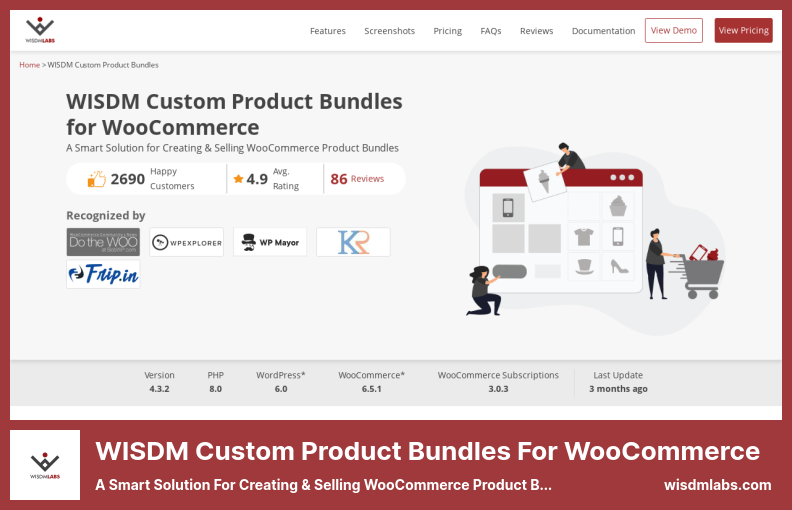 By using WISDM Custom Product Bundles for WooCommerce, you can create available bundles to your customers and allow them to create their own bundles based on the products you select.
By categorizing your products, you can quickly organize your shop, or, if you prefer, you can simply offer your shop customers a choice of bundles to choose from.
There is also a recurring payment option included in the plugin that can be configured. Through this plugin, you will be able to sell groups of products as packages and offer special bundle deals.
Aside from dynamic pricing, the items in the kit can also be personalized, and gift messages can also be included.
By integrating WISDM Custom Product Bundles into your WooCommerce store, we help you sell more products and simplify management while generating recurring revenue and increasing profits.
You can easily create product bundles for your WooCommerce store by using Custom Product Bundles' easy-to-use layout.
💵 The plugin offers free support for 12 months when you purchase it for $80.
Key Features:
Sell A Variety Of Product Bundles
Create Pre-filled Bundles And Pre-made Kits
Choose Product Categories Or All Products To Create Bundles Quickly
Reduce Buyer Confusion With Clear Add-ons
Custom Modern Layouts For Product Bundles
Generate Recurring Revenue With Subscription Boxes
Set Dynamic Pricing for Product Bundles
Design Box Layouts That Match Your Store's Theme
Create Special Offers in Your Shop by Combining Products in Bundles
Utilizing YITH WooCommerce Product Bundles, you can create bundles that include complementary products along with your own products.
It allows you to assign a discount and a shipping fee to each bundle, specify different minimum and maximum quantities for each bundle and add optional items, so you should be able to create an unlimited number of bundles with this plugin.
Also, custom bundles and individual bundle products provide you with various options for displaying the quantity and image per item.
As a result of having access to other products, you may be able to upsell and cross-sell other products, increasing the average order value and therefore increasing sales.
Various powerful features are included in the plugin, including the capability to define both minimums and maximums for pricing and bundles.
The addition of discounts and quantities will make your bundle more attractive to your customers is also available.
💵 The Lite version is free, and the Pro version is $81.03.
Key Features:
Use the items from the bundle price as a fixed price
Before adding the bundle, buyers can select color, size, etc
Apply discounts to the product bundles
Ship products separately or charge the customer a single shipping fee
Show/hide product name and description with unlimited products
Pop up window for easy product addition
Random Reviews:
The free version demonstrates an error of 500 when I try to access my store when I install this plugin.

Thank you. We searched for an easy bundle product, and this one worked straight away.
Our final point is
This article explains in detail what is the best WordPress WooCommerce Mix and Match Products plugin. You could use these plugins to enhance your website to the fullest extent possible.
📌 Note: We suggest you check our articles on the best WordPress blog themes and best WordPress plugins for bloggers.
Thanks for reading this article. We hope you found it helpful.
Let us know your thoughts in the comments below. Please share the post on your social media platforms like Twitter and Facebook if you agree.