Would you like to find a WordPress plugin for Oxygen Builder Addons as soon as possible?
Oxygen Builder is one of the best WordPress page builders and here, we have selected only the best Oxygen Builder Addons WordPress plugins and a comprehensive review of each. By choosing the right WordPress plugin and features, you can establish the perfect first impression you need to gain a new loyal visitor. Plugin compatibility is also confirmed across all WordPress themes.
Now we reach the end of this list, all of these plugins work with Oxygen Builder Addons. Also, you can use the following plugins for Oxygen Builder Design Sets and Oxygen Builder WooCommerce Templates, Oxygen Builder Themes, and Recommended Plugins for Oxygen, Oxygen Builder Integration, Oxygen Builder Plugins, Oxygen Builder Extensions, Full-Width Oxygen Block Or Section, Oxygen's WooCommerce integration.
Therefore, we present you with the top WordPress Oxygen Builder Addons plugins for 2022:
Contains All of The Essential Functions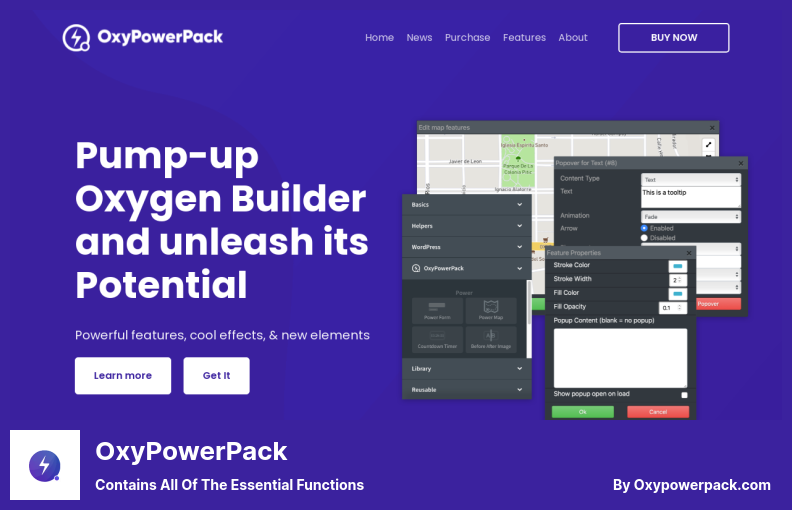 One of the most popular Oxygen Builder addons in today's market is OxyPowerPack, which includes a vast number of options for customizing your site.
There is a fundamental difference between Oxygen Builder and OxyPowerPack. It contains all the features that must be included in the basic package.
A feature of this plugin that is absent from its core plugin is the ability to enable parallax scrolling on sites.
Additionally to loading images slowly, the addon includes three-dimensional maps, custom attribute attributes for each element type, and text animations.
Additionally, all of these actions can be accomplished using the various events provided by the browser and mouse. These include replacing elements, removing classes, and displaying or hiding elements.
With this plugin, you will be able to automatically create tooltips for all Oxygen elements. Tooltips are essentially explanations for each element that can appear anywhere on that element. They can be triggered by mouseover events or directly clicking on the element.
💵 $9n/month offers an exceptional plugin with many documents and 12 months of free support.
Key Features:
Combining MapBox Power Maps with any vector base map will result in a breathtaking result
Creating a unique contact form is easy
There are two types of pages that you can create for your website: maintenance and coming soon
Content for popovers can be customized according to your requirements
It is possible to configure a countdown timer
By using the Before/After Image function, users may view two images before and after they have been altered
Has an Exhaustive CSS Framework and Set of Oxygen Builder Templates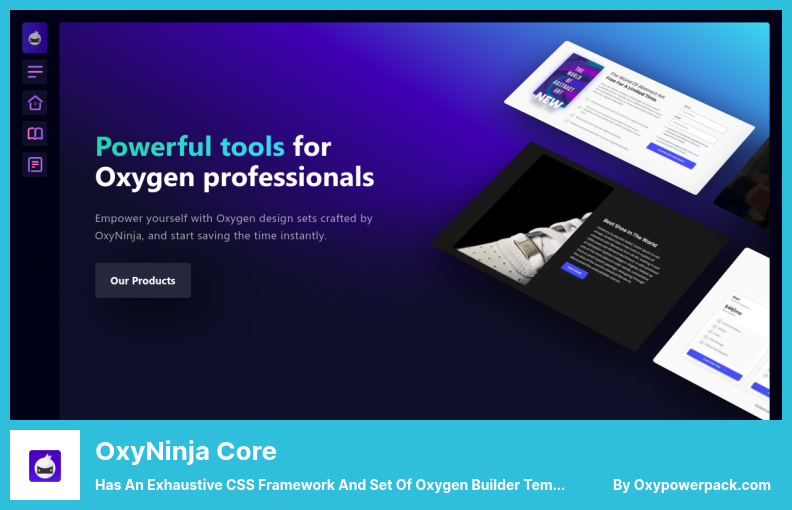 Like OxyPowerPack, OxyNinja Core features a CSS framework and a set of Oxygen Builder Frameworks and templates.
Meanwhile, The Oxygen Builder design sets consist of prebuilt components, including home page blocks, contact pages, columns, and a full-width Oxygen block or section for services.
The plugin also comes with a prebuilt Mega Menu that is easy to use and customizable. This menu includes specially-written codes and utilizes many pre-tested, prebuilt Oxygen elements.
In this plugin, class names are titled and created to make them easy to understand so that every element uses the same classes.
Additionally, the plugin contains layout control and grid control. Impressive documentation is also included to assist you with any questions.
Upon purchase, you receive a plugin that enables Class Lock. You will not need to worry about making mistakes by mistake since the properties of Core classes can be locked. Unfortunately, there is only a paid version of this plugin.
💵 The plugin has complete documentation and you get 24/7 support for no additional cost.
Key Features:
Changing the style sheet can be reversed if an error occurs
It is possible to reduce significantly the time it takes to design a website
Oxygen's WooCommerce integration is possible and a set of WooCommerce builder blocks templates is available
You can copy selections from one website to another
OxyNinmja Core can be copied and pasted from one site to another with ease
an Excellent Oxygen Builder Addon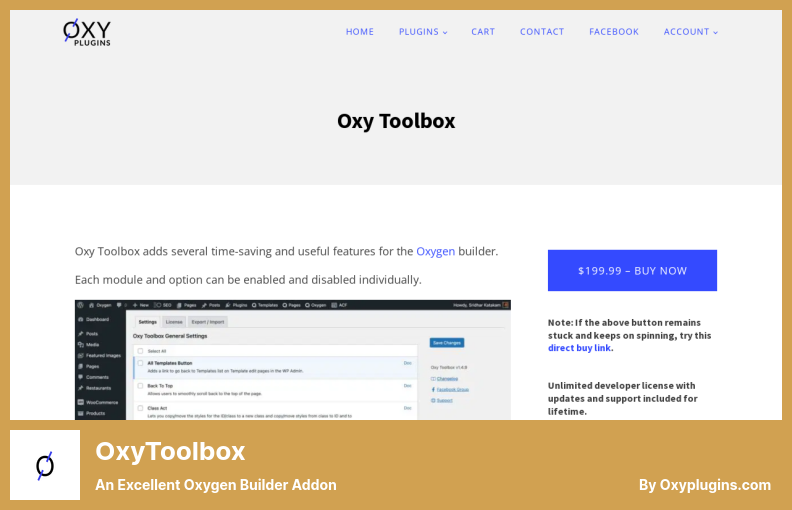 In OxyToolbox, users can simplify their workflows and improve productivity by enhancing Oxygen Builder's workflow capabilities. OxyToolbox consists of several features that simplify your workflows and improve your efficiency.
Even though Oxygen Builder's current version contains a few useful features, it is challenging to incorporate Rank Math or Yoast with its core functionality. Still, this plugin provides various useful features for you to utilize.
Using OxyToolbox, you can integrate well-known SEO plugins such as these and various other tools, so you can customize their use as you prefer.
Any webmaster concerned about the performance of their website can benefit from organic search engine optimization by using this plugin.
Its condition settings are well suited for Oxygen Builder's default setting below. They are helpful in specific scenarios and work well in general.
💵 You'll receive 12 months of support when you purchase the plugin for $199.
Key Features:
It may be possible to improve the efficiency of the Oxygen Editor
It is possible to perform code completion when Emmet is used
Using the Oxygen properties panel, you can modify the text displayed there
A quick link can be created within the WordPress admin bar by using the Navigator feature
The user has the choice of viewing the display in full-screen or in normal mode
Plugins related to search engine optimization are available
Provides a Nice Variety of Design Elements for Website Design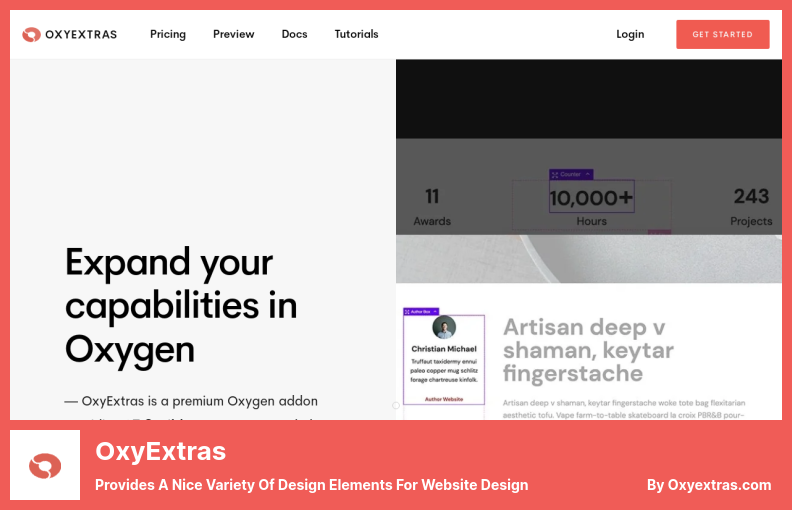 Like OxyNinja Core, the OxyExtras plugin is an addon for Oxygen Builder that provides a comprehensive range of design elements for website development.
It also provides 37 components that can be used to enhance workflow efficiency, plan visually, and reduce errors.
With this plugin, you have access to over thirty additional elements. The plugin is updated every two to three weeks by the developers.
The features of OxyExtras, such as infinite scrolling, popovers, hotspots, and a website preloader, are some of the things that can be appreciated. Each resource boasts several impressive features.
Furthermore, this plugin is a visual site builder for WooCommerce that provides WooCommerce users with several additional features, including a mini cart and a cart counter.
In addition to working with Oxygen's components, the plugin has been designed to communicate with other Oxygen Builder plugins. Each element has minimal markup and is lightweight.
As an additional feature, it allows the introduction of counters that animate on entering the viewport, with their own durations for animation as they enter the viewport.
💵 For $149/lifetime, you can get this plugin.
Key Features:
Depending on the purpose, you can display messages in various alert boxes and fix them to the viewport or add them to the content
You can set the speed of the transition and the elements that you wish during the transition
An article may be chosen according to its appropriate category
You can include a search engine in your header to facilitate your visitors' searching
You may drag links from previous to next posts on your site to construct dynamic links between them
Author boxes can include author images and bios and dynamic links to the author's archive and website
Has Several Functions That Aren T Found in The Oxygen Builder Core Plugin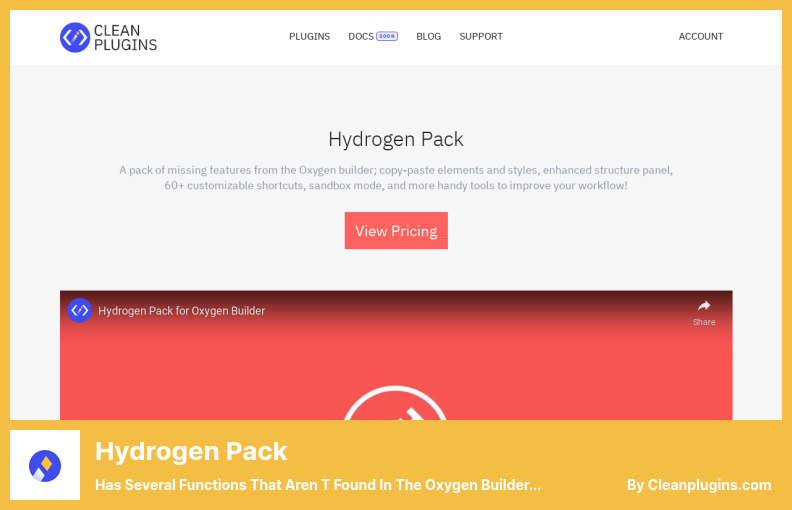 The Hydrogen Pack plugin offers several features not available in the Oxygen Builder core plugin, such as a sandbox mode, sixty-plus customizable shortcuts, an improved structure panel, and functions that allow copying and pasting of styles and elements, etc.
This way, you can build websites more quickly.
In addition to the keyboard shortcuts, you will be able to readily access several well-known keyboard commands such as Ctrl + C and Ctrl + V for copying and pasting, and Ctrl + S or CMD for saving documents.
There is also the option of creating shortcuts to make things easier. For example, inserting images with Shift + I, dividing with Shift + D, and dividing by sections with Shift + S can be done quickly.
Furthermore, Suppose you are using Oxygen addons. In that case, you will always have the option to rebind and override shortcuts in certain Hydrogen key sets to control Oxygen mouse clicks. If necessary, you can create your own combinations of Ctrl, Cmd, Alt, and Shift keys as you see fit.
💵 This includes All Features + 12 Months of Support Time + All Plugins + 1 Year of Updates.
Key Features:
There is the possibility of copying entire sections or elements
Copying and pasting of styles are possible
Allows you to quickly rename elements and view icons according to the type of element you have selected
There are several commonly used options available by right-clicking
It is possible to obtain copies of the conditions
It is possible to switch between breakpoints at any time
Change Oxygen S Builder Theme and Add New Functionalities
The Swiss Knife for Oxygen Builder plugin is an addon for Oxygen Builder that provides significant enhancements to the Oxygen Builder version, particularly concerning improving workflows with Oxygen Builder.
This plugin has several unique features, including a customizable font manager, a bug-fixing mode, and dark and light Oxygen Builder themes with enhanced contrast.
One of the favorite features of this program is its ability to add custom themes to the Oxygen Builder editor so that the buttons are easy to see and easy to click.
Using this plugin, you can use the code block element to construct your website to take advantage of auto-complete and emmet abbreviations, as applicable.
Furthermore, using the search page function and the template option simultaneously enables you to switch instantly between them without leaving the builder. Utilizing the class lock function allows you to minimize errors and ensure that your website is not compromised.
💵 Downloads include a Free version and a premium version for $69.
Key Features:
It is possible to design keyboard shortcuts in 40 different ways
You can change the font when using a Custom Font
You may select from a variety of themes
You will find styles and scripts for Oxygen websites
The CSS and HTML workflows can be improved
There are several factors you can use to prioritize the necessary actions
Random Reviews:
The plugin adds a lot of functionality to Oxygen. I bought it primarily to upload fonts, but have come to appreciate the different options it offers.

I'm glad to see something like this for Oxygen

The oxygen extension helped me save a lot of time.
Uses CSS and Javascript to Make Improve to The Oxygen Builder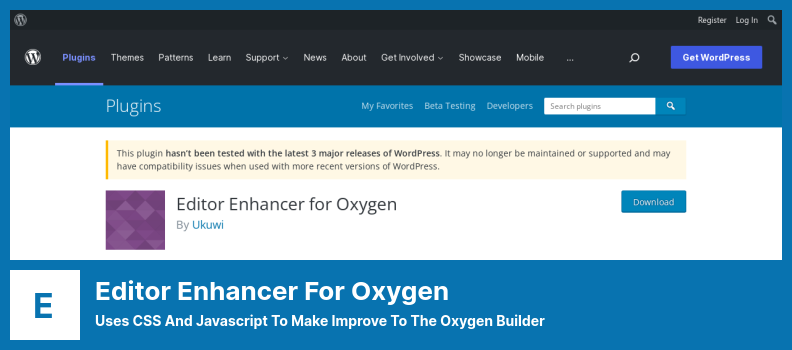 The Editor Enhancer for Oxygen plugin is a collection of Oxygen Builder extensions and one of the recommended plugins for Oxygen that enhance editors' workflow. Using this plugin, you can customize Oxygen Builder's default editor by modifying CSS and JavaScript.
Using this plugin, you can make slight changes to the Oxygen user interface to make it more efficient. This plugin is different from a few others in that it has a direct Oxygen Builder integration interface.
Additionally, files have been combined and minified to reduce the server load due to these enhancements. Currently, these enhancements are only available to logged-in users using the editor.
Also, to create a working checkpoint, a snapshot may be taken and subsequently restored at any time. Additionally, Oxygen Builder utility classes and components can also be easily copied from one project to another and pasted into another with the help of paste codes.
Unfortunately, throughout the nesting of Structures, the Controls will shift to the right and eventually disappear entirely.
💵 You can download the Lite version for free, while the Pro version costs $69.
Key Features:
It is possible to reduce the loading time of the editor by decreasing the size of the file
You can add quick buttons
You may choose the actions sequences for the components you wish to include on your keyboard
Your workflow can be improved with drop-down menus, etc
Media queries and panels can both be toggled
You can rename, copy, and save items
Random Reviews:
It provides a lot of conveniences and nice touches, too!

*This plugin makes Oxygen Editor look more professional.

A wonderful plugin that creates a beautiful, useful user interface.
Finally, let me sum everything up by saying
You can build a big difference by using these WordPress plugins for the Oxygen Builder Addons. They are effective. We helped you locate the best WordPress plugins to use.
We hope you enjoyed our article on the best Oxygen Builder Addons for WordPress.
Do not hesitate to send a comment if you are having trouble or if you are unsure; that's what we are here for. We'd appreciate it if you shared this article on Facebook, Twitter, or other social media.