Are you in search of the best SSD VPS hosting for your website? Are you having trouble finding reliable and efficient VPS hosting providers? Look no further because we have got you covered.
In this article, we will be discussing the top SSD VPS hosting providers that will ensure lightning-fast website loading times, high security, and excellent website performance. 
We understand that choosing the right web hosting provider can be a daunting task, but with our comprehensive research and analysis, we have narrowed down the best options in the market.
In recent studies, websites with faster load times tend to get less bounces and more engagement. It's important to choose the right web hosting provider with the latest technology and features because speed and performance are getting more important.
Here we will be providing you with a detailed overview of the best SSD VPS hosting providers, their pricing plans, and what features each of them offers in order to help you make an informed decision.
Best SSD Hosting Providers 🏆
One of The Most Trusted VPS Hosting Service Providers
One of the most affordable SSD VPS hosting options is Kamatera, which offers impressive hardware and flexibility. In addition to its pay-as-you-go system, you can also use it completely free of charge during its 30-day trial period – you only pay for what you use.
Powered by Intel Xeon processors and SSD SAN arrays, it offers enterprise-class speed, reliability, and uptime. There are 40 dedicated vCPUs, 514288 MB RAM, 4000 GB SSD storage, 4 public IPs, 100 cPanel Premier accounts, unlimited domains, and extended daily backups.
It's possible to get personal assistance 24 hours a day, 7 days a week, even if you don't add managed support. Besides unlimited storage, root access, an API, and unlimited databases, the platform can be configured, scaled up and down, and added as needed.
You can run your applications and databases without I/O bottlenecks and latency with a networking speed of up to 40 gigabit/s per server. Start small and scale up to powerful bare metal machines with their simple cloud management console.
As a cheap SSD VPS hosting, there is no overselling or sharing of CPU, RAM, or other system resources on each server, another significant advantage. With their easy-to-use cloud management console, users can easily create servers and clone them.
Ultimately, Kamatera is a great SSD VPS hosting provider with affordable, flexible, and impressive hardware. Its global data centers, live technical support, unlimited storage, and networking speeds enable you to run your applications flawlessly and scale effortlessly.
Key Features:
Offers a pay-as-you-go system
Provides 24/7 personal assistance
Powered by Intel Xeon processors and SSD SAN arrays
Each server can do 40 gigabits/sec
The easy-to-use cloud management console
Configure, scale up, and down as needed
a Hosting Provider Entirely Dedicated to Web and Cloud Experts
Almost perfect uptime accompanies outstanding performance from Liquid Web SSD VPS. A few of the key features of the service stand out to me: proactive monitoring, multi-level DDoS protection, and off-server backups by default.
All its SSD VPS plans come with core-managed services, meaning that their team will handle OS installation and updates for you. They also offer full management for a small monthly fee, which includes control panel updates and round-the-clock technical assistance.
The service employs state-of-the-art hardware for optimum speed, security, and reliability. You can expect SSDs, Cloudflare CDN, and multiple server locations, ensuring exceptional page loading speeds and an excellent 100% network and power uptime guarantee.
As a high-traffic SSD VPS hosting, This service offers scalable SSD VPS plans with up to 16GB RAM, 8 vCPU Cores, 200GB SSD Storage, and 10TB Bandwidth. Upgrades and downgrades are easy with minimal downtime.
Setting up and managing your VPS SSD server with the service is straightforward, with three management control panels to choose from – Plesk Web Pro, cPanel, and InterWorx. Moreover, it guarantees minimum response times for its live chat, phone, and ticketing support.
Along with InterWorx, Plesk, and cPanel options, it offers firewalls, DDoS protection, root access, dedicated IPs, premium e-mail, and vulnerability assessments. Its managed VPS hosting solutions are ideally suited to people who require root access at the lowest possible cost.
Managing VPS solutions includes monitoring servers, reducing risks, and optimizing performance. Liquid Web is committed to customer loyalty with a 67 NPS score. They offer 24/7/365 support and their Most Helpful Humans in Hosting are there to assist you.
Key Features:
Proactive monitoring, multi-level DDoS protection, and off-server backups
State-of-the-art hardware for optimum speed, security, and reliability
Scalable SSD VPS plans are included
Core-managed services are included with all plans
Three management control panels to choose from
Guaranteed minimum response times
Provides Best-in-class Servers in The Market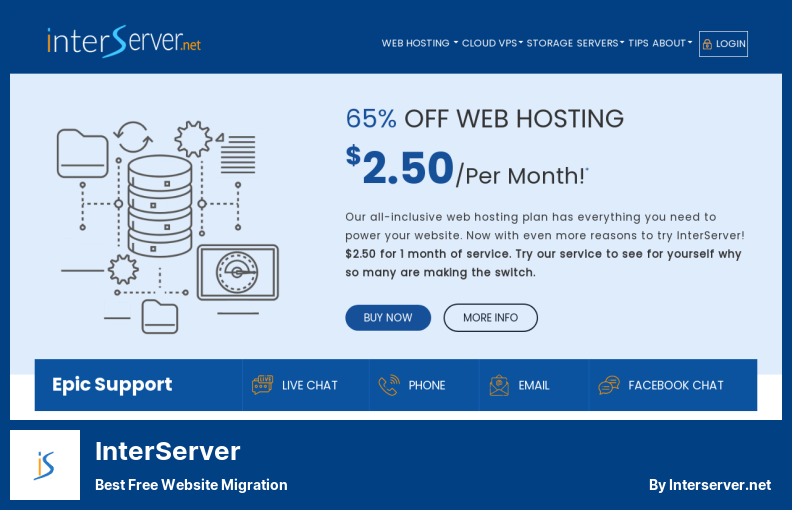 In addition to high-speed performance, InterServer has support agents that optimize each server so that websites load quickly. They also provide firewall security and a malicious script scanner called Imunify360. The LiteSpeed caching engine speeds up static websites.
Unlimited ULTRA SSD storage, email accounts, and global caching are included. In addition to free migration, the service offers a SitePad website builder so you can set up your website in no time. By repelling cyber attacks and getting rid of malicious files, Intershield Protection keeps hosting clean and secure.
It offers a wide range of options in terms of the configuration of virtual private servers so that you can select between Windows or Linux VPSs. Furthermore, the hosting platform provides you with various open-source PHP templates that you can customize just the way you see fit.
If you are looking for a large storage-optimized VPS, we have a number of large storage-optimized options which you can select from. These VPS options offer 99.9% uptime as well as a 30-day money-back guarantee in case there is whatever problem you encounter.
With InterServer, you get excellent customer support through phone, live chat, tickets, email support, and a 'Contact Us' form. The hosting provider prioritizes user-friendliness and security, making its package a great choice for both individuals and businesses.
Key Features:
Comes with Protection to protect against cyber attacks
LiteSpeed caching engine speeds up static websites
Unlimited ULTRA SSD storage, email accounts, and global caching
Offers a SitePad website builder
Provides open-source PHP templates that you can customize
Choose between Windows or Linux VPSs
Best VPS Customer Support
The YouStable web hosting company offers high-speed and reliable VPS and highly-efficient NVMe servers. Their data centers are in multiple countries worldwide to guarantee lag-free performance.
As one of the best SSD VPS hosting, one of the key advantages of the service is the free SSL certification offered to you along with the service. This is a key feature of most websites since it ensures that all communications between the server and the website are secure.
Aside from that, the service also provides daily backups to its clients, empowering them to restore their past 7 days' data if they so wish. This is essential for those website owners who do not want to lose their data and want to ensure that it is secure at all times.
The 30-day money-back guarantee gives the service users the confidence to try out their services without having to worry. In order for your website to enjoy uncompromised quality, the company offers plans that are specifically geared toward speed, security, and stability on the internet.
You will be able to perform at your website's best with its comprehensive and powerful web hosting services backed up by strong features. YouStable is an excellent web host with advanced features and a strong focus on data security.
Key Features:
Offers high-speed and reliable VPS and efficient NVMe servers
Multiple data centers worldwide guarantee lag-free website operation
A free SSL certification is included
Daily backups are provided to clients
Offers plans geared specifically towards speed, security, and stability
Focuses on data security, ensuring your website is always protected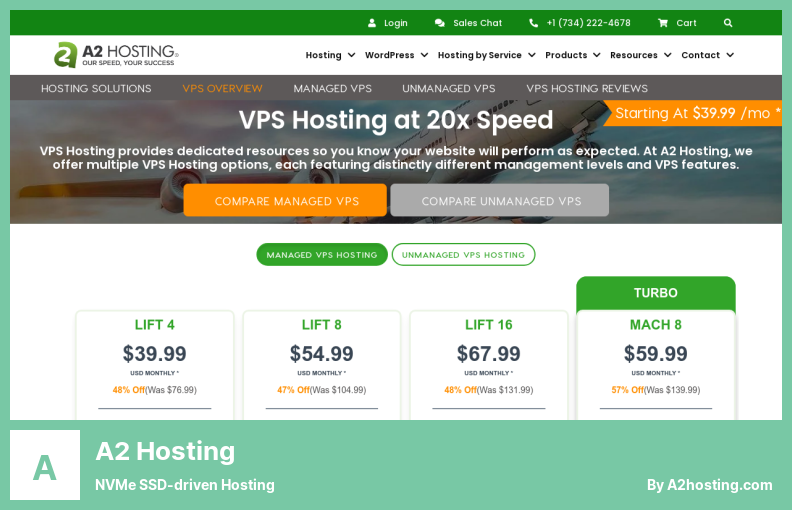 A2 Hosting is a hosting provider that offers 20x faster SSD hosting, ensuring 99.99% stability for your website. They provide shared SSD hosting plans for both Linux and Windows operating systems with unlimited disk capacity, data transfer, and other features at an affordable price.
You can connect with your audience more easily thanks to unlimited emails. You can also create your brand platform yourself without technical assistance with the free SSL certificate and website builder. Site staging lets you test new features before they go live, reducing errors.
Support is available through telephone, live chat, and email. You can maintain your website's speed and enhance its performance stability with their in-house custom tools. Even beginners can use cPanel's easy-to-use interface.
VPS plans provide dedicated resources, so you can use what's available only to you, enhancing server performance and reliability. Managed plans come at a higher cost, but important management tasks like security updates are handled for you.
A free SSL certificate, free website migrations, and 24/7 Guru Support are included with all SSD hosting plans. With a 30-day money-back guarantee, you can try all the features risk-free. A2 Hosting offers high-performance hosting with excellent customer support and reliable uptime.
Key Features:
Offers 20x faster SSD hosting
Comes with unlimited disk space and email accounts
Includes a free SSL certificate
Allows you to test new features
Customer support is available 24/7
Free SSL certificate with all SSD hosting plans
One of The Best WordPress SSD VPS Hosting
WordPress.org recommends BlueHost as one of the most reliable hosts around today, stressing the speed and performance of its servers. SSD technology enhances the overall performance and reliability of the service, making it stand out from the competition.
Custom themes, free domains, free SSL, optimized CPU resources, free IPs, and free CDNs are available on premium plans. The resources center and knowledge base provide 24/7 support, along with chat and phone.
The best thing about the service is having a dashboard so that you can manage all the aspects of it. And the fact that it offers free domains, SSL certificates, and caching directories makes it even more of an attractive hoster choice.
The company guarantees 99.99% uptime, which proves to customers that the company is capable of taking on even the most complicated tasks, as well as a 30-day money-back guarantee, allowing customers ample time to weigh up their options before deciding whether the service is right for them.
Overall, this is a good reseller hosting provider if you need a full-featured and reliable web hosting service. Quality customer support and easy dashboards for individuals and businesses make this a good choice.
Key Features:
Speedy and high-performance servers
Improves the overall performance and reliability of the service
Offers custom themes, free domains, free SSL certificates, etc
24/7 support is available
Allows for easy management of all aspects of the hosting service
A 30-day money-back guarantee is provided
Provides VPS Hosting and All The Hosting Environment Surrounding It
In a nutshell, Vultr is a hosting service that offers SSD VPS hosting plans that are affordable and reliable. The services include server locations all around the world making it a great option for those who want high-performance cloud servers on a budget.
Although the VPS is unmanaged, the control panel offers a very user-friendly interface that makes managing it as easy as possible for the admin regardless of the fact that the VPS is unmanaged.
Using the platform, your website and data will be protected and a dependable, secure performance can be assured so you will have more time for coding and less time to manage your infrastructure.
The company is one of the best choices if you are looking for a reliable VPS hosting provider that offers various server locations at an affordable price while still providing reliable and secure services.
It is also worth noting that the company also offers cloud servers, cloud GPUs, bare metal, as well as cloud storage, all of which are accessible through data centers located all around the globe, so they can be used by businesses of small or large size all over the world.
Key Features:
Affordable and reliable SSD VPS hosting plans
User-friendly control panel for easy management
Cloud servers around the world with high performance
Dependable, secure performance for website and data protection
Unmanaged VPS with a user-friendly control panel interface
More time for coding and less time managing infrastructure
a VPS Hosting for Lightning-fast Speed
It is our honor to welcome you to VPSServer, which offers SSD VPS hosting in three types: standard, CPU-optimized, and memory-optimized configurations for those in need of SSD VPS hosting.
As part of all plans, you'll receive a powerful SSD, so you can choose between a Windows or Linux VPS server. There is a flexible billing option so that you can charge your customers hourly, daily, or monthly. Although not all plans include managed VPS hosting, the setup could not be simpler.
As a free SSD VPS hosting, the company offers its clients Virtual Private Servers (VPS) in 16 locations, which are fitted out and designed with cutting-edge technology in order to provide your website with the highest levels of security and speed.
The benefits of this are that you will get the performance that you desire without having to worry about high fixed costs as you can get dedicated resources instead of shared resources resulting in lower fixed costs.
Overall, VPSServer is a great choice for customers looking for a reliable and affordable SSD VPS hosting provider, with the flexibility of flexible billing and powerful SSDs, you can get the bank.
Key Features:
Flexible billing options
High-performance SSD VPS hosting
Multiple configurations are available
Choice of the operating system
Simple setup process
16 locations available
a Fast, Reliable, and Managed VPS Hosting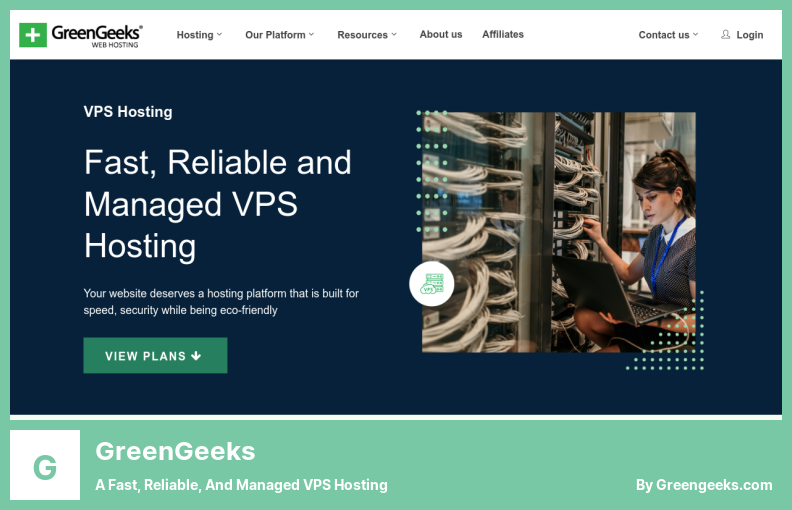 There are a lot of hosting platforms out there, but GreenGeeks stands out for its managed VPS plans, which are extremely fast and reliable. You can also scale it easily as your business grows.
There are four different levels of VPS hosting available with the company, so website managers can choose from them depending on what type of hosting they need. A technical support team will also be present to assist you with any questions that you might have.
You can choose from a multitude of data centers all over the globe to enhance service performance. Choose a location near your target audience so that your loading time will be shorter.
The service also proactively monitors your VPS 24/7, responding immediately and often fixing issues before you're even aware of them. If you already have a Virtual Private Server and want to switch to the service, their migration team will move your cPanel accounts for you for free.
Site security is a top priority at the service, with their custom security rules, DDoS protection, and real-time 24/7 monitoring ensuring that your VPS is secured against constant threats. Your Virtual Private Server will also be provisioned with a dedicated IP that is blacklist checked to ensure a clean IP.
Overall, GreenGeeks is an excellent choice for anyone looking for reliable and scalable VPS hosting backed by expert technical support and advanced security measures.
Key Features:
Managed VPS plans that are extremely fast and reliable
Four different levels of VPS hosting are available
Ability to easily scale the hosting as your business grows
24/7 technical support team is available
A multitude of data centers all over the world
Proactive 24/7 monitoring of your VPS
Frequently Asked Questions
What is SSD VPS hosting?
An SSD is a type of storage device that is quicker and more reliable than a traditional hard drive. SSDs are solid-state drives that used to host websites because they mimic the function of dedicated servers.
Why choose SSD VPS hosting over other types of hosting?
SSD VPS offers more performance and reliability than other hosting options since the drives are solid-state, so your data is protected from loss and corruption. Faster websites, higher uptime, and fewer crashes and errors are hosted on SSD VPS servers.
What factors should I consider when choosing an SSD VPS hosting provider?
Consider factors such as the provider's reputation, customer support, pricing, server specifications, and uptime guarantee when choosing SSD VPS hosting. Ensure the provider offers features such as automated backups, easy scaling, and SSL certificates.
How do I migrate my website to an SSD VPS hosting provider?
You need to transfer your files, databases, and configurations from your current hosting provider to an SSD VPS hosting provider when migrating your website. You can use cPanel or FTP to manually transfer your website files, or most hosting providers offer migration services.
Conclusion
In conclusion, we have discussed the best SSD VPS hosting providers along with their features. We have compared them based on price, uptime, customer support, and other factors to help you make an informed decision when choosing your SSD VPS hosting provider.
Those who are interested in learning more about hosting and other related topics can find a number of tutorials on BetterStudio's blog if the information they are looking for is not readily available elsewhere.
You can follow us on Facebook and Twitter to be the first to hear about the latest BetterStudio tutorials and guides as they are released.
Hopefully, this article has been helpful to you. If there is any further information or assistance that you need related to this topic, do not hesitate to leave a comment below!