WordPress comes with site search as a default. Still, webmasters are looking for ways to improve WordPress site search and even add more features to it.
WordPress site search has some limitations and doesn't give users the full package. Luckily, there are many plugins designed and developed specifically for this purpose.
In this article, we would like to introduce the top 10 WordPress site search plugins.
By installing Better Google Custom Search plugin, you can replace the WordPress search with Google Search.
What sets Better Custom Search apart is that it uses the typography used on the website for the search results. Therefore, users won't even realize that this plugin is installed and being used on your website. Some key features of the Better Google Custom Search are: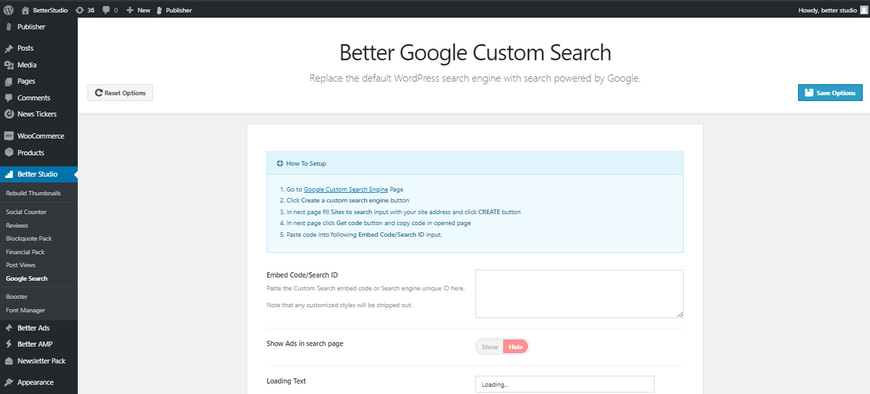 Easy to use
Displays search results within the website
Displays results without any of Google integrated ads
Uses the theme's style to display results
Customizable
Available in 38 languages
Supports RTL
2. Search WP (to Create Weighted Result)
The Search WP plugin is one of the most popular plugins for WordPress site search. This plugin has a friendly interface which makes it easy to use for almost everyone.
This plugin can identify the keywords used in subjects, pages, categories, tags, and even comments. In addition, you can give results weight, based upon post-types.
The algorithm in this plugin is customizable and you can give each post-type a 1 to 10 rating. As you probably can tell, 10 is the highest priority you can give to a post.
After downloading, installing and activating the plugin, Search WP indexes the content of the website, then replaces the default WordPress site search with its own default configurations. For more information, visit the official website of Search WP.
If you are using categories, tags and other customized ways to sort the content, it is best to have a search filter for them. Thus, the user can find the right content really fast.
To add this feature to WordPress, you need to install the Ajax WP Query Search Filter in WordPress. This plugin allows the user to customize the search options and sort them.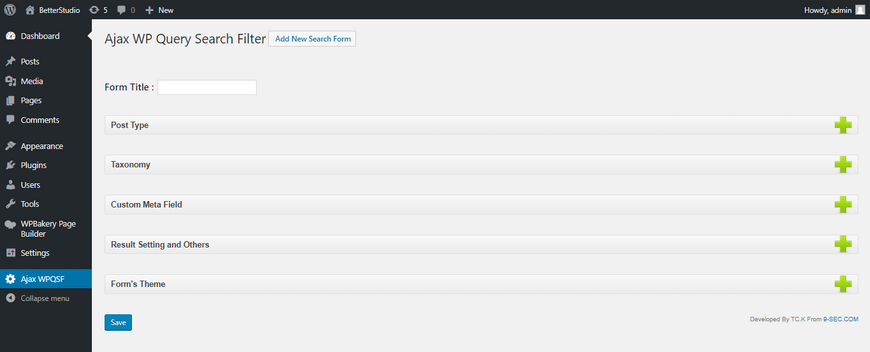 This plugin is also quite fast. To download Ajax WP Query Search Filter, visit this link.
The next plugin on our list is Swiftype Search. This plugin is very fast and it matches the default WordPress site search.
Swiftype Search completely replaces the WordPress site search and it is very customizable. Users can change the search box, colors, fonts and etc.
In addition, Swiftype Search shows live statistics of users. Thus, as the webmaster, you can tell which content is more searched on the website.
This plugin tells the admin, on what results users have clicked and what content they are looking for as well as much other crucial information.
This plugin supports 13 languages, therefore, most users find it very useful compared to other WordPress site search plugins.
Swiftype Search has the drag and drops the ability to better sort the results. However, this is a premium plugin and it can be downloaded on its official website as well as WordPress plugin store.
As you can probably tell by its name, Highlight Search Terms emboldens and highlights the searched terms within search results. This is a free and up-to-date plugin that displays the results in a matter of seconds.
The searched results aren't limited to page titles and posts. This plugin also searches the content for the searched keywords. Although, the plugin is sensitive to capital words.
In addition, Highlight Search Terms is compatible with the WP Super Cache plugin. Therefore, it has an impressive speed.
6. Simply Exclude (to Exclude Certain Categories)
If you don't want to display certain content in the WordPress site search, you must remove them from any categories they are in.
The Simple Exclude plugin is used for this purpose. This plugin allows you to exclude content from the search results.
For example, you can remove all tags used in a post or all available posts in a specific category. Much like other plugins in our list, this plugin is very user-friendly.
7. Voice Search (to Add Mozilla Voice Search API)
We have discussed the ability to voice search in WordPress before. Most smartphones nowadays come with the ability to voice search. Therefore, you must be familiar with this topic. Famous examples of voice searches are Apple Siri and Google Now.
Imagine if you could add the voice search ability to WordPress. Luckily, this is possible by installing the Voice Search plugin. By simply installing this plugin you can add this amazing feature to WordPress.
8. Ivory Search (to Add Customized Search Forms)
If you look to add new features to your site search, we highly recommend installing the Ivory Search plugin.
This plugin allows users to create customizable search forms for their WordPress site search. As a result, they can find the content really quickly and without any troubles.
In addition, these forms can be added anywhere on the website like header, footer, sidebar, posts, pages and etc.
Ivory Search also allows you to exclude content from the search results. This is the ability we mentioned above. By installing this plugin, you have full control over the WordPress site search.
Ajax Search Lite is a WordPress site search plugin developed by Ernest Marcinko. This plugin is compatible with most WordPress themes.
Ajax Search Lite is compatible with most browsers as well. In this plugin, you can add features that are not in the preset features. This plugin comes with many features, such as:
8 pre-designed templates
Compatible with WPML
Compatible with Google Analytics
Comes with more than 40 customizable options
The Advanced Woo Search plugin is a powerful tool designed for websites that are using WooCommerce. This plugin can increase search effectiveness in WooCommerce websites.
When users begin to search, the results are automatically displayed. Therefore, users can find the product they are looking for faster.
Some other key features of this plugin are:
Supports shortcodes
Advanced configurations
Ability to search images and price
Conclusion
In this article, we introduced the top 10 plugins used specifically for WordPress site search. Each plugin comes with a unique feature. You may choose whichever suits your WordPress website.
As mentioned, each plugin comes with different features, therefore it totally depends on the type of your business and your requirements.
As you know searching is an intuitive process. First, you must analyze the behavior of the traffic on your website. Then you can provide better content for them.