Are you required to use a WordPress template for a Medium-like website?
⚡️ Looking for a quick solution? We recommend the Publisher theme for WordPress. This theme has lots of features and is optimized for Google, and it has over 100 pre-made demos.
We researched for you, and these are the best WordPress themes for Medium Like integrated today in 2022. Furthermore, these templates are search engine optimized and responsive (mobile), so your website will enjoy more traffic.
All of the themes in this collection are designed to be used for building medium-like websites. However, these themes can also be used for Building Medium Style, Medium Like Blogs, Articles, Multipurpose, and Business websites.
Take a look at this hand-picked list of the best Medium like WordPress templates in 2022:
Multi-Purpose Collaborative Blog & Community BuddyPress Theme
Gorgo is a medium-like and multi-purpose BuddyPress theme for collaborative blogging and community building.
Using a theme such as this, you can use unlimited color schemes, fonts, spaces, buttons, blocks, video hero backgrounds, galleries, menus, and many other features. It can easily be customized with only a few clicks and does not require any coding expertise.
In addition to the theme itself, plugins and child themes contain many hooks, filters, and actions for enhancing the content.
💵 By purchasing this template for $59, you will receive free updates.
Key Features:
The code is

fully translatable

and is compatible with WPML

All changes are made in real-time using the WordPress Customizer
AdRotate Banner Manager enables you to place ads on your website
The code is search engine friendly
Various widgets are available for customization
There is an option to create custom members
Random Reviews:
Totally awesome theme and fantastic service… Great people to deal with and extremely helpful!

There is always fast support, and the theme looks beautiful

The best of the best of the best. Thank you for everything.
Blog for Writers and Journalists With Bookstore WordPress Theme
The stylish & trendy Writers and Journalists WordPress theme feature a modern, stylish, and functional theme design.
Bloggers and writers can showcase their skills in this theme because it is designed specifically for that purpose. It has a user interface that can be used to showcase the author's, copywriter's, and photographer's talent.
The theme comes with several awesome plugins, including the Revolution slider, the Events Calendar, Elgro Crypto Payments, WooCommerce, MailChimp, and Elementor page builder, allowing you to create any layout you desire.
💵 You will get updates for life, and you will get six months of support for $59 each.
Key Features:
Twenty or more post animations are available
The support for retina images is available
Support for both User Menus and Main Menus is provided
Support for cross-browser compatibility is available
There are both boxed and full-width layouts available
There are several flexible layout options available
Random Reviews:
Great theme and excellent customer service.

Great theme! They provided great and prompt support

Great support for this theme… very fast and efficient!
Modern Personal Blog WordPress Theme Made With Gutenberg
With Gutentype, you can build mid-sized blogs with a slick, clean, and modern design using the Gutenberg plugin for WordPress.
This theme is not only suitable for giveaways, guest blogging, niche blogs, givers, and viral blogs. Still, it can also be used for a homer and the tell-all, as well as business, cryptocurrency, professionals, and reverse, as well as writers and the latest world news.
With the theme, you can create websites suitable for affiliate marketing, minimal design, stories, portfolios, freelance, news jacking, cheat sheets, instructional websites, and websites that provide entertainment.
💵 The Gutentype theme costs $59 for a single license.
Key Features:
Developed using HTML5 and CSS3
Includes GDPR Framework WP Plugin
There is a professional design
Compatible with all major browsers
Retina images are supported
Random Reviews:
Easy to customize the theme for blog websites

Good customer support in the presale phase, very nice theme!
Just Write and Online Journals/Magazine WordPress Theme
With a medium-like theme such as Literatum, writers can showcase their articles modern and cleanly, with a simple navigation system and an intuitive user interface that makes writing and journalism on the internet more enjoyable.
Although the theme's design is intense, it is highly customizable, uses native WordPress functions for ease of management, and avoids the need to deal with complicated third-party panels that often lose effectiveness throughout their lifespans.
💵 Adding the Literatum package for $39 will give you All Features + 6 Months of Support + all the Plugins + Free Lifetime Updates for the Literatum.
Random Reviews:
It's the most beautiful theme I've ever used. There were a few issues from time to time, but everything was easily fixed. Overall, great value for money.
Blogging WordPress Theme Focused on Readability
The Readable medium-like theme has a very user-friendly design. It is consistently easy to read regardless of the number of posts on the page. This makes it the perfect theme for bloggers due to its excellent design, readability, and the style of design that applies to blogs.
You can see in real-time how your WordPress website changes as you make them using the WordPress customizer. This theme will guide you through the process of creating a website with no hassle and no stress.
💵 If you purchase the theme for $99. you are free to ask for support assistance at any time.
Key Features:
You have access to real-time WP customizer and page layouts
Support for popular WordPress plugins is provided
A responsive and retina-ready design is available
There are solid foundations in place
You can import demos with one click
Paid Membership Blog WordPress Theme
REAL is a minimalistic, responsive WordPress theme with support for paid content. This plugin should be combined with the free Paid Memberships Pro plugin, which can be used to create a public or a paid membership website.
A page builder allows you to easily add content to your site and create your own pages and posts without needing to know any coding. There are links to a social networking site in the footer and header.
💵 It costs $49. Get all of the advanced features of the REAL template.
Key Features:
Share buttons are available for posts
The theme colors are predefined in eight categories
A total of 800 Google Fonts are available
A custom logo is included
Provides support for the Contact Form 7 plugin
Random Reviews:
The design is decent, but the functionality is very limited, even as a theme. The most annoying thing I found is that I cannot customize the header of the page, which appears on every page I build with the builder, as well as is empty and I cannot add anything.
All-in-One Elementor Blog & News Magazine WordPress Theme
Blabber is an attractive, medium-like, colorful, refined, and trendy WordPress Blog theme. It is appropriate for blogs covering crash-test dummies, guest posts, rouges, niche blogs, givers, giveaways, guides, how-to blogs, and home bashers.
This theme suits the following topics: tell-all, business, cryptocurrency, professional profiles, reverse profiles, writers, news, inspirational stories, affiliate links, etc.
Furthermore, it is appropriate for minimal journalism, media, freelancing, cheat sheets, instructional, games, entertainment, and other media types.
💵 $59 includes 6 months of free support and auto-updates of the theme.
Key Features:
Based on HTML5 and CSS3
Compatible with most web browsers
Slider Revolution and Swiper Slider are included
Retina images are supported
User menus and main menus are supported
Various colors and typographies are available
Random Reviews:
Customer service is amazing!! Very professional support – quick & of a high standard. I submit many personal requests and questions in general, hardly a day goes by, and I always get a direct, honest, and professional answer.
Black and White Gutenberg Blog WordPress Theme
Aldo is a new and fresh WordPress blog theme based on Gutenberg's page builder. The medium-like theme is appropriate for a guest posting blog. Still, it can also be used for rouge blogs, niche blogs, viral blogs, giveaways, guides, personal portfolios, and how-to articles.
Using a robust framework and well-designed responsiveness, this theme allows you to create a website that looks great across any device, from Android smartphones to Retina displays. The theme is SEO ready to the fullest extent, so you can rank highly in search results.
💵 Auto-updates and 6 months of support are included. It costs $59.
Key Features:
Developed with HTML5 and CSS3
Compatible with all major browsers
Support for Retina displays is provided
Support for both the main and footer menus
A variety of color and typographic options are available
Custom widget sets are available
Random Reviews:
My experience with utilizing several themes has been most frustrating. Aldo has simple plugins that aren't confusing AND has some of the best documentation I have seen. Gutenberg integration makes this theme a no-brainer. I have recommended this theme and others by this author.
Freebies Blog WordPress Theme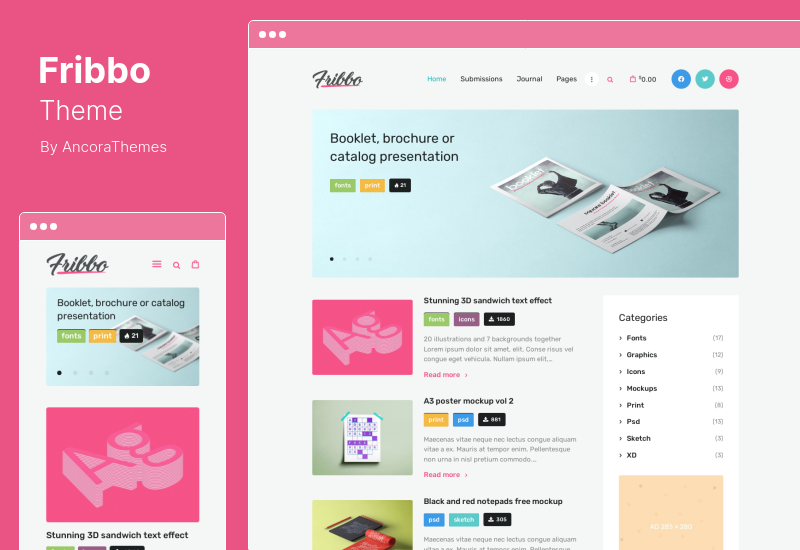 Designed for Freebies Blogs & Freemium Blogs, Fribbo is the perfect theme for content like Guest Posts, Listicles of Freebies and Gifts, Free Templates, Free Themes, Images, Fonts, and other products like Rouge, Niche Blogs, Giver, Giveaways, Guides, etc.
It features six demos, multiple front page designs, a great blog layout, and custom widgets and shortcodes. It also incorporates the Elementor framework, allowing you to easily create new blocks and layouts.
💵 For $59 you can get this fully documented theme.
Key Features:
An interactive Ajax search engine is available
Based on HTML5 and CSS3
Compatible with most web browsers
Includes Slider Revolution and Swiper Slider
Retina images are supported
Various colors and typographies are available
Random Reviews:
This theme looks great! I'm going to try it out on one of my freebie sites now.

Amazing! Thank you for your support, I really appreciate it. Good luck with your website!
Viral News Magazine WordPress Blog Theme
Gloss is a viral news magazine WordPress theme that includes e-commerce functionality. Furthermore, this theme can be used for minimal media, freelance, newsjacking, games, tutorials, cheat sheets, entertainment, industry, current events, checklists, listicles, etc.
Five different home page layouts are included, several different blog post layouts, tons of widgets and shortcodes, etc. In addition, the theme supports Elementor, so you can create as many new layouts and blocks as you like.
💵 With all the features and possibilities above, it costs $59, and if you don't like it, you get 6 months of free support.
Key Features:
An interactive Ajax search engine is available
Based on HTML5 and CSS3
Compatible with most web browsers
Swiper Slider is provided
It is possible to support retinal images
Various colors and typographies are available
Random Reviews:
There are more reasons (but you can only pick one). It's one of the best themes I tried in the last 10 years. Thank you so much and keep going! You are doing a great job!
Multi-Concept Personal Blog Magazine WordPress Theme
Marcell is a modern, attractive, and responsive minimal blog WordPress theme. This theme would benefit you if you were a writer or blogger interested in writing about the world, travels, or entertainment.
Additionally, it is helpful for viral blogs, travel blogs, magazine blogs, niche blogs for business, etc. For example, it can also be used for professional magazines and entertainment blogs.
This theme comes with several pre-made homepages, modules, and shortcodes that can easily be incorporated into whatever project you undertake.
💵 Buying this template for $59 gives you free updates.
Key Features:
Developed using HTML5 and CSS3
Compatible with all major browsers
Retina images are supported
Different types of blogs are available
More than 750 customizable options are available
A theme options panel is provided
Random Reviews:
This is my first purchase on Envato and Taylor was one of the greatest helpers I've ever had! Thank you! Now I have the best blog ever!

Great theme/great support from Sophie Benett. Thank you!
Digital Nomad Travel Lifestyle Blog WordPress Theme
The Hobo theme for WordPress is the perfect solution for digital nomad blogs about travel and lifestyle. A professional journalist, traveler, writer, or blogger can utilize this theme if they intend to publish travel articles, lifestyle articles, or if they intend to run a travel website and/or entertainment blog.
This theme allows you to create various blog formats and includes a fast-loading homepage. In addition, it provides you with a variety of pre-made homepages, modules, and shortcodes to enhance the look of your website.
💵 With the $59 by Hobo theme, you can start your WordPress site.
Key Features:
Completely mobile-friendly and responsive
You can choose from a variety of blog styles
A variety of layout options are available
A total of 20+ animations are included
It is possible to obtain Fontello and image icons
Several Google Fonts are available
Travel Blog & Lifestyle WordPress Theme
Wanderic is a clean, minimalist, and modern WordPress theme that will be ideal for anyone planning on starting a travel blog, a personal blog, a travel magazine, a journal, or an online publication.
Any travel blogger, traveler, or photographer would find this medium-like WordPress theme useful since it allows them to publish their observations to the public.
Many blog layouts are available for every taste and style, including grids, masonry layouts, classic, lists, and many more.
💵 Price for the Wanderic theme is $59, based on All Features + 6 Months Support + All Plugins + Free Lifetime Updates.
Key Features:
The option to pay with cryptocurrency is available
The homepage features three different designs
A review post format is available
There is an option for online ordering
Several easy-to-use shortcodes are available
A total of 20+ animations are included
Random Reviews:
Amazing theme and super support!
Responsive Questions & Answers WordPress Theme
Ask Me is a powerful WordPress theme ideal for the question and answer sites that comes with many features to improve your users' experience, including a user profile page and a question and answer section.
This theme can be easily installed and set up and provided with complete documentation, ready-to-go layouts, and examples, in addition to several exciting features and functionality, making it an excellent choice for your upcoming website.
💵 This is a powerful theme developed by a powerful author. It costs $59.
Key Features:
Dark and light modes are available
Sidebars are available in an unlimited number
A large number of colors are available
Three different header styles are available
There are page templates with customizable features
There are custom widgets that are customizable
Random Reviews:
Good theme and great support from the client. I got everything I needed.

I'm very happy with the quality of the support and the theme. Keep up the good work.
Questions and Answers about WordPress Medium Like themes.
Following are some frequently asked questions about the best WordPress Medium Like themes.
Please feel free to ask questions in the comments if you did not receive an answer.
What is the best Medium-like WordPress theme for 2022?
We have hand-picked the best templates for each theme and provided detailed information and screenshots for each. These templates will help you pick one that meets your requirements for running a Medium-sized business.

As a second suggestion, we suggest the Astra theme, which has a variety of options. Our recommendation for a good template is the Publisher theme.
Which WordPress hosting is recommended for Medium-like sites?
A good host is crucial since it can have a detrimental effect on your website. It is suggested that you use Bluehost as your site host.
We have reached the end of the road
These are the best templates available for medium-like websites. Anyone can create their own medium-like website utilizing these templates.
We reviewed the above themes for your convenience, and ultimately, we recommend the Publisher theme. To achieve impact on standards in site design, The Publisher theme bundled many items. An SEO-optimized template, along with Its free plugins, gives you more opportunities to extend the functionality of your website.
I hope this resource has been helpful.
Please let us know if you have any questions in the comments. You can also follow us on Facebook and Twitter to receive our newest articles!