Are you a WordPress website owner looking to add some excitement and engagement to your site? Well, you're in luck because today we're going to dive into the world of spinning wheel plugins for WordPress.
In this article, we are going to discuss what exactly is a spinning wheel plugin and how it can be beneficial for you and your website. We guarantee you won't be disappointed!
The six best WordPress spinning wheels plugins, both free and paid, that can take your site to the next level, are all here. Let's take a look at their features, and benefits, and help you find the right fit for your site. So get ready to spice it up a little – let's dive in!
Before we jump into the details, let's quickly address what a spinning wheel plugin is and why it can be a game-changer for your website. A spinning wheel plugin is a tool that allows you to create and customize interactive spin wheels that users can spin for a chance to win prizes, discounts, or other incentives.
It's a fantastic way to engage your audience, increase user participation, and boost conversions. With the right plugin, you can easily create eye-catching spin wheels that will captivate your visitors and leave a lasting impression.
So if you're ready to inject some excitement into your WordPress site, keep reading to discover the top spinning wheel plugins available!
Best Spinning Wheel Plugins for WordPress
If you're looking to add a fun and engaging element to your WordPress website, then you're in luck! In this section, we'll explore the best spinning wheel plugins available for WordPress that can help boost user interaction and create a memorable experience for your visitors.
We've put together a list of the best WordPress plugins for your website and you'll be able to find out exactly how they can enhance your website!
Lucky Wheel For WooCommerce is a powerful plugin that can help you convert visitors into valuable customers or subscribers. It offers a unique way to engage with your audience and incentivize them to take specific actions on your website.
The spinning wheel feature is one of the coolest features of this plugin. You ask visitors for their email addresses before spinning the wheel. If they win, you'll send them a coupon. This doesn't just encourage visitors to sign up for your newsletter, it also gives them a chance to win stuff.
The plugin allows you to customize the labels for each wheel slice, making it more engaging and personalized for your audience. You can also control the probability of winning for each slide, giving you full control over the outcome.
In addition, when you choose the free version, you can add or remove up to six wheel slices according to your preferences, so you can customize the game to fit your specific needs.
Another useful feature is the option to send an email notification to either the administrator or a specific address when a customer wins a prize. This allows you to stay informed about the activity on your website and ensure a smooth customer experience.
Lucky Wheel For WooCommerce is designed to be user-friendly and supports multiple languages, making it accessible to a wider audience. Its versatility allows you to add up to twenty wheel slices, providing endless possibilities for engaging your customers and driving more sales.
Key Features:
Display wheel on specific pages with shortcode
Control the probability of winning
Add or remove up to six wheel slices
Email notifications for prize winners
Multiple language support
Option to add up to twenty wheel slices.
Gives You The Best Solution To Get Emails Address
WordPress Lucky Wheel is a plugin that allows visitors to your website to spin a wheel and have a chance to win prizes by entering their email addresses. It's a great way to engage with your audience and encourage them to provide their contact information.
One of the key features of this plugin is that it prevents spammers from abusing the wheel by sending the prize directly to the email address entered by the winner. This ensures that only valid email addresses are used and helps maintain the integrity of the giveaway.
The plugin also automatically sends emails to the visitors' email addresses once they have spun the wheel. This saves you time and effort in manually sending out emails to winners. Furthermore, the plugin stores all the collected emails in the backend, allowing you to easily access and manage the email list.
By using the plugin, you can effectively collect email addresses from your website visitors. People love the chance to win prizes, and they will be delighted to fill in their email addresses for a shot at winning.
One thing to note is that if you have many h-tags for your wheel, it may prevent you from viewing the full spin area. So, it's important to be mindful of your design and avoid using too many h-tags if you want the entire wheel to be visible without the need to scroll.
Key Features:
Multiple triggers for showing the wheel
Customizable spinning times per email
Automatic hiding of the wheel after a successful spin
The adjustable interval between email spins
Support for multiple languages
Ability to set a background image for the wheel center.
Gamified Optin Email Marketing Tool For WordPress And WooCommerce
WP Optin Wheel is a spin-to-win wheel plugin for WordPress websites that offers visitors the chance to win prizes like free samples or coupons. With an easy installation process, this plugin can significantly increase your website's conversion rate by 200%.
One of the standout features of the plugin is the ability to customize the popup box's appearance and control when it appears on your website. You can also personalize the content displayed in the popup, including text and different buttons. This flexibility allows you to create a seamless user experience tailored to your specific needs.
In addition to these features, the plugin offers a range of predefined themes that you can easily customize to match your website's branding. This includes seasonal themes such as Christmas week and Halloween, which adds a fun and festive touch to your spin-to-win wheel.
For eCommerce businesses, the plugin also offers automated coupon integration for WooCommerce. This feature allows you to seamlessly incorporate coupons into your spinning wheel, creating an enticing incentive for visitors to engage with your website and make purchases.
Another noteworthy feature of the plugin is its integration with chatbot platforms like ChatFuel and Chatchamp. This allows you to offer Messenger opt-ins to your visitors, further expanding your marketing reach and providing an additional channel for communication and conversions.
With the ability to create spinning wheels using shortcodes, you can easily add this interactive element to any post, page, or widget on your WordPress website. This flexibility allows you to maximize user engagement and capture more leads without the need for a popup.
Spin Wheel Pop Ups For Winning Merchants
Spin Wheel Pop Up is a WordPress plugin that allows website owners to create an interactive pop-up that engages users and encourages them to make a purchase. This plugin, which was previously popular on Shopify, is now available for WooCommerce stores.
If you use this plugin, you can let your customers spin a wheel and win coupons, which incentivizes them to buy. With this interactive feature, slow sale days become exciting, and it converts traffic into sales while bringing in four times more email subscriptions than a generic "10% off" popup.
One of the great attributes of the plugin is its ability to make certain fields required, ensuring that users provide the necessary information for a successful spin. This helps with data collection and segmentation, allowing you to better understand your customers and target them with relevant offers.
Another feature of this plugin is the counter to scarcity, which creates a sense of urgency by showing users how many coupons are left. This can create a fear of missing out and prompt users to make a purchase sooner rather than later.
It also automatically applies the coupon to the user's shopping cart, making the checkout process seamless and hassle-free. This saves users time and effort, increasing the likelihood of them completing the purchase.
This plugin is also GDPR-ready, addressing privacy concerns and ensuring that user data is handled in accordance with regulations. Additionally, it provides translations, allowing you to engage with a global audience.
With an interactive and mobile-friendly design, this plugin offers a seamless user experience across different devices. It also includes a timer for the countdown, adding an element of excitement and urgency to the spinning wheel experience.
Finally, Spin Wheel Pop Up provides weekly reports that give you updates on the performance of your pop-up. This data allows you to track its effectiveness and make any necessary adjustments to optimize its impact.
Key Features:
Required fields for data collection
Scarcity counter for urgency
Automatic coupon application
Segmentation approach for targeted offers
Translations for global engagement
Another Excellent Option For Adding A Spin To Win Popup In WooCommerce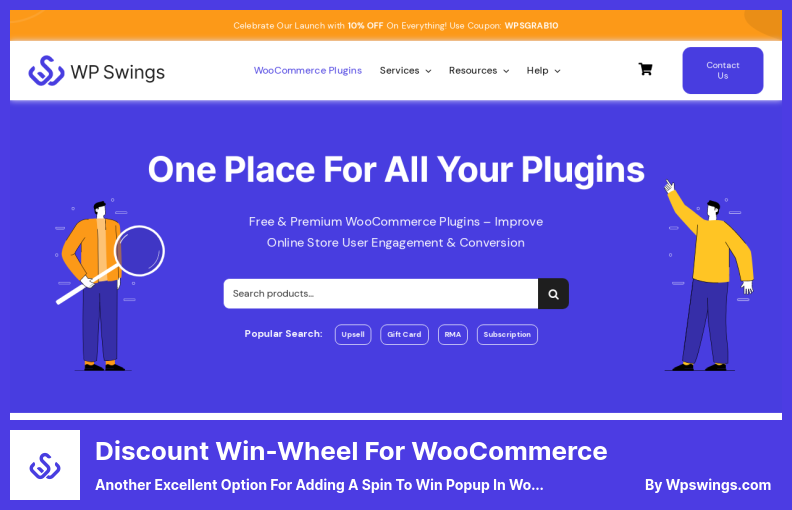 Discount Win-Wheel for WooCommerce is a user-friendly plugin that allows you to create a spin-to-win popup for your WordPress website. With its drag-and-drop builder, you can easily customize the popup by adding or removing sections and adjusting its positioning.
This plugin offers multiple triggers for the spin wheel, including on-page loading, clicking on an icon, or exiting the website. This means you have flexibility in how and when the spin-to-win popup is displayed to your visitors, increasing their engagement with your site.
One of the great features of this premium plugin is its ability to generate coupon codes and automatically send them to your visitors via email. This is a powerful way to incentivize your customers and increase sales. From the administrator dashboard, you can easily track the activity and status of the coupons.
Another advantage of the plugin is that it is translation prepared, making it easy to use for websites in different languages. It is also compatible with WPML, a popular WordPress plugin for multilingual websites.
To make things even better, this plugin allows you to set the timing of the popup display, giving you control over when and how often the spin-to-win popup appears. It also supports multiple locations for the popup wheel, allowing you to target specific sections or pages of your website.
Key Features:
Easily set the timing of the popup display
Supports multiple locations for the popup wheel
Compatible with WPML for multilingual websites
Offers various triggers for the spin wheel
Generates coupon codes and sends them via email
Intuitive administrator dashboard for easy coupon management.
Makes It Super Easy To Add A Woocommerce Spin A Wheel Popup To Your Ecommerce Store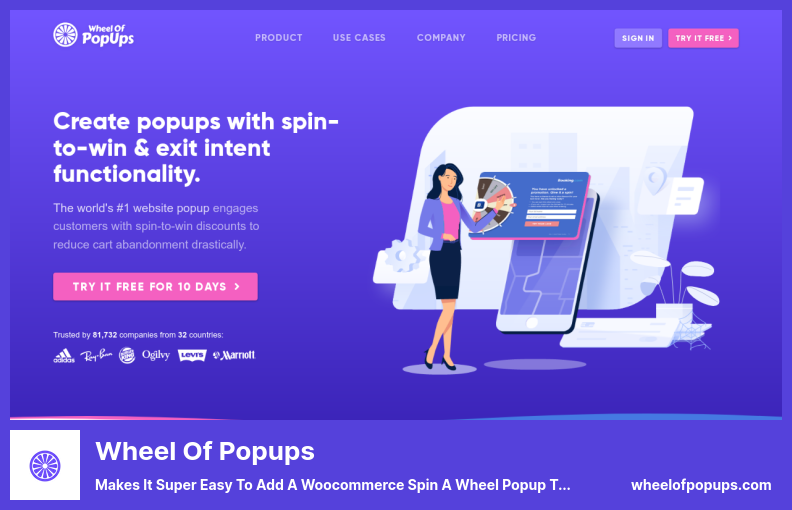 Wheel of Popups is a revolutionary popup plugin that takes the popular spin-to-win concept and applies it to encourage customers to complete their purchases. Unlike other popup plugins, this is the first of its kind in the world.
It helps you drive traffic to your WordPress site and increase engagement, but it also comes with a bunch of marketing tools so you can target your audience and launch new campaigns. With WooCommerce, Shopify, and Magento, you can use it on any online business platform.
One of the standout features of the plugin is its customizable discount wheel popup template. You can easily customize the colors, fonts, and text to match your branding and create a visually appealing popup that captures your customers' attention.
The plugin also offers several analytical and reporting capabilities in real-time, allowing you to track the performance of your spin-to-win campaigns. With this valuable data, you can make informed decisions and optimize your marketing strategies for better results.
To provide exceptional customer support, the plugin offers a dedicated account manager who is ready to assist you every step of the way. Whether you need help setting up your campaigns or troubleshooting any issues, their team is there to provide expert guidance.
Moreover, it allows you to view and manage the collected email addresses and phone numbers in advance. This feature enables you to nurture leads, build a strong customer base, and drive repeat purchases.
This plugin lets you spin to win discounts and combine marketing tools. WordPress site owners looking for a fast way to boost engagement, conversions, and business will love this. The templates can be customized, the analytics are real-time, the support is great, and lead management is easy.
Key Features:
Comprehensive overview of all spin-to-win campaigns
Real-time analytical and reporting capabilities
Dedicated account manager for personalized support
Customizable discount wheel popup template
Seamless integration with WooCommerce, Shopify, and Magento
Works on all WordPress sites, increasing engagement and traffic.
Frequently Asked Questions
What are spinning wheel plugins?
Spinning wheel plugins are WordPress plugins that add a fun and interactive spinning wheel feature to your website.

These plugins allow you to create engaging wheel spin experiences that can be used for various purposes, such as capturing leads, running promotions, or providing discounts to your website visitors.
Are spinning wheel plugins easy to use?
Yes, spinning wheel plugins are designed to be user-friendly and easy to set up. Most of these plugins offer a simple drag-and-drop interface, allowing you to customize the appearance and functionality of the spinning wheel without any coding knowledge.

You can easily configure the wheel's sections, set the rewards, and customize the colors and images to match your website's branding.
What are the advantages of using spinning wheel plugins?
Spinning wheel plugins offer several advantages for your website. Firstly, they create a fun and interactive experience for your visitors, increasing engagement and encouraging them to stay longer on your site.

Secondly, these plugins help capture leads by requiring visitors to enter their email addresses or other information before spinning the wheel.
Lastly, spinning wheel plugins can help boost conversions and sales by providing special discounts or exclusive offers to the winners of the wheel spin.
Conclusion
To recap, in this article, we explored the six best WordPress spinning wheel plugins, both free and pro options. We discussed the features, benefits, and pricing of each plugin, helping you make an informed decision for your website.
If you're interested in learning more about WordPress and related tutorials, I highly recommend checking out the BetterStudio blog. They have a wealth of information and resources to help you enhance your website.
Don't forget to follow BetterStudio on Facebook and Twitter to stay updated with the latest tutorials and tips. It's a great way to stay connected and never miss out on any valuable content.
Thank you for taking the time to read this article. If you have any questions or face any issues regarding the content we discussed, please feel free to leave a comment below. We're here to help and would be more than happy to assist you. Happy spinning wheel plugin exploration!