Are you a WordPress website owner looking for the best RSVP plugins to enhance your website's functionality? Or maybe you're wondering what RSVP plugins even are and how they can benefit your website. Well, you've come to the right place!
In this blog post, we will explore the 5 best WordPress RSVP plugins for 2023, both free and pro versions, to help you streamline your RSVP process and make it easier for your visitors to respond to your event invitations.
Now, let's dive into what this blog post is all about. We're here to introduce you to the top 5 WordPress RSVP plugins that you can use to manage and track your event RSVPs effectively.
Whether you're organizing a wedding, conference, or any other type of event, these plugins will provide you with the tools you need to create customized RSVP forms, track responses, and send automated email reminders.
In this article, we will provide you with an overview of each plugin, highlighting its key features, pros, and cons. We'll also share some stats and facts about each plugin's popularity and user ratings to help you make an informed decision.
So, if you're ready to take your event management to the next level and simplify the RSVP process for both you and your guests, keep reading!
Best RSVP Plugins for WordPress
Looking to add a touch of professionalism to your WordPress website? Look no further than the section on the best RSVP plugins for WordPress.
These top-notch plugins will take your event management to the next level, ensuring seamless registration and attendance tracking. Check out the following products and see which one suits your needs best.
Sell Tickets & Manage Registration on WordPress
Event Tickets is a WordPress plugin that allows you to easily add event tickets to your articles and pages. With this plugin, you can create RSVP options for your guests to register for events, whether they are free or paid.
One of the key features of Event Tickets is its ability to hide event details until a participant has RSVP'd. This means you can keep the exact location of an event hidden until someone has responded, adding an element of exclusivity and anticipation to your events.
Another great feature of Event Tickets is the option to sell tickets directly from your website. By linking your PayPal business account, you can securely sell tickets and easily manage your event finances.
Event Tickets also offers advanced features like QR code registration via a mobile application. This allows attendees to simply scan the QR code with their smartphones and easily check-in to your event.
But it doesn't stop there. Event Tickets is completely mobile responsive and works seamlessly with both physical and digital events. Whether you're hosting a workshop, conference, or online webinar, this plugin has got you covered.
Admins also have the flexibility to collect ticket fees or offer free RSVPs, depending on your event requirements. The plugin provides extensive template tags for customization, so you can design your event pages to match your brand and style.
With Event Tickets, you can create unlimited events for free. This means you have the freedom to organize as many events as you want without any limitations. Plus, the plugin has been tested on the major theme frameworks, ensuring compatibility and a smooth user experience.
Key Features:
Display events in a calendar layout
Attendees can scan QR codes with their smartphones
Extensive template tags for customization
Collect ticket fees or offer free RSVPs
Works for both physical and digital events
Completely mobile responsive
Sell tickets directly from your website via PayPal integration
Create unlimited events freely
Tested on major theme frameworks for compatibility
WordPress Plugin to Manage Attendees for Your Events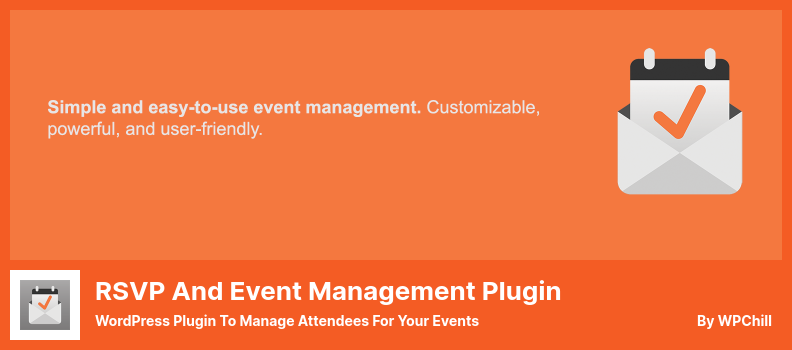 RSVP and Event Management is a WordPress plugin that seamlessly integrates event management functionality into your WordPress website. Whether you're a wedding planner or organizing any other type of event, this plugin allows guests to easily register for an event or check-in at the venue.
One of the standout features of this plugin is the ability to enable guests to add more attendees, such as plus-ones, to your event. This ensures that everyone receives proper notification and updates if there are any changes.
In the premium version of the plugin, you can even add multiple events, making it ideal for event planners with varying schedules.
Customization is key with this plugin. You have the freedom to customize your RSVP form with any additional fields you deem necessary. This allows you to gather important information from your attendees, such as dietary requirements or special requests.
Additionally, you can group your attendees based on the types of events they are interested in, making it easy to categorize and organize your guest list.
If privacy is a concern, you can make events private by enclosing a passcode within the RSVP forms. This ensures that only those with the passcode can participate. Alternatively, you can make the RSVP forms available without a passcode, allowing anyone to RSVP and join the event.
Key Features:
Perfect for wedding invitations, allowing you to personalize the RSVP process for your guests.
Inquire about your guests' dietary requirements to ensure everyone's needs are met.
Notification and reminder functionalities are available in the pro version.
Highly customizable RSVP form with the ability to create any additional field you desire.
Enable attendees to easily add guests when they RSVP, making it convenient for plus-ones.
Browse your list of attendees freely from your dashboard, keeping track of who's coming.
Enable groups to RSVP together, making it easier for friends or families to RSVP as a unit.
An Event Scheduling & RSVP Tracking Plugin for WordPress
RSVPMaker is a WordPress plugin designed for event planners and RSVP handlers who want to efficiently manage RSVPs for their events. With this plugin, you can create a registration system on your WordPress site, ask custom questions to your guests, integrate MailChimp's guest list, accept payments via PayPal, and more.
One of the standout features of RSVPMaker is its flexibility. Instead of trying to cram all the event management functionalities into one plugin, RSVPMaker allows users to customize and choose only the features that suit their specific needs.
This means that you can create unlimited in-person and online events, and tailor the registration process to gather as much or as little information as you require from attendees.
One of the key advantages of using RSVPMaker is its seamless integration with popular platforms like Mailchimp and MailPoet. With this integration, you can easily send email notifications to attendees and volunteers, keeping them updated about any changes or additional information related to the event.
RSVPMaker also provides a convenient dashboard within your WordPress site, where you can easily view attendee lists for your events. This allows you to efficiently manage and keep track of the RSVPs, making event planning a breeze.
Another great feature of RSVPMaker is the ability to collect custom information on your RSVP form. This means that you can ask specific questions to your guests, such as dietary restrictions or special requests, ensuring that you have all the necessary information to make your event a success.
In addition to in-person events, RSVPMaker also allows you to create webinars and other online events. This feature is especially useful for those who want to host virtual events or offer online courses or workshops.
RSVPMaker supports integration with payment gateways like PayPal, making it easy for attendees to securely make payments for your events. This ensures a smooth and hassle-free payment process, saving you time and effort.
With RSVPMaker, you have the freedom to schedule and promote events of all sorts. Whether you're organizing a small gathering, a conference, or a charity fundraiser, this plugin provides the tools and flexibility to meet your event planning needs.
Key Features:
View attendee lists in your WordPress dashboard.
Collect custom information on your RSVP form.
Schedule and promote events of all sorts.
PayPal integration for secure payments.
Create unlimited events.
Create webinars and other online events.
Send email notifications to attendees via Mailchimp or MailPoet.
Allow people to RSVP as volunteers in addition to attendees.
A Full-featured Event & Membership Management
Events Made Easy is a WordPress plugin that allows you to create and customize events with RSVP functionality. It offers various features such as blocking late RSVPs, hiding fully booked venues, and accepting payments through Stripe and PayPal.
With the It add-on tool, you can sync your Google Calendar, Google Maps information, and Facebook events. This plugin is perfect for managing all events on your WordPress website, including RSVP forms and attendee lists. You can also set the default number of seats and RSVPs for new events.
Key Features:
Fully customizable
Email confirmation templates available
Public, private, draft, and recurring events
PDF creation for membership
Custom and dynamic fields for managing memberships
Automated recurring events
RSS and ICAL feeds included
Option to save the pros of your attendees.
The Original Calendar Plugin for WordPress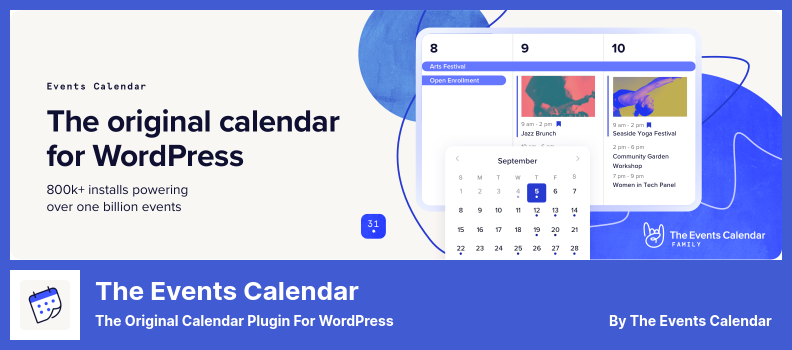 The Events Calendar is a versatile WordPress plugin that allows you to effortlessly create and manage events on your website. With its extensive customization options, you can tailor the plugin to fit seamlessly with your theme's design.
One of the standout features of this plugin is its ability to handle RSVPs. Not only can you create as many events as you want, but you can also enable free RSVPs with just a few simple clicks. This makes it easy for your audience to let you know if they'll be attending your event.
The Events Calendar plugin has been extensively tested with popular theme frameworks like Divi, Avada, and Genesis, ensuring compatibility and a seamless user experience.
And even though there is no dedicated Elementor integration, you can still access some of the plugin's features through shortcodes, allowing you to incorporate them into your Elementor templates.
But the plugin doesn't stop at just event creation and RSVPs. It also offers features such as storing venues and organizers for future use, various calendar views, and an intuitive user interface. This means you can easily organize and showcase your events in a way that suits your needs.
In terms of technical capabilities, The Events Calendar has got you covered. It comes with caching support, Ajax functionality for seamless performance, and the ability to export your calendar to Google Calendar and iCal.
It even offers integration with Eventbrite, allowing you to connect your calendar and synchronize your events effortlessly.
If you're a developer, you'll appreciate the debug mode that's available, making it easier to troubleshoot any issues and streamline your development process. And to further enhance your website, the plugin is completely SEO-friendly, ensuring that your events are easily discoverable by search engines.
Key Features:
Debug mode available for developers
Upcoming events list widget for easy event showcase
SEO-friendly to ensure your events are discoverable
Rapid event creation with customizable options
Completely translated and multilingual for a global audience.
Integrated caching support
Ajax functionality for a smooth user experience
Calendar month view with tooltips for easy event browsing
Export your calendar to Google Calendar and iCal
Connect the calendar to Eventbrite effortlessly
Frequently Asked Questions
What are RSVP plugins for WordPress?
RSVP plugins for WordPress are tools that allow users to create and manage RSVP forms and guest lists for events or gatherings directly on their WordPress websites. These plugins provide a convenient way for website owners to collect RSVPs from their visitors and keep track of the attendees.
Why should I use an RSVP plugin for my WordPress website?
Using an RSVP plugin for your WordPress website simplifies the process of managing event RSVPs. These plugins offer features like customizable RSVP forms, guest list management, automated email notifications, and integration with popular calendar platforms.

By using an RSVP plugin, you can streamline the RSVP process, save time, and ensure that your event planning runs smoothly.
What are the benefits of using a WordPress RSVP plugin?
There are several benefits to using a WordPress RSVP plugin for your event management. Firstly, it allows you to create professional and visually appealing RSVP forms that match your website's design.

Secondly, these plugins provide data management capabilities to help you keep track of attendees and their responses. Lastly, many RSVP plugins offer automated email notifications, which can save you time by sending reminders and confirmations to your guests.
Conclusion
To recap, in this article, we have explored the five best WordPress RSVP plugins for 2023, both free and pro options. We discussed the features, functionality, and benefits of each plugin, empowering you to make an informed decision for your WordPress website.
If you enjoyed this article and would like to discover more related tutorials, I highly recommend checking out the BetterStudio blog. We regularly update our blog with helpful and informative content to help you enhance your WordPress website.
Additionally, if you want to stay up to date with the latest tutorials and tips from BetterStudio, make sure to follow us on Facebook and Twitter. By following us on these platforms, you'll be the first to know about any new articles or updates that we release.
Thank you for taking the time to read this article. I hope you found it helpful and informative. If you have any questions or encounter any problems related to the content discussed in this article, please don't hesitate to leave a comment below. Our team is here to assist you and provide further guidance.