Are you a WordPress website owner in need of a reliable plugin to enhance your WooCommerce roles and permissions? Look no further! In this blog post, we will explore the six best WooCommerce roles and permissions plugins, both free and pro, to help you find the perfect solution for your website.
Those plugins let you control which features and functionalities your WooCommerce site has access to based on user roles, so now you're wondering why they're so important. So you can grant users specific permissions, ensuring you and your customers have a smooth and secure experience.
Throughout this article, we'll take a look at the best WooCommerce roles and permissions plugins out there. We'll give you an overview of all of them, along with some interesting statistics so that you can make an informed decision. So let's get started and find the right plugin!
Best Roles & Permissions Plugins for WooCommerce
If you are looking to enhance your WooCommerce store's functionality and optimize user roles and permissions, look no further than these top-rated WooCommerce roles and permissions plugins.
With a range of free and pro options available, you'll find the perfect solution to tailor user access and privileges to your specific business needs. Discover the power of these plugins and take your WooCommerce store to the next level.
a B2b Plugin That Will Empower Your Customers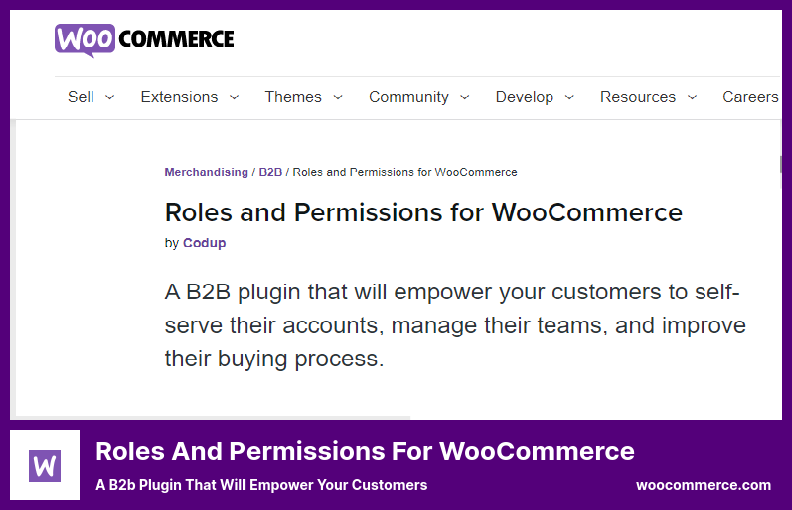 A powerful WooCommerce plugin is Roles and Permissions for WooCommerce, which is designed to help you control and customize the functionality of your online store based on the needs of your business.
With this plugin, you can create different roles and permissions for team members, ensuring that each one has the access and capabilities they need to effectively manage your shop.
Using this plugin, you can set up a B2B site within WooCommerce, which is one of its biggest advantages. Automating customer interaction with your site makes the buying process seamless, saving you time and effort and eliminating the need for manual intervention.
There are lots of permissions and capabilities in the plugin that you can assign based on a person's role. Then you can assign each member of the team a specific level of control and responsibility by creating custom roles with specific access levels. If you're working with a B2B company, this may be especially useful.
One great feature of the plugin is the ability to display the various levels of access that customers can give to their team members. This simplifies the process of managing and tracking access rights, making it easier for businesses to maintain control over their store operations.
It's important to note that this plugin does not have a free version available. However, the benefits it provides make it a worthy investment for businesses looking to optimize their WooCommerce store.
Key Features:
Team members can add items to their shopping cart based on specified permissions

B2B portal for a frictionless purchasing experience for your customers

Custom roles can be created to determine user capabilities

Set credit limits for companies you work with

Add users and customers to company accounts
Provides a Set of Handy Administration Tools
Shop Manager Admin is a powerful WooCommerce plugin that allows you to manage your online store like a pro. With this plugin, you can easily configure the admin bar menu, displaying or hiding specific items based on user roles.
One of the key features of the plugin is the addition of a WooCommerce quick-links menu to your WordPress admin bar. This menu gives you direct access to your store's orders, products, reports, and more, right from the WordPress admin bar without having to navigate to the admin area.
In addition to the quick-links menu, the plugin also adds a WooCommerce quick-access menu to your admin bar. This allows you to customize two pages within the WordPress admin and login area, and even add WooCommerce information columns to the User admin panel.
One particularly useful feature of the plugin is its ability to hide store totals from the Shop Manager role. This can come in handy if you want to limit the information that your shop managers have access to.
But that's not all! This plugin also offers a range of other useful functions, such as customizing the WordPress Admin Login page to suit your needs and adding horizontal scrolling to the WooCommerce Orders administration page.
It is possible to add custom columns to the WordPress administration dashboard with just one click and to hide the admin dashboard widgets with just one click as well, with this plugin.
Key Features:
Horizontal scrolling for the WooCommerce Orders page

Add custom columns to the WordPress administration dashboard

Customizable WordPress Admin Login page
Hide store totals for Shop Managers

Hide admin dashboard widgets with ease
The Best Group Membership and Access Control Solution for WooCommerce
Groups for WooCommerce is a premium plugin that works in conjunction with the free WordPress Groups plugin. It allows you to customize and enhance your online store using the power of WordPress.
You can use this plugin to create user groups, assign resources based on user purchases, and automatically assign customers to groups based on their previous purchases.
One of the key features of the plugin is the ability to create memberships for your store. This means that you can offer exclusive content or special discounts to members only. Customers can choose which resources they can access based on their purchases, giving them a personalized experience.
It's also awesome because you can assign capabilities to groups. You can control who can access your posts and pages. You can create VIP groups with special privileges or a members-only area where exclusive content is available. Your website will only be viewed and accessed by you.
Groups for WooCommerce lets you add customers based on what they buy, along with creating memberships and assigning capabilities. Your customer base will be easier to manage, and you'll be able to offer them better access and benefits based on their order. It's seamless and easy.
Key Features:
Access to restricted resources during membership
Membership awards based on products
Organizational control for members
Sell both time-limited and unlimited memberships
Automatic assignment to groups based on purchased products
Allows You to Change User Roles and Capabilities
User Role Editor is a WordPress plugin that allows you to easily manage and modify user roles and permissions on your website. With the free version, you'll have access to a range of useful features, but for more advanced capabilities, the pro version is available for purchase.
One of the key benefits of the plugin is its ability to customize existing roles or create new ones according to your specific requirements. By assigning unique capabilities to these roles, you can tailor the permissions and access rights of different users on your site.
Another useful feature of this plugin is the option to hide or selectively display certain menu items based on user roles. This allows you to streamline the user experience and ensure that only relevant options are visible to specific users.
Additionally, the pro version offers an ad-free interface and the ability to create extensive content restrictions, granting additional access rights based on user IDs, categories, and other attributes.
With this plugin, you can easily manage the visibility of posts and pages, ensuring that only authorized users can view them. The plugin also utilizes shortcodes to control content restriction features, providing you with fine-tuned control over who can access specific content.
For administrators, the plugin provides the ability to view backend pages and check the permissions that are currently in place. This allows you to have a clear understanding of the access levels of different user roles.
If you need to transfer user roles and permissions between WordPress websites, it has you covered. You can export a user role to a local file, which can then be imported into any other WordPress website, saving you time and effort in setting up user roles from scratch.
In terms of restricting user access, User Role Editor allows you to limit editing capabilities for posts, pages, authors, and taxonomies by using ID lists. This feature ensures that only designated users have the ability to make changes to specific content areas.
Key Features:
Customizable user roles and permissions
Menu item visibility control for different user roles
Ad-free interface in the pro version
Extensive content restriction capabilities based on user attributes
Ability to export and import user roles between WordPress websites
Restriction of user access to specific content areas using ID lists
User Role Access, Editor Permissions, Admin Menus
PublishPress Capabilities is a WordPress plugin that allows you to create multiple roles for a network of multisite or assign roles to all sites simultaneously, giving you greater control over content access.
With this plugin, you can define roles for users and assign permissions based on those roles. You also have the ability to migrate roles between instances.
One of the standout features of the plugin is the ability to modify existing permissions for each role in your store, as well as create new roles and copy existing ones. This means you can tailor user access to your WordPress posts, pages, and media, ensuring that only the right people have the right level of access.
Another useful feature is the ability to access reports related to your WordPress site. This gives you valuable insights into how different users are interacting with your site and its content. By understanding user behavior, you can make informed decisions to improve your site's performance.
Additionally, it offers some handy features that make it even easier to manage user access. You can, for example, make backups of any changes you make, so you're protected in case something goes wrong. The admin menu can also be restricted and frontend menu links can be restricted if you want.
With this plugin, you can control what people can do with your WooCommerce store, like products, orders, coupons, and other things. This is especially useful if you have multiple user roles with different levels of access, because only authorized users can manage certain stuff in your store.
Key Features:
Backup and restore permission changes
Control over admin menu access
Restrict frontend menu links
Manage user access to WooCommerce products, orders, and coupons
Create new roles or clone existing roles
Membership & User Role Editor Plugin
Members is a WordPress plugin that offers enhanced control over the capabilities and roles of users on your website. With this plugin, you can easily create and manage user accounts, assign specific roles and capabilities to individual users, and even designate certain capabilities for specific users.
One of the standout features of the plugin is its seamless compatibility with various other plugins, allowing you to use it for multiple purposes. It also provides the functionality to create a private store, giving you more flexibility in managing user access.
One key advantage of the plugin is its ability to assign multiple roles to a single user, providing a customizable user experience. You can also remove specific capabilities from any role, giving you even more control over user permissions.
Additionally, the plugin includes shortcodes for defining content access and widgets that display user credentials on the sidebar. This allows for easy customization and organization of your website's user roles and capabilities.
Another great feature of Members is that it eliminates the need for coding to modify the default capabilities of WooCommerce user roles. With this plugin, you can customize user roles directly from the WordPress dashboard, without any technical expertise required.
Key Features:
Hierarchical organization of roles
Display or hide blocks based on user position
Replace the existing user-level scheme with a new one
Integrates capabilities from the Meta Box plugin
Ability to make your website and feeds completely private
Frequently Asked Questions
What are WooCommerce roles and permissions plugins?
WooCommerce roles and permissions plugins are tools that allow you to manage the user roles and permissions on your WooCommerce website.

These plugins provide you with the ability to assign specific roles and set permissions for different users, giving you control over what actions they can perform on your online store.

With these plugins, you can ensure that your store operates smoothly and securely by limiting access to certain features and functionalities.
Why do I need WooCommerce roles and permissions plugins?
WooCommerce roles and permissions plugins are essential for maintaining the security and functionality of your online store. By using these plugins, you can control who has access to certain areas of your WooCommerce website and what actions they can take.

This is especially important if you have multiple employees or collaborators working on your store, as you can assign different roles and permissions to each individual.

Additionally, these plugins help you protect sensitive information and prevent unauthorized actions, ensuring a smooth and secure shopping experience for your customers.
What features should I look for in a WooCommerce roles and permissions plugin?
When choosing a WooCommerce roles and permissions plugin, there are several key features to consider. Firstly, you should look for the ability to create custom user roles and assign specific permissions to each role.

This flexibility allows you to tailor the access and capabilities of different users according to their responsibilities. Additionally, a good plugin should offer easy-to-use interfaces for managing roles and permissions, providing you with a user-friendly experience.

Other useful features to look for include the ability to restrict access to specific products or categories, track user activity, and integrate with other WooCommerce extensions.
Conclusion
To wrap up this article, we've explored the top six WooCommerce Roles & Permissions plugins, both free and paid options, to help you effectively manage user roles and permissions on your WordPress website.
We've discussed the importance of these plugins in streamlining your online store's operation and ensuring secure access to different areas of your site.
For more in-depth tutorials and guides on WordPress, WooCommerce, and other related topics, be sure to check out the BetterStudio blog. You'll find a wealth of resources and helpful tips to enhance your website and take it to the next level.
To stay up-to-date with the latest tutorials and information from BetterStudio, follow us on Facebook and Twitter. We regularly share valuable content that can help you optimize your website and achieve your online goals.
Thank you for taking the time to read this article. We hope it has provided you with valuable insights and solutions for your WooCommerce roles and permissions needs.
If you have any questions or encounter any issues while implementing these plugins, please don't hesitate to leave a comment below. Our team and the BetterStudio community are here to assist you. Happy WooCommerce-ing!