Trying to find the best WordPress WooCommerce Roles & Permissions plugins?
Let us use this opportunity to present our hand-picked list of the best WordPress plugins for Roles & Permissions for WooCommerce. We excluded plugins that did not support mobile devices or were not speed optimized. The plugins are also fully compatible with all the latest WordPress themes.
We produced this list of WordPress plugins for the WooCommerce Roles & Permissions. Although this plugin listing offers plugins associated with Customize WooCommerce User Roles and WooCommerce Shop Manager usages.
📌 Note: Our article about the best advanced WooCommerce plugins can be of assistance if you are interested in finding a plugin to enhance your store. Also, for choosing a good WooCommerce template, we suggest you read our article about the most popular WooCommerce themes.
Best Roles & Permissions Plugins for WooCommerce 🥇
Check out this list of best WooCommerce Roles & Permissions WordPress plug-ins for 2022:
a B2b Plugin That Will Empower Your Customers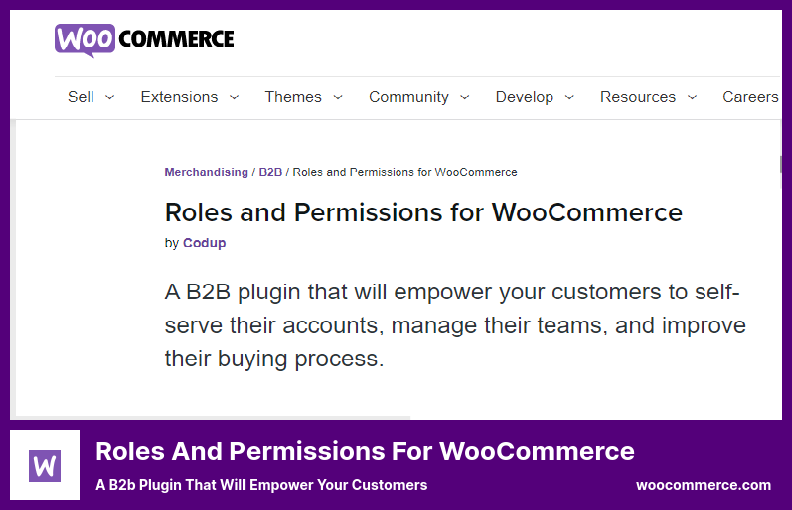 The Roles and Permissions for the WooCommerce plugin allow you to create a shop that is fit for your particular business model and be exceedingly flexible.
You must use this WooCommerce roles & permissions plugin to set up a B2B site based on WooCommerce. It eliminates the need to automate customer interaction with the site.
The plugin provides an easy way to display the various levels of access that a customer can give to different team members in a B2B store. In such scenarios, the plugin will prove extremely useful.
As a result, you can create a customer account for your company with multiple access levels instead of a general account for your business.
Different permissions and capabilities will be available to other users by their roles within the company account. Unfortunately, like the Groups for WooCommerce plugin, there is no free version of this plugin.
💵 Purchasing the Roles and Permissions for WooCommerce plugin for $99 will give you access to a whole bunch of additional services.
Key Features:
Administrators or owners of companies can specify which team members can

add items to their shopping cart
By delivering a B2B portal, you can offer your customers a frictionless purchasing experience
The business owner or administrator can create custom roles that determine what capabilities will be available to the users
You will be able to set a credit limit for the companies with whom you are working
Users and customers can be added to company accounts in addition to companies
Provides a Set of Handy Administration Tools
With the Shop Manager Admin plugin by Zorem, you can control your WooCommerce store like a professional with various useful features.
Additionally, it includes the WooCommerce quick access menu to your admin bar. You can customize two pages within the WordPress admin and login area and add WooCommerce information columns to the User admin panel.
It also hides store totals from the Shop Manager role and performs many other useful functions.
Adding a WooCommerce quick-links menu to your WordPress admin bar allows you to access your store's orders, products, reports, and more directly from the WordPress admin bar without accessing the WordPress admin area.
Furthermore, this WooCommerce shop manager plugin and managed shops can configure the admin bar menu. Specific items are displayed or hidden depending on their role.
💵 Installing and using this plugin is free of charge. The plugin can be downloaded for free.
Key Features:
You may customize WordPress to suit your needs for the

Admin Login page
A Shop Manager may hide their store totals
There are several ways to add horizontal scrolling to the WooCommerce Orders administration page
You can add custom columns to the WordPress administration dashboard
Admin dashboard widgets may be hidden by selecting the Hide button
Random Reviews:
Thanks a lot! This is a great plugin for making the admin bar more useful.
The Best Group Membership and Access Control Solution for WooCommerce
Using the Groups for WooCommerce plugin makes it possible to customize many aspects of your online store using WordPress.
You will be able to create memberships in your store. Customers can choose which resources they can access based on their purchases. You will automatically assign your customers to groups based on their purchases. You will be able to create groups in your store.
This premium plugin must be used with the free WordPress Groups plugin, which can be obtained from the WordPress repository. This plugin allows you to utilize WordPress's existing features and add new ones to your groups.
Additionally, you can assign capabilities to an entire group. These capabilities will be granted to all the group members, thus allowing you to control who has access to your posts and pages. Overall, this will enable you to control the degree of accessing your posts and pages given to other users.
💵 A plugin named Groups for WooCommerce includes 1-year updates and support for your site and costs $79.
Key Features:
During the term of your customers' membership, they will have access to restricted resources
It is possible to award memberships based on products
Members of organizations are subject to the organization's control throughout their membership terms
It is possible to sell memberships for both time-limited and unlimited periods
According to the products they ordered, customers may automatically be assigned to a group
Allows You to Change User Roles and Capabilities
Like Groups for WooCommerce, you can optimize the options for managing roles on a WordPress site by using the User Role Editor plugin.
You may also modify any existing roles as necessary, by your requirements, by creating new roles and assigning various capabilities to these new roles.
It is possible to download the free version of this plugin, which comes with many useful features; however, if you want all the advanced features, you should purchase the pro version.
Moreover, the pro version allows you to create extensive content restrictions. Different user IDs, categories, and other attributes can give additional access rights depending on their use.
It is also possible to block certain menu items from showing up and display them selectively for specific users. In addition to this, an ad-free interface is available, and privileges can be assigned to particular users.
💵 While the Premium version costs $29, the Lite version is free.
Key Features:
Posts and Pages can only be viewed by users who have access to them
You can manage content restriction features by using shortcodes
You can view the admin backend pages to determine what permissions are in place
It is possible to export a user role to a local file that can be imported into any WordPress website
You can restrict user access to edit posts, pages, authors, and taxonomies with posts, pages, authors, and taxonomies ID lists
Random Reviews:
I prefer writing my own code for most activities. However, since I need to manage WooCommerce permissions, I think this plugin is a good solution at the very least to test capabilities quickly.

This plugin did what I wanted it to do, was easy to understand. And the best part is there are no nags to leave reviews or upgrade to a paid version for features I don't need (unlike some other plugins).
User Role Access, Editor Permissions, Admin Menus
The PublishPress Capabilities plugin offers you the ability to manage how different users are given access to your WordPress posts, pages, and media and the ability to access reports related to your WordPress site.
It is possible to define roles for users and assign permissions depending on those roles with the plugin. Additionally, it allows you to migrate roles between instances.
Using this plugin, you can modify the permissions that have already been assigned to each role in your store, create new roles, and copy the ones that are already available.
You can create multiple roles for a network of multisite or assign roles to all sites simultaneously, allowing you greater control over what content users have access to on each site.
💵 In the premium version, the plugin charges a fee like $69, but the Lite version is free.
Key Features:
A copy of any permission changes you have made may be made as a backup
You can prevent users from accessing the admin menu
A restriction can be put in place for all frontend menu links if desired
You may control access to WooCommerce products, orders, coupons, and other items
A new role may be added, or an existing role may be cloned
Random Reviews:
Using this plugin, we can easily manage multiple roles and capabilities on our site.

I understand why so few stars are given, but I believe such responsiveness from plugin developers bodes well for any plugin project. Amended.
Membership & User Role Editor Plugin
The default capabilities of WooCommerce user roles can usually be modified with code. However, the Members plugin allows you to customize WooCommerce user roles without writing code.
The user role feature will allow for greater control over the capabilities of users. You will be able to create new users, edit existing ones, and determine which capabilities are assigned to them. Lastly, you will be able to designate specific capabilities to specific users.
It is possible to assign multiple roles to one individual and remove specific capabilities of any role from an individual. It contains shortcodes for content access definitions and widgets that display the credentials of the user on the sidebar.
Furthermore, it will also assist you in creating a private store for yourself as well.
The plugin works seamlessly with several other plugins, making it possible to use it for several purposes. Additionally, it will assist you in creating a private store for yourself. Unfortunately, it is impossible to block access to widgets for members using this plugin.
💵 For the Free/Lite version, this plugin charges $179.
Key Features:
Establishes a hierarchical organization of roles
Blocks can either be displayed or hidden according to the user's position
Replaces the existing user-level scheme with a new one
Integrates capabilities from the Meta Box plugin into its role-based functionality
You may choose to make your website and its feeds entirely private if you so desire
Random Reviews:
I would highly recommend this plugin for controlling multiple roles and different combinations of access.

It does what it says on the tin – great
A nutshell
So these are our picks for the best WooCommerce Roles & Permissions WordPress plugins. If you are a leading web administrator, you can use these plugins. These plugins allow you to boost your website design and functionality.
📌 Note: We suggest you check our articles on the best WordPress blog themes and best WordPress plugins for bloggers.
Here is a list of the top WooCommerce Roles & Permissions WordPress plugins.
Don't forget, if you enjoyed this article, please leave a comment. And don't forget, please share this article on Facebook and Twitter if you enjoyed it.