Are you sick of looking for the best WordPress plugin for WooCommerce Private Store?
This article will review the most popular WordPress plugins for WooCommerce Private Store to help you improve your website. We have developed these plugins with a refined touch and an attractive and stylish design that you, the clients, have rated highly. In summary, these plugins can be customized to match all the best WordPress themes.
In conclusion, all of these plugins support WooCommerce Private Store. Despite this, they also support WooCommerce Private Products, Restrict Shop Pages, WooCommerce Private Categories, and WooCommerce Members Only.
📌 Note: You might benefit from reading our article about advanced plugins for WooCommerce and powerful WooCommerce themes to find out how to select a theme that will both enhance the appearance and functionality of your WooCommerce store.
Therefore, we present to you the best WooCommerce Private Store plugins for WordPress in 2022 like:
WooCommerce Product Tables Creation Plugin
The Barn2 WooCommerce Private Store Plugin is widely recognized as one of the most popular solutions for creating a private store or member's area on your website. Not only that, but it offers numerous configuration options so that you can tailor your store to meet your specific needs.
The WooCommerce plugin can be installed on WordPress sites to allow Guest Users to browse your website but not make purchases. This allows them to view your website but not make any purchases due to their limited access.
As well as that, you may choose to provide customers with access to specific products via a separate login page, as well as to allow them to choose whether to access your products by simply logging in or by creating a password for access if you so choose.
When it comes to setting up the privacy settings for your website and hiding the private areas of the website from search engines, this is an essential piece of information that will ensure that all of the items you sell on your website are only available to registered members.
💵 With $€99.00, the plugin is produced with updates and support for 12 months.
Key Features:
No search engines will be able to access it
Nav menus and sidebars can be hidden in addition to shop pages
The protected area won't be visible to guests
Easily configured even for beginners
Access the private area by logging in, entering a password, or based on the role of the user
Private Shopping for Guests On an Online Store
With Private Store for WooCommerce plugin, it is possible to create private access to products that are available only to registered users. Guests are not allowed to view private products because they must register in order to do so.
A setting may be applied to all categories, tags, and pages or it may be applied only to a particular group of pages, categories, or tags, then it will be applied to the entire site.
It is worth mentioning that the plugin can also allow store owners to fully customize how their registration process is managed.
The user can be manually authorized when requesting a new user or you can take the option of disabling the requirement that the user logs in when approving the user.
As an additional benefit, the plugin provides customers with notifications when their account capabilities have changed, such as when a user account has been deleted.
💵 The plugin is priced at $49.00 and comes with free support for one year.
Key Features:
Tags and pages are private for guests from specific countries
Stop the robots from crawling private posts
Give guests access to your entire website
Approving new customers manually
Login access is disabled for the user
To view WooCommerce products, categories, tags, and pages, guests must log in or register
WooCommerce Memberships for Multivendor Marketplace
With the WCFM Membership plugin, you can help your marketplace to set up a membership plan if it has a variety of vendors to choose from. The plugin allows you to create unlimited membership plans and customize them according to your preferences.
In addition to these extensions, several well-known multivendor plugins are compatible with this plugin, including Dokan WooCommerce Product Vendors, WC Vendors, WC Marketplace, and WooCommerce Multivendor Marketplace.
This plugin will allow you to add both a paid and free membership levels to your store. PayPal takes care of payments and will be able to set up recurring payments.
You will be able to set up different commission levels based on membership levels as well as different levels of vendor commissions.
Additionally, it includes an option to set a fee that new vendors must pay prior to being allowed to contribute to the store. Overall, it is the most effective membership plugin for WooCommerce in terms of running a multivendor marketplace.
💵 Free of charge!
Key Features:
Prices can be hidden by country based on IP addresses
Messages can be customized, e.g. 'Log in to view prices'
The ability to hide prices based on the role of the user
Remove the button for adding items to the cart from your website
Random Reviews:
The plugin has a lot of bugs and conflicts with other premium plugins.

Thank you very much for posting the latest WP 5.5 version.
Members-only Content and Products for WordPress Plugin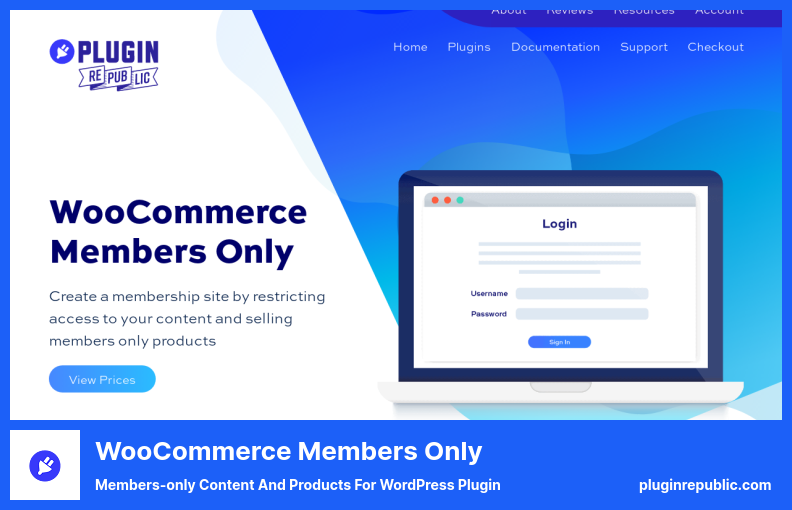 The WooCommerce Members Only plugin is an excellent tool for creating a private online store on WordPress websites.
By using this plugin, you can restrict access to your store using a password login status or a user role. Visitors will be prompted for a password upon visiting private pages; they will only be allowed to view content after supplying a valid password
Furthermore, this is done to protect your content from being displayed in search engine results by search engine bots.
As well, you can specify which pages on your website will be restricted using the Members Only settings page, which allows you to choose which categories, posts, and even the entirety of your website will be restricted.
Using WooCommerce Members-Only, you can create a WooCommerce store that is exclusively accessible to members and run this store along with a public WooCommerce store.
Also, you may be able to create multiple membership levels in order to provide access to an unlimited number of products, even if the cart and checkout pages remain public.
By utilizing from WooCommerce private category feature, only logged-in users with a certain role can see the private WooCommerce category or its products.
The private category and its products will be hidden from everyone else. It is also one of the other interesting features provided for users.
💵 When you buy this plugin for $59.00, you'll receive 12 months of free support.
Key Features:
Login status or password restrictions for user roles
Set up a private WooCommerce store
Site-wide or post-specific protection
Users can be grouped by roles to control access
Restricted access options
Limit access to certain content
Selling WordPress-exclusive Products Plugin
You can easily set up a WooCommerce store with limited access by using the YITH WooCommerce Membership plugin, which has a lot of powerful features.
Your website can be monetized both with your content and your products using the WooCommerce membership plugin such as this one.
As well as hiding your entire store or individual products, you can customize how pages are shown based on the role of the user. This allows you to create different levels of membership for different customers. A blog post or another page may also be displayed publicly.
As an alternative, you can make your posts private and charge members a subscription so they will be able to access your site posts similarly to those of magazines. Visitors can also view limited portions of your pages before logging in.
As well as this feature, one of the other great things about this plugin is the fact that you can offer your visitors free gift cards when they register for your site.
Compared to WooCommerce Membership, Yith WooCommerce Membership has many advantages; however, there are also some disadvantages. Customer loyalty may be eroded when they do not receive new value every time they pay.
💵 In $€149.99, you will get 12 months of support for this plugin.
Key Features:
Membership only access/download of PDFs, images, audio and video files
Offer users a limited preview and prompt them to pay for the full article
Posts and pages for members only
Set different permissions for unlimited plans
Privalia-style shop with products only available to members
Upon registration, automatically add users to a specific plan
Shop for Registered Users Only WordPress Plugin

The WooCommerce Private Store plugin allows you to create a private shop, which you can share only with your customers. You have complete control over who is allowed to access your shop.
Additionally, the plugin enables you to manually approve or reject every new member prior to granting them access. Additionally, you may disable registration at any time – whether temporarily or permanently.
The plugin provides the option of displaying only your specific products and categories, as well as restrict shop pages or hiding WooCommerce's shop page entirely, thereby allowing you to create WooCommerce private products.
If a visitor is not logged in, they will be presented with a registration form reflecting your customizations If a visitor chooses not to log in, they will be presented with both forms and must complete them both in order to complete the purchase.
All of the other plugins listed here will hide your product pages from Google, however, in addition to restricting human access to them, this plugin also allows search engine bots to crawl and index them.
💵 You can get 12 months of free support with this plugin for $35.00.
Key Features:
Set forms opacity and show a background image on login
Private the whole store/WordPress site/individual product categories
View content only after logging in
User registration enable/disable
Auto or manual registration approval for new users
Users and admins are notified when new users need approval
Random Reviews:
Support is excellent and the extension is good.

I received a support ticket in a spam email.
WordPress Plugin For Hiding Prices and Allowing Customers to Request Quotes
With the Hide Prices & Private Store for WooCommerce plugin, you can easily hide prices and add private shops to your WooCommerce store. This plugin gives you all the features you need to make your shop private and several other features.
By using the dynamic 'rules' system that comes with it, you can control which categories and pages of your website are hidden from non-members. Using shortcodes, you can also prohibit specific elements of posts and pages from being seen by non-members.
One of the most attractive aspects of this plugin is that it offers a number of additional features in addition to hiding pages.
Consequently, if you do not wish to remove the prices from your WooCommerce shop page, you will be able to hide them instead. Visitors will have to create an account before being able to view the prices and add products to their cart. You can also include a quote request system, which enables shoppers to request quotes instead of seeing them.
This plugin can be used to create a private store. It has a variety of features and is extremely useful for hiding prices and obtaining quotes from customers.
💵 The plugin can be purchased for $49.00 with 12 months of support included.
Key Features:
Guests and

logged-in users can request quotes
A fully private store with a hidden website and forced login
Shops and products can be hidden if you wish
Enable/disable quote fields and receive quotes via email
Make checkout impossible until logged in
Different content for different users with the plugin's shortcode
Prices can be hidden by product, category, or variation
The summary
Listed below are the best WordPress plugins for the WooCommerce Private Store. Users can build a well-designed site within a few hours using these plugins.
📌 Note: We suggest you check our articles on the best WordPress blog themes and best WordPress plugins for bloggers.
We hope this article helped you find the best WordPress plugin for WooCommerce Private Stores.
Would you like to suggest a dedicated plugin? If so, tell us in the comments section below. Would you like to support us? Share this post on Facebook and Twitter.