Are you a WordPress website owner looking to enhance your eCommerce capabilities with the right coupon code plugins for your WooCommerce platform? Look no further!
In this blog post, we will explore the top six WooCommerce coupon code plugins, both free and pro options, to help you boost your online sales and provide an exceptional shopping experience for your customers.
According to recent statistics, coupons and discounts are major factors that influence consumer purchasing decisions. In fact, a study conducted by Coupons.com found that 93% of consumers are more likely to make a purchase if there is a coupon or discount available.
With these compelling figures in mind, it is evident that incorporating coupon code plugins into your WooCommerce website can prove to be a game-changer for your online business.
In this article, we will dive into the six best WooCommerce coupon code plugins currently available. Whether you're looking for a free and easy-to-use option or want to explore more advanced features with a premium plugin, we've got you covered.
So, without further ado, let's discover the plugins that can take your WooCommerce store to new heights and unlock the potential for increased sales and customer loyalty.
Best Coupon Code Plugins for WooCommerce
If you are looking to spice up your WooCommerce store with some enticing coupon code options, look no further! In this article, we've curated the top six coupon code plugins for WooCommerce, both free and pro, that are bound to take your online business to the next level.
Here is a guide to help you discover the perfect plugin for boosting your sales and attracting more customers to your website!
Helps You to Create Any Type of Bulk Discounts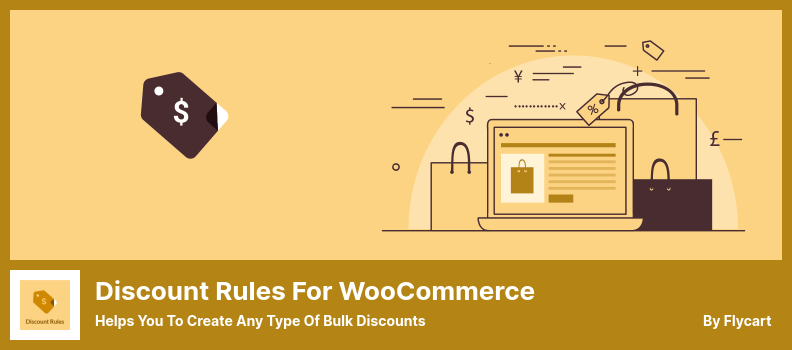 Using Discount Rules for WooCommerce, you can make dynamic pricing and discounts for your WooCommerce store. You can set up rules and conditions for your promotions and discounts with this plugin, like giving a percentage off to retail customers and giving a bigger percentage off to wholesale customers.
One of the great features of this plugin is the ability to create bulk purchase discounts and tiered pricing deals. This means you can offer incentives for customers to buy more, such as a discount for purchasing multiple items or a reduced price for reaching a certain order total.
Another useful feature is the ability to create role-based discounts. You can set different discount rules for different user roles, ensuring that your loyal customers or VIP members receive special pricing.
Additionally, this plugin allows you to create customer-specific discounts. You can set up discounts for specific customers based on their email addresses, order histories, or shipping addresses. This is a great way to reward your loyal customers or entice new customers with personalized offers.
It's also possible to set up a buy-one-get-one-free deal with the plugin. When certain conditions are met, you can set rules to apply the discount automatically, or you can make them enter a WooCommerce coupon code. You can use the same coupon code for multiple discounts if you want.
You can show your customers your discount right on product pages and cart pages, and that's one of the best things about this plugin. Customers know they're getting a great deal, so they're more likely to buy. Aside from that, it's easy to set up discount rules with just three steps.
With all these features, Discount Rules for WooCommerce offers much more than a simple coupon-based discount. It provides value and convenience for both you as the store owner and your customers. So why not give it a try and see how it can enhance your WooCommerce store?
Key Features:
An easy three-step process for creating discount rules
Bulk purchase discounts and tiered pricing deals.
Display discounts directly on product and cart pages

Multiple products for free with a single rule

Product-specific discounts available
WooCommerce Abandoned Cart Recovery
Retainful is a powerful plugin that helps you retain your existing customers by sending them next-order coupons. With this plugin, you can easily generate coupons and offer different types of discounts to encourage repeat purchases.
There's a feature of the plugin that lets you generate coupon codes automatically, and you can include them in emails like follow-up emails, abandoned cart emails, and order recaptures. That way, you can offer your customers discounts when they need them, so they'll come back.
The coupons can also be set to expire, so your customers feel a sense of urgency. You can also offer discounts based on fixed prices, percentage discounts, or free shipping. You can motivate your customers to buy from you by giving them enticing offers.
Another great feature of the plugin is the ability to automate the follow-up email process. This saves you time and effort, as the plugin takes care of sending emails to your customers.
You can customize the email templates using the drag-and-drop functionality in the visual email editor, making it easy to create professional and personalized emails.
Key Features:
Set coupons to expire or be valid for a specific period
Provide customers with unique referral links
Add dynamic coupon codes to cart recovery emails
Use the drag-and-drop functionality in the visual email editor
Automate the follow-up email process.
Sell Gift Cards in Your Shop to Increase Your Earnings
Users can customize gift cards on their WordPress website with YITH WooCommerce Gift Cards. You can choose the delivery date, pick images or upload your own, and even discount the gift card price using this plugin. After the recipient gets the gift card, he or she can get discounts at the online store.
One of the great features of this plugin is the ability for customers to purchase multiple types of gift cards with personalized messages and email addresses for each recipient. Each recipient will receive a unique code through email, allowing them to redeem the gift card amount.
Another useful feature is the option for customers to receive notifications when a purchased gift card is redeemed. This can help store owners keep track of their gift card inventory and customer activity.
In addition to digital gift cards, this plugin also allows users to sell physical gift cards. This is a great option for customers who prefer to have a tangible and physical gift to give.
With YITH WooCommerce Gift Cards, users have the flexibility to customize the gift cards with their shop's logo, and they can also enable or disable the gift cards as needed. Additionally, the plugin allows users to set a minimum amount for gift cards, ensuring that customers can't purchase gift cards below a certain value.
Key Features:
Customizable gift cards with your shop's logo
Option to offer a percentage discount on the gift card price
Ability to sell physical gift cards
Enable or disable gift cards as needed
Set a minimum amount for the gift cards
Easy to use and integrate with your WordPress website.
Adds Advanced Options to Default WooCommerce Coupons
Smart Coupons for WooCommerce is a plugin that offers various options for issuing coupons on your WordPress website. With this plugin, you can choose from different options such as shipping method, payment method, or user role to determine who gets the coupons.
One useful feature of this plugin is the ability to filter coupons based on the minimum and maximum quantities of purchased products. This allows you to set specific conditions for the coupons to be applied.
Another helpful feature is the ability to categorize coupons on the backend, making coupon management easier. This way, you can group similar coupons together for better organization.
However, it's important to note that this plugin currently does not have the option for customers to select a variant of a giveaway product on the cart page.
On the positive side, you can automatically apply smart coupons to a product as soon as it is added to the shopping cart. This can be done by adding smart coupons to the product settings.
Additionally, this plugin allows you to display discount coupons for WooCommerce users in their accounts. This makes it easy for them to take advantage of the discounts available.
The Smart Coupons for WooCommerce plugin also enhances the functionality of pre-existing WooCommerce coupons. It offers features such as restricting coupon usage, enabling auto-applying coupons, and efficiently managing coupons.
Key Features:
Display coupon availability on the cart and

checkout pages
Promote coupons easily with generated coupon URLs
Automatically generate shortcodes for all your coupons
Set coupons to start and end at specific dates
Customize the appearance of your coupons with various styling options.
a Popup Plugin for WordPress
Ninja Popups is a WordPress plugin that allows you to display coupons as popups on your website. With 60 different popup themes to choose from, you can easily customize the look and feel of your popups.
In addition to increasing opt-in rates, this plugin provides high-quality leads, as well. It integrates with MailChimp, GetResponse, InfusionSoft, JetPack, and ConvertKit via the API. You can integrate popups with email marketing campaigns and collect valuable customer info with them.
The plugin has been designed to be compatible with a number of popup plugins as well as mailing systems. However, the plugin has a few other tricks up its sleeve as well.
It allows you to create mobile coupons specifically designed for the devices your customers are using. So whether they're on a desktop, tablet, or smartphone, your coupons will look great and be easy to use.
It's worth mentioning that while Ninja Popups wasn't initially designed for use with WooCommerce coupons, its versatility makes it a desirable option for any WordPress website owner looking to maximize their coupon promotions.
Key Features:
Unlimited number of popups
Show popups upon page close or exit
Full API integration with email services
Display popups upon page load.
Everything You Need for Discounts, Coupons, etc.
Smart Coupons is a plugin that helps you offer discounts, coupons, and vouchers to your customers. With this plugin, you can provide various delivery benefits, bulk discounts, WooCommerce subscription coupons, or gift certificates.
As a result of the plugin's seamless integration with WooCommerce, you can easily offer discounts to your customers, enabling you to give them a great shopping experience.
This plugin doesn't slow down your website or checkout process at all. It's also very flexible and intuitive, so you can set up and manage your coupons really easily. This means your customers get a smooth experience while taking advantage of the discounts you offer.
Another useful feature is the ability to use credits as a means to refund or compensate your customers. This can come in handy when you need to resolve any issues or provide extra value to your customers.
There has also been extensive testing of the plugin with popular third-party plugins to ensure compatibility and the smooth integration of the plugin.
One convenient feature of Smart Coupons is the ability to easily embed links in your emails and social media posts. This makes it effortless to promote your discounts and encourage customers to take advantage of them.
Key Features:
Ability to use credits for refunds or compensation
Compatibility with popular third-party plugins
Easy embedding of links in emails and social media posts.
Fast and seamless integration with WooCommerce
Flexible and intuitive coupon setup
Frequently Asked Questions
What are WooCommerce coupon code plugins?
WooCommerce coupon code plugins are tools that you can integrate into your WooCommerce store to help you create, manage, and track coupon codes.
These plugins make it easy for you to offer discounts and promotions to your customers, allowing you to attract new customers and incentivize repeat purchases.
Why should I use coupon code plugins for my WooCommerce store?
Using coupon code plugins for your WooCommerce store can have several benefits. Firstly, they help you create a sense of urgency and encourage customers to make a purchase by offering them exclusive discounts.

Secondly, coupon codes can be a great way to reward loyal customers and encourage repeat purchases. Lastly, coupon code plugins often come with features like tracking and analytics, which can help you measure the effectiveness of your promotions and optimize your marketing strategies.
What features should I look for in WooCommerce coupon code plugins?
When choosing a WooCommerce coupon code plugin, it's important to look for features that align with your specific needs.

Some key features to consider include the ability to easily create and manage multiple coupon codes, the option to set expiration dates and usage limits for each code, and the ability to apply discounts to specific products or categories.

Additionally, features like automated coupon code generation and customizable display options can make the coupon code experience more seamless and visually appealing for your customers.
Conclusion
To recap, in this article, we explored the six best WooCommerce coupon code plugins, both free and pro. We delved into the features, benefits, and pricing plans of each plugin, helping you make an informed decision for your WordPress website.
If you want to dive deeper into similar tutorials and articles, be sure to check out the BetterStudio blog. There, you'll find more valuable insights and tips to enhance your WooCommerce experience.
Don't forget to follow BetterStudio on Facebook and Twitter to stay updated with the latest tutorials, news, and resources. We regularly share helpful content and engage with our community, so you won't miss out on anything important.
Thank you for taking the time to read this article. If you have any questions or encounter any difficulties while implementing these coupon code plugins, feel free to leave a comment in the section below. We're here to help you every step of the way. Happy couponing!