Are you in search of the best WordPress plugin for WooCommerce Coupon Code?
This article will assist you in picking the best WordPress plugins for WooCommerce Coupon Codes that suits your must-haves. All the plugins are mobile-friendly and speed-optimized. In short, the plugins are compatible with all popular WordPress themes.
As a final point, all of the plugins listed below are for the WooCommerce Coupon Code. It is possible to use the following plugins for Coupon Popup WordPress Plugin, WooCommerce Subscriptions Coupons, and WooCommerce Promotions.
📌 Note: To enhance your store's look and functionality, we recommend that you use an advanced WooCommerce theme that includes both useful features and a nice design. Also, we suggest you see our article about the most useful WooCommerce plugins.
Let's check the gathered list of the best WooCommerce Coupon Code WordPress plugins in 2022:
Helps You to Create Any Type of Bulk Discounts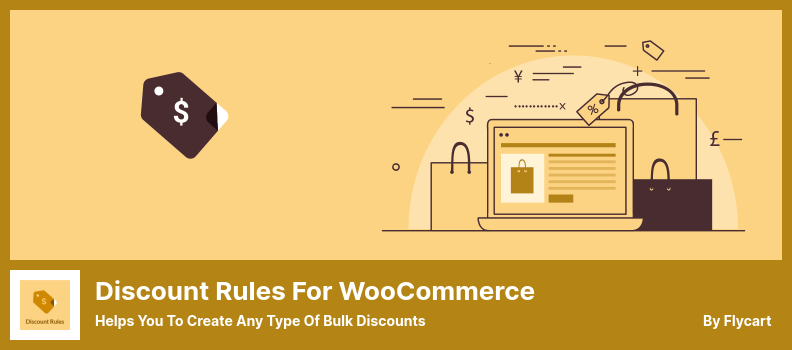 The Discount Rules for WooCommerce plugin provides much more value than a simple coupon-based discount. This plugin offers many user-friendly features that make your life easier.
This plugin makes it possible to configure dynamic pricing and discounts for your WooCommerce store. WooCommerce promotions and discounts can be altered according to specific rules and conditions, such as retail customers receiving 5% off and wholesale customers receiving 10% off.
In addition to any restrictions listed above, additional restrictions may apply to quantity, categories, products, attributes, variants, user roles, customer email addresses, order totals, order histories, shipping addresses, and customer email addresses.
As part of this enhancement, you will have the ability to create bulk purchase discounts, tiered pricing deals, role-based discounts, customer-specific discounts, and the Buy One Get One Free sale.
There is the option to configure discount rules so that they apply automatically or are activated by a WooCommerce coupon code so that multiple discount rules can be activated simultaneously by the same coupon code.
💵 There is a $59 pro version and a free lite version.
Key Features:
Allows you to display the discount directly on product pages and cart pages
It is possible to create discount rules in three easy steps
A rule could be used to offer multiple products for free
Several product-specific discounts are available
It is doubtful that your customers will abandon their shopping cart
Random Reviews:
I had a problem I couldn't solve. The support understood the problem really fast and was in search of a solution. I'm really happy they could help me out. It saves me a lot of time for something I would have never found. Thank you!

I had a problem caused with Discount Rules in addition to another plugin where the calculation in the shopping cart was wrong. The support helped and I am satisfied! Thanks a lot!
WooCommerce Abandoned Cart Recovery
To generate coupon codes automatically in order follow-up emails, abandoned cart emails or order recapture emails, you will need the Retainful plugin. It does just that automatically and efficiently.
By implementing this plugin, you can generate coupons automatically, offer two different types of discounts utilizing coupon codes, and increase sales.
It is more important to keep your existing customers than acquire new ones. This plugin allows you to send Next order coupons directly to your customers, encouraging them to shop at your store again and again for more products and services.
Coupons may offer a fixed price discount, a percentage discount, or a Free Shipping discount. They may be set to expire after a specified period, and a minimum purchase amount is often required.
In addition, you can provide your customers with a discount coupon for their next purchase when you send them Thank You emails.
💵 This plugin charges $19/month for the Premium version and $0 for the Free/Lite version.
Key Features:
The following order coupon can be set up to expire or be valid for a set period
Every customer is given a unique referral link
Adding Dynamic Coupon Codes to Cart Recovery Emails is possible
Drag and drop functionality is offered in the visual email editor
You can automate the follow-up email process
Random Reviews:
This plug-in will save you more than it will ever cost. It's intuitive, easily customizable, and feature-rich. To top this off, the customer support is and always has been outstanding (we have had Retainful on our website for a couple of years). Replies have been pretty much instant, solutions found and implemented. If every plug-in was managed like this, life would be much simpler.

The plugin does a lot. It's intuitive to use. If used right it will bring in extra money. And on top of that, I received some of the best support I've seen. Quick in-depth replies and they will even go as far as setting up a zoom call to sort out an issue! Don't fear, just install. I wholeheartedly recommend Retainful.
Sell Gift Cards in Your Shop to Increase Your Earnings
Like Retainful, by using the YITH WooCommerce Gift Cards plugin, you can easily offer customers the option of purchasing gift cards they can email themselves.
Customers may select the amount they would like applied to their gift cards during checkout. Once the card is applied, the recipient may use this amount to take advantage of discounts within your online store if they so desire.
Customers who wish to purchase more than one type of gift card can indicate the recipients' names, a personalized message, and their email addresses. Each recipient will receive an email containing a unique code for that amount.
The user can choose the date on which the gift card is to be delivered, select the image displayed on the gift card from the gallery, and upload their own image or photo.
In addition, customers can choose to receive an email when a gift card purchased through the retailer is redeemed. A second option is to buy a gift coupon for a specific product offered by the merchant.
💵 It charges $129 for the Premium version of this plugin. You can also download the Free version.
Key Features:
You can customize the gift card with your shop's logo
A percentage discount can be offered on the gift card price
Gift cards can be sold physically
The gift card can be disabled
Allows users to enter the gift card amount and set a minimum amount for it
Random Reviews:
Excelente servicio, te ayudan a solucionar todos los problemas que necesites resolver para que el plugin funcione correctamente con tu tema. Adoro al equipo, tienen muy buena disposición. 🙂 Además el plugin funciona muy bien, incluso en su versión gratuita. Es primera vez que escribo una reseña porque realmente merece la pena. Muy bueno!

This was just what I needed for the holiday season. Easy to understand and quick to implement on the site. Great job!
Adds Advanced Options to Default WooCommerce Coupons
Using the Smart Coupons for WooCommerce plugin, you can add additional functionality to pre-existing WooCommerce coupons, such as restricting coupon usage, enabling auto-applying coupons, and efficiently managing coupons.
You can automatically apply smart coupons to a product after it is added to the shopping cart by adding smart coupons. Also, Displaying discount coupons for WooCommerce users in their accounts can allow them to take advantage of the discounts.
In addition to the ability to filter coupons based on the minimum and maximum quantities of purchased products, there is also the ability to filter coupons based on user roles.
For the issuance of coupons, you will have to select from several different options, such as a shipping method, a payment method, or a user role.
Furthermore, the management of coupons is facilitated by grouping coupons according to categories on the backend. Unfortunately, this plugin does not offer an option for customers to select a variant of a giveaway product while on the cart page at this time.
💵 It costs $69 for the Pro version and $0 for the free or Lite version.
Key Features:
Promoting coupons is made simple by generating coupon URLs
You may display coupon availability on the cart and checkout pages
The shortcodes for all your coupons are automatically generated
Coupons can be set to begin and end at specific dates
Various coupon styling options are available to customize coupon appearance
Random Reviews:
Very reactive and helpful support !!

Very good product and amazing support! Mike was very helpful and gave me snippets to make the plugin work better on my template.
a Popup Plugin for WordPress
The Ninja Popups is a WordPress plugin that displays coupons as popups when a customer visits the site. You can select from 60 different popup themes when using the plugin.
Additionally, you can create mobile coupons designed for the specific devices your customers are using with this plugin. This was not explicitly designed to be used as WooCommerce coupons. Still, their versatility certainly makes them a desirable option.
Using the API, users of MailChimp, GetResponse, InfusionSoft, JetPack, ConvertKit, and several other applications can access these services. As well as providing full compatibility with popup plugins and mailing systems, WordPress has several other features to offer.
In addition to increasing opt-in rates, you can also provide high-quality leads using this power popup plugin.
💵 Feel free to ask for support help at any time you want, after buying the plugin for $31.
Key Features:
A great popup design is available
You can create an unlimited number of popups
It is possible to show a popup when you close or leave a page
Provides full API integration with email services
You can display a popup upon loading the page
Random Reviews:
The plugin works great, maybe is possible to improve it with a better (with the best performance) visual builder but the best feature is supported. The support team answers early and it is very clear and fix the issue in a couple of days at maximum. Thanks for your support and I can suggest this plugin!

Incredibly versatile and does everything you could need a popup to do. The A/B testing feature also works great, and it includes informative analytics to help figure out how to get the best results in our Invest4Land website 100% recommended.
Everything You Need for Discounts, Coupons, etc.
Smart Coupons plugin provides WooCommerce discounts rules and WooCommerce coupons integration add-ons to allow you to provide your customers with the discounts they deserve.
It is important to remember that the success of your eCommerce store can be heavily influenced by numerous factors, including the quality of the images and themes you choose when designing your store.
It is also essential to consider the type and amount of discounts, coupons, and vouchers you will likely offer your customers. One final factor is the cost of shipping. The outrageous shipping costs often cause customers to leave a store without making a purchase when they see the charges.
This plugin allows you to provide your customers with various delivery benefits, bulk discounts, WooCommerce subscription coupons, or gift certificates. Unfortunately, like Ninja Popups, there is no free version of this plugin.
💵 The Smart Coupons is an exceptional plugin that price is $99.
Key Features:
Your website or checkout process will not be slowed down
There is a lot of flexibility and intuitiveness
Credits can be used as a means to refund or compensate
Testing has been conducted with popular third-party plugins
You can embed the links in your emails and social media posts quickly
Best WooCommerce Coupon Code WordPress plugins: Roundup
As you know, we discussed the best WordPress WooCommerce Coupon Code plugins. Everyone can build a great-looking site with a ready plugin in hours.
📌 Recommended: Our articles about the best WordPress blog themes and best WordPress plugins for bloggers are also highly recommended.
There are many amazing WooCommerce Coupon Code WordPress plugins that you can use to promote your WooCommerce Coupon Code episodes across the internet. Also, we hope you find your requirement.
If you have a comment or question about the presented plugins, you can let us know by leaving a comment. We would appreciate it if you shared this article on Facebook or Twitter if you found it helpful.