Are you looking for the Best WordPress WooCommerce Tiered Pricing Table plugins?
Our team has assembled a list of the best WordPress plugins impactful for the WooCommerce Tiered Pricing Table, which has excellent features, support, and easy-to-use interfaces. We also verify that our plugins are compatible with the latest WordPress themes. You never have to worry about compatibility issues.
To assist you in selecting the right WooCommerce Tiered Pricing Table plugin, we have compiled a list of WooCommerce Tiered Pricing Table plugins. These include WooCommerce Dynamic Pricing, WooCommerce Quantity Based Pricing, WooCommerce Price List, and Discount Rules for WooCommerce.
📌 Note: Use a modern WooCommerce theme with the features you need and a beautiful design to enhance the appearance and functionality of your site. If you require information about useful WooCommerce plugins, please visit our article about the most useful WooCommerce plugins.
Let's check out the checked and ranked of the best top WordPress plugins for WooCommerce Tiered Pricing Table in 2022:
a Rule Based Dynamic Pricing and Discount Plugin
ELEX WooCommerce Dynamic Pricing and Discounts is one of the most popular plugins. It enables you to create discounts based on several factors within your store, including products, categories, carts, and even combinations.
Additionally, the plugin allows you to implement quantity-based discounts. You can also display a WooCommerce tiered pricing table on the site if you do so.
On the product pages for each item you are viewing, you will find a price table with the quantity required to take advantage of the promotion. If you have access to this type of information, you will be able to make an informed purchase decision.
In addition to displaying WooCommerce quantity based pricing tables, the plugin can also include a message informing your customers that further discounts will be offered in the future, thus encouraging them to purchase more from you.
Unfortunately, there appears to be an exception to the discounting policy for the group of products.
💵 The program has two versions: $79 Pro and Free Lite.
Key Features:
You will be able to set up and apply automatic offers like Buy One Get One
You should consider the following product attributes, shipping options, and payment options
It is also possible to display offer tables in conjunction with tiered pricing based on the quantity of product
You may be able to offer discounts to customers who have previously purchased from your store
By using your product tagging, you can generate BOGO offers and discount rules for your products
You can specify a maximum discount amount in the offer if you want to limit the size of the discount
Random Reviews:
When you activate the plugin and apply a discount, your vendor changes the product's price. When you disable the plugin, the discount price stays there, meaning you have to manually change the prices if you have 2000 products.

I usually run sales across whole categories with this, which is excellent. I appreciate the free version.
Allows You to Set Different Prices for Different Quantities
Like ELEX WooCommerce Dynamic Pricing and Discounts, by using the Tiered Pricing Table for WooCommerce plugin, you can now display price tiers based on the specified quantity ranges in your WooCommerce store.
Customers may view the different prices by selecting the quantity they wish to purchase and correspondingly purchasing as per their choice.
If you use this plugin, you will be able to set the quantity ranges for each product within their respective product data meta boxes, as shown in the example. Still, by doing so, you can quickly and easily customize the plugin to suit your needs.
You can use this plugin to display different prices in your store or display just the minimum price. This is particularly useful when you offer quantity-based discounts to wholesale customers. Unfortunately, the premium version does not allow users to activate and customize pricing by role sometimes.
💵 Version Lite is free, and Version Pro costs $79.
Key Features:
It is possible to offer your products at a flat rate or at a percentage discount
You may choose to customize how the pricing table appears and where it is displayed
There are many types of WordPress themes that can be used
Your product pages will be able to display information about tiered pricing
An automatic price adjustment is possible when the customer selects a quantity of a product
Random Reviews:
This topic was modified 1 month, 2 weeks ago by

My first opinion is that the tier pricing table plugin is excellent. It's easy to use from the WordPress product edit interface and an Excel sheet. Look at how the Excel sheet handles billing under different roles and the very first tier for the quantity and price. The author is responsive, dedicated, and professional. By using this plugin, we're in good hands.
Create Different Pricing Without Duplicating Exiting Products
Suppose you wish to offer wholesale customers tiered pricing and category discounts through WordPress. In that case, the WooCommerce Wholesale Suite plugin by Woosuite is highly recommended.
To facilitate the management of wholesale pricing, this plugin allows you to handle wholesale pricing at various levels without worrying about price caps. You also streamline the ordering process for wholesalers so that they find and order products more quickly.
If you wish to establish a role hierarchy for your clients, you can add new wholesale WooCommerce user roles. In other words, you can set different prices for the same product by the role of each purchaser.
Essentially, this plugin enables wholesalers and retail clients who spend more money at your store to order using your traditional retail store process smoothly and seamlessly.
💵 A year's free support is included with the $139.
Key Features:
You can enlarge the add to cart button to enable the request a quote button
Each order may be subject to a minimum and maximum quantity
Users of your checkout system have the option of enabling or disabling payment methods

You can find many BOGO offers around – if you buy X, you receive Y

The possibility of creating tiered wholesale pricing exists
an Advance Pricing Discount Rule Plugin
Like Tiered Pricing Table for WooCommerce, the WooCommerce Dynamic Pricing & Discount Rules plugin is the best solution for creating a pricing strategy where customers are rewarded for spending more and with great discounts as a consequence.
This plugin is an excellent multi-purpose tool that can be used for various purposes for those who run e-commerce businesses.
In this plugin, you can set different pricing structures according to conditions, such as the number of products in the cart or the number of products in the checkout.
The plugin will include a feature that allows users to schedule advertisements by setting start and end dates. Another key feature is that it will enable you to bulk edit pricing rules and manage your posts.
Also, this plugin allows users to create dynamic pricing discounts depending on whether they are logged in as a particular user role or product category or if they remain active for a specified period.
💵 With $8/month, you will get 12 months of support for this plugin.
Key Features:
Discounts may be applied either as percentages or as fixed amounts
A discount can be used on an item if the price of the item is added to the discounted price
You may establish a minimum order quantity to ensure that your customers can place orders
Prices and special offers are available in different forms
You can plan to create tiers of discounts where successive units will receive increasing reductions
Provides bulk pricing, which decreases in price based upon the volume of the order
Create Complex Pricing Rules Quickly and Easily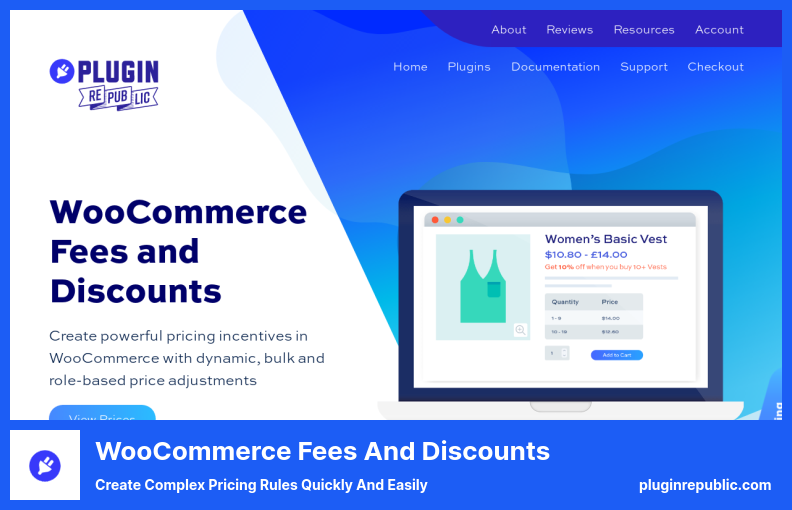 The WooCommerce Fees and Discounts plugin is an excellent tool for creating price adjustments and setting up a flexible order workflow in your Woocommerce store.
This plugin offers your users discounts based on their user characteristics, bulk pricing, and buy one get one deal.
The plugin allows you to create bulk discounts based on specific products, categories, or entire carts. By using the plugin, you can determine multiple pricing tiers based on volume and view them visually.
Similar to other plugins on this list, it also offers discounts on the total number of items in your store and displays pricing tiers with a clearly visible table.
Moreover, depending upon your convenience, you can create different pricing rules by incorporating other elements, such as User Roles, Bulk Discounts, and so forth.
💵 At $59, you can purchase this plugin.
Key Features:
You may be able to charge an extra fee or

offer a discount by the payment gateway

you use

In the case of a wholesale store, you have the opportunity to define your own discounts.
Discounts may be applied in bulk by the WooCommerce store
A pricing table may be included on the details page for each product if desired
By setting up a promotion, you can offer one item at the rate of another
It may be possible for you to make different dynamic price discounts based on the items, categories, etc
Create Dynamic Pricing and Discounts in Your WooCommerce Online Store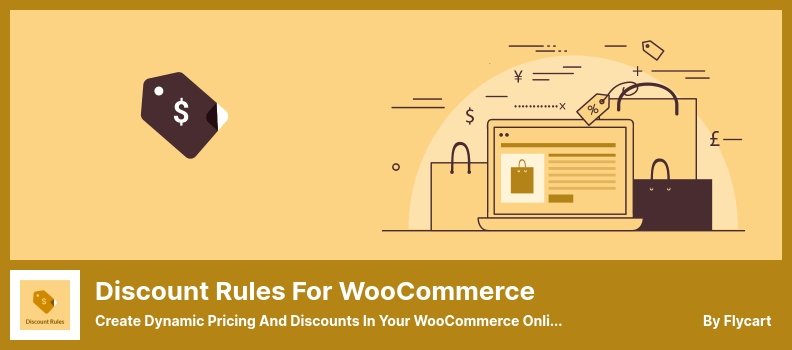 The Discount Rules for WooCommerce plugin allows you to set up diverse discount rules for your WooCommerce store based on various factors.
The plugin allows you to create bulk discounts, choose offers based on user roles, and find other coupon-type deals you may want to consider.
This plugin offers many additional features, including tiered discounts, product-based discounts, category-specific discounts, BOGO rules, and much more.
One of the most impressive features of this plugin is the visibility of tiered pricing tables on your product pages. Therefore, you will be able to customize the formatting of the table by using advanced formatting features.
You can easily create dynamic pricing strategies using the easy-to-use functionality and advanced calculation options.
Additionally, the program offers advanced formatting options that may be customized to suit your website's style to facilitate fine-tuning the table layout according to your preferences.
💵 Price: $59, Lite version: Free.
Key Features:
You will be able to reap the benefits of bulk discounts and tiered pricing
Discounts can be obtained for a variety of reasons, including the product, category, or user role, among others
Additional discounts may be offered based on the cart's conditions and the shipping address
You will be able to display tier pricing information on your product pages
Random Reviews:
The coupon rules can be confusing, but tech support quickly diagnosed the issue and found a solution.

This plugin works well and has awesome support. It's highly recommended.
Empowers Merchants to Provide Discounts for Products
The WooCommerce Tiered Pricing – Price By Quantity Plugin can offer bulk discounts to your customers. This plugin will offer discounts according to the number of products purchased during a single shopping session.
Moreover, you may display a table depicting your tiered pricing so that your customers can readily see the different offers you are offering.
Through this plugin, it is possible to set pricing rules either for individual products or categories or for the entire store.
Furthermore, you can also add a pricing table on the products page in various ways. You can place the table above or below the Add to Cart button or create a tab for the table on the product page.
💵 The plugin will come with 12 months of support if you purchase for $51.
Key Features:
A tiered pricing table can be placed directly on a product page using one of three methods
There is the option of creating individual pricing policies
Various products can be produced, both variable and straightforward
It is possible to automatically adjust the price of a product based on the quantity ordered
You may set tiered pricing for your WooCommerce store's products, categories, or globally
Random Reviews:
There are a few issues with the plugin, but the support is fantastic.

Excellent service by email, very responsive to correcting minor issues.
Increase Conversions Through Dynamic Discounts and Price Rules
You will be able to dynamically adjust a WooCommerce price list on your store to improve customer satisfaction and conversions through the YITH WooCommerce Dynamic Pricing and Discounts plugin.
In addition to setting up discounts based on the number of products purchased, this plugin also allows you to establish discounts based on user roles, specific products, and checkout conditions.
In addition to implementing seasonal discounts, the plugin can also be used to increase sales of individual products or to reward loyal customers.
This plugin will allow you to customize how your store offers discount offers and whether tiered pricing can be applied based on the quantity ranges of your products.
Furthermore, you will find a pricing table on the product page. The price will automatically be adopted by the quantity selected. Unfortunately, there is no free version of this plugin.
💵 For an affordable price, you get all the features and capabilities listed and accessible 12 months of support. It costs $139.
Key Features:
It is possible to display individual pricing tables for each variation of a particular product
A default price is the lowest price that can be chosen at any time on the pricing table
There is no requirement that specific products be excluded from discount rules
It will only take a limited amount of time to complete the process
Discounts can be either fixed amounts, values, or percentages of the purchase price
List of the best WooCommerce Tiered Pricing Table WordPress Plugins: Summary
You searched for the best WordPress WooCommerce Tiered Pricing Table plugins, and we tried to prepare the best plugins for it. Choose one of these plugins. They help you to increase your site.
📌 Note: We suggest you check our articles on the best WordPress blog themes and best WordPress plugins for bloggers.
We hope you have found this list of WooCommerce Tiered Pricing Table plugins functional.
If you have a comment or question about the presented plugins, you can let us know by leaving a comment. If you liked this article, please spread it on Facebook and Twitter. Thanks.