Real reviews on a website play a significant role in influencing visitors. Nowadays, most website owners are working on developing real website reviews to boost their visibility and credibility in their targeted platforms.
On the other hand, users prefer to make their purchases from verified and credible websites. Thus, reviews can boost the number of sales. In our previous article, we introduced the 10+ best Google Reviews plugin for WordPress.
However, since WordPress is powering more than 34% of the website on the entire internet, a lot of businesses are using this platform to create their websites. Thus, in this article, we would like to introduce bet Trustpilot plugin for WordPress.
The first plugin we would like to introduce is Trustpilot Reviews. This free plugin has over 6000 active installations. In addition, Trustpilot has over 50 million reviews of over 250,000 companies and it gives people a place to share, discover, and review businesses.
This plugin allows users to write reviews about companies that they received services from. Having such a platform allows customers to view reviews of a website and see how well they have been giving services to their users. Ultimately, this allows them to make better decisions.
Additionally, this gives small or big companies to prove themselves, increase their credibility and improve the services they provide. Thus, they can attract more clients.
This plugin is fully compatible with WooCommerce online stores and themes and you can easily use it for your online business. Trustpilot Reviews comes with widgets that send out emails to your previous customers and ask them to write reviews for the products or services they have purchased.
You can configure and personalize the widgets without having any programming knowledge. In addition, you can use the drag and drop feature it comes with to add the widgets to any web page you would like.
Respuso is considered the next best Trustpilot plugin for WordPress. It can be downloaded from the official WordPress website or from the WordPress dashboard itself. Repuso monitors your social media accounts, looks for customer reviews, and adds them to your website with the widgets that it has.
This plugin supports Facebook, Twitter, Instagram, Google+, Apple Store, Google Play, Booking.com, TripAdvisor, Yelp, etc. Any reviews found by the plugin can be added anywhere on your website via the widgets.
In addition, you can decide which reviews you would like to add to your website. All of this configuration and personalization can be done in the WordPress dashboard.
ReviewBucket allows you to display user reviews on your website from multiple platforms like Google, Facebook, TripAdvisor, Yelp, Trustpilot, etc. by using their API. Much like the other plugins mentioned in our list, ReviewBucket also allows you to personalize the reviews before publishing them on your website.
In addition, this plugin supports emoji reaction and users can simply react to your content, product, business on social media platforms.
This premium plugin is compatible with all WordPress themes (free and premium). No programming knowledge is required to customize this plugin and use its shortcodes. This plugin is simplified and anyone can use it.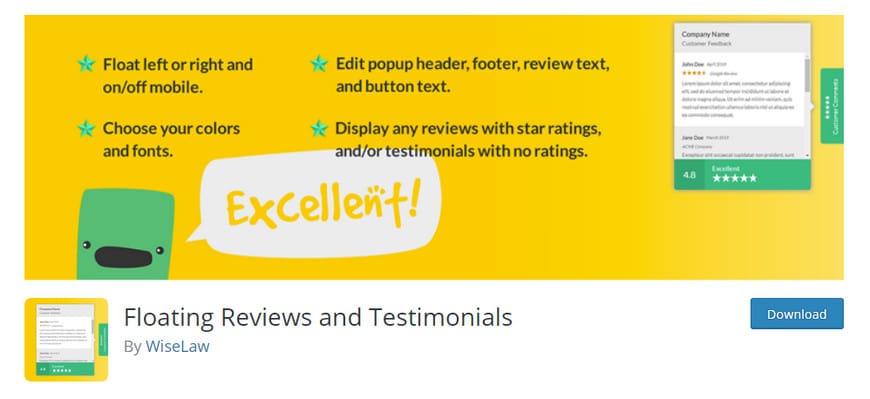 Floating Reviews and Testimonials is a free Trustpilot plugin for WordPress. It displays reviews on your website as a hover-able button. Whenever users hover over it, it shows all of the reviews and testimonials you have received. This popup page can show the name, review, location, company name, etc.
In addition, the style, font, color, language, and even location can be fully customized to match your website's design. The reviews and testimonials are manually added by you from various platforms like, Google, Facebook, Yelp, Trustpilot, etc. or can directly come from the reviewer.
Floating Reviews and Testimonials is a fully responsive plugin and works perfectly fine on any device and screen. In addition, you can enable/disable this ability.
The next best Trustpilot plugin for WordPress on our list is BIZREVIEW. This premium plugin offers a lot of cool features and it sure can import user reviews from Facebook, Google, BIZREVIEW, Yelp, Trustpilot, etc. to your website. This plugin comes with 14+ different layouts and you can use whichever that suits your website's design best.
Furthermore, the BIZREVIEW plugin comes with visitor statistics. It is familiar to Google Analytics but not quite powerful and complete. This plugin is regularly updated and it's compatible with Elementor and WP Bakery page builders.
Reviews.co.uk enables you to import the reviews customers have left behind for your services and products to your WordPress website. This plugin can easily gather reviews and feedback from various platforms and gives you the chance to pick whichever you want to add to your website.
This plugin can help improve your credibility, gain visitors' trust and ultimately increase your conversion rate. Whenever a customer makes a purchase after awhile this plugin sends an email and ask them to write a review for the product or services they have purchased. As you probably know, these reviews can directly affect new users.
The last plugin on our list is WP Social Reviews and it can be downloaded either from the official WordPress website or directly from the WordPress dashboard. By using this plugin, you can create a testimonial page and add it to your website and import user reviews from Facebook, Google Map, etc. to your site.
This plugin can have a positive outcome on your website and gain the trust of your WordPress website visitors. The WP Social Reviews is a completely free plugin that is optimized for SEO. By using the shortcode provided in the plugin, you can add live chat, reviews, etc. to your site.
WP Social Reviews is fully customizable and you can configure it however you wish. For example, it gives you the option to publish any of the gathered reviews and hide the ones that are purely negative and not true. Besides, you can sort them based on ratings.
Conclusion
As mentioned before, reviews are very important and they can have either a negative or positive outcome in your business. When you use real reviews on your website, not only you can improve on the weak points, you can also find the positive points of the services and products you offer so that you can improve them.
In this article, we introduced free, premium and the best Trustpilot plugin for WordPress.