Do you ever wonder how many people are visiting your WordPress website? Are you curious about the popularity and reach of your content? Well, you're in luck!
In this blog post, we will explore the six best WordPress visitor counter plugins for 2023, both free and pro options, that will help you keep track of your website's traffic and provide you with valuable insights.
Now, let's dive into the details of these visitor counter plugins. We will cover everything from their functionalities to their compatibility with various WordPress themes and ease of installation. Whether you're a beginner in the world of website analytics or a seasoned pro looking to enhance your tracking capabilities, we've got you covered.
In this article, we will delve into the benefits of using visitor counter plugins and how they can improve your website's performance. We'll discuss the features that make these plugins stand out and highlight their capabilities in providing you with accurate visitor statistics.
So, without further ado, let's jump right in and explore the exciting world of WordPress visitor counter plugins!
Best Visitor Counter Plugins for WordPress
Looking to track and monitor the visitors to your WordPress website? Check out these top-notch visitor counter plugins that are sure to help you keep tabs on your site's traffic. Explore the options available, both free and premium, to find the perfect fit for your needs.
Google Analytics Dashboard for WordPress
MonsterInsights is the most popular analytics plugin in this list. It's trusted by many users, making it a reliable choice.
This plugin not only serves as a live visitor counter, but it also seamlessly integrates with your Google Analytics and Google Search Console accounts, providing you with highly accurate statistics right on your WordPress dashboard.
With MonsterInsights, you don't have to constantly log in and out of different accounts to access your information. You can effortlessly collect user data without the need for constant logging in. It even offers the functionality of being a WordPress fake visitor counter plugin.
In addition, MonsterInsights can also be used as a WooCommerce product view counter, allowing you to see which products are the most popular in your store. This is extremely valuable information for optimizing your sales strategy.
Regardless of the subscription plan you choose, MonsterInsights provides robust reporting capabilities, including real-time reporting. This means you can monitor your website's performance and make data-driven decisions in real-time.
If you enable WooCommerce tracking in MonsterInsights, you'll have access to a single dashboard where you can view key metrics of your store. This includes important data such as your conversion rate, total revenue, average order value, and the source of referrals.
Key Features:
Real-time statistics for immediate insights.
Gain a comprehensive understanding of your website visitors.
Universal visitor tracking for enhanced Google Analytics.
Analyze the sources of your site visitors before they land on your site.
Quick and easy configuration of Google Analytics.
Adds W3counter S Free Web Stats to Your WordPress Dashboard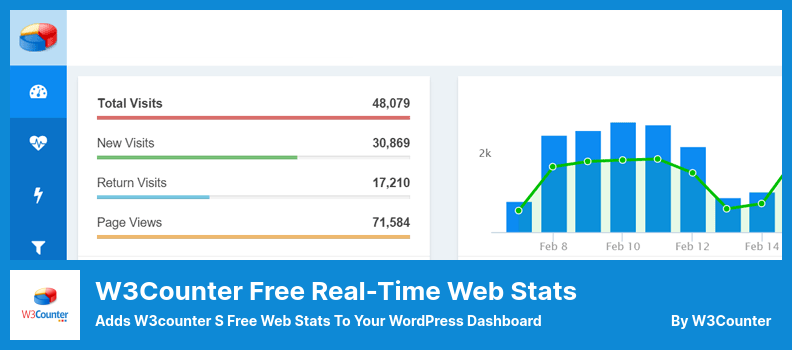 W3Counter Free Real-Time Web Stats is a WordPress plugin that provides you with real-time web statistics. With this plugin, you can easily track and understand your website's performance without any hassle. It offers various dashboards and reports, eliminating the need for extensive manual study or training sessions.
By integrating W3Counter into your WordPress website, you can gain valuable insights into your visitors' behavior. This information allows you to identify what your visitors are looking for, build a loyal following, boost your sales, and track your progress over time.
The plugin provides accurate and up-to-date data, ensuring that you stay informed about your website's performance.
One of the key features of this plugin is the ability to view your most popular posts through the Post Views Counter option. This allows you to identify which content resonates the most with your audience.
Additionally, W3Counter provides detailed visitor statistics, including information about their IP addresses, geographical locations, browser types, and operating systems. This data helps you understand your audience better and tailor your website accordingly.
You can also track the sources of your website traffic by identifying the searches that lead visitors to your web pages. This feature helps you optimize your content and marketing strategies to attract more relevant visitors.
Furthermore, W3Counter provides data on the most popular browsers, operating systems, and screen sizes used by your visitors. This information is useful for ensuring that your website is compatible with different devices and platforms.
The plugin also offers insights into visitor engagement. You can track the amount of time visitors spend on each page and analyze the bounce rate. This data helps you identify areas where you can improve user experience and increase engagement.
Key Features:
User-friendly dashboards and reports for easy understanding.
Post Views Counter for tracking the popularity of your posts.
Monthly, weekly, and daily visitor traffic statistics.
Detailed visitor information, including IP addresses, locations, browser types, and operating systems.
Insights into search queries leading to your web pages.
Data on the most popular browsers, operating systems, and screen sizes.
Analysis of page visit duration and bounce rate.
Real-time updates for accurate and up-to-date information.
Compatibility with all WordPress websites.
Free availability as long as WordPress remains active.
One of The Best Visitor Counter Plugin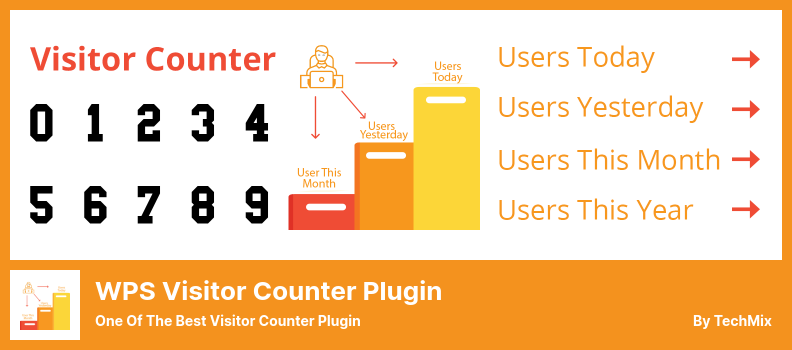 WPS Visitor Counter is a handy plugin that allows you to track the number of visitors to your WordPress website. It provides you with accurate data on a daily, monthly, and yearly basis.
The plugin conveniently displays the traffic and visitor statistics on the right corner of your website, making it easy for you to keep an eye on your site's performance.
One of the things that sets WPS Visitor Counter apart from other counter plugins is its ability to show the current number of visitors as well as those from the previous day or month. This gives you a comprehensive view of your site's visitor trends and allows you to analyze its performance over time.
You have complete control over the type of data you want to display, giving you the flexibility to track the metrics that matter most to you.
With WPS Visitor Counter, you can rest assured that the data provided is accurate. It is a reliable tool that gives you a clear understanding of the traffic your website receives.
However, it's worth noting that the plugin does have an error related to missing alt tags, which can negatively impact your website's SEO. So, if SEO is a top priority for you, it may be worth considering an alternative plugin.
By using WPS Visitor Counter, you can enhance your website's credibility. The plugin effortlessly showcases the number of visitors your site receives, instilling trust and confidence in your audience.
It's a great way to showcase the popularity of your blog without having to explicitly mention that it attracts hundreds of thousands of visitors daily.
Key Features:
Supports a wide variety of websites
Provides detailed traffic and visitor statistics
Displays the number of users online in real-time
Allows easy verification of data accuracy.
a Plugin to Show The Current Active Visitors On The Website
The Visitor Counter is a plugin that allows you to easily track the number of visitors to your WordPress website. It offers basic but reliable functionality, making it a great choice for those who want a simple and hassle-free way to keep track of their site's traffic.
One of the standout features of this plugin is its ease of use. You don't need to have any coding skills or hire a developer to implement it on your website. Since it's compatible with WordPress and the latest version, you can easily install it and start using it right away.
With The Visitor Counter, you have the ability to customize various aspects of your website. You can change the title, add captions, and even adjust the colors of your website's background and text. This allows you to personalize your website and make it align with your brand or aesthetic preferences.
Additionally, this plugin can be displayed both as a widget and shortcode, giving you flexibility in how you choose to present the visitor counter on your website. Setting it up is also a breeze. Simply navigate to the 'Add New' menu within the WordPress dashboard, click on the plugin, and activate it. It's as simple as that.
Key Features:
Customize text and background colors: Easily change the color scheme of your visitor counter to match your website's branding.
Adjust border radius: Fine-tune the appearance of the counter by adjusting the border radius.
Control element width: Determine the size and width of the visitor counter to best fit your website's layout.
Change the title: Customize the title of the visitor counter to make it more personalized and engaging.
Real-time visitor count: Get accurate and up-to-date information on the number of active visitors on your website at any given time.
Allows You to Display All Your Live Users
Live Visitor Counter is a WordPress plugin that displays a live audience counter on your website. It is a lightweight and straightforward tool that focuses on providing real-time visitor data without any complex functionalities.
One of the key features of the Live Visitor Counter is its ability to display the number of existing, live, and total visitors quickly and efficiently. This helps you track your website's performance and make informed decisions about your business plan.
Additionally, the plugin offers a unique and beautiful design that enhances the visual appeal of your website.
The counter is available in both dark and white modes, making it easy to read and integrate with your website's design. It also offers several styles of transparent backgrounds, allowing you to customize its appearance to align with your branding.
Live Visitor Counter also allows you to transfer your numbers from a previous counter if you wish to do so. This feature ensures that you don't lose any important data when switching to this plugin.
To provide further insights, the plugin includes a Live Visitors page where you can view the number of visitors currently active on your website. This helps you gauge the real-time engagement of your audience.
Another noteworthy feature of the Live Visitor Counter is its ability to track the number of unique visitors during each session. This data helps you understand the reach and impact of your website on individual users.
Key Features:
Transfer your numbers from a previous counter.
View the number of live visitors on the Live Visitors page.
Choose from various transparent background styles.
Track the number of unique visitors during each session.
Track Your Site Traffic and Improve Your Business Strategy
Elementor Visitor Counter Widget is a fantastic tool for WordPress website owners looking to track their visitor count and identify the most popular items on their site.
With its customizable options and user-friendly layouts, this widget can be seamlessly integrated into your website without any hassle. Unfortunately, there is no free version of this plugin, but its features make it worth considering.
One of the standout features of Elementor Visitor Counter Widget is the ability to track your statistics over various time intervals. Whether you want to analyze your daily, weekly, or monthly visitor count, this plugin has got you covered. Plus, you don't need any technical expertise to contribute content to your website using this widget, making it accessible to all users.
With its intuitive layout, accessing all the metrics provided by Elementor Visitor Counter Widget is a breeze. You'll be able to see important information at a glance, such as visitor count and popular items.
Additionally, you have the flexibility to customize the size and weight of the font according to your preferences, ensuring that it fits in seamlessly with the overall design of your website.
When it comes to aesthetics, this plugin doesn't disappoint. Elementor Visitor Counter Widget offers a range of color schemes to choose from, including light and dark options. If none of the preset options suit your preferences, you can also customize the colors to match your website's branding.
What sets Elementor Visitor Counter Widget apart from other plugins is its ease of use. You don't need any coding or SEO expertise to make the most of this tool. It takes care of all the technical aspects for you, allowing you to focus on growing your business and attracting more leads.
Key Features:
No coding or SEO expertise required.
Track visitor count over different time intervals.
User-friendly interface for easy content contribution.
Intuitive layout for easy access to all metrics.
Customize font size and weight according to your preferences.
Multiple color schemes, including customizable options.
Frequently Asked Questions
What are visitor counter plugins?
Visitor counter plugins are tools that allow website owners to track and display the number of visitors to their website. These plugins provide real-time statistics and can be used to monitor website traffic, analyze user behavior, and measure the effectiveness of marketing campaigns.
How can visitor counter plugins benefit WordPress users?
Visitor counter plugins can benefit WordPress users in several ways. Firstly, they provide valuable insights into website traffic and help users understand their audience better. Secondly, they can help monitor the success of marketing efforts and identify areas for improvement.

Lastly, visitor counter plugins can also add social proof to a website by displaying the number of visitors, which can increase trust and credibility among visitors.
What features should I look for in a visitor counter plugin?
When choosing a visitor counter plugin for your WordPress website, consider the following features: ease of installation and configuration, compatibility with your WordPress theme, real-time visitor tracking, detailed statistics and reports, customizable counters, and widgets, support for multiple websites, and integration with popular analytics tools like Google Analytics.
Conclusion
To recap, in this article, we explored the 6 best WordPress visitor counter plugins for 2023, both free and pro options. We discussed their features, advantages, and how they can benefit your website. Hopefully, you found this information helpful in making an informed decision for your WordPress website.
If you're interested in learning more about WordPress tutorials and helpful articles like this one, I highly recommend checking out the BetterStudio blog. They have a wealth of knowledge and resources to help you enhance your website and improve your online presence.
Don't forget to follow BetterStudio on Facebook and Twitter! By doing so, you'll be able to stay updated with the latest tutorials, tips, and tricks for WordPress. It's a great way to ensure you're always in the loop and have access to valuable information.
Thank you so much for taking the time to read this article. I hope you found it valuable and insightful. If you have any questions or encounter any issues related to the content discussed in this article, please don't hesitate to reach out in the comment section below. We're here to help and would love to assist you further.
Happy website building!