Are you looking for a way to make your WordPress website stand out from the crowd?
⚡️ Need a quick answer? For a quick solution, here is the Publisher theme for WordPress. It provides many features, is optimized for Google, and contains more than 100 samples that can be imported immediately.
Perhaps, you're wondering how to grab your visitors' attention as soon as they land on your page. If that's the case, then "Best Video Header WordPress Themes" might be the solution you need.
This article focuses on providing you with the best video header themes available for WordPress. According to recent studies, websites with video headers have been known to increase engagement and reduce bounce rates.
In fact, it has been reported that 80% of users will watch a video on a website, while only 20% will read its content in full.
So, if you want to give your website an extra edge, then choosing one of the best WordPress themes for video headers might be the right move for you.
In this article, we'll be exploring some of the best options available and highlighting what makes each one unique.
Multipurpose Review WordPress Theme
As a powerful review theme, Gauge enables you to develop extensive evaluations of any kind of content, such as games, movies, food, and so on. Gauge is Multipurpose Review Theme that you can use with any type of website.
The review item will have its own centralized hub page with tabbed navigation, where you can find all the news, videos, and images associated with that item as well as enable both admins and users to share their views on it. Both admins and users can add their own reviews.
In addition to the fully responsive design, this gorgeous Premium theme also includes a clean, fresh, modern look that will work with any type of content that you might be planning to publish. With the Gauge Theme, Webmasters and Bloggers alike can create fully functional, clean, and modern reviews sites for any kind of content they like.
Key Features:
The theme complies with the principles of SEO (Search Engine Optimization)
It's compatible with all major browsers
It's bundled with the Visual Composer plugin
Give you tons of customization options
Integrate with WooCommerce for a seamless shopping experience
Suitable for retina displays
Creative Portfolio WordPress Theme
You can display your work in a different layout on Aqui theme, a Creative Portfolio WordPress Theme, and you'll leave a strong visual impact on all your visitors because it offers a unique layout.
The WordPress Live Customizer offers real-time previews of your WordPress website's changes before pushing them live. Your theme comes with lots of options, including color scheme, typography, portfolio, blog, shop layout, and much more, so you can customize it to suit your needs.
With Elementor page builder, you can create complex layouts visually, and design your website live, without having to make frequent switches between the editor and the preview mode, because this plugin replaces the basic WordPress editor with a live frontend editor that allows you to work on your website effectively while it is in live mode.
Key Features:
This theme has over 600 Google Font options so you can customize every element to suit your tastes
This theme has a very handy demo import feature 
It is ready to be translated into any language and supports a wide variety of multilingual plugins such as WPML, Polylang, Loco Translate, and many others
You will find professional documentation for customizing this theme

Everything on the theme has been built with high responsibility, with responsiveness at the top

With more than 500 options and shortcodes, this theme allows you to create any kind of website
Creative Agency WordPress Theme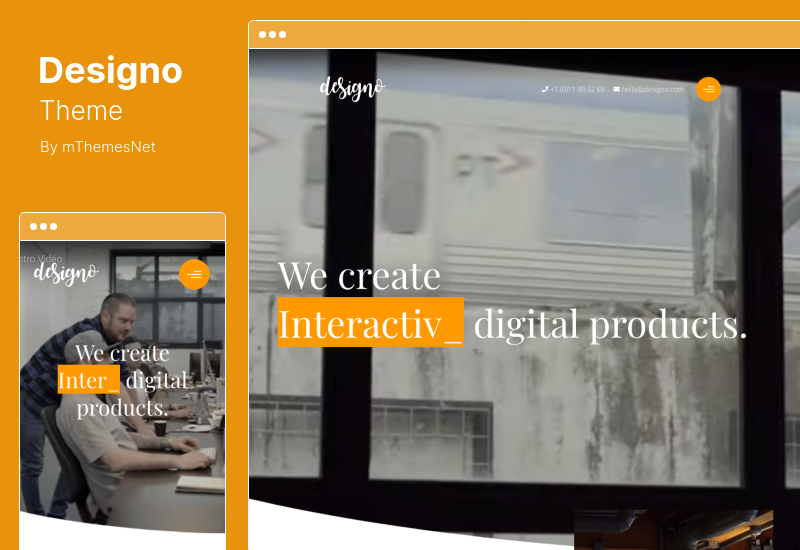 There is no doubt about it, Designo is the latest WordPress theme designed specifically to address the needs of agencies, creative professionals, and individuals who want to display their work uniquely. By using Designo, you can create a unique and compelling layout that is sure to captivate your visitors quicker than you probably ever thought possible.
The theme has a Clean Design – Light colors are combined together to bring simple and beautiful designs for any purpose like freelancers, agencies, designers, architects, photographers, and much more.
Among the features of the theme, we can mention that No coding knowledge is required – There are options for almost everything, so you don't need any extra expertise to build the website of your dreams, Visual Editor – You can edit paragraphs, headings, lists, and many other elements in real-time on the website time.
Key Features:
Embed your Google map in a few steps
The image size attributes are organized well to enhance responsive images  
Providing fast and reliable support to all the clients whenever they have any questions about the theme
Well-written code following the best practices to ensure your SEO results 
You don't need any coding knowledge to build the website of your dreams
Work well on any modern browsers
IT Company & Digital Solutions WordPress Theme
As an IT professional, you might be interested in knowing whether you can create a website for your company with the help of Novos quickly and easily, using a design that is based on software and hardware solutions.
In the Novos WordPress theme, you will find plenty of customization options with Themezinho framework support combined with Drag-Drop WP Bakery. Novos is a WordPress theme for IT companies & digital solutions, but it can also be used for any type of business.  
Now you can create your own website for your company with Novos. The theme is based on the Redux framework but provides a large array of theme options. Using Drag-Drop Visual Composer, you can create the website easily and quickly.
Key Features:
Include an animated preloader section in the design
Including a Swiper Portfolio Slider as part of the design
The theme is fully responsive to all devices
It comes with a header fade effect that can be customized
Providing cross-browser support for all major browsers
Support for SVG icons and image icons
Retina Multipurpose WordPress Theme
You will be able to greet your visitors with fun or exciting videos if you use the Elision WordPress theme with its Amazing Qode Slider, which has full video support. If you don't have any experience with coding, then the page builder is an ideal tool for you and the animated transitions help you highlight your best products and services.
Elision is a multipurpose WordPress theme with a video background feature, which will fit the needs of any business niche. Elision is a retina-ready, multipurpose theme for WordPress that features a video background and retina-ready graphics.
The custom mega menu that comes with the theme greatly simplifies the process of adding as much content as you need to your navigation area, while the multitude of shortcodes that come with the theme means you don't have to use a single line of code when adding elements such as buttons, accordions, columns, etc.
Key Features:
Include Section Video Backgrounds to Add video backgrounds to any sections
The LayerSlider slider plugin allows you to create a responsive (mobile-friendly) or full width slider with stunning e-effects
Include a different logo for the initial and sticky header, and also for the dark color schema
ELISION has a very intuitive and easy-to-use admin interface
With WPBakery Page Builder, you can create complex layouts in minutes

This theme is also suitable for use along with the WPML plugin to create multilingual websites
Responsive Multipurpose WordPress Theme
'Osmosis' is a multi-functional and seamless WordPress theme that offers stand-out-from-the-pack features and superior aesthetics; this theme is sure to attract creative marketers and allows you to become the designer that everyone desires, quickly and effortlessly.
With its vibrant, yet classy design direction, the Osmosis template makes the most of each site's wide width to create a focal point that can be set as a desktop background. This innovative approach makes the template unique yet easy to use since you have the option to change the background size.
Osmosis is a plugin designed particularly for standard strip display with several default layouts available, allowing you to further customize your layouts. RokSprocket is a plugin for multi-content display, which boasts an advanced, custom user interface, and is bundled with many layouts, as well as the ability to expand.
Key Features:
The background is made up of

parallax effects
Include 8 Styled Widget Variations
A dropdown menu and a split menu are both available
It comes with custom typography and custom logos
Your website can also have social media buttons
It is designed to be fluid, responsive, and user-friendly
Professional Multipurpose WordPress Theme
The Strata theme is an elegant and multipurpose WordPress theme. It comes with many features, such as a pre-built Visual Composer page builder that lets anyone with minimal experience and no knowledge of HTML/CSS create beautiful customized pages, regardless of their level of expertise.
The theme is suitable for users who are interested in a clean, modern design, as well as those who are looking for retina-ready graphics, fully customizable options, and responsive functionality as well as those who like everything related to the theme.
The package also offers a stylish mega menu that will enable you to organize all of your content in a way that makes it easy for your visitors to navigate around your website and find what they are looking for.
Key Features:
This theme fully integrates with the WooCommerce platform
With WPBakery Page Builder, you can easily create complex layouts within seconds!
Includes fully customizable headers and footers
The LayerSlider slider plugin allows you to create a responsive (mobile-friendly) or full-width slider with stunning e-effects
STRATA has a powerful and intuitive admin interface
This theme looks great on retina displays
FAQs about WordPress Video Header templates.
Below are frequently asked questions related to the best WordPress Video Header template.
These questions can be skipped if you already know the answers. Also, if you have any other questions, you can ask them in the comments section below.
Do I have the option of using a theme for a Video Header website?
We have provided you with a step-by-step guide to Video Header themes.

Our favorite theme is the Publisher theme, which is suitable for any site that has many unique preferences. Our second recommendation is the Astra theme.
Do you know which company offers the best hosting for WordPress Video Header websites?
You are probably thinking about which host is best for your Video Header site, and you are right. It is an important decision. You should use a hosting plan like Bluehost that offers good speed and secure communication.
What are video header WordPress themes?
Video header WordPress themes are website templates that feature a video as the header, or top section, of the website. This video can be used to showcase a product, or service, or simply to create an engaging visual experience for visitors.
Are there any downsides to using a video header WordPress theme?
While video header WordPress themes can be effective, they can also slow down page speed and may not be compatible with all browsers or devices.

Additionally, videos can be more difficult to optimize for search engines than text-based content. It's important to weigh the pros and cons before deciding whether a video header WordPress theme is suitable for your website.
What should I look for in a video header WordPress theme?
When choosing a video header WordPress theme, it's important to consider factors such as video quality, customization options, page speed, mobile responsiveness, and compatibility with popular plugins. It's also essential to choose a theme that aligns with the overall look and feel of your brand.
Conclusion
In summary, we have discussed the best video header WordPress themes to enhance the visual appeal and user experience of your website. These themes not only make your site look more professional but also help in showcasing your brand effectively.
If you want to learn more about WordPress themes and related tutorials, our recommendation is to check out BetterStudio's blog since they offer a lot of resources on WordPress, including the selection of a theme and the customization process.
By following BetterStudio on social media, you'll never miss a post and will always be in the know about the latest WordPress trends.
Our article was hopefully informative and helpful to you. Feel free to use the comment box below to ask our team any questions.