When it comes to choosing one of the numerous WordPress templates available, do you find it difficult?
⚡️ Do you want a quick response? Publisher theme is an advanced solution that combines flexibility, scalability, ease of use, and over 100 unique demos. It is highly customizable and scalable to meet a broad range of business needs.
To save you time, we have created a list of the Best WordPress themes for Management Company specific sites and other sorts of Management Company websites. Furthermore, these themes are fast, well-optimized, and mobile-friendly (responsive).
We have WordPress themes, especially for Management Company websites. We also offer WordPress themes for Management Consulting Companies, Property Management Companies, Event Management Companies, WooCommerce Companies, and Business Companies.
Best Management Company Themes for WordPress 🥇
This is probably the right and best WordPress Management Company theme for your site in 2022:
Events Management Companies and Agencies WordPress Theme
Dvents is an Events Management Companies and Agencies theme explicitly designed for business, corporate events, decorators, marketing, and websites.
In addition to the free WPBakery page builder plugin, the Dvents theme features two home pages, nine header configuration options, an event management system, an events list, a countdown to events, and a gallery management system, and both boxed and available layout options.
This management company theme will find full-width layouts for each post and page, unlimited color schemes, Google Fonts, Contact Form 7 support, and a responsive layout that uses Bootstrap 3 and HTML5 / CSS3 with detailed instructions on how to use it.
💵 There is a $59 for the Dvents template, which includes All Features + 6 Months of Support Time + All plugins + Free Lifetime Updates.
Key Features:
The countdown event is available
WPBakery Page Builder is included.
Two home pages are available
Nine header versions are available
An event management system is supported

A gallery management system is available
Random Reviews:
This is an excellent theme to work with.

In my opinion, it was more expensive than its worth. I was unable to use it. There are almost no updates. The product was not worth the purchase.
Consulting & Finance WordPress Theme
Thallo is a Consulting & Finance WordPress theme usable for accountants, distribution companies, management companies, traders, and websites.
Using the Thallo theme, you can build an attractive, high-quality website quickly and easily by selecting from a variety of eight templates.
This management company theme includes eight header layouts, portfolio layouts, blog layouts in boxed and full-width styles, and a mega menu for convenient navigation.
Moreover, this theme includes a child theme to help you save time and energy while ensuring quality for your consulting website.
💵 There is a $60 tag with six months of support. You will also receive automatic updates.
Key Features:
There is a Mega Menu built-In
Unlimited sidebar and colors are available
Compatible with Contact Form 7
Eight home pages are available
There is a responsive design
A Powerful admin panel is available
Talent Management WordPress Theme
The Julia is a Talent Management WordPress theme that is ideal for Artist Management, agencies, men modeling, model agency, and websites.
The Julia theme provides a significant profile page useful for talent administration. The administrator can add as many fields as necessary according to the site's requirements. The fields from the registration form will also be integrated into the profile page.
In this management company theme, you can choose whether to display fields beneath your profile picture and social media icons. Users who are not logged in can hide some fields, such as your email address and contact information.
💵 For this theme and six months of support, along with all future updates, the cost is $59.
Key Features:
The WPBakery Page Builder is included
An adaptive design is available
The admin panel is compelling
A Mega Menu builder is included
The sidebar and color options are unlimited
Integrated with Contact Form 7
Random Reviews:
The support videos are excellent, and there are plenty of them. Anyone thinking about buying from here won't be disappointed, Julia has everything you need, and the developers are always open to suggestions and updates. We especially appreciated Kayapati's timely responses and prompt responses to queries.
Model Agencies CMS WordPress Theme
Actors is a Model Agencies WordPress theme usable for a casting agency, management agencies, talent agency management, and photography websites.
As part of the Actors theme, a registration form can be fully customized according to your needs. This form can include any fields you wish, such as gender, hair color, height, etc. Users can fill out this form when registering on the theme.
This management company theme has a profile page for talent; this is also a significant page; the admin can add unlimited fields; all registration form fields are fetched into the talent's profile page.
💵 Actors theme is perfect for beginners or developers. You can purchase it for $59 for a limited time.
Key Features:
Radio buttons are available
Sliders are available
Text fields are available
Checkboxes are available
Select boxes are available
Rich text fields are available
Random Reviews:
Customizing this theme is a nightmare – you need to be an expert WordPress user. I've hit several dead ends and don't know what to do.
Real Property and Real Estate WordPress Theme
Real Property is a RealEstate WordPress theme usable for property management, real estate membership, marketplace, and realtor websites.
In this management company theme, 20 flat color variations, 15 background patterns, five header options, and boxed or full-width layouts are available to build the ultimate portal. There is no limit to the color combinations, fonts, and layouts that can be selected.
With the Real Property theme, you will find property photos, a property search feature, and a Google Map with property locations marked.
💵 Purchasing this template will give you six months of support. It costs $69.
Key Features:
Unlimited property images are available
Shortcode builder is available
There is a responsive layout
Optimized for search engines
Advanced property search is available
Random Reviews:
When we encounter problems, he is accommodating and precise with his solutions.

I highly recommend this theme. I think you guys did a great job. I recommend it.
Real Estate WordPress Theme
Realtyspace is a Real estate WordPress theme that can be applied to brokerage, business, real estate agent, and agency websites.
The Realtyspace theme includes 20 color variations in flat format, 15 backgrounds, five header variations, two full-width variations, and five header variations in full-width.
With this management company theme, you can customize your website's color, font, and layout to your liking, which means you are limited only by your imagination.
The theme has many advantages, including numerous search fields that you may add or remove from the theme's settings.
💵 Take advantage of this advanced theme for just $59!
Key Features:
Advanced property search is available
Unlimited property images are provided
Real estate agent support is provided
Cross Browser Support is provided
A perfect blog system is available
Compatible with Contact Form 7
Random Reviews:
There were some tweaks I needed to customize the theme, and I needed help updating plugins. The support was essential and very attentive, helping me in everything. The theme is excellent; I've been using it for years! I look forward to new updates that will continue improving the site!
Event Management WordPress Theme
Event Mana is an Event Management WordPress theme for booking, conference, exhibition, and listing websites.
In addition to providing a structure for presenting information in a simple layout, the Event Mana theme facilitates data analysis and focuses on critical details.
In this management company theme, users can customize the user interface to create an interactive and dynamic environment, which includes sophisticated functions such as registration for ticket sales, media information, blogs, and widgets, such as Google Maps countdown timers.
💵 Take advantage of this excellent theme for just $49!
Key Features:
There are Sliders available
There is a shortcode builder available
A responsive layout is available
Designed to be search engine-friendly
Compatible with Contact Form 7
Random Reviews:
A great product that can be customized so easily!

A superior design and superior customer support.
Ticket / Event Management System WordPress Theme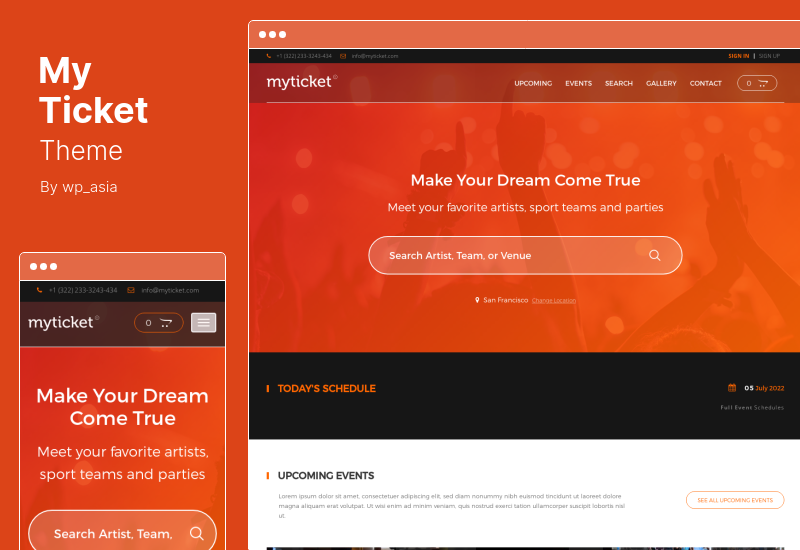 MyTicket is a Ticket and Event Management System WordPress theme perfect for artists, nights club, stadiums, and ticketing websites.
In the MyTicket theme, users can create events and specify their features, categories, and other customs information. Once the event has been made, this theme automatically links the event with a ticketing system.
With this management company theme, you will access powerful widgets such as event listing widgets and section filtering and sorting through ajax. This assures a smooth user experience and a fast performance.
💵 Including All Features, 6 Months of Support, All Plugins, and Free Lifetime Updates, this subscription costs $62.
Key Features:
Page builder and live editor are supported.
A simple setup wizard is available.
Advanced search is possible
Timetable elements are available
A custom stadium example is available
Ticket selection is provided
Random Reviews:
Working well and doing good work

A great theme; it meets all my needs.
Learning Management System WordPress Theme
Guru is a Learning Management WordPress theme featuring design and functionalities suitable for courses, education, e-learning, and training websites.
Several pre-built features are available through the Guru theme, including course assessments through instructor profiles, candidate profiles, course details, and courses that are duration-related, as well as news and fees.
In this management company theme, you can create courses with the Sensei plugin in addition to creating lessons and adding quizzes to them, creating prerequisites for a course, and allowing learners to register and even charge for the course content.
💵 You'll get six months of free support when you purchase the theme for $69.
Key Features:
Course analytics are available
Compatible with WPML
Optimized for search engines
Easy content creation is possible
The question bank is available
The event calendar plugin is available
Random Reviews:
My new WordPress site is just getting started, learning as I work. I am happy with the theme and the author's assistance with a few issues due to my mistake, not the software. Thanks for the demonstration and the how-to videos.
Learning Management System WordPress Theme
WPLMS is a Learning Management System WordPress theme perfect for the academy, university, teacher, and instructor websites.
The WPLMS theme provides instructors with front-end course creation functionality with the option to save unfinished courses as drafts.
With this management company theme, you can sell courses, provide awards certificates, and enable mobile learning through a mobile app that allows you to interact with the content on the go.
Fast-loading pages are included with this theme, and it is compatible with the majority of WordPress learning management system plugins. This theme is straightforward to use and customize and allows the creation of a child theme.
💵 It has all the impressive features you need, and you can get all the updates by taking this template for $75.
Key Features:
Fast-loading pages are provided
Highly flexible and customizable
There is a responsive design and layout
A child theme is included
A sortable members directory is available
Random Reviews:
I like the product, and the customer support is excellent

Featuring great features at a reasonable price<
WordPress Management Company template FAQs.
Here are some frequently asked questions about WordPress Management Company themes.
You can skip these questions if you already know the answers. Also, if you have any other questions, you can ask them in the comment section.
In 2022, which WordPress theme is best for Management Company websites?
We have compiled a list of WordPress's best Management Company templates that describes each theme thoroughly.

However, we recommend the Publisher theme, a multipurpose template with many demos and capabilities at a fair price. Our second recommendation is the Astra theme.
If you could recommend a WordPress hosting provider for Management Company sites, what would it be?
You can build a fantastic Management Company website by selecting the right hosting company, so choose wisely. Use Bluehost as your host provider. They are a trusted company that can help you build a great site.
What we have discussed so far
Throughout this article, we have helped you find various WordPress templates for Management Company use. Select a theme and start building a better site.
The Publisher theme is our recommendation if you want a theme to build your Management Company website. It is one of the most trendy WordPress templates, acclaimed for its flexibility, ease of use, and speed.
Thanks for sharing this resource. I wish it had been more insightful.
If you have any questions, please ask. Please show your support for this post by sharing it on Twitter and Facebook.