Are you a WordPress website owner looking for the best Read More plugins to enhance your site's user experience? If so, you've come to the right place! In this blog post, we'll be diving into the top four WordPress Read More plugins – both free and pro – that can take your website to the next level.
Now, you might be wondering, why should I even bother with Read More plugins? Well, let me tell you something fascinating – did you know that websites with a "Read More" button tend to have higher engagement rates than those without? It's true!
By implementing a Read More plugin, you can create a more streamlined and organized content display for your visitors, making it easier for them to navigate and find what they're looking for. Isn't that amazing?
So, without further ado, let's jump right into our list of the top four WordPress Read More plugins. Whether you're a newbie or a seasoned website owner, we've got something for everyone. Are you excited yet? I know I am! Let's get started.
Best Read More Plugins for WordPress
If you are looking to enhance your WordPress website with a sleek and user-friendly "Read More" feature, look no further! In this article, we've curated the four best Read More plugins for WordPress, both free and pro, that will take your website to the next level.
Whether you're a newbie or a seasoned pro, these plugins are a must-have for improving user experience and boosting engagement. So, are you ready to dive in and discover the perfect plugin for your website? Then let's get started!
a Gutenberg Blocks Plugin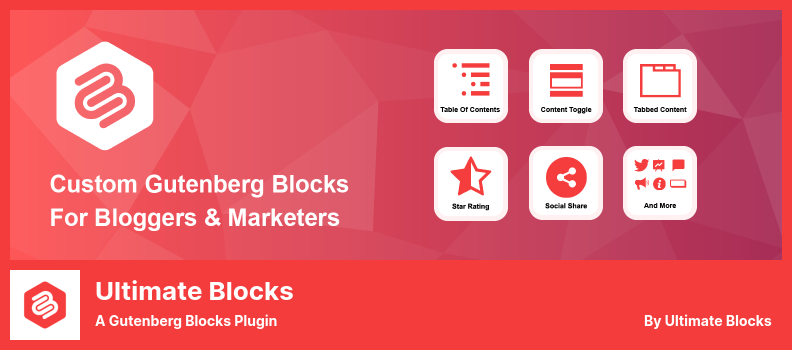 Ultimate Blocks is a powerful Gutenberg plugin that offers more than 18 blocks to help you create captivating blog posts. It not only provides essential blocks but also includes additional blocks like content toggles, accordion tabbed content, content filters, table of contents, call to action image sliders, and progress bars.
One of the standout features of this plugin is the 'Read More Expand' block. It allows you to hide specific sections of content on your page, revealing them only when the visitor clicks on the 'show more' button. This feature is perfect for creating suspense and engaging your readers.
What sets the plugin apart is its compatibility with the Gutenberg editor. It seamlessly integrates with WordPress's new Block Editor, giving you a seamless editing experience. Additionally, you have the option to disable any unnecessary blocks, ensuring a clutter-free editing environment.
Another benefit of using Ultimate Blocks is its optimization for search engines. With this plugin, you can rest assured that your content will be easily discoverable by search engines, helping to improve your website's SEO.
Key Features:
Compatibility with Gutenberg editor
Ability to disable unnecessary blocks
Wide selection of functional blocks
Optimized for search engines
Show More Content But Not Affect Users Experience
Read More Without Refresh is a powerful WordPress plugin that allows users to reveal hidden content with just a click of a button. This plugin offers a unique feature that eliminates the need for browser refresh, making it a convenient tool for website owners.
One of the standout attributes of the plugin is its customizable button. Users can select a color that matches their company's branding, adding a personalized touch to their website. This feature ensures that the read more button seamlessly blends with the overall design.
What makes this plugin even more impressive is its ability to create and utilize shortcodes. These shortcodes can be placed anywhere on your website, giving you full control over where you want the read more functionality to be available.
This flexibility allows you to enhance the user experience by providing them with the option to view lengthy content without reloading the page.
With the plugin, your WordPress site gains the advantage of read-more and reload functionality without the hassle of refreshing the browser. This plugin streamlines the process for users, allowing them to access your longer content with just a simple click on the read more button.
In addition to its user-friendly features, this plugin is also compatible with the Gutenberg block. Whether you're using the classic editor or the Gutenberg editor, it seamlessly integrates with both, ensuring a smooth experience for website owners.
To top it off, Read More Without Refresh offers detailed documentation that guides users through the setup and customization process. This comprehensive resource helps users make the most of this plugin's features and ensures a seamless integration into their WordPress website.
Key Features:
Detailed documentation for easy setup and customization
Availability of read more / read less button
Utilization of shortcodes for flexible placement of the readmore functionality
Compatibility with the Gutenberg block
Customizable button to match your brand's color scheme
The Most Complete Read More Plugin
Read More By Adam is a powerful WordPress plugin that offers an Elementor Read More Button widget. With this plugin, you can easily add a read more button to your website, allowing users to expand and view full content with just a click.
One of the great features of this plugin is the option to choose from 40 predefined button styles. Whether you prefer a sleek and modern look or a more classic design, you can find the perfect style to match your website's aesthetic.
In the Pro version, you can take your button customization to the next level. Alignment buttons can have hover effects, allowing for an interactive and engaging user experience. You can also customize the hover background color, ensuring that the button seamlessly integrates with the overall design of your website.
Adjusting the size and style of the button is a breeze with this plugin. You can resize the button's height and width to perfectly fit your layout and design preferences. This level of customization ensures that the read more button blends seamlessly with your overall website design.
If you want to hide excerpts or sections of content on your website, this plugin has got you covered. By using shortcodes, you can easily hide your excerpts, similar to other popular plugins. This feature is particularly useful if you want to create teasers or summaries for your content, encouraging users to click for more information.
With this plugin, you have the freedom to create an unlimited number of Read More buttons. This gives you the flexibility to customize how you present your content and engage with your audience. Whether you want to have multiple buttons within a post, page, or widget, you can easily do so with this plugin.
Customizing the text at the end of each paragraph is also a great feature offered by the plugin. By adding your own custom text, you can tailor the read more button to suit your specific needs. This personal touch allows you to add a unique flair to your website and enhance the overall user experience.
No matter what your decision is regarding the placement of the read more button, this plugin has you covered. It gives you the option to add a button to any page on your website, regardless of your decision. With this flexibility, you can ensure that your content is easily accessible to users and encourages them to explore further.
And finally, if you want to add a touch of animation to your text, it can help you achieve that. You can add animation effects to your text, making it visually appealing and eye-catching when it expands. This feature adds a cool and dynamic element to your website, making it more engaging for your audience.
With its intuitive features and easy-to-use interface, Read More By Adam is a must-have plugin for any WordPress website owner looking to enhance the user experience and improve content readability. Try it out today and see the difference it can make in engaging your audience!
Key Features:
Choose from a variety of button backgrounds
Easily resize the button's height and width
Create an unlimited number of buttons
Customize the button's typography to match your website's style
Set a custom animation duration for the expansion of the text
A Powerful Read More Plugin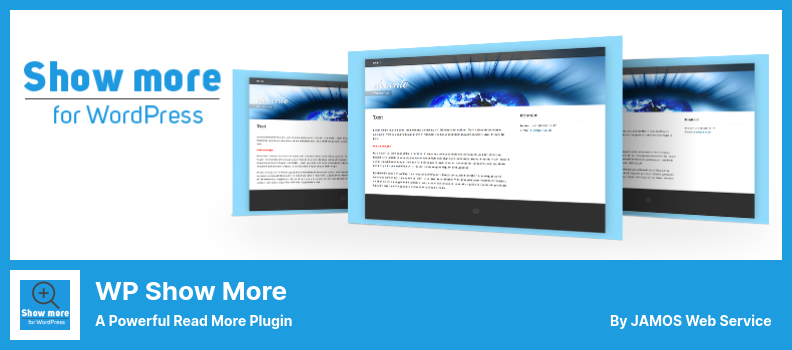 WP Show More is a powerful WordPress plugin that helps website owners effectively manage long content by making it appear shorter and hiding text between a shortcode and the original text.
With this plugin, you can create user-defined links or buttons that, when clicked, reveal hidden messages to your visitors. One of the key features of the plugin is its easy-to-use interface, making it a great choice for those familiar with HTML codes.
If you have some coding knowledge, you can easily customize the font type and color to match your website's design. The plugin also provides buttons that allow you to add shortcodes to your posts effortlessly.
By using these shortcodes, you can enhance the functionality of your content, such as adding more buttons or interactive elements. One of the standout features of the plugin is the ability to manually modify colors, fonts, and other visual elements.
This level of customization gives you complete control over the appearance of your hidden content, ensuring it seamlessly fits into your website's design.
Key Features:
Easy-to-use interface for HTML users
Buttons to effortlessly add shortcodes
Result dashboard to track user engagement with hidden content
Manual customization of colors, fonts, and other visual elements
Frequently Asked Questions
What are the benefits of using WordPress Read More plugins?
WordPress Read More plugins offer several benefits for website owners. Firstly, these plugins help improve the user experience by providing a clear and concise summary of the content, allowing visitors to decide if they want to read the full article.

This can lead to increased user engagement and reduced bounce rates. Additionally, Read More plugins can help in organizing content and making it more accessible, especially for websites with a lot of lengthy articles.

By breaking the content into digestible sections, readers can navigate through the website more easily. Lastly, these plugins can improve SEO by reducing the page load time and allowing search engines to crawl and index the content more efficiently.
How can I choose the right Read More plugin for my WordPress site?
When selecting a Read More plugin for your WordPress site, consider the specific needs and goals of your website. Firstly, think about the desired level of customization and functionality. If you only need basic features, a free plugin might be sufficient.

However, if you require more advanced options and integration with other tools, a premium plugin may be a better choice. Additionally, consider the plugin's compatibility with your WordPress theme and other existing plugins.

It's also helpful to read user reviews and ratings to gauge the reliability and performance of the plugin. Lastly, test the plugin on a staging site before implementing it on your live website to ensure compatibility and smooth functionality.
What are some notable features of premium Read More plugins for WordPress?
Premium Read More plugins often come with advanced features and additional customization options. For example, some premium plugins allow you to include interactive elements within the excerpt, such as embedded videos or image slideshows.

They may also offer integration with email marketing services, allowing visitors to subscribe to newsletters directly from the excerpt.

Furthermore, premium plugins typically provide more styling options, allowing you to match the 'Read More' button and excerpt appearance with your website's design. Lastly, some premium plugins include performance optimizations to further enhance your website's loading speed.
Conclusion
In conclusion, we have discussed the top four WordPress read more plugins, both free and pro options, to help you improve the user experience on your website. These plugins allow you to customize the "read more" button and control how your content appears on your WordPress site.
For more detailed tutorials and guides on WordPress plugins, we recommend checking out the BetterStudio blog. They provide in-depth articles and step-by-step instructions to help you make the most out of your WordPress website.
Don't forget to follow BetterStudio on Facebook and Twitter for the latest updates and tutorials. By staying connected, you'll never miss out on any valuable information that can further enhance your WordPress skills.
Thank you for taking the time to read our article. If you have any questions or encounter any problems related to the content we discussed, please feel free to ask in the comment section below. We are here to help and provide solutions to your WordPress needs. Happy blogging!