Are you searching for the best Sports WordPress plugins to take your site to the next level?
We have made a list of all those WordPress plugins awesome for the Sports to help you. Technically, all the plugins that await you here have incredible support, are well-coded, speed optimized, and greatly flexible and compatible with all WordPress themes.
To sum up, all of the following plugins are for Sports. Even so, plugins could be used to build Sports Scores, Sports Club Membership, Football League, Player Profile, or Sports Fixtures within this stack of WordPress plugins.
Additionally, we recommend you read our article on the best WordPress sports themes.
Below are the best Sports WordPress plugins in 2021:
Sports Club & League Manager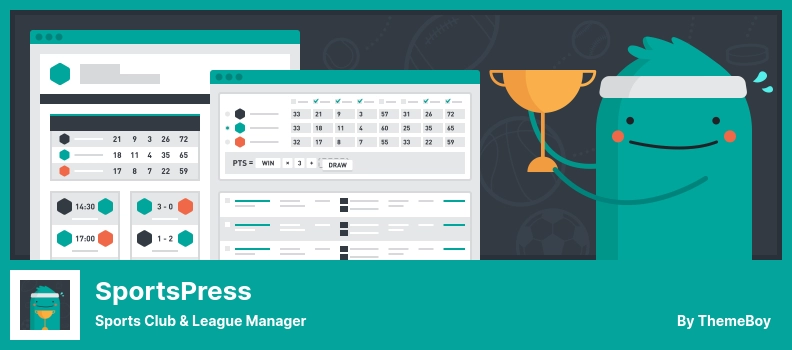 If you want to build a website for your favorite sports club, one plugin that can help you a lot is the SportsPress plugin. Of course, without using this plugin, you can create a website for your sports club, but the SportsPress plugin makes your work very easy. With this plugin, you can create a social media group around your favorite hobby.
The SportsPress plugin lets you turn your website into a sports site. It is the best website builder plugin for sports teams. This plugin lets you turn almost any WordPress template into a fully customizable team, league, or club website.
SportsPress has many features, and you can do anything with it. This plugin has a set of sports tools, including matches, results, automatic standings, player rankings, and personal details for clubs, players, and staff.
It does not matter what kind of sports website you want to create. SportsPress has free add-ons for baseball, basketball, cricket, football, volleyball, American football, and golf.
The SportsPress plugin also has a Pro version that you can purchase to get more features.
💵 There are two versions of the program: $99 Pro and Free Lite.
Key Features:
Automatic league standings with club logo
Events (cases and results) with player performance
Select current and previous clubs
Information and location map
Configure statistics and league table columns
Switch between the club, player, club, and player modes
Import events, clubs, players, and staff from the CSV file
Easy shortcode menu in the editor
Integrate events with iCal
Multilingual capability with WPML plugin
Optimized to work fast on all WordPress hostings!
Random Reviews:
Setting up a league website, all my problems and doubts are being addressed promptly. Will update the review post project completion. But i am impressed with the service for the time being!

We love this plugin for running our league. There are so many functions, it's actually easy to overlook something sometimes. When that has happened, I've received amazingly fast support with very clear instructions on how to do what I need to do.

So far, so good, the plugin is cool. It works well with my website and I'm enjoying it. The only thing I wish this could have is Predictions. Let members submit predictions on a particular upcoming match. This topic was modified 1 month, 2 weeks ago by
WordPress League Table Plugin

League Table plugin is one of the best WordPress table builder plugins. You will be able to easily create a table of sports leagues such as football, basketball, volleyball, and more on your WordPress website.
League Table Plugin is a functional WordPress plugin that allows you to create customizable and responsive tables in posts, pages, custom post types, or widget areas.
The ability of this plugin is more than you can imagine. Using the League Table plugin, you will be able to create different types of tables.
With this plugin, you can bring top European leagues and other significant leagues to your website.
💵 This plugin costs $39 and has 12 months of support.
Key Features:
Ability to compare and match sports league results
Ability to place the logo of sports teams
Ability to insert and export tables
Ability to link to table texts
Ability to choose unlimited colors
Ability to create unlimited tables
Ability to display sports results
Ability to create unlimited sports tables
Easy to use anywhere on the website with shortcodes
Support for widgets
The ability to determine the size of tables in full screen or size to fit the template
Full compatibility with all popular WordPress themes
Random Reviews:
very fast and friendly support. lot of possibilities for a smart price. I can really reccomend this

The plugin for tables with excellent features, full customization of style, automatic features and beautiful design.
Team & League, Football and Hockey Plugin for WordPress
JoomSport is one of the best plugins for WordPress to manage your league, sports tournament, team, and club.
By using this plugin, you can build a perfect sports website. The JoomSport plugin provides the features that are essential for any sports website.
The plugin allows you to create different Leagues with chronologically organized Seasons that consist of one or several MatchDays with Matches inside.
The JoomSport plugin has a single and competition mode that allows you to run single players and teams' sports leagues.
This plugin professionally designed sports pages based on the Bootstrap framework. This plugin also is responsive. Thus, it works well on different types of screens.
This plugin uses round-robin and knockout (pro edition) matchdays in football, hockey, and other sports leagues or tournaments.
It has extra fields and allows you to add more sports data. You can import sports data in a flexible CSV file via the plugin.
JoomSport plugin integrated with football live scores API. With this feature, you can import public soccer leagues data.
This plugin is used for these sports:
– European Football and Soccer
– Ice Hockey and Field Hockey (e.g. NHL, KHL, AHL)
– Volleyball (e.g. FIVB)
– Rugby
– American Football (e.g. AFL, NFL)
– Basketball (e.g. NBA)
– Futsal (known as indoor Football)
– Darts
– Handball
– Billiard
– Snooker
And any other sport where there is a match/game between two participants
💵 It costs $170 for the Pro version and $0 for the free or Lite version.
Key Features:
You can copy each chapter with all the settings and use them elsewhere
This plugin for different seasons of different sports, in a separate page, shows the statistics related to that season
You can register through the 'dates' and 'number of participants' options
Through the features of this plugin, you can change the order of the players in each team and show them in the desired order
Ability to create a club and assign teams to the club
Create and upload game stages
Sports Predictions add-on
Live data API add-on
Random Reviews:
hi, dear admin since the installation of the plugin I encounter an error which prevents the use of the plugin please help me

Everything works great and support 100%.

I had problem and Dmitry help me, and we solve it very quickly……
WordPress Sports Club Plugin
WP Club Manager is a sports plugin that you can create and manage a club website with WP CMS. You can set up this plugin quickly.
By using it, you can manage clubs, player profiles and performance data, staff, sponsors, league tables, keep track of your fixtures and results, and loads more.
This plugin supports many sports such as American football, Australian rules football, baseball, basketball, handball, ice hockey, rugby league, volleyball, and other popular sports.
You can use this plugin by using shortcode easily. You can also get sponsors for matches and clubs and manage them using the WP Club Manager plugin.
The plugin has many flexible templates. As a result, you can customize the appearance of the plugin.
WP Club Manager plugin translated into many languages and supported almost all of the popular languages in the world.
This plugin is an open-source plugin and is adaptable to any version of WordPress.
💵 You can download this excellent plugin for Free.
Key Features:
Manage multiple teams in your club
Player and staff profiles
Player performance ratings
Full player statistics
Informative club profiles with club stats
Automatically updated league tables
Match statistics and reports
Venue details and maps
Fixture, results, player, table, sponsor, and birthday widgets
Easily Import matches, players, staff, and clubs from a CSV file
Random Reviews:
– meets all our ice hockey needs (player stats – even within player details and history, league seasons and tables, all that even as widgets, team infos, … ) – good documentation and help – great support by now I've tried typical free alternatives and not one could fulfill at least two of the points above.

Leon works hard to solve any problem

This is a great plugin, except for one question: it makes the WP too slow, front or admin.
Football Pool Plugin for WordPress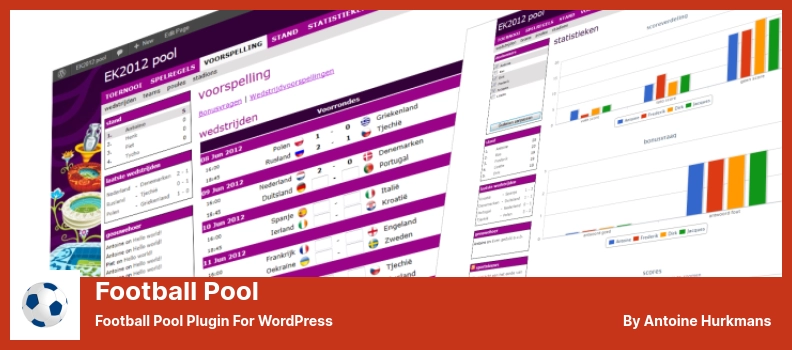 Using the Football Pool plugin, you can invite your users to a football prediction to predict their results. By installing the plugin, users who enter their user panel can use the features of this plugin and receive their rewards and points.
By using Football Pool, your users can predict the outcomes of matches and earn extra points with bonus questions.
By installing this plugin, some custom tables in the WordPress database are installed. Also, by deactivating the plugin, all the plugin's data was deleted from the database. A problem with the plugin is that it may delete all of its information by disabling it. Or enable the 'Save data in delete' option if you have to.
Logged-in users of your blog can predict the outcomes of matches and earn extra points with bonus questions. Every player can view scores and charts of the other pool contenders.
This plugin installs some ships with match information for the UEFA Euro 2020 championship. Still, it can be easily populated with match info for other championships or sports.
💵 The price of the Football Pool plugin is $0. It's Free!
Key Features:
Football prediction capability for site users
Automatic calculation of user ratings
Automatic group ranking
Ability to add user points
Auto show championships
Add the team to watch
Ability to set options for scoring goals
Ability to select different football leagues
User rating view chart
Ability to compare a user with other users
Ability to select halls and teams for each user
Random Reviews:
Thank you so much

Amazing plugin with amazing features and fantastic support! Please consider developing a pro plugin so we can also support its development. Otherwise a solid 5 stars!

I have been using it since 2016, everything is great, a lot of fun during the EURO or World Cup.
WordPress Football Leagues Plugin
AnWP Football Leagues is a complete solution for any football website. This plugin has a variety of unique, powerful, and flexible features.
This plugin can match live commentary with events. It also has a bracket layout for knockout stages.
AnWP Football Leagues provides football data by using external APIs, and you can import data from these APIs.
It supports the match result matrix. It shows a matching scoreboard with an image background.
Using AnWP Football Leagues can determine a timeline for the matches and stop the matches after the timeline.
Using the player's position and other parameters, the plugin separates the club squad for every season.
You can automatically calculate a player's statistics based on match events (playing time, goals, cards, etc.).
It has nine different shortcodes with UI helpers in the Classic Editor. With these shortcodes, you can easily use the plugin capabilities on your website.
For plugin developers, AnWP Football Leagues provides tons of hooks to develop the plugin functionalities.
💵 Version Lite is free, Version Pro is $120 .
Key Features:
Knockout, round-robin, or even mixed and multistage Competition supported
Match lineups, substitutes, stats, events (goals, cards, substitute, penalty shootout), video, staff, referees
Automatic standing calculation (or manual)
Initial data import for Clubs and Players with Excel-like spreadsheets
Custom colors in Standing table (for clubs or places)
A flipped countdown timer for upcoming Matches
Statistics on Player profile page
Stadiums with photos, galleries, additional information, map, and matches
Template system (ability to override output layouts in your theme)
RTL support
Random Reviews:
It is the best football plugin I have ever seen. Andre is doing a very good job. Thank you!

Waiting for your new updatiting 🙂

it is just what i needed. simple, with multiple options and good support, even in the free version. thanks!
Manage Your Court Bookings Online in WordPress
Court Reservation is an efficient reservation system for WP websites. With this plugin, you can integrate a reservation system for your website. With just a few clicks, you can create different courts, which can be integrated via shortcode anywhere on your website.
By preparing the premium version of this plugin, you can prepare as many pyramid competitions/tournaments as you want. With this feature (pyramid competitions/tournaments), your club members can challenge each other and test each other's strengths. Setting up this feature is also simple, and you can easily add this feature to your website.
Court Reservation has a customizable user interface, and you can do customization according to your needs and desires.
You can create and delete reservations on a simple front end. You also can create weekly or single events in the backend.
💵 The plugin is free to download.
Key Features:
Create one court
Ability to set and define daily or weekly events
You can make the reservation process in Front End
You can even delete reservations at Front End
Ability to manage team members using plugin settings
Possibility of pure customization and design related to the reservation table
Random Reviews:
Excellent plug-in for tennis clubs. We found it an excellent framework for what we offer in our club in London – useful as a digital board as well as a

booking and appointment tool

. In communication with support, we were able to determine and create elements that were needed to us in particular. Highly recommended.

Thanks christoph for your perfect support!

super
Summary
In this article, we evaluate many Sports plugins. You can select one of these plugins to have a better website.
We hope you have found this list of Sports plugins useful.
Please submit your questions below if you want us to expand on any of the points reviewed here. Please share this content on Twitter and Facebook as well. Thank you!