Are you a sports enthusiast who owns a WordPress website and looking for ways to enhance its functionality? Then, you have landed on the right page! Our article provides a comprehensive list of plugins that will add value to your sports website.
In this article, we will introduce you to seven of the best WordPress sports plugins available in the market for free or at a nominal price. These plugins have been handpicked based on their functionality, user-friendliness, and effectiveness in improving the website's performance.
Did you know that sports websites with engaging content attract 3x more visitors than non-engaging ones? Therefore, it is crucial to keep your website up-to-date with the latest plugins to provide an engaging experience for your users.
Whether you're running a sports blog, a fantasy league website, or a sports team website, these plugins will be beneficial for you. So, let's dive right in and explore these plugins in-depth!
Best WordPress Plugins for Sports
If you want to enhance the sports-related features on your WordPress website, check out our list of the best WordPress plugins for sports, curated for both free and pro options.
Explore the top picks in this article to take your sports content to the next level and engage your audience with ease.
WordPress League Table Plugin

The League Table plugin is one of the best tools out there if you want to create a table of sports leagues like football, basketball, and volleyball on your WordPress website. It is a highly functional WordPress plugin that allows you to create responsive and customizable tables in posts, pages, custom post types, or widget areas.
There are a bunch of features in this plugin, so you can make different types of tables with it. For example, you can use it to bring top European leagues and other important leagues to your site. You can also customize the tables with different colors and styles so they match your site's look.
One of the best things about the plugin is that it is easy to use and requires no coding skills. You can easily add and remove columns, rows, and cells with just a few clicks using its drag-and-drop interface. Also, it is responsive, which means that the tables will look great on any device.
Another fantastic feature of this plugin is the ability to sort and filter data, meaning you can enable users to search and find specific information quickly. Moreover, you can display images and links within the table to enhance the functionality and usability of the table.
In summary, if you're looking for an excellent WordPress plugin that allows you to create sports league tables, the plugin is an ideal choice. Its ease of use, flexibility, and customization options make it incredibly useful, especially for websites that require the display of sports league tables.
Key Features:
Compare and match sports league results
Insert and export tables easily
Add logos for sports teams
Create unlimited tables with unlimited colors
Display sports results and table texts
Place tables anywhere on the website with shortcodes.
Sports Club & League Manager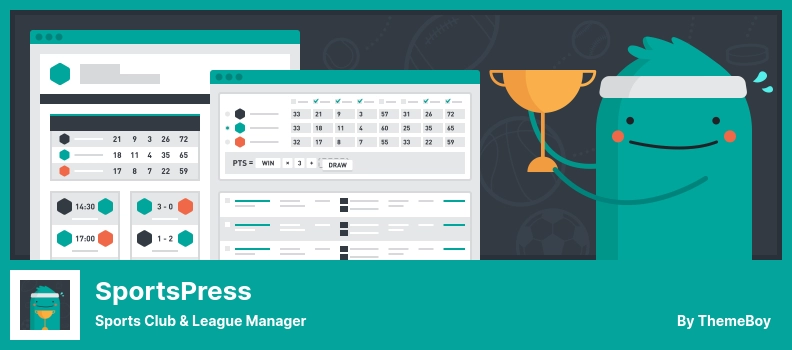 SportsPress is a WordPress plugin that can help you create a website for your favorite sports club. It makes the process very easy and lets you turn almost any WordPress template into a fully customizable team, league, or club website. With SportsPress, you can also create a social media group around your hobby.
This plugin comes with many features that make it the best website builder for sports teams. You can use its set of sports tools to manage matches, results, automatic standings, player rankings, and personal details for clubs, players, and staff.
Furthermore, if you are interested in playing baseball, basketball, cricket, football, volleyball, American football, and golf with the plugin, additional free add-ons are available.
If you want even more features, you can purchase the Pro version of the plugin. Overall, SportsPress is an excellent option if you're looking to build a sports site.
Key Features:
Select current and previous clubs
Information and location map
Configure statistics and league table columns.
Automatic league standings with club logo
Events (cases and results) with player performance
Team & League, Football and Hockey Plugin for WordPress
JoomSport is a plugin for WordPress that's perfect for sports enthusiasts who want to create their own sports website. With the plugin, you can easily manage your league, tournament, team, and club. This plugin provides all the essential features you need to build a professional-looking sports website.
One of the best things about the plugin is that it allows you to create different leagues with chronologically organized seasons that consist of one or several matchdays with matches inside. The plugin also has a single and competition mode that allows you to run single players and teams' sports leagues.
The sports pages created by the plugin are professionally designed based on the Bootstrap framework. Additionally, this plugin is responsive, which means it works well on different types of screens.
The plugin supports round-robin and knockout matchdays in football, hockey, and other sports leagues or tournaments. You can also add extra fields and import sports data in a flexible CSV file via the plugin.
This plugin has an exciting feature in that it integrates with the football live scores API, which allows you to import soccer league data from all over the world. Ice hockey, volleyball, rugby, American football, basketball, futsal, darts, handball, billiards, snooker, and other sports requiring a match/game are suitable.
Overall, JoomSport is an excellent plugin for sports enthusiasts who want to create their own sports website. It's user-friendly and packed with features that will make building your website a breeze.
Key Features:
Copy settings and use them elsewhere
Displays season-related statistics on a separate page
Register through 'dates' and 'number of participants
Change the order of players in each team
Create clubs and assign teams to club
Create and upload game stages.
WordPress Sports Club Plugin
WP Club Manager is an excellent sports plugin for those looking to create and manage a club website with WP CMS. The plugin is straightforward to set up, and you can customize the appearance of the plugin as it comes with many flexible templates.
This plugin supports a wide range of sports, including American football, Australian rules football, baseball, basketball, handball, ice hockey, rugby league, volleyball, and other popular sports. You can use this plugin by using shortcode easily.
The plugin allows you to keep track of your fixtures and results, and manage clubs, player profiles and performance data, staff, sponsors, and league tables, among others. With this plugin, you can also get sponsors for matches and clubs and manage them all in one place.
Another great thing about the plugin is that it is translated into many languages and supported by most of the popular languages in the world. This makes it easier for people from different countries to use the plugin without any language barriers.
Overall, WP Club Manager is an open-source plugin that adapts to any version of WordPress. If you're looking for a flexible and feature-rich plugin to manage your sports website, then it is the perfect solution.
Key Features:
Manage multiple teams in your club
Player and staff profiles
Player performance ratings
Full player statistics
Informative club profiles with club stats
Automatically updated league tables.
Football Pool Plugin for WordPress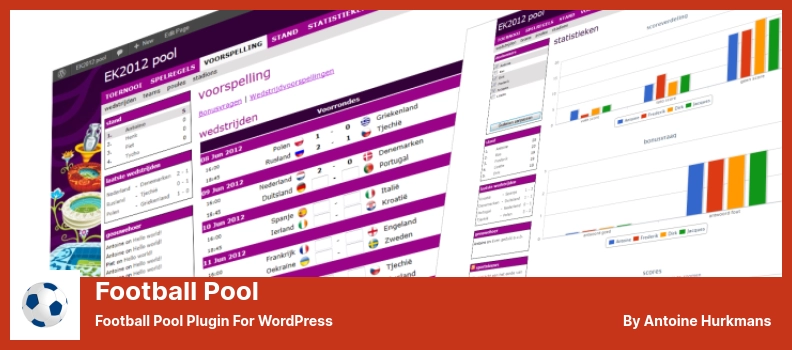 Football Pool is a WordPress plugin that allows users to predict the outcomes of football matches and earn extra points with bonus questions. By installing the plugin, users can access its features through their user panel and receive rewards and points for their predictions.
One benefit of using the plugin is that it provides custom tables in the WordPress database, which are installed upon installation. However, it's worth noting that disabling the plugin may result in the deletion of all its information, so enabling the 'Save data in delete' option is recommended.
Logged-in users of your blog can predict match outcomes and view scores and charts of other pool contenders. The plugin comes with ships with match information for the UEFA Euro 2020 championship, but users can easily populate it with match info for other championships or sports.
Overall, Football Pool offers users an enjoyable and engaging way to predict the outcomes of football matches while earning extra points and rewards. Its custom tables and easy customization make it an excellent choice for any WordPress site looking to add a fun sports prediction element.
Key Features:
Automatic group ranking
Football prediction capability for site users
Ability to add user points
Auto show championships
Ability to set options for scoring goals.
WordPress Football Leagues Plugin
AnWP Football Leagues is a versatile and comprehensive plugin designed to cater to all your football website needs. This plugin offers various distinct, flexible, and potent features that make it stand out in the market.
With the plugin, you can match live commentary with events and use the bracket layout for knockout stages. The plugin provides football data using external APIs, which you can import into your website. Additionally, the plugin supports the match result matrix, showing a matching scoreboard with an image background.
This plugin also allows you to determine the timeline for matches and stop them after the set time. Using the player's position and other parameters, it separates the club squad for every season automatically. You can also calculate a player's statistics based on match events like playing time, goals, and cards.
Moreover, the plugin has nine different shortcodes with UI helpers in the Classic Editor. These shortcodes make it easy to use the plugin's capabilities on your website. If you're a plugin developer, you'll find tons of hooks to develop the plugin functionalities to fit your specific requirements.
In summary, AnWP Football Leagues is an exceptional plugin that provides an array of features to enhance your football website. From live commentary to calculating player statistics, the plugin's versatility and ease of use make it a top choice for any football enthusiast.
Key Features:
Excel-like spreadsheets for initial data import of clubs and players
Customizable colors in standing tables for clubs or places
A flipped countdown timer for upcoming matches.
Supports knockout, round-robin, and multistage competitions
Tracks match lineups, substitutes, stats, events, video, staff, referees
Automatic or manual standing calculation
Manage Your Court Bookings Online in WordPress
Court Reservation is a plugin designed to help website owners create an efficient reservation system for their WP websites. With just a few clicks, users can easily integrate the plugin and start creating different courts that can be added anywhere on their website using shortcodes.
One of the premium features of this plugin is the ability to create pyramid competitions/tournaments that allow club members to challenge each other and test their skills. The setup process for this feature is also straightforward, making it easy for website owners to add to their sites.
The user interface is fully customizable, giving website owners the flexibility to customize the look and feel of the reservation system according to their needs and preferences. Creating and deleting reservations can be done easily on the front end, while weekly or single events can be created in the backend.
With Court Reservation, website owners can easily build an efficient reservation system on their WordPress website. If you're looking to add a reservation system to your website, this plugin definitely worth considering with its customizable user interface and premium features like pyramid competitions.
Key Features:
Front End reservation process
Front End deletion of reservations
Manage team members in plugin settings
Customizable design for reservation table
Frequently Asked Questions
What are the benefits of using sports plugins on WordPress?
Sports plugins can enhance the functionality of your sports-related website by providing features such as scheduling, team rosters, player profiles, stats tracking, and more. They can also save you time and effort by automating certain tasks.
Is it necessary to have a sports-related website to use these plugins?
While these plugins were designed with sports-related websites in mind, they can still be useful for other types of sites that require similar functionality such as event scheduling or team management.
Do these sports plugins require any coding knowledge to use?
No, these plugins are designed to be user-friendly and do not require any coding knowledge to use. However, some plugins may offer advanced features that may require technical expertise to implement properly.
Conclusion
In conclusion, we have explored the 7 best WordPress sports plugins, both free and pro. We have discussed the features, benefits, and drawbacks of each one to help you make an informed decision about which plugin to choose for your website.
If you enjoyed learning about WordPress sports plugins, be sure to check out BetterStudio's blog for more informative tutorials on related topics. They offer a wealth of information that can help you take your website to the next level.
To stay up-to-date with the latest developments in WordPress and web development, follow BetterStudio on Facebook and Twitter. You'll receive regular updates on new tutorials, plugins, and other resources that can help you improve your site.
Thank you for taking the time to read this article. If you have any questions or comments about the content, please leave them in the comment section below. We value your feedback and are always eager to hear from our readers.