Do you struggle to find the right news plugins for your WordPress website? Look no further because we have compiled a list of the six best WordPress news plugins for 2023, both free and pro versions.
Are you tired of searching endlessly for a plugin to enhance your website's news section? Our article will highlight the top news plugins for 2023 that can provide a seamless experience for your users. Did you know that news plugins can increase user engagement and overall website traffic by up to 80%?
In this article, we will introduce you to the six best WordPress news plugins available on the market for 2023. Each plugin offers unique features and benefits that will enhance your website's news section. Let's dive in and explore how you can take your website's news section to the next level.
Best News Plugins for WordPress
When it comes to creating a successful news website on WordPress, choosing the right plugins can make all the difference. In this section, we highlight the top news plugins that can take your website to the next level. Check out our picks below and see how they can enhance your site's functionality and overall user experience.
News / Blog Addons for Elementor & WPBakery

Epic News Elements is a powerful plugin that can transform any WordPress site into an eye-catching news site. With its easy-to-use layout, this plugin offers more than 70 pre-designed components that include post grids, sliders, carousels, and exciting elements that are based on the Elementor page builder.
Compatible with almost any theme, you can add it to your WordPress website and start using it without any issues. Unfortunately, this plugin does not have a free version but it does seamlessly integrate with WPBakery and Elementor page builder plugins.
One of the attributes that make this plugin stand out is its module-based pagination that enhances UX and makes it easier to navigate on your site. Moreover, Epic News Elements come with a wide variety of layouts that you can choose from, making it easy to customize your site to your specific needs.
Despite its many functionalities, this plugin is easy to use, and the documentation and support system makes it simpler to troubleshoot any issues. Finally, Epic News Elements comes with a shortcode generator that lets you generate shortcodes that replace the use of a website builder if you prefer a simpler method.
Key Features:
Documentation and support system available
Easy updates
Module-based pagination
Wide selection of layouts
Customizable site design
a Very Simple News Plugin That Output News
Simple News is a WordPress plugin that allows you to add a news section to your website in a simple and straightforward way. Y
ou can display news articles anywhere on your website using widgets or shortcodes. It also offers a settings menu where you can adjust the thumbnail size and CSS style of the news items. Plus, you can add a new post type called 'News' and publish news articles easily.
One of the benefits of Simple News is that it's effortless to use. You can filter news items by category or post ID, and it automatically arranges them by publication date. There are also shortcodes available for more customization. However, keep in mind that the widget doesn't display post content.
Other attributes of Simple News include offering limited customization options, such as widget areas. But if you're looking for a straightforward way of adding a news section to your website, this plugin is a great choice.
Key Features:
Shortcodes for customization
News arranged by publication date
Filter results by category or post ID
Widget available to display selected number of latest news items
Some widget areas available.
Generates a Fixed News Ticker
Live News is a freemium WordPress plugin that adds a dynamic news feed to your website. It provides an animated news ticker that displays the latest news and can be customized to match the colors, fonts, and font shapes of your site. You can choose to display the ticker on your site's header or footer and specify the speed at which news items scroll by.
One of the most impressive features of the Live News plugin is its ability to source news from various channels. You can add stories by importing them from WordPress, Twitter, or an RSS feed. Adding news manually is also an option.
To ensure that your news stays up-to-date, Live News has automatic updates for news. You can also adjust the news slideshow rate and delay within the ticker. Overall, Live News is a must-have for any website that wants to stay current with the latest news.
Key Features:
Automatic news generation

from specified channels

Manual news addition available
Customizable ticker design
Automatic updates for news
Adjustable news slideshow rate
News delay is adjustable
Automatic adjustment to expand with website
Different colors for ticker design
Custom font shapes for ticker design
Easy-to-use settings for ticker.
XML Sitemap & Google News is a plugin that enables you to increase the visibility of your content and expand your audience by giving you the ability to list your news site in Google News.
The Pro version of the plugin offers additional features such as the capability of adding keyword tags, tag stock tickers, and tracking the notification count whenever your site notifies Google.
One of the major benefits of using this plugin is improved crawlability and indexation rate, ensuring your content is easily discoverable and is likely to appear in search results.
Further, with the help of SEO best practices, you can customize the publication name of your article, notify both search engines every time you add a new article along with images and captions.
This plugin comes with several features that enable the creation of Google News-compatible sitemaps for your website. The sitemaps created using this plugin enable Google bots to discover and crawl your recent posts on your website.
Key Features:
Provides XLS stylesheets for human-readable sitemaps
Enables different types of posts
Stock ticker available
Allows to modify the rules for robots.txt file.
One of The Leading & Popular News Plugins
WP News and Scrolling Widgets is a fantastic WordPress Plugin for showing news articles on your website. This plugin generates a custom post type specifically designed to display news articles and provides 50 different news grid layouts and 45 slider designs. In addition, it includes an RSS feed, news ticker, and other customization options.
What's more, the plugin provides a seamless user experience by allowing you to add news items like regular posts to your admin menu. This plugin also works exceptionally well with most WP newspaper themes. With the free version providing extensive functionality, the premium version offers enhanced features.
By using shortcodes, you can create a vertical news scroller and display titles, featured images, and excerpts of articles on your site. The formats of columns, grids, and lists can be personalized according to your preferences.
WP News and Scrolling Widgets contain several features to satisfy your every need, including seven different types of "Latest News" widgets, pagination options, and a slider for popular grids. You can add shortcode parameters to this plugin, and it accommodates Beaver, Elementor, and Site Origin page builders.
Key Features:
50 news grid layouts

& 45 slider designs

RSS feed & news ticker
Add news items to the admin menu
Supports WP newspaper themes
Shortcode for creating a vertical news scroller
7 "Latest News" widget types
Pagination options
Custom Post Type for news articles
Supports Beaver, Elementor & SiteOrigin page
a Plugin for Importing, Merging, and Displaying Rss Feeds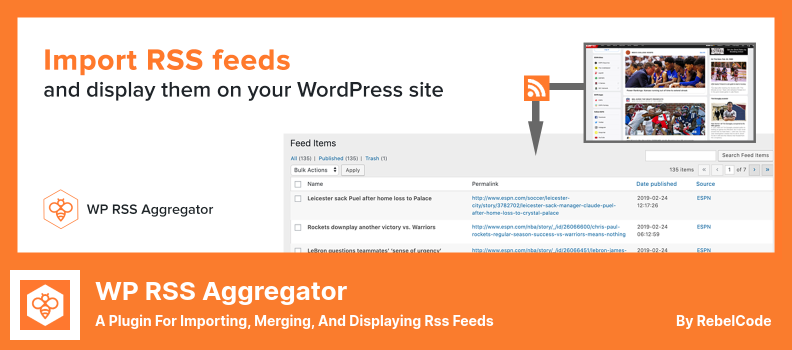 WP RSS Aggregator is a superb WordPress plugin for importing and displaying RSS feeds and Atom feeds on your website. It is the original, most popular, and most effective plugin for creating RSS feeds for your site.
With WP RSS Aggregator, you can import the whole, or a portion, of your WordPress articles, videos, and other helpful content from various sources. You can even filter imported content using keywords, phrases, and tags. Plus, it integrates a Help Beacon into your website's dashboard, providing direct access to the knowledge base.
This WordPress news grabber Plugin is perfect for websites looking to curate news from relevant sources in their niche or market. It improves your ranking and reputation within search engines, adding credibility to your website.
With WP RSS Aggregator, you can easily manage all of your RSS feed sources on a single page and generate a custom RSS feed from imported items.
Key Features:
Import and display YouTube videos on your website
Generate a custom RSS feed from imported items
Easily manage all RSS feed sources on a single page
Import unlimited content from any website
Automatically download new content from all RSS feeds
Frequently Asked Questions
What are news plugins for WordPress?
News plugins are tools that enable WordPress users to add news content to their websites and keep their readers up-to-date with the latest news. These plugins come in various types and allow website owners to add news feeds, tickers, and widgets to their websites.
Why should I use WordPress news plugins?
WordPress news plugins are a great way to keep your website visitors engaged and informed. By adding regularly updated news content to your website, you can establish your site as a reliable news source in your industry and keep your audience coming back for more. Additionally, news plugins can help you save time and effort by automating the process of adding and updating new content.
What are the benefits of using a news plugin for WordPress?
Using a news plugin for WordPress can help website owners easily publish and manage news articles, improve their site's SEO by adding fresh and relevant content, increase user engagement by providing relevant and timely information, and establish their site as an authoritative source of news and information.
Conclusion
In conclusion, we've discussed the six best WordPress news plugins, both free and paid, for 2023. These plugins are great tools to help you manage and display your website's news content in the most attractive way possible.
If you want to learn more about WordPress news plugins or any other WordPress-related topics, be sure to visit the BetterStudio blog. We regularly publish articles, tutorials, and resources that can help you improve your WordPress website.
Don't forget to follow BetterStudio on Facebook and Twitter to stay up-to-date with the latest tutorials and WordPress tips.
Thank you for reading, and if you have any questions or comments about this article, feel free to leave them in the comments section below. We're always happy to hear from our readers!