Are you looking for the best WordPress News Ticker plugin?
It is essential to have excellent WordPress plugins for your site. So, we have selected the best News Ticker plugins for WordPress for your convenience. These plugins are modern in design and have an incredible user experience. Also, they are compatible with most WordPress themes.
To assist you in choosing the right News Ticker plugin, we've hand-selected a list of top plugins for Breaking News, Custom News Tickers, or Ticker and Scrollers.
We suggest that you read our article on the best WordPress plugins for bloggers if you would like to include advanced features in your blog.
Best WordPress News Ticker Plugins 📰
Add a header to begin generating the table of contents
Below, we present you with the best WordPress News Ticker plugins of 2022:
Easily Render Custom Data Feeds to Your Site Through a Customizable News Ticker, List, or Slider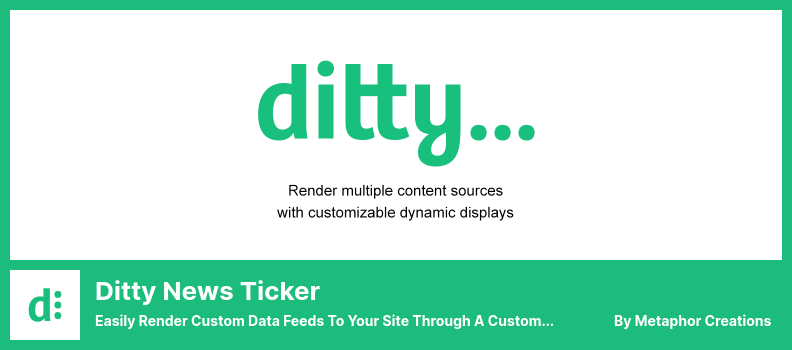 Ditty (formerly Ditty News Ticker) is an innovative news ticker, ticker, and scroller that allows you to customize it with various options. For example, vertical tickers, scroll animations, and lists view enable you to embed a news ticker in your blog using shortcodes.
Among the innovative features included are scrolling, rotating, and listing news, as well as placing a news ticker in the widget area. With this, you can create a style personalized directly to your needs. (Just like Vertical News Scroller)
Custom news tickers can be added to your website by using shortcodes or direct functions, and you can even source news items manually in the free version. However, you will be restricted by the settings available.
Ditty also includes additional plugins that extend its functionality and features. These include additional item types, display types, and utilities that will enhance your experience. In addition, a bundle is available that contains all of the paid extensions.
This WordPress news ticker plugin comes with a free version that only allows manual entry of news items. Optional extensions allow you to import news items from social networks. Moreover, this plugin has a translation-ready design with WPML, making it easy to create multilingual websites, and also its RTL languages style is compatible.
---
💵 The Ditty News Ticker plugin is ultimate Free.
Key Features:
Generates paged content lists based on your combined content
Several options give you full control over your lists' appearance and feel
Uses the Ticker Display type to construct a unique news ticker
Your latest blog posts can be added to your Ditty
Your Ditty can be customized using the WordPress Editor
Random Reviews:
Great plugin with outstanding support from the author. And kudos for adding 'Delay scroll start' in today's update.

The Metaphor Creations team has been exceptionally helpful. They have been responsive, courteous, and quick to respond. They have gone above and beyond on every level!

This is a very well made, multifunctional ticker with shortcode, widget, and function support.
Display Horizontal or Vertical Tickers On Your WordPress Website
Ticker Ultimate lets you display news and the most recent posts horizontally or vertically, and also it has a Gutenberg block. Additionally, it comes with a shortcode, which can be used to display the ticker anywhere on your website. (Just like Ditty News Ticker)
As well as changing the colors and specifying the categories of posts to display, the shortcode can also be customized to include a ticker slider effect. You can change the color of the news ticker title, the background color of the news ticker title, and the Font Style that appears on the content.
You can also specify the ticker ID you wish to display posts using shortcodes.
Among the plugin's exciting features are its ability to work with custom post types so you can publish regular posts and news tickers separately. The plugin has also been updated to support Gutenberg. It is accompanied by a custom part that can be used in posts.
It also offers customizable colors and animation settings, and support for almost all popular WordPress page builders including WPBakery Page Builder Shortcode, Elementor Addon, BeaverBuilder Blocks, Divi Page Builder, and SiteOrigin page builders. However, these features are only available in the pro version.
---
💵 Lite is available for free, but Premium is a price.
Key Features:
There is an option for removing the links from the ticker
It is possible to set a link's target to the current web page
The number of posts that will be displayed can be entered
The ids can be separated by commas. They are displayed on the relevant post listing page
Random Reviews:
My thanks for a very fast and helpful response!

Thanks for the app and the amazing support!

I have loved their technical support to each and every question! Thanks!
Generates a Fixed News Ticker to Communicate The Latest News, Weather Warnings, Etc.
In addition to its aesthetic appeal and lightweight nature, Live News is a highly customizable add-on for creating gorgeous newstickers with ease. It is the obvious choice considering its simplicity and versatility.
The Live News widget enables you to display your latest posts, and news items originating from RSS and Twitter feeds. It adds items from four sources to your ticker automatically in real-time.
Also, the plugin can be set to appear on different devices to your needs. It can be customized in colors, positioning, scroll speed, font size, placement, etc.
This feature is similar to those displayed on Fox News, CNN, Sky News, etc. The Featured News of the day is shown in red, and the Sliding News is displayed in black.
RSS Feed mashups allow you to automatically update the news content of your newsticker with the latest news feeds from a broad range of websites. However, you can continue to use the title for Featured News that you wish to include in your newsticker.
It is recommended that people assigned to other roles contribute news to the website according to their positions, or the website administrator may do so.
---
💵 A fee-based version as well as a free version are available.
Key Features:
Using WordPress transients that store the news ticker data, you can reduce the time it takes to retrieve the data by making fewer queries
The Cached Cycled Option allows the number of cycles for every AJAX request to be specified
A Mobile Detect Js library is used in order to identify the device being used by the user
You may choose to add the news ticker to all or a subset of your website pages
Adding small images before and after the news story will add visual interest
Get Any WordPress Content and Display Them As a Slider
Using WP Latest Posts, you can display the most recent WordPress posts in just a few clicks and how you want. It includes 4 predefined themes and a custom case where you can select and order news elements. The entire library of post types, categories, pages, tags, and custom post types is available.
Many WordPress third-party plugins offer the capability of creating custom post types, including WooCommerce products and an integrated event calendar. When you make a custom post type, you will be provided with a taxonomy option.
Sorting of elements according to their title and date can be done in ascending or descending order. It is also possible to assign a starting date to the content search.
There are four themes included, of which two utilize masonry layouts, one uses a slider display, and another uses a timeline display. Thumbnails will be generated based on photographs within the article and will appear alongside the first number and title, respectively.
Also, the user can configure several display parameters, including the various news numbers, columns, content cropping, and color schemes.
---
💵 There is a free lite version and a pro version.
Key Features:
Drag and drop can be used to distribute and organize content
Each list's content is categorized according to its type
Displaying a limited number of items is possible
Content can be loaded by plugins such as WooCommerce or another plugin that makes use of custom posts
A Gutenberg block is also included
WordPress Multisite is compatible with the plugin
Your news can be displayed in a visually appealing way by defining date format parameters and applying custom CSS
Random Reviews:
The plug-in does exactly what I need it to do. Great support is also provided.

Easy and effective, definitely recommend!

Thanks a lot – made my day :o)
A Flexible and Easy to Use News Ticker Plugin for WordPress
You can quickly and easily create a customized news feed using the T4B News Ticker plugin. You can provide your visitors with detailed information about specific types of content that you wish to present on your website. You can do this based on existing content already written.
Using this plugin, you do not have to install additional plugins on your website. The free version contains four animation effects. The premium version offers different animations, play and pause options, customization options, and dedicated support.
In addition to this, the ticker provides data in various categories and RSS and JSON formats.
---
💵 A Premium version as well as a Free version of this plugin are available.
Key Features:
The RTL language translation is supported
The loops can be continuously scrolled, without interruption
The ability to import and export a backup of a news ticker from one website to another
An existing ticker can be copied and pasted rather than starting from scratch
The ticker height, radius, font, border, and other aspects of the ticker can be adjusted
A News Ticker may be added simultaneously to more than one page
Random Reviews:
Simple and works well for me.

Great plugin. Very helpful

Excellent plugin and very practical*
Add News Ticker to Any of Your Blog Posts With The Elementor Page Builder
News Ticker for Elementor allows you to create a news ticker for your blog's sidebar. It can be displayed as both a news ticker and as a custom text block in your blog's sidebar.
The plugin displays your most recent posts and customized notifications with links in the news ticker. It may also be used for a variety of other purposes. It can be used in all Elementor themes easily.
Additionally, it offers the possibility of adding custom images, texts, and links to news items included in the custom news ticker. You can also decide whether the link opens in a new tab or not and the option to use the blog title for the news ticker.
---
💵 There is a fee for this plugin, but it is also provided for free.
Key Features:
It is possible to customize the heading title
A customizable header design option is available
A customizable control button design is available
There is no limit to the number of news tickers
A Pause Button is also included
Option to customize the look of the news section
There are buttons for previous and next navigation on the navigation bar
Random Reviews:
*Thank you to the developers for developing this plugin. It works perfectly.

News ticker was exactly what I needed for my custom news feed.

Customer support is excellent on issues with installing the Pro version
Display Vertical Scrolling News for WordPress Site
By using the Vertical News Scroller plugin, the breaking news will display vertically on your WordPress website. The site administrator will be able to add, edit, and delete news according to their preferences.
The News section of your WordPress site can be configured to display any number of articles. Users will see the requested number of articles in the News section. Administrators can manage the scroll speed and height of the news. And the news section will be customized based on your theme.
As it is released under a GPL license, anyone can use it on their personal or commercial blogs for free. If using the plugin proves helpful, you may consider contributing to the plugin's development.
The Pro version of the plugin adds thumbnail images to news articles and features for automated bulk order updates. The admin can also customize the title color, description color, font size, and length of the description fields.
---
💵 The Lite version is free, while the Premium version is $price.
Key Features:
supports multiple news categories (category wise news)
Shortcode support in the pro version lets you print it from anywhere within WordPress
Links to news articles can be opened in the same window or in a new tab
Admin layout optimized for mobile devices
Provides RSS feeds
Two types of news scrollers are included in the pro version: modern jquery scroller and classic marquee
Posts and pages can be made into the news by admins without editing them
Random Reviews:
They have two versions in this plugin. The standard version is based on marquee elements. This is compatible with old browsers that still support this old technology The modern version is based on jquery and has many bugs.

The news ticker plugin is a simple and easy-to-use plugin to display news.

Support is fast and effective.
Final Words
We have discussed the best WordPress news ticker plugins in this post. If you are thinking of improving your website, choose one of the plugins mentioned above.
We hope this article helps you create a professional News Ticker for your website.
We recommend consulting our list of carefully selected WordPress hosting providers if you wish to improve the performance of your website. In addition, you may wish to consider installing one of our recommended WordPress security plugins to enhance the overall security of your website.
If you enjoyed this article, please leave a comment and share it on Facebook, Twitter, and other social media channels.