Are you trying to find the best Flickr WordPress plugins to take your website to the next level?
You might not know that many WordPress Flickr plugins are available to you, and detecting the best one that works incredibly is a difficult task?
In this article, we'll share some of the best WordPress plugins that you can use to find the best plugin for your needs. Also, the plugins are gorgeous looking, mobile-friendly, with good WordPress themes support, and speed optimized.
We rounded up these Flickr plugins to help you in deciding on a usable plugin. Although this plugin listing loaded with plugins associated with Flickr Widget, and Embed Flickr Album usages.
Also, we recommend that you use a powerful blogging theme on your website since these themes, such as the Publisher theme, have widgets for social networking sites such as Flickr, Twitter, Facebook, and Pinterest…
Let's take a look at some of the best Flickr WordPress plugins you can use today in 2022:
Display Your Flickr Photos Inside WordPress
A tool that displays your Flickr photographs fast and easily is provided by Meks Simple Flickr Widget, which is the finest Flickr WordPress plugin available. It's the most user-friendly and newcomer-friendly Flickr WordPress plugin you'll find anywhere.
Unlike other plugins, it does not need special authorization to be used, and the user simply needs to supply their user ID. Additionally, it has a more adaptive style that allows you to show your photographs in greater dimensions in your photography blog.
💵 You can download this plugin now for Free.
Key Features:
A caching system is integrated to improve performance
tweak the size of the thumbnails and covers
There is no need for authorization; only your user id is enough for the process
The thumbnail size can be customized to meet your requirements
Provides support for both individual Flickr users and Flickr groups
Random Reviews:
very userfriendly

It works as it should. One suggestion is if the photos are from a group, link the photo to the actual group stream and not the user stream.
Build Great Looking Images
In addition to being a wonderful WordPress gallery plugin, Essential Grid Gallery allows you to create beautiful media galleries and layouts on your online magazine website by using the WordPress content editor. This program makes it possible to create images using a variety of resources.
Aside from your website, you can also create automatic grids and share your content across a variety of social networks. Among the many social media platforms available, there is YouTube, Vimeo Widget, Instagram feed, Facebook feed, Twitter feed, Behance, Pinterest Feed, and perhaps Flickr.
For customization, the application provides a variety of formats, layouts, and skins. In addition to this, the graphical skin editor enables you to generate unlimited numbers of skins for your collection and is easy to use for beginners.
💵 This plugin and 12 months of support plus, All the future updates, The charges are $69.
Key Features:
Personalize your own skins with ease
Skins for Import / Export
Customized Skin Adjustments Based on Post-Processing
Several animation styles and preloaders are available, as are dozens of example skins
Comprehensive documentation as well as instructional videos
Adjustable transition rate and speed
Custom skins may be included with the plugin installation through the One-Click Installer
Random Reviews:
Very pleased with support provided when I was unable to upgrade Essential Grid after WordPress 5.5 required it. They responded promptly with a solution. Good job.

the support is not good. the plugin has a lot of bugs and is getting more and more expensive.

I had some particular functions that I was interested in for a cobble grid and Irfan was super helpful in helping these come to fruition. I would highly recommend Essential Grid for its flexibility as well as their customer support!
The Flickr Album Gallery is a popular social media WordPress plugin that allows you to display all of your Flickr albums on your website. You can upload Flickr albums to WordPress using the Flickr API and Flickr Album ID.
In addition, you can use a seamless transition between images to display your Flickr album picture. This will allow your users to enjoy a more relaxing experience.
As well as numerous row options, a thumbnail maximum limit, a sluggish loading option, and customizable CSS, there are other features.
💵 The Lite Version is provided for Free and The Premium version for $21.
Key Features:
Album galleries that are optimized for search engines
easy and straightforward to use without any prior knowledge and skills
There is a maximum limit of 200 photos per album
There are eight mice hover effects and motions on the album thumbnails and covers included in this package
Additionally, it contains a lightbox, a two-column layout, a masonry grid layout, and other features and cool stuff
Random Reviews:
After testing a lot of Flickr extensions for WordPress, I decided to use this one. It's easy to use and it's a very good product. Moreover the support is fast.

I made the plugin using a third-party JS API. The plugin is so fast to load Flickr Album on your WordPress website. Using the plugin you embed all your Flickr Albums on your website. The Flickr plugin has many options to configure the gallery according to you. I hope you will like my plugin. Thanks This topic was modified 5 months, 4 weeks ago by

After purchasing the plugin, the problems were never fully resolved. I have been opening tickets for 2 years, but they never really manage to fix it. When fixing on Chrome it doesn't work on Firefox, when fixing on Firefox it doesn't display correctly on mobile. The truth is: they don't develop the plugin anymore.
Displays Flickr Photos As a Gallery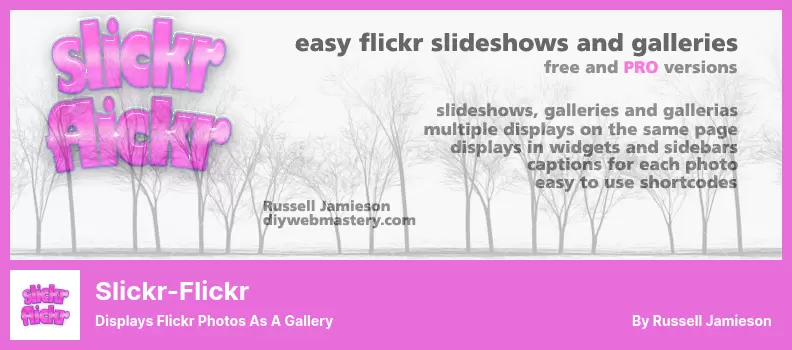 With Slickr-Flickr, you can easily include Flickr slides and galleries on your website. The feature enables you to view your Flickr photos as a gallery, a gallery, or a slideshow.
As a result of the superb implementation of caching technology, its picture gallery loads in milliseconds. A variety of lightboxes are included in the package. These include Evolution Lightboxes, Shadow Boxes, Pretty Photos, Highslides, and others.
Moreover, even beginning users will be able to make use of this plugin effectively since it is very easy to set up.
It is compatible with a variety of lightboxes, including Evolution LightBox, FancyBox, Highslide, LightBox Plus, Pretty Photo, Slimbox, ShadowBox, Shutterbox, and ThickBox, as well as other popular brands.
💵 The plugin is free to download.
Key Features:
Captions, picture descriptions, and links back to Flickr may be included or excluded
Uses portrait and landscape photographs nicely in articles, sections, and text widgets in the sidebar of varying widths. Also works well in other places
A gallery, a galleria, or a non-branded slideshow are all options for displaying Flickr photographs in this tool
It makes use of the 'slickr-flickr' shortcode to make it as simple as possible to display your Flickr photographs on your WordPress website
Slideshows may be played manually or automatically
Sorts images according to the date taken, the title given, or the description given
Random Reviews:
I installed it, activated it, got the API and Flickr-usercode, saved the settings and tried several short codes. With the Elementor editor, without editor, but nothing worked. So removed it … This topic was modified 3 years, 5 months ago by .

Been using this product for about a year and recently it started acting strangely on our site. I contacted the developer who quickly debugged the issue to find that it was actually my theme causing issues with some custom css. Not only did he find the issue, but he quickly suggested a fix that worked great. Very happy with the support and the plugin works as advertised. Thanks!

Goos thing but lucks sorting feature, random images feature…
WordPress Plugins for Flickr: Final thoughts
The best Flickr WordPress plugins for WordPress in 2022 are discussed in this post. The ready plugins can assist everyone creates a well-designed website in just a few hours.
We hope this article was helpful. Additionally, we recommend reading our article on the best WordPress hosting services.
Please give us know if you have any questions or recommendations about the post. Please share this content on your Facebook and Twitter with your friends.