Have you been struggling to find a suitable Flickr plugin for your WordPress website? Look no further! In this blog post, we've compiled a list of the 4 best WordPress Flickr plugins for 2023, both free and premium.
With over 800 million registered users and 3.5 million new images uploaded every day, Flickr has been a leading platform for visual storytellers and creators around the world. As a WordPress website owner, integrating Flickr into your website can elevate the visual appeal of your content and provide your audience with a more immersive experience.
So, whether you're a photographer looking to display your portfolio, a blogger sharing travel experiences, or an e-commerce business showcasing products, we've got you covered. Let's dive right in and explore the top WordPress Flickr plugins that will enhance your website's visual journey.
Best Flickr Plugins for WordPress
If you're a WordPress site owner who loves showcasing visually stunning content on your blog, then you'll want to check out the best Flickr plugins for WordPress.
These top-rated plugins will allow you to seamlessly integrate your Flickr account with your website, giving your visitors a unique and engaging experience that they won't forget.
So, let's dive in and explore our top picks for free and premium Flickr plugins for WordPress!
Display Your Flickr Photos Inside WordPress
Meks Simple Flickr Widget is a powerful tool that enables you to display your Flickr photos on your WordPress website quickly and effortlessly. It is the most user-friendly and beginner-friendly Flickr WordPress plugin out there, making it ideal for anyone looking to showcase their beautiful photography.
With Meks Simple Flickr Widget, you don't need any special authorization. All you need is your user ID, and you're good to go. This feature alone makes Meks Simple Flickr Widget stand out from other plugins out there.
Another great feature of Meks Simple Flickr Widget is its adaptive style that allows you to display your photos in larger dimensions on your photography blog. It is also incredibly easy to customize the thumbnail size to meet your specific needs.
Meks Simple Flickr Widget includes a caching system that dramatically improves performance, allowing your website to load faster and more efficiently. It's also effortless to customize thumbnail sizes and covers, ensuring that your photos always look their best.
Meks Simple Flickr Widget is a versatile plugin that supports both individual Flickr users and Flickr groups, making it an excellent choice for photographers, bloggers, and businesses looking to showcase their work.
Key Features:
No authorization is needed, just your user ID
Adaptive style for larger photo display
Customizable thumbnail sizes and covers
Caching system for improved performance
Supports individual users and Flickr groups
User-friendly and beginner-friendly interface
Highly customizable
Fast, efficient, and reliable performance
High-quality photo display.
Build Great Looking Images
Essential Grid Gallery is a remarkable plugin that allows you to create amazing media galleries and layouts for your online magazine website by using a WordPress content editor. With this program, images can easily be created using various resources.
The plugin provides customization options such as formats, layouts, and skins. Its graphical skin editor enables beginners to generate unlimited skins for their collections.
Moreover, the plugin also allows you to create automatic grids and share your content on YouTube, Vimeo, Instagram, Facebook, Twitter, Behance, Pinterest and also Flickr.
Also, the plugin provides personalization options to customize skins easily. You can adjust skin based on post-processing, and several animation styles and preloaders are available.
What's more, the plugin provides comprehensive documentation and instructional videos to guide users. There is an adjustable transition rate and speed, and custom skins may be included with the plugin installation via the One-Click Installer.
Key Features:
Offers several animation styles and preloaders with dozens of example skins
Comprehensive documentation and instructional videos available
Adjustable transition rate and speed
Automatic grids and social media sharing options
User-friendly graphical skin editor
Multiple customization options for formats, layouts, and skins.
Easy to personalize skins
Import and export skins
Customized skin adjustments based on post-processing
Flickr Album Gallery is a user-friendly WordPress plugin that permits you to flaunt all of your Flickr albums on your website seamlessly. With Flickr API and Flickr Album ID, you can transfer Flickr albums to WordPress. The transition between images is also graceful, giving your users a stress-free experience.
One of the reasons why Flickr Album Gallery is well-known is because of its search engine optimization feature. Its interface is simple to use, and beginners can easily manage it without having any previous experience or knowledge.
In addition, it has an album maximum limit of 200 photos, and it comes with a package of eight mouse hover effects and motions for album thumbnails and covers.
Flickr Album Gallery does more than just photos, it also comes with a Lazy Loading option and it includes a lightbox, a two-column layout, a masonry grid layout, and much more customizable CSS. There is also a unique feature that provides numerous row options and a thumbnail maximum limit.
Key Features:
Includes a lightbox, two-column layout, masonry grid layout, and more
Optimized for search engines
User-friendly interface
Multiple row options
Maximum limit of 200 photos per album
Eight mouse hover effects and motions for album thumbnails and covers
Lazy loading option
Thumbnail maximum limit
Seamless transition between images
Displays Flickr Photos As a Gallery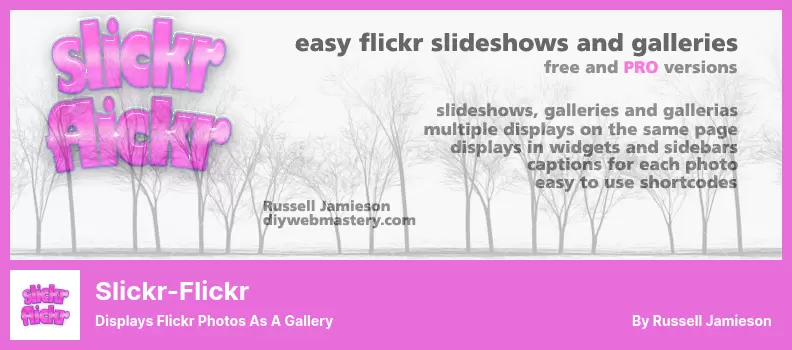 Slickr-Flickr is a WordPress plugin that allows you to incorporate Flickr slides and galleries onto your website easily. It provides the flexibility to choose how to view your Flickr photos, including as a gallery, a gallery with a lightbox, or a slide show. Additionally, the plugin is simple to set up and straightforward to use, making it a great option for beginners.
This plugin is compatible with various lightboxes such as FancyBox, Highslide, LightBox Plus, Pretty Photo, Slimbox, ShadowBox, Shutterbox, and ThickBox that make your gallery look impressive. The caching technology implemented by Slickr-Flickr makes it possible for your picture gallery to load in a blink of an eye.
With Slickr-Flickr, you have the option to include or exclude captions, picture descriptions, and links back to your Flickr page. It's perfect for featuring both portrait and landscape photographs in articles, sections, and text widgets in the sidebar of varying widths.
This plugin also presents different display options- a gallery, a galleria, or a non-branded slideshow to show your Flickr photos. You can use the 'slickr-flickr' shortcode to display your Flickr images on your WordPress website effortlessly. The Slickr-Flickr slideshows can be played manually or automatically, adding versatility to the user options.
The sorting of images is based on the date taken, the title given, or the description provided. Slickr-Flickr eliminates the need to work around the Flickr API, making the process effortless and straightforward.
Key Features:
Use the shortcode the 'slickr-flickr' to display photos easily
Incorporate Flickr photos into articles, sections, and text widgets easily
Compatible with various lightboxes, such as FancyBox, Highslide, LightBox Plus, Pretty Photo, Slimbox, ShadowBox, Shutterbox, and ThickBox
Multiple display options: gallery, galleria, or slideshow
Manual or automatic slideshow options
Sorting of images by date taken, title, or description given
Frequently Asked Questions
What are the benefits of using a Flickr plugin for WordPress?
A Flickr plugin allows you to easily display your Flickr photos on your WordPress site, showcasing your photography skills. Additionally, it can help improve the overall visual appeal of your website, making it more attractive to visitors.
What features should I look for when choosing a premium WordPress Flickr plugin?
When choosing a premium WordPress Flickr plugin, look for features such as the ability to customize the style and layout of your Flickr photos, support for multiple Flickr accounts, and the option to add captions and descriptions to your photos. Additionally, make sure the plugin is user-friendly and offers good customer support.
Can I use more than one Flickr Plugin at the same time on my WordPress website?
Yes, you can use more than one Flickr Plugin on your WordPress website, as long as they don't conflict with each other.

However, using too many plugins can slow down the loading speed of your website, so it's important to only use plugins that are essential and optimize them for your website's performance.
Conclusion
In conclusion, we have highlighted the four best WordPress Flickr plugins for 2023, including their features, and how they can benefit your website. As a website owner, it's important to invest in the right tools and plugins that enhance your site's functionality and user experience.
If you want to learn more about WordPress plugins and related tutorials, be sure to check out the BetterStudio blog. We have a plethora of helpful articles and guides to help your website reach its full potential.
To stay up-to-date on the latest tutorials and news, be sure to follow us on Facebook and Twitter. We share valuable insights and updates that can help you optimize your website.
Thank you for reading this article. If you have any questions or encounter any problems while implementing these plugins, please feel free to ask in the comment section below. We are always happy to help!