Looking for the best Content Curation plugins for WordPress to take your site to the next level?
The creation of content requires time, effort, and money. An effective content and SEO strategy should also include consistency, planning, and the ability to generate high-quality content.
In this article, we will present you with the best WordPress plugins for Content Curation. These plugins are more than just attractive since they provide loads of features and plugins that will enhance the functionality of your website. We also ensure that these plugins work with all WordPress themes.
It was our intent to produce this list of WordPress plugins for Content Curation. Nevertheless, these plugins are also suitable for Autoblogging, Curator, WP RSS Aggregator, and RSS Post Import.
Best Content Curation Plugins for WordPress 🤖
Take a look at our recommendations for the best Content Curation WordPress plugins in 2022:
WordPRess Autoblogging and Content Curation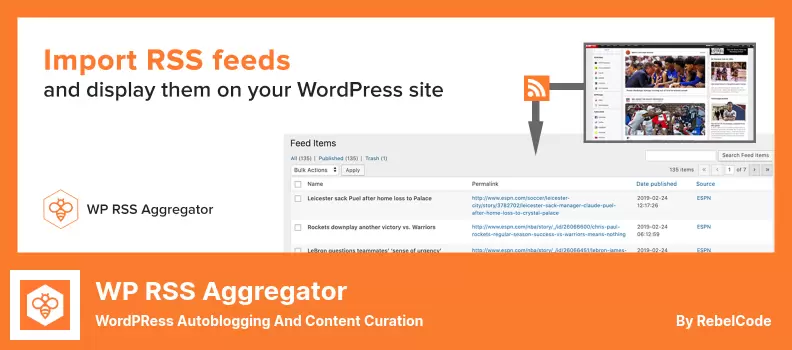 The WP RSS Aggregator plugin is one of the best RSS feed plugins for WordPress websites. In other words, this plugin is a great feed reader for WordPress websites, and you can use it to import, merge and display RSS and Atom feeds on our WordPress website.
With the WP RSS Aggregator, you can display feeds from one or more websites on your website and even aggregate feeds from multiple sites.
You can use this plugin to add as many feeds as you need to your website and, the plugin will then pull feed items from these sites, merging them and displaying them in date order.
You can download this plugin for free from the WordPress repository. Still, to use the advanced features of the plugin, you must purchase the premium version.
Once you have the plugin's premium version, some add-ons are added to the website, and you can use the advanced features of WP RSS Aggregator through them. The most popular extension is Feed to Post, and you can use it to add RSS feeds directly to your posts in minutes.
As mentioned, you can download the basic version of WP RSS Aggregator from the WordPress repository and use it on your website. Still, to use the advanced features, you must purchase the premium version of the plugin.
---
💵 You can download the Lite and Premium versions for free and for a fee.
Key Features:
To improve your search engine optimization and build a better reputation, aggregate or curate news from the top sources in your market or niche
You can gain the trust of your readers by showing related content from other reputable sources
Provide your visitors with additional reasons to stay on your site by linking to YouTube videos anywhere on your site
To ensure your readers get the most out of audio content, share podcast feeds with them
Create content that helps your readers grow by curating real estate listings, job listings, or other useful information
Content creators are able to display a single portfolio of their work across multiple sites
Random Reviews:
Free versions do not include a thumbnail or an excerpt, like all comparable plugins do. This plugin should be removed from the wordpress.org repo, it's a fraud.

I highly recommend this plugin for feeding 3rd party content into your site! It's simple to use and it performs well.

The product is excellent, and the support is great as well!
Free WP Autoblogging and News Aggregator
RSS Aggregator is one of the most powerful RSS aggregators for WordPress. It helps you curate content, Autoblog, import, and display unlimited RSS feeds within a few minutes.
Your site can automatically aggregate and publish an unlimited number of RSS feeds with this plugin in just a few minutes.
When you use the RSS Aggregator plugin for your site, you can sit back and let it Autoblog, which helps improve your content marketing, enhance your SEO, and increase audience engagement, helping your business to succeed.
---
💵 Free RSS Aggregator plugin.
Key Features:
You can automatically convert RSS feed items to WordPress pages, posts, and custom post types
You can automatically import and aggregate unlimited RSS feeds from unlimited sources
Displays RSS feeds Easily by using shortcodes, Gutenberg blocks, or widgets in your third-party page builders like Elementor Page Builder
Import images with your RSS feed or use your own image/logo for feeds without images
To ensure the best performance for your site, you can choose how long to cache and how often to fetch RSS feeds
The plugin is responsive, which means it is correctly working on many platforms
Random Reviews:
*This is a great way to consolidate multiple news sources.br>

Hey everyone, I thought this would be the best plugin, but after using it for several days I decided to write my review it is a very pathetic experience with so many bugs. (No support,) Kindly don't use it, don't waste your time with it.

First time installing this plugin and I'm in love with it. Awesome. I've thought about wp widget of plugin occasionally. So, that was my target to use this plugin. And this plugin doesn't slow down my site like other RSS aggregation plugins do.
Autoblog & Affiliate Marketing Plugin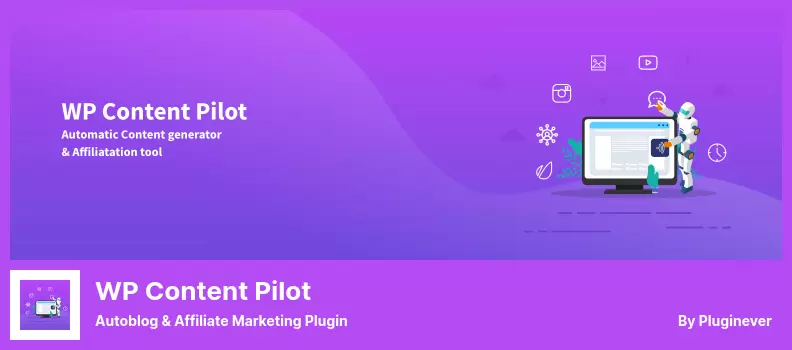 WP Content Pilot is one of the best content curation plugins and auto blogging plugins among the plugins on the market. This plugin helps you to create quality content and put it on your website. This plugin also gives you the ability to inject your affiliate link automatically.
In addition to being a good content curation plugin for WordPress, WP Content Pilot helps you insert affiliate links on WordPress sites, and you can easily manage them.
So, suppose you have a website that generates revenue from affiliate marketing. In that case, you can use the WP Content Pilot plugin to manage links.
The plugin keeps posting articles on your site at a predefined interval using your chosen keywords and sources and maintaining your website fresh and updated.
The WP Content Pilot plugin has many features. We will mention some of them.
---
💵 There are a free and a premium version.
Key Features:
Integrated with spinning software. It allows you to create unique automatic content
The plugin will enable you to control the appearance of posts that are published automatically
You can define categories, and newly published posts will be placed in these categories
You can also specify different tags. New posts published with these tags will be placed on the website
You can translate any interesting foreign post into your preferred language and put it on your website
Automatic Affiliation (PRO): Automatically insert your affiliate code to boost your affiliate commissions
Random Reviews:
Excellent*br

Then I installed it on my website and found that almost all features are pro. And you know what, I expected more than that from a demo.

It also fetches javascript codes as well as some other types of codes (iframes, etc.) I don't recommend it
Social Media Auto Post & Scheduler
Blog2Social is one of the WordPress social media posting plugins that will allow you to automatically post content from your website to social media.
Blog2Social plugin supports all social networks in the market, and you can publish your website content on them with the plugin.
These social networks that Blog2Social supports include the following social networks:
Facebook, Twitter, Google My Business, LinkedIn, XING, Instagram, Pinterest, Imgur, Flickr, Reddit, VK.com, Medium, Tumblr, Torial, Diigo, Bloglovin, Telegram, Blogger.com, Instapaper, and Ravelry.
With Blog2Social, you can generate dedicated posts for your website content and publish them on social media. In addition to generating posts for social networks, Blog2Social puts posts in a specific timeline on social networks. With these features, save time and pain of manually sharing and promoting your site on social media.
The Blog2Social plugin is Compatible with WooCommerce themes and plugins, Gutenberg Editor, Hummingbird, Bitly, Rebrand.ly, Sniply, WP Automatic Plugin, WordPress Page Builders & RSS Importer.
Blog2Social is a free plugin. You can use it for free on your WordPress website. You can download Blog2Social from the WordPress repository and use its features for free. The features in the free version of the plugin meet the needs of many users. If you need more advanced features, you can get the plugin's premium version and use all its features.
Blog2Social is a plugin for sharing content on social networks. But Blog2Social has another feature, and that is Content Curation.
This ability means that using Blog2Social, in addition to publishing content on social networks, you can automatically fill your social media feeds with posts. Then links from any site or source with a consistent content mix of your content and third-party content.
---
💵 For this plugin, there is no charge. It is free.
Key Features:
Posts and site pages can be shared on 13 social networking platforms like Facebook, Twitter, Instagram, and more
Posts can be customized for any social network and published in any format
With Blog2Social, old content can also be shared on social networks
The plugin automatically converts web content tags to hashtags and uses them on social networks
If old content is updated, that content is automatically reposted on social media
You can manage all user pages and posts and share them on your channels
Repost old posts
Create drafts of your social media posts
Curate other people's content (content curation)
Random Reviews:
The plugin is very nice.

Fortunately, this is the only free option available, so I'm happy.

The plugin does everything I could think of I wanted. Wow! And a free month trial? Sign. Me. Up!
RSS Plugin for WordPress
RSS Feed Retriever is a plugin for fetching one or more RSS feeds. This means that using RSS Feed Retriever. You can use RSS feeds and display them in a list on the website using shortcodes.
You can copy and paste the shortcodes anywhere on the website to show your RSS feed.
This RSS import plugin is very lightweight, with minimal code, so you won't have to worry about it slowing down your website. By displaying the RSS parsing feed within the pages of your choice, you can create a custom news aggregator or use this plugin as a feed to post plugin. The SimplePie API is used for building this aggregator.
---
💵 The Pro version costs $25, and the free or Lite version is free.
Key Features:
You can fetch as many RSS feeds as you want
Use shortcode to display RSS feeds in text widgets as well as anywhere you want
You can choose whether to display the entire RSS feed or just an excerpt
The number of words in the excerpt can be controlled
Simple, lightweight, and fast
Easy to setup
Fetch thumbnail or first image
Control size of the thumbnail (width and height)
Control order of items
Aggregate multiple feeds into one list
Random Reviews:
This plugin outshines all the free versions I tried until now. The best thing about it is you can control the layout of the feeds based on your needs with only a little bit of coding. Thank you for making this plugin.

Text message (txt)

The last version killed standards. if I were able to, I would also give this one star. do you ever test your plug on other systems too? with other feeds? good idea, but no success .. links on images without images .. timing problems, not cool .. no way to disable the link-on-image feature.. This topic was modified 2 years, 4 months ago by clarkslaw.
Final Words
This post lists the best Content Curation WordPress plugins for WordPress in 2022. Pick a plugin and raise your website to new heights.
I hope this was useful to you. Additionally, please take a look at our articles on the top WordPress themes for bloggers and the best WordPress hosting services that we recommend.
We post fresh articles on our Facebook and Twitter pages every morning. To receive our fresh articles, please follow us on social media!