Do you have a WordPress website that's been around for a while, with lots of content and links? Have you ever encountered broken links on your site, leading to 404 pages and frustrating your visitors?
If so, fear not! This blog post will introduce you to the 7 best WordPress broken link checker plugins in 2022, both free and paid, to help you detect and fix those pesky broken links.
As the internet continues to grow, so does the likelihood of encountering broken links. In fact, according to a study by SEMrush, 51% of websites contain at least one broken link.
Broken links can harm user experience, potentially affecting your site's traffic and SEO rankings. That's why it's crucial to regularly check your site for broken links and correct them promptly.
In this article, we'll highlight the top 7 WordPress broken link checker plugins for 2022, including their features, pricing, and compatibility with various WordPress versions.
Whether you're a seasoned website owner or just starting out, this guide will provide you with everything you need to know about fixing broken links on your WordPress site.
Best Broken Link Checker Plugins for WordPress 🏆
Here we will introduce you to the 7 best WordPress broken link checker plugins in 2023, both free and paid, to help you detect and fix those pesky broken links.
Link Suggestions WordPress Plugin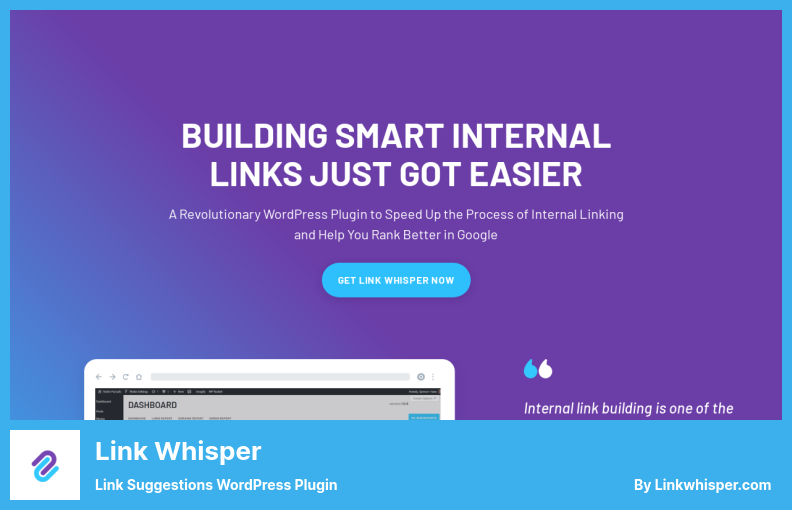 Link Whisper is a powerful plugin for WordPress that helps create internal links on your website. It's not just about finding broken links, but it also allows you to monitor tests and receive notifications when links are broken automatically.
One of the unique features of Link Whisper is its error reporting dashboard, which identifies all the broken links on your site quickly. You can then decide what to do with the error report. Additionally, the plugin includes 12 months of free support, making it a great value for money.
Another impressive feature of Link Whisper is the keyword "link building" function, which allows you to enter keywords and URLs manually. Doing so will enable the plugin to find all previous and upcoming mentions of those targeted terms that link to your desired page.
Link Whisper is especially useful for creating internal links on your website, preventing orphaned content. With this plugin, you can easily find broken links, fix them, and create new ones.
In meanwhile this plugin is very useful creating internal links on the site to prevent orphaned content.
Overall, Link Whisper is an excellent investment for any website owner looking to improve their internal linking strategy. With its advanced features, easy-to-use interface, and outstanding customer support, Link Whisper is a must-have tool for any serious blogger or business owner.
💰 Note: BetterStudio users get an exclusive $15 discount by using this link!
Key Features:
Using the keywords you are trying to rank for in Google, suggest the links you think are the most relevant to your articles
Links can be edited or removed within Link Whisper
provides the option of connecting and pulling traffic data from the Google Search Console
The number of internal links to a particular page can be quickly ascertained
Quickly see how your article is performing organically, the average position, and what keywords are driving results
Posts Content Scan for URL Plugin for WordPress
Save Post Check Links is a WordPress plugin designed to locate and rectify broken links in real-time. With this feature, you can scan the contents of your blog posts and identify any broken links within them. Broken URLs can be easily edited or deleted, and even inaccessible URLs can be detected through this plugin.
You can choose to have the scan done every hour or at any other time that suits your preferences. This plugin also provides you with the option of selecting the domain you want checked, while leaving out the ones you don't.
One of the most significant benefits of Save Post Check Links is that it expedites the process of eliminating errors. You no longer have to wait until the post is uploaded to check the links, as the plugin does its work in the background while you are working on the post. This saves you time and helps you prevent errors before they occur.
The plugin's ability to detect any broken or unreachable URLs will also make you more aware of what's going on with your blog. It allows you to identify those URLs and make modifications accordingly.
Additionally, if any links are mistakenly marked as broken, you can edit them to be labelled as working and rescan them during the following scan.
Overall, Save Post Check Links is an excellent plugin for bloggers who want to ensure their content is free from broken links. With its easy-to-use interface and customizable features, this plugin makes it easy to scan your posts for broken links so that you can eliminate errors and provide your readers with a seamless browsing experience.
Key Features:
Check for any broken or unreachable URLs and bring them up for review and correction
Edit broken links or simply get rid of them by deletion
check all URLs found (except relative ones), and ping each one
Ability to detect the contents of the post and scans it
Allow for translation into 3 languages
Checking for Broken Links Plugin
The Infinite Broken Link Checker WordPress plugin is a must-have for any website owner. As the name suggests, this app checks your website for broken links and helps you fix them quickly and easily.
This plugin is especially useful for those who have complicated WordPress sites and need to find all broken links in the shortest time possible.
With Infinite Broken Link Checker, you can view all broken links on your website and redirect them to the correct ones with ease. The app scans your site quickly and reports which links need to be edited, modified, or deleted back to your host computer.
The best part about this plugin is that it runs very smoothly and resolves your problem within a short period. Additionally, you have the option of editing the broken link directly according to your preferences.
The app merges the features of the Broken Link Checker plugin with diverse WordPress site management for a more comprehensive site management experience. Once you switch to the InfiniteWP dashboard, you can see all broken links across all your WordPress sites and take action from there.
After installing the plugin, you can activate the features that you find helpful, giving you complete autonomy. Overall, the Infinite Broken Link Checker plugin is an excellent tool for any website owner looking to keep their site running smoothly and efficiently.
Key Features:
Links that don't work or are redirected can be viewed
Directly from within the dashboard and edit the broken connection when necessary
Using your WordPress dashboard, you have the option to activate and install the Broken link checker plugin for all your WordPress sites at the same time
Using bulk actions, you can unlink broken links and dismiss them in bulk
Broken Videos URL Detecting Plugin

Video Link Checker is a WordPress plugin that allows you to validate videos on your website from the top video sites. It ensures that those videos are still intact by querying the site and ensuring that all the video clips are still available.
This plugin enables you to schedule a scan for a specific time or leave it to run automatically, depending on your needs. You can scan posts, status updates, URLs, videos, and more with various options that it offers. Additionally, it lets you know if any Youtube videos are blocked in your target areas or if they are on their way to being blocked.
Furthermore, Video Link Checker includes a wide range of videos from a variety of third-party video sites. These include videos from YouTube channels, Daily Motion, Google Drive, Vimeo, and GiantBomb. You may also request a new site to be added to the list if it has an API.
Plugins like this are perfect for ensuring the best possible experience for your website visitors. They keep your audience engaged by not having broken content on your sites. With Video Link Checker, you will keep them engaged all the time.
Key Features:
Scans can be triggered on-demand, or the plugin can be set up to scan automatically in the background
Several post types are supported, along with post statuses, URLs, video links, custom fields, and email reports
Receive reports by email once the scan completes
YouTube, SoundCloud, and Vimeo API keys come pre-registered in the plugin
Small and Unique Tools for SEO Plugin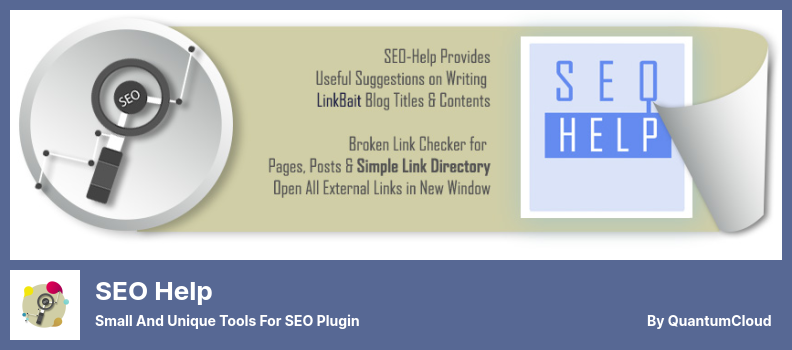 SEO Help is a WordPress plugin that provides a range of useful SEO tools to help you improve your website's search engine ranking. It includes unique features, such as a tool for generating catchy titles, known as clickbait, which can help you attract more readers to your site.
One of the most significant benefits of using SEO Help is that it allows you to easily detect and fix broken links on your website. This can help ensure that your site is always functioning correctly and that visitors are never frustrated by dead links or error messages.
In addition to detecting broken external links, this plugin also provides various options for detecting broken links within your WordPress posts or pages. You can set a specific time frame for these scans, making it easier to keep your site up-to-date and free of broken links over the long term.
Whether you're a blogger, content curator, marketer, or webmaster, SEO Help has everything you need to improve your website's search engine ranking and attract more visitors to your site.
So if you're looking to get more traffic and increase your online visibility, give SEO Help a try today!
Key Features:
checks for broken links in a comprehensive manner
with enhancements to time scopes, custom post types, and post statuses
Checking the status of Pages and Posts for broken links
Creating new titles for your LinksBait campaigns
With a click on the external link, you can fit a variety of links
Adding a Post or editing an existing Page will initially display SEO Help blocks on the right-hand side of your Editor
Website Crawling and Broken Links Finding Plugin for WordPress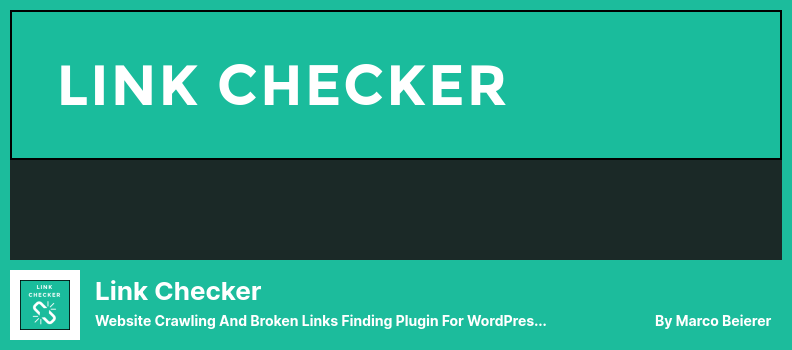 Link Checker is a WordPress plugin that helps website owners find and fix broken links and images on their site. This plugin uses an external service to crawl your website and identify any lost or broken links, both internal and external. Additionally, it can detect broken images on your site and check if links to your YouTube videos are still working.
One of the best features of Link Checker is its ability to schedule inspections once a day or once a week, depending on your preferences. The plugin will then send you a report via email so you can take action as soon as possible.
Another useful feature is the inclusion of convenient CSV files, which store the results of the inspections for future reference.
The free version of Link Checker allows you to check up to 500 internal and external links, while the Pro version has no limit on the number of links you can check. In fact, the Pro version can even handle up to 500,000 entries!
Overall, Link Checker is an essential tool for any website owner who wants to ensure that their website is functioning properly and providing the best possible user experience.
So, if you want to save time and effort in checking your website for broken links and images, give Link Checker a try!
Key Features:
Requires little server processing
Checks your website for broken links and redirects
A user agent can be used to control crawlers in MB-LinkChecker
Takes into account the crawl-delay directive in your robots.txt file, in addition to your robots.txt file
Internal External Links Testing Plugin for WordPress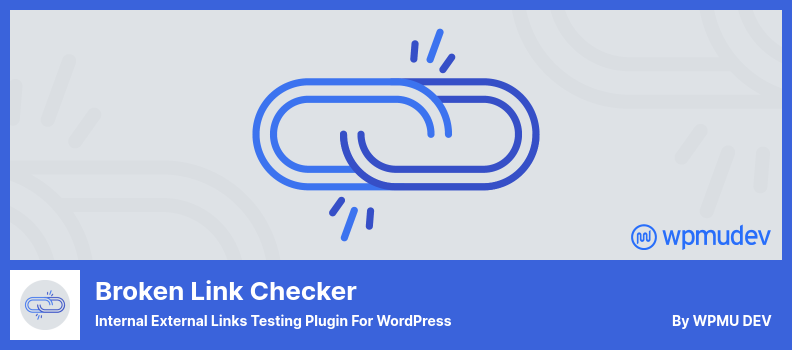 Broken Link Checker is a plugin that you can use to monitor your website and test for broken links. It checks both internal and external links, allowing you to improve your site's performance and user experience by fixing any broken links.
Once installed, the plugin runs through your website and notifies you via email or dashboard notifications of any broken links it finds. The admin panel will also list any broken links detected on your site, and you can fix them directly from the plugin's page without visiting each post.
In addition, Broken Link Checker allows you to display broken hyperlinks differently depending on the post and let search engines know not to follow broken links. You can also filter links based on their URL or anchor text.
Please note that links labeled as broken may still be working until the next scan. You can mark them as working temporarily if needed.
Overall, Broken Link Checker is a useful tool for anyone looking to maintain a high-quality website with no broken links. Its ease of use and multiple notification options make it a great choice for beginners and professionals alike.
Key Features:
Editing links within a post can be done directly from the plugin's original page
Link tracking detects broken links, missing images, and redirects that aren't working
Links can be searched and categorized according to URL, anchor text, and so on
Disputes broken links differently in posts depending on the browser
Maintains the link health of your posts, pages, comments, the blogroll, custom fields, and other external links
Sends you an email or provides you with a Dashboard notification for each of these issues
FAQ
What are broken links?
Broken links are hyperlinks that lead to a webpage, image or file that no longer exists or has been moved, resulting in an error page or 404 message.
Why is it important to check for broken links on your website?
Checking for broken links on your website is essential as it affects user experience and SEO. Broken links can frustrate users and cause them to leave the site quickly, increasing the bounce rate.

They also signal to search engines that the site may have low-quality content, which could result in a lower ranking on search engine results pages (SERPs).
What are the benefits of using a broken link checker plugin?
Broken link checker plugins can automatically detect broken links on your website and provide you with a list of links that need fixing. This saves time and ensures that your website remains user-friendly and optimized for search engines.
Conclusion
In conclusion, we have explored the seven best WordPress broken link checker plugins for 2022, both free and paid. These plugins can help ensure your website is running smoothly by detecting and fixing any broken links that may exist.
By regularly checking for broken links, you can improve your website's user experience and overall SEO ranking.
If you enjoyed this article and found it helpful, be sure to check out the BetterStudio blog for more related tutorials and articles. We strive to provide our readers with valuable information to enhance their online presence and optimize their websites.
To stay up to date with the latest tutorials and news from BetterStudio, consider following us on Facebook and Twitter. Our social media pages offer a great way to connect with our community and get updates on new content.
Thank you for reading our article on the best WordPress broken link checker plugins. If you have any questions or comments, please feel free to leave them in the comment section below. We value your feedback and are always ready to assist you with any issues you may encounter.