What are the best WordPress lottery plugins for WooCommerce?
To help you find one of the best WordPress plugins for WooCommerce Lottery for your needs, we will present you with a list of some of the best. The plugins in this roundup are all well-supported and have a wide array of features. They also work perfectly with all the top WordPress themes.
We opted for the best WooCommerce Lottery plugin. Other plugins included were WooCommerce Competition, Lucky Draw, Spinning Wheel, or Competition and Lottery Management.
📌 Note: The article on advanced WooCommerce plugins provides information on useful plugins that can assist with providing the features you need and are beautiful to enhance the appearance and functionality of your website. Please refer to the article on the most useful WooCommerce themes if you want information on useful themes.
Reviewing the best WordPress plugins for WooCommerce Lottery in 2022:
A Full-featured Lottery Plugin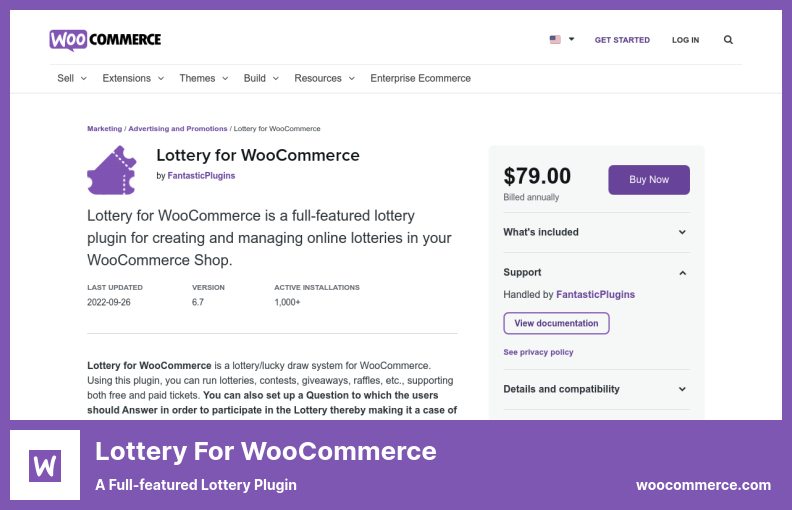 The Lottery for WooCommerce plugin allows you to create and manage lotteries within your online store. Taking into account all features you may need to create your lotteries in the future, this plugin has done a great job incorporating them all.
This competition and lottery management plugin can automate your lottery system, generating revenue or adding new subscribers to your mailing list. As part of the registration process for your free lottery, visitors must register on your website, which is an effective method of building your email list.
Using this plugin to create lotteries that require customers to purchase tickets initially, or if you are just starting, you can allow them to register for free.
As well as providing information about the prizes, the lottery page provides a countdown clock and other information about the lottery. Furthermore, there is a specified number of tickets available to players, as well as a specified number of tickets available to users.
💵 At $79, you can purchase this plugin.
Key Features:
Picks a winner on your behalf once a lottery has been completed
Creates a new order on its own if the reward is a product in your store
Customers will receive an email announcing their win and a receipt confirming their purchase
You can run lotteries and raffles with WooCommerce
As well as random assignments, there is the option of picking a number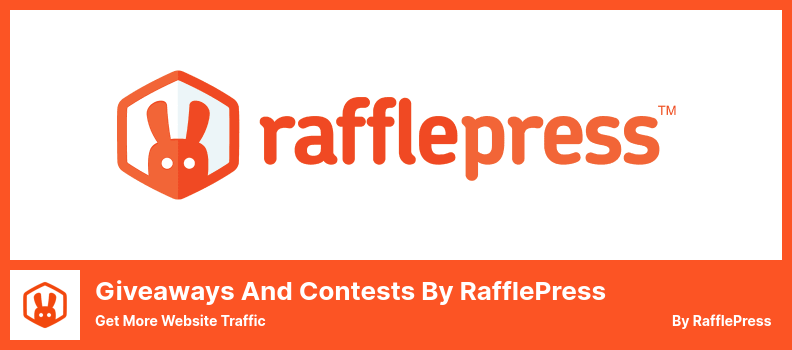 The level of sophistication of WooCommerce lottery plugins ranges from the basic to the most advanced. The Giveaways and Contests by RafflePress plugin are far and away the most advanced. It offers a wide range of features not found in any other plugin.
With this plugin, instead of using a simple product page like other WooCommerce plugins, you get a prebuilt template that is compatible with virtually all devices.
There are numerous advantages to using this plugin, including increased participation, but what truly makes it unique is its ability to integrate social media.
Using this plugin, you can create an attractive raffle since tickets won't be charged. For example, they will be entered if someone likes your Facebook page or tweets about your raffle. You can also offer multiple 'tickets' for completing various tasks.
You may also use this plugin to collect the email addresses of visitors to your website so that you may enter the raffle and grow your email list.
💵 A free version is available, but the paid version costs $79.
Random Reviews:
Developers should get paid rather than all plugins being free.

This is an excellent RafflePress plugin. I've used it for several raffles without a hitch.
WordPress Competitions and Lotteries

It would also be a good idea to consider the WooCommerce Lottery plugin, which functions slightly differently than Lottery for WooCommerce.
It is possible to run multiple lotteries simultaneously on this site by using this plugin. There is also a widget that lists your top lotteries in the sidebar of your shop and category pages that contains countdown timers.
This WooCommerce competition plugin allows users to create a new lottery by adding a new product, defining the lottery rules in the Product Data section, and determining the minimum and maximum number of tickets they would like to sell.
The lottery will also have a start date and an end date that can be customized in addition to the ticket price. Several key features are lacking in Lottery for WooCommerce, including the ability to limit lottery entries to logged-in members and the option to select any product as a prize.
💵 You can purchase this plugin for $38. It comes with auto-updates and 12 months of support.
Key Features:
Compatible with the Elementor page builder
Provides users with the option of creating and submitting lotteries
The option to refund tickets with a single click is available
You can define the number of lottery winners
The number of tickets can be defined from a minimum to a maximum
Random Reviews:
Initially, we got off to a bad start but eventually got along well. Once we got our things sorted out, the support was top-notch. It is a recommended author. They will fix minor issues as long as you use their ticketing system. I hope the support stays the same over time.
A Fortune Wheel Like Conversion Tool
The Spin Wheel For WooCommerce plugin generally does not represent a lottery plugin. Still, it can enhance your site's gamification and boost sales simultaneously.
This lucky draw plugin allows you to create a pop-up on your website, asking your customers to spin the wheel to win prizes. Upon doing this, the wheel is spun until a prize is awarded.
As soon as the user enters their email address, they will receive an email containing the coupon code or prize they have won.
The wheel can be completely customized from the settings menu according to your preferences. The wheel settings also allow you to select the color and prize of your choice.
As many prizes as you wish can be added to the product, and you can also have custom text added to each slice to make it more appealing to the target audience.
💵 If you buy the plugin for $49, it will offer 12 months of support.
Key Features:
You can select the time duration for the

spinning wheel display
There are automated WooCommerce coupons available.
The wheel can be linked to free e-books as a gift
You can build an email list that will help you attract new customers
There are unlimited wheel slices
In conclusion, we will say the following:
After reading the above text, you may have a modern website. In this article, we reviewed the best WordPress WooCommerce Lottery plugins. Select a plugin and make your website more appealing. These plugins are great.
📌 Note: Please take a few minutes to review our posts highlighting the modern WordPress blog themes and the best WordPress plugins for your blog, which are regularly used, voted, and shared by our readers.
Thanks for reading this article. We hope you enjoyed it.
Please let me know if I have missed any plugins that should be included. If you enjoyed this article, please share it on Facebook, Twitter, or other social media platforms.