Have you ever struggled with entering addresses on your WooCommerce website? Or maybe you're worried about the accuracy of the addresses your customers provide during checkout.
Well, you're in luck! In this blog post, we'll explore the seven best WooCommerce address validation and autocomplete plugins that can help streamline the address entry process and ensure accurate deliveries.
In this article, we'll dive into the world of WooCommerce address validation and autocomplete plugins and highlight the top options available. With these plugins, you can eliminate manual data entry errors and save time for both your customers and yourself.
Also, it will definitely help enhance the customer experience and reduce any frustration that the customers may experience during the process of checking out as it will increase their confidence and ease of purchase.
Now, without further ado, let's get started by exploring the best WooCommerce address validation and autocomplete plugins that can take your online store to the next level. From free options to premium ones, we've got you covered with a range of choices that suit your needs and budget.
Best Address Validation and Autocomplete Plugins for WooCommerce
Look no further if you're looking for better address validation and autocomplete features on your WooCommerce site. Here's a list of our favorite plugins that'll not only make the checkout process smoother for your customers but save you time and energy as well.
Let's dive in and find out what works for your online store.
Autofilling Billing and Shipping Address Fields WooCommerce Add-on
Checkout Address AutoFill For WooCommerce is a handy plugin that allows users to automatically enter their billing and shipping addresses by simply clicking on their address. It also offers a "Current Location" feature, which makes it easy for users to input their addresses based on their current location.
With this plugin, you have the option to choose from various auto-fill options when searching for addresses, both for your current location and specific countries. By downloading the free version of the plugin, you can access these features and improve the address input process for your customers.
When using this plugin, you can also select the option to only display address suggestions for specific countries. This way, you can tailor the address suggestions to match the countries you serve, ensuring accurate suggestions for your customers.
The plugin provides a Search Address Autofill feature on the Checkout Page, making it convenient for users to find accurate address suggestions. As users enter their initial address, the Search Autofill Field will provide the most relevant suggestions, simplifying and speeding up the checkout process.
What sets the plugin apart from other plugins is its user-friendly interface. It is incredibly intuitive and easy to use, making it accessible for anyone, even those without technical know-how.
Additionally, the plugin offers additional options, such as changing field labels, adding placeholders, automatically completing search addresses, moving the current location field, and even uploading images.
This level of customization allows you to tailor the plugin to match your specific website design and branding.
Key Features:
Configurable autocomplete for shipping and billing addresses
Auto-fill addresses from specific countries
Modify the placement of Address Autofill fields
Compatible with the latest version of WooCommerce
Automatic filling of search addresses and current location
Customizable placeholders and field labels
Google Address Autocomplete API Plugin for WooCommerce
WooCommerce Address Autofill is a plugin that offers an easy solution for automatically filling in shipping and billing addresses during the checkout process on your WordPress website. With this plugin, you can enhance the user experience and streamline the checkout process for your customers.
It's possible to autofill addresses using Google API. Plugins integrate Google's location recognition feature, so they fill out address fields automatically when you click "Add to Cart." So customers don't have to type in addresses manually anymore, so they save time and don't make mistakes.
In addition to addressing auto-fill, this plugin offers other useful features. For example, you can choose from a variety of Google Maps themes to customize the appearance of the map displayed on your website. This not only adds visual appeal but also allows you to showcase your store's location on the map.
Additionally, the plugin allows you to validate addresses in real-time using Google Places API from within the plugin, which ensures that the addresses entered are accurate and verified in real-time.
With this plugin, you can also enable the option for customers to copy their billing and shipping addresses with a simple checkbox. This further simplifies the checkout process for returning customers who have the same billing and shipping addresses.
Using the plugin does not require manual entry of your country, city, or zip code, so no manual entry is necessary. It's easy to use and requires minimal configuration. You can use autofill to make sure address fields are accurate and precise by selecting your location and providing details.
Key Features:
Customizable suggestion filters for specific countries
Copy billing and shipping addresses with a checkbox
Real-time address validation using Google Places API
Automatic detection of country, city, and zip code
Autofill functionality for precise address filling
Fast and Easy Address Entry WordPress Plugin For WordPress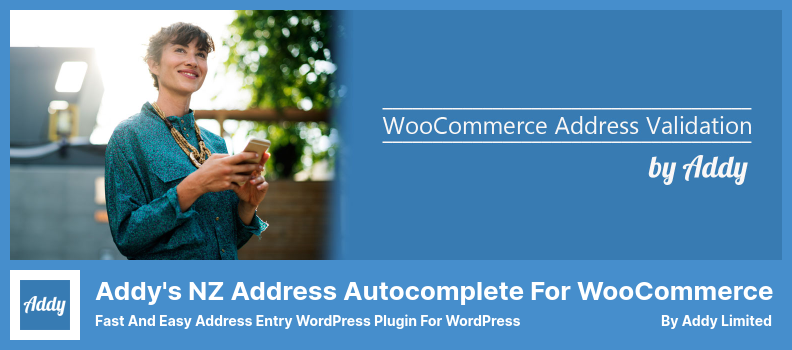 Addy's NZ Address Autocomplete for WooCommerce is a plugin that streamlines the address input process for New Zealand customers on WooCommerce websites. It is incredibly user-friendly and performs its intended function flawlessly.
You can enter your shipping and payment address easily during checkout if you're in New Zealand with this plugin. With Addy's address finder for WooCommerce, you don't need to worry about typing in addresses manually. Your customer database stays accurate and updated and there are fewer typing errors.
One of the great advantages of this plugin is its simplicity. It requires no complicated configuration or settings adjustments, making it incredibly easy to install and use. This not only saves you time but also reduces the workload for your support staff and speeds up the order fulfillment process.
To experience the benefits of this plugin, all you have to do is install it on your checkout page. Once installed, your customers can simply click on the "Search Address Autofill" button, and Addy's NZ Address Autocomplete for WooCommerce will take care of the rest, seamlessly auto-filling their addresses using your service.
Key Features:
Specifically designed for customers and

retailers in New Zealand
Autofill functionality for searching addresses
The quick and easy installation process takes only a few minutes
No configuration is required, making it incredibly user-friendly
Utilizes updated address data from trusted sources like NZ Post and LINZ
Address Auto Sugessions And Autocomplete Address Plugin
Checkout Address Suggestions for WooCommerce is a plugin that enhances the user experience during the checkout process by providing address suggestions and autocomplete capabilities.
Once installed, the plugin prompts the user to enter their street address after they have provided their billing and shipping information. Upon completion, the plugin requires a Google Maps in JavaScript API key to save the changes made.
The plugin's main functionality is that it automatically displays state, zip code, city, and region information associated with an address when the user selects from a list of suggested addresses. This saves users time and effort, as they no longer have to manually input all the necessary address details.
After installing the plugin, users will see a list of suggested addresses, and once they choose an address from the list, the plugin automatically fills in all the required address details. This feature eliminates the need for users to manually input their address information, streamlining the checkout process.
Users can navigate to the address suggestions page after completing the initial setup steps to access the Checkout Address Suggestions page which provides a list of possible addresses during checkout.
Some key features of the plugin include the automatic provision of Address 2, town/city, state, country, and zip code. However, the plugin may not display certain countries based on the settings you choose.
Another useful feature is the ability for customers to copy both shipping and billing addresses by selecting a checkmark. This simplifies the process for users who have the same shipping and billing addresses.
Key Features:
Automatic provision of Address 2, town/city, state, country, and zip code
Certain countries may not be displayed based on the settings
Option for customers to copy both shipping and billing addresses
Availability of both shipping and billing services
WordPress suggests addresses based on selected settings
Email Address Validator For WordPress Plugin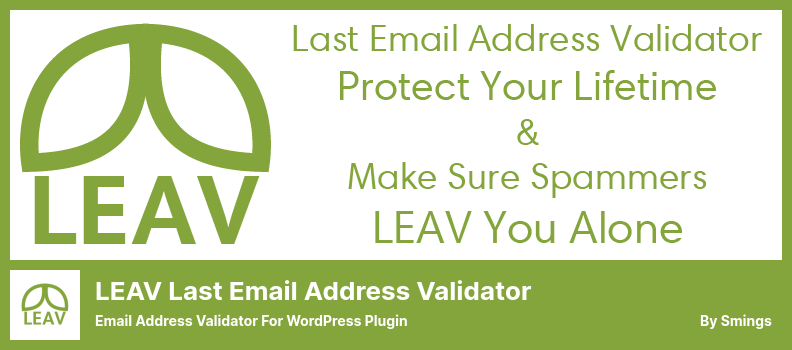 LEAV Last Email Address Validator is a WordPress plugin that provides a seamless and efficient way to validate and autocomplete email addresses. Unlike other plugins, the plugin ensures that your data remains within your WordPress installation, eliminating the need for third-party API integration.
One of the standout features of the plugin is its simplicity and ease of use. There's no need to go through a registration or signup process, making it a convenient option for WordPress website owners. Additionally, it doesn't rely on external APIs to function, giving you full control over your data.
One of the biggest advantages of using the plugin is its protection against spammers. It effectively prevents spammers from registering with WordPress using disposable or fake email addresses. This feature comes in handy, especially for websites that rely on user registrations and comments.
The plugin goes beyond simple syntax checks for email addresses. It provides thorough confirmation of email addresses, ensuring the highest possible accuracy. This is extremely valuable for websites that heavily rely on email communication, such as eCommerce stores.
Another advantage of the plugin is its compatibility with popular WordPress plugins and form builders, including Ninja Forms, Formidable Forms, Kali Forms, WooCommerce, and Elementor Pro. Also, you can prevent spammers from infiltrating these plugins and potentially disrupting your website's operations.
When it comes to data security, LEAV shines. Since everything is hosted on your own WordPress instance, you have complete control over your data. There's no risk of your information being transmitted to an API that you don't have access to, giving you peace of mind.
Key Features:
Blocks disposable and temporary email addresses
Supports integrated blacklists based on recipients' roles, including wildcards
Allows blocking of catch-all email addresses
Proofreads email addresses for grammatical errors
Gives users the flexibility to define their own domains with support for wildcards
Filters built-in domains to exclude free email address providers
Address Validation Using EasyPost API WordPress Plugin
ELEX WooCommerce Address Validation & Address Auto Complete is a powerful WordPress plugin that offers a range of features to help you validate and auto-complete addresses on your WooCommerce website.
It lets you use API calls through UPS, USPS, and EasyPost without any limitations. Connecting to these APIs lets you validate addresses so orders don't get processed. Not only does this keep the number of invalid addresses down, but it helps you save money on shipping.
Powered by Google Maps API, this plugin's Address Autocompletion is one of its most impressive features. When customers enter their addresses during checkout, the plugin will suggest them and autocomplete them. They won't get shipping errors because their addresses will be accurate.
To use the Address Autocomplete feature, you will need to have a Google Developers account. The plugin seamlessly integrates with the Google Maps API to provide accurate and real-time address suggestions.
The plugin also allows you to customize the confirmation message that appears on the Checkout page or in a pop-up window. This helps to reassure customers that their address has been validated and confirmed.
Another benefit of this plugin is that it can be used with UPS, USPS, and EasyPost for address verification. Whether you choose to validate addresses manually or automatically, this plugin provides a user-friendly interface to make the process easy and efficient.
Key Features:
Validate and process orders using only valid addresses
Ensure accurate and valid customer addresses
Auto-complete addresses using Google's address autocomplete API
Easy validation of shipping addresses with EasyPost's API
Customize confirmation messages for validated addresses
Choose between manual or automatic address validation
Customer Validate or Lookup Address WordPress Plugin
Postcode/Address Validation-WooCommerce is a helpful plugin that allows customers to easily verify and find their address during the checkout process on your WordPress website.
By implementing address validation, autocomplete, and postcode lookup, this plugin streamlines the checkout process for your customers and ensures that the information provided is accurate.
It can be expensive and inconvenient to ship to an invalid address, so make sure you use an address checker. You can use Loqate, SmartyStreets, Postcodenl, PostcodeSoftwarenet, or Fetchify if you want better invoices and a bigger profit by enabling address verification when invoicing.
If you use Loqate, you can solve addresses worldwide, whether they're residential or commercial. PostcodeSoftwarenet and Fetchify use Royal Mail data to make sure they're accurate when looking up UK addresses. However, to do a UK postcode lookup, you'll have to get on one of their low-cost plans.
The plugin also offers a postcode lookup service for users within the UK and the Netherlands. Options such as PostcodeNL, PostcodeSoftwarenet, or Fetchify provide postcode-based address searches, allowing customers to easily find and verify their addresses.
Key Features:
Address verification, auto-complete, and postcode lookup in WooCommerce checkout
Postcode address lookup specifically for the UK and Netherlands
Users can search for or verify addresses and accept suggested adjustments if needed
Auto-completion of addresses when entering the address field
Frequently Asked Questions
What are address validation and autocomplete plugins for WooCommerce?
Address validation and autocomplete plugins for WooCommerce are tools that help improve the accuracy and efficiency of address entry during the checkout process.

These plugins automatically suggest or complete shipping addresses based on a customer's input, ensuring that the address is valid and reducing the risk of errors and failed deliveries.
How can address validation and autocomplete plugins benefit WooCommerce store owners?
Address validation and autocomplete plugins offer several benefits for WooCommerce store owners. By providing accurate and validated addresses, these plugins help reduce shipping errors, improve delivery rates, and minimize the costs associated with returned or undeliverable packages.

Additionally, they enhance the user experience by making address entry quicker and more convenient, leading to higher customer satisfaction and increased conversion rates.
Why should I use WooCommerce address validation and autocomplete plugins?
Using WooCommerce address validation and autocomplete plugins can greatly improve the user experience on your e-commerce website. By automatically completing and validating addresses, these plugins save time for customers and prevent shipping mistakes.

This helps in increasing customer satisfaction, reducing cart abandonment, and improving the overall efficiency of your online store.
Conclusion
In conclusion, we have discussed the seven best WooCommerce address validation and autocomplete plugins, both free and pro. These plugins can greatly enhance the user experience on your WordPress website and ensure accurate address data for shipping and billing purposes.
If you found this article helpful, be sure to check out the BetterStudio blog for more informative tutorials and guides related to WordPress and website optimization.
Additionally, we encourage you to follow BetterStudio on Facebook and Twitter to stay updated with the latest tutorials, tips, and tricks for improving your WordPress website.
Thank you for taking the time to read this article. If you have any questions or encounter any problems while implementing these plugins, feel free to leave a comment below. Our team is here to assist you and provide the necessary support.