Are you a WordPress website owner on the hunt for the best plugins to optimize your site? Well, we've got you covered! In this article, we'll be exploring the 6 best WordPress store locator plugins of 2023, both free and paid. But what exactly are store locator plugins, and how do they benefit your website?
Store locator plugins are essential tools that allow your customers to find your business locations quickly and efficiently. They can also access vital information about your company, like operating hours, contact information, and directions.
In today's digital age, users expect websites to offer everything at their fingertips, and that includes a store locator tool. So, having a store locator plugin on your WordPress site can significantly enhance the user experience.
Without further ado, let's dive into these six amazing WordPress store locator plugins that will undoubtedly make your life much easier.
In this article, you'll find essential information about each plugin, including its features, pros and cons, and price range, so you can make an informed decision about which one suits your needs best.
Best Store Locator Plugins for WordPress
When it comes to providing a seamless user experience on your WordPress website, incorporating a store locator plugin could prove essential.
To assist with finding the right plugin for your particular needs, we have compiled a list of the 6 best store locator plugins for WordPress in 2023, both free and paid, for you to explore. Check them out below!
A Powerful And Easy To Use Location Management System
WP Store Locator is a location management plugin for WordPress that offers a simple yet powerful way to manage your store locations. It allows you to customize maps and add custom labels in input fields. The premium add-ons include a CSV manager, search widget, store statistics, and extension add-ons.
With a search widget, users can easily search for nearby store locations from anywhere on the theme and get the results displayed on the store locator page. Administrators can sort and display the results based on radius or driving directions.
This plugin offers several features that make it stand out from other store location plugins. You can add custom metadata and include essential details like phone number, email address, URL, description, and opening hours of your store.
The plugin supports WordPress multilingual plugins for added convenience. The map styles can be customized, and there are nine retina-compatible marker icons available. You can manage an unlimited number of stores and choose to display driving distances either in kilometers or miles.
Key Features:
Includes essential store details like phone number, email, description, and opening hours
Customizable map styles and retina-compatible marker icons
Customizable maps and labels
Premium add-ons, including CSV manager and search widget
Supports WordPress multilingual plugins
Manage unlimited stores
Choose to display driving distances in kilometers or miles.
A Google Maps Based Plugin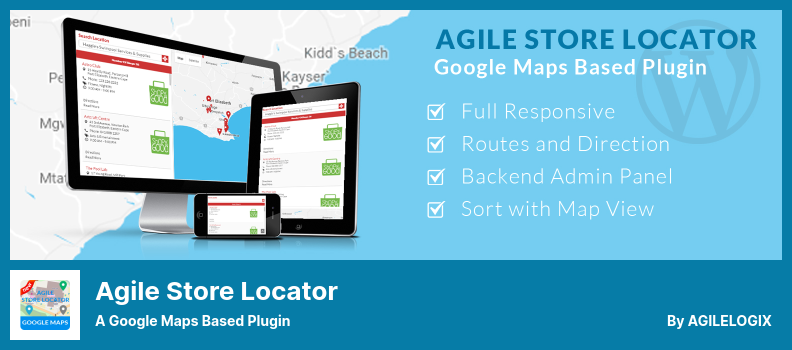 Agile Store Locator is a powerful plugin that connects with Google Maps, enabling users to find the nearest stores easily. The plugin offers an extensive range of features, making it a highly comprehensive WordPress plugin.
Along with location search, the plugin also includes Deals and Real Estate Maps, making it a one-stop-shop for locating shops. Unfortunately, the plugin seems to have some problems with JS or PHP, leading to some issues with the map.
With Agile Store Locator, you can manage an unlimited number of stores via category management to help locate the most relevant stores in the vicinity of a customer's location.
The UI in Agile Store Locator is of high quality, and there are five stunning themes to choose from for the store locator custom marker in the front-end. The Accordion template in Agile Store Locator contains a hierarchy of countries, states, cities, and stores.
Agile Store Locator enables businesses to manage categories through markers, which is ideal for businesses looking to expand and diversify their profiles. The plugin also allows businesses to manage unlimited markers in stores, an essential feature for businesses with multiple locations.
The info window on Agile Store Locator is beautiful and has multiple tabs with multiple layouts, including a listing and accordion option.
Agile Store Locator offers customizable fields to enhance user experience. The palette is used to select the UI colors for Google Maps Plugin, and there are multiple layouts with a listing and accordion option. With Agile Store Locator, businesses can offer their customers a smooth and seamless location experience.
Key Features:
High-quality user interface
Five beautiful themes for store locator custom marker
Category management for efficient store location
Unlimited markers in stores
Multiple tabs available in the gorgeous info window
Hierarchy of countries, states, cities, and stores
Accordion template available in multiple layouts
Customizable fields
Palette for selecting UI colors for Google Maps Plugin
Deals and Real Estate Maps options included
A Lightweight, Easy To Use Store Locator Plugin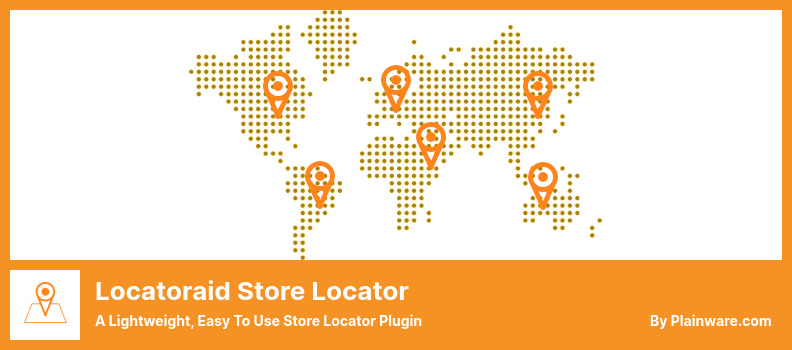 Locatoraid Store Locator is a plugin that allows users to locate different hotels, stores, restaurants, ATMs and other types of locations directly. This plugin has the function of detecting the location of visitors and providing them with the closest location options available on the map.
In addition, the plugin has an automatic geocoding function that determines the coordinates of locations once they are added. The front-end view can be customized with settings for search text, search radius, layout, and limiting searches to a state or country, among others.
With Locatoraid Store Locator, users can categorize their locations according to products and create custom map icons that fit their brand. The plugin is designed to be mobile-friendly, ensuring that users can easily locate nearby locations from their mobile devices.
One of the excellent features of Locatoraid Store Locator is its easy setup process, allowing users to get started in minutes. Additionally, the plugin implements REST APIs, which enhances its functionality and allows it to send and receive data.
With Locatoraid Store Locator, users can customize their location fields according to their needs. They can also bulk upload and export files, enabling efficient management of their location data. Moreover, the plugin comes with a custom map style that is adaptable to a wide range of worldwide activities.
Key Features:
Bulk file uploads and exports
Custom map style available
Mobile-friendly design
Customizable map icons
Easy set-up process
Categorized locations for products
Customizable location fields
A Fully Featured Store Locator Plugin
Store Locator Widget is a simple, yet powerful plugin that makes it easy for WordPress website owners to add a store locator to their website. With easy installation and addition of locations, it's an excellent choice for anyone looking for easy integration.
Customization is a breeze with this plugin, as you can easily customize it with custom Google Maps and different layouts for all themes. The rights for unlimited use and unrestricted use come with all plans, so you never have to worry about reaching the limit of locations per map.
One of the standout features of Store Locator Widget is that you can tailor the locator to fit the needs of your business. It's not limited to specific locations, so you can add any type of location requirement needed for your business.
The plugin also offers clickable search filters that customers can use to search for the stores closest to them. Additionally, customers can get directions to your location from their location with just one click. Plus, you are not restricted by your chosen plan in terms of the number of views or traffic your store locator receives.
Another great feature is the built-in distance calculator, which displays the distance to each location in real-time, allowing customers to find the closest store quickly and easily.
Key Features:
Easy installation and location addition
Customizable with Google Maps and different layouts
Unlimited and unrestricted use
Tailor to specific business needs
Clickable search filters
One-click directions to your location
No restrictions on views or traffic
Built-in distance calculator
Support for any type of location requirement
Provides Numerous Functionalities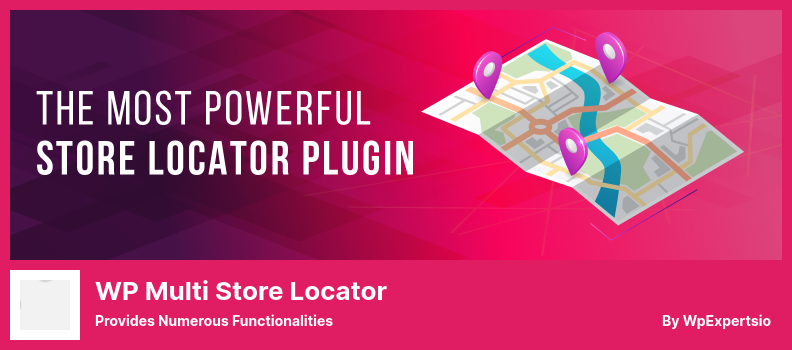 WP Multi Store Locator plugin is an effective solution for online store owners looking to implement smart location-based search capabilities on their websites.
Its free version offers various features such as store management, map style management, sale manager management, store tag management, and shortcode utilization to display a store locator.
This plugin is flexible enough to manage custom markers, store locator CSV manager, and multi-location map. Furthermore, the admin can manage their stores, categories, and sales managers from the back-end. With WP Multi Store Locator plugin, you can display search maps anywhere within a post or page and search stores by region.
One of the notable features of this plugin is that it supports Snazzy Maps styles and offers store locator documentation, allowing easy configuration and customization. It also provides valuable insights into business statistics for business owners to make informed decisions.
Users can view the name of the store and the number of markers in each cluster. Its importing and exporting feature makes it easy to handle Sales Manager data. Simply copy and paste the code into your site's source code to embed it seamlessly.
WP Multi Store Locator plugin is a powerful tool that can assist online store owners in managing their stores' locations efficiently. With its comprehensive features, this plugin is definitely worth considering.
Key Features:
Easy embedding by copying and pasting the code
Store name and marker number display
Valuable insights into business statistics
Cluster numbers indicate the number of markers
Sales Manager data importing and exporting.
A Leading Provider Of Store Locator
Bullseye Store Locator plugin is the ultimate solution for businesses that need store locator and dealer locator software. With over a decade of experience, Bullseye provides SaaS services to empower enterprises. Over 5,000 customers use the Bullseye platform, making it the go-to store locator solution due to its robust features.
Bullseye Locations offers centralized management of location information in the cloud, making it a breeze to manage and store all your location details. The plugin is designed for WordPress and provides dedicated site-specific store locator pages and standalone store finder interfaces.
One of the key features of Bullseye Store Locator is that it seamlessly integrates with your WordPress theme's styling. It is a hosted solution, which means that upgrades are carried out automatically, and users can create, customize and embed it on any website easily.
Bullseye Store Locator is perfect for non-technical users who find it difficult to work with complex software. The cloud-based solution enables businesses to capture, route, and manage leads in one integrated process.
Key Features:
Integrates seamlessly with your WordPress theme's styling
Hosted solution allows for automatic upgrades
Easy to create, customize and embed on any website
Designed for non-technical users
Cloud-based solution for managing location data
Integrated lead management process
Offers a dedicated site-specific store locator page
Provides standalone store finder interface
Supports instant configuration
Offers centralized management of location data
Frequently Asked Questions
What is a store locator plugin for WordPress?
A store locator plugin for WordPress is a tool that allows businesses to add a map and location finder to their website, making it easier for customers to find their physical stores or outlets.
Why should businesses use store locator plugins for WordPress?
Businesses should use store locator plugins for WordPress because it allows customers to easily find and visit their physical locations. This can increase foot traffic and revenue for the business, as well as enhance the customer experience.
What are some benefits of using WordPress store locator plugins?
Some benefits of using WordPress store locator plugins are improved customer experience, increased traffic to physical stores, increased visibility, easy-to-use location filters, and the ability to generate reports for future planning.
Conclusion
In conclusion, we've gone through the top six WordPress store locator plugins for 2023 that are available for free and purchase.
Each of these plugins comes with its unique set of features that can effortlessly boost the functionality of your store locator. To learn more about WordPress plugins and other related tutorials, check out the BetterStudio blog.
Keep yourself updated with the latest WordPress tutorials by following BetterStudio on Facebook and Twitter. This way, you'll never miss a new tutorial that gets added to our site.
Thank you for taking the time to read this article. We hope it was informative and helpful in guiding you toward the perfect store locator plugin for your WordPress website.
If you have any questions or problems, please feel free to ask in the comment section below, and we'll get back to you as soon as possible.