Do you want to find the best WordPress WooCommerce Pin Code Check plugin?
If you lack the time or knowledge of WordPress, we have composed a list of the best WordPress plugins for Pin Code Check that will save your time and effort. Hence, we have pulled all the plugins which are speed-optimized, cleanly coding, user-friendly, have five-star support, and SEO-optimized. Additionally, these plugins work flawlessly with top WordPress themes.
The following plugins are for WooCommerce Pin Code Check. The following plugins can also be used for WooCommerce Zip Code Checker, WooCommerce Restrict Product By Zip Code, WooCommerce Address Validation, WooCommerce Postcode Checker, and WooCommerce Delivery Checker.
📌 Note: Our article about the best advanced WooCommerce plugins can be of assistance if you are interested in finding a plugin to enhance your store. Also for choosing a good WooCommerce template, we suggest you read our article about the most popular WooCommerce themes.
Let's find the innovative plugin for WooCommerce Pin Code Check-in 2022:
Allows Users to Autocomplete Billing/shipping Address Fields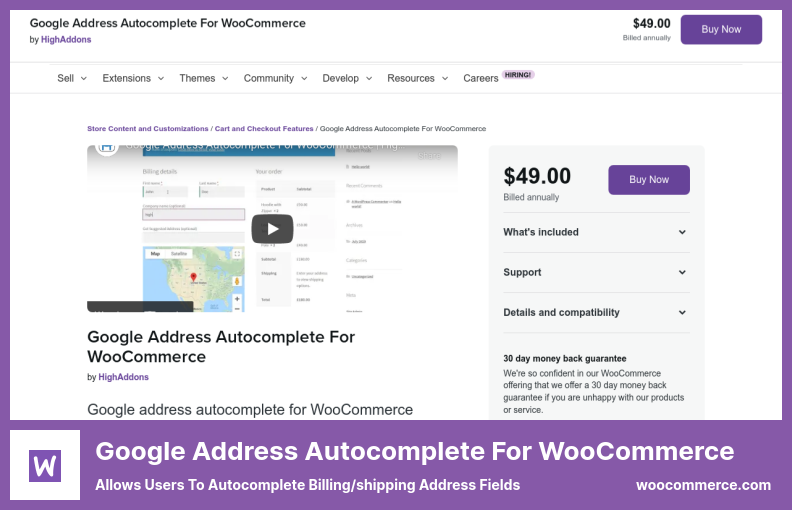 The Google Address Autocomplete For WooCommerce plugin will allow you to suggest a suitable address based on Google's Place Autocomplete service for both the billing and shipping fields.
During the checkout process, you will be asked for details concerning your address, including your street address, city, state, country, zip code, etc.
Using this WooCommerce pin code/zip code checker plugin, you can make the autocomplete feature available only in specific countries, according to your business strategy.
Customers can easily choose a valid address from a list of suggestions on the checkout page when they enter their Pincode on the website since the system suggests their country, city, and street when they enter their Pincode.
Additionally, you may disable the auto-completion function if certain countries are outside your geographical coverage.
💵 For $49, you can buy this plugin and get 12 months of support and free lifetime updates.
Key Features:
It is possible to limit the output of the auto-completed address by selecting where it will appear
If the country/region, city/state, zip code, and postal code of the form are provided, the form fields can automatically be filled in
WooCommerce restrict product by zip code option is available
You may automatically fill in shipping and billing addresses
Customers can search for addresses around the globe or specific nations
Helps to Improve Customer Service
Like Google Address Autocomplete For WooCommerce, address validation and address autocomplete for WooCommerce are currently available through the ELEX WooCommerce Address Validation & Google Address Autocomplete Plugin.
This plugin allows you to validate addresses that have been entered into your store using UPS, USPS, EasyPost, AddressFinder, etc.
This plugin lets Store Owners specify what address validation service they wish to use. The service can be implemented either before an order is placed or in the background. In contrast, an order is being set, depending on your preferences.
Aside from using Google Place AutoComplete, the software can also guess the customer's actual address based on what they entered on the shopping basket page.
In addition, the text and button displayed on the shopping basket page can be customized to match the customer's preferences. Unfortunately, clicking 'Place Order' on the checkout page displays an error message sometimes.
💵 There is a free Lite version and a $69 Premium Version.
Key Features:
Verifying the address of the user via a popup window is possible
Updates and bug fixes are provided regularly to ensure compatibility
You may customize the buttons and labels for your credit card information and your address at checkout
It is possible to choose between automatic and manual address validation in an address field
The company can verify customer addresses
Random Reviews:
I had a problem with my website, but after reporting in, I got an immediate response and a solution for the problem. The plugin operates perfectly, and I am glad about it.
Simplify Your Checkout Process
You can connect your WooCommerce store to various other services by utilizing the Postcode/Address Validation Plugin.
For this WooCommerce postcode checker plugin to detect UK addresses, PostcodesSoftware is utilized, and Smarty Streets detects US addresses. If you have an address in the Netherlands, Postcode.nl is used to verify the address.
A connector provides services that provide an address or a postcode lookup based on an address or a postcode. You can select Loqate, SmartyStreets, Postcodenl, PostcodeSoftwarenet, or Fetchify.
With Loqate's address autocomplete service, the plugin will be able to autocomplete address values that are entered and will be able to detect whether the address is residential or commercial. Unfortunately, the plugin is not currently capable of performing verification outside of the United States.
💵 The plugin is available for $49 and comes with 12 months of free support.
Key Features:
It is possible to classify addresses and geocode
The One Page Checkout will also include a lookup box and the normal checkout process
You can streamline the process by using a one-page checkout
Addresses can be located in the UK and the Netherlands using their postcodes
Help Customers Auto-fill Their Addresses On Checkout
You can automate filling in customer addresses by using the Google AutoFill Customer Addresses plugin.
For this WooCommerce delivery checker plugin to work correctly, you have to ensure that the autocomplete feature functions on the shipping and billing fields on the checkout page.
In addition, it is also possible to choose this option when editing an order in the admin area and in My Account on a customer's account. Depending on your needs, you may select only specific countries in this selection.
Furthermore, it enables the display of a Google Map on the Checkout page and its customization by selecting from a variety of themes.
Unfortunately, there is no free version of this plugin like Google Address Autocomplete For WooCommerce and Postcode/Address Validation plugins.
💵 With the Google AutoFill Customer Addresses plugin, you'll get 12 months of free support after purchasing it for the $49.
Key Features:
There is a Google map that shows the shopping cart and the location of the address
Each order will have a button that allows you to automatically fill in the shipping address
My Account provides the option of automatically populating customer addresses
The administrator can restrict access to certain countries
The Google API is used to fill in the address of the customer automatically
Store owners can choose from a wide selection of Google map themes
Billing information and shipping information can be automatically filled during checkout
To a conclusion
This was the list of the best WordPress plugins for you in 2022. They are effective. You can have a fantastic website using these.
📌 Note: Moreover, you may find our posts on the powerful WordPress blog themes of 2022 and the best WordPress blog plugins for improving your blog and boosting its subscribers and SEO.
We hope this article will be helpful to you.
Please reach out if you have any questions or suggestions about the post. We would appreciate it if you shared this article on Facebook or Twitter if you found it helpful.