Are you a WordPress website owner looking to improve your site's visibility and increase traffic or sales? If so, you've come to the right place. In this article, we'll be discussing the best local SEO WordPress plugins that can help you achieve your goals.
Optimizing your website for local searches is, in our opinion, one of the most crucial aspects of your website. Did you know that 46% of all Google searches are looking for local businesses?
This statistic clearly illustrates that having a strong local SEO strategy in place is crucial for a successful increase in foot traffic to your website. Additionally, 88% of smartphone users who perform a local search visit or call a store within 24 hours following their search.
Throughout this article, we will provide an overview of some of the most effective and best WordPress plugins for local SEO available for use on WordPress to help you optimize your website's local search results. Also, they are perfect for top WordPress themes.
Whether you want to improve your site's rankings in local search results, boost your online visibility, or entice more customers to your business, we have you covered.
Display Your Google Reviews for Free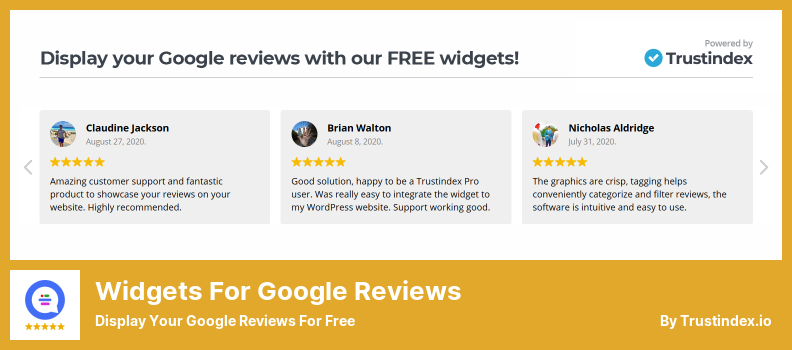 Since it can be easily integrated, as well as have numerous styles and design options tailored to any website theme available today, Widgets for Google Reviews has become very popular. This plugin lets you display your Google Reviews on your WordPress site.
The concept behind this plugin is that you can filter the reviews you want to display and hide negative feedback; it also provides language support and an SEO boost, making it an excellent tool for businesses that are looking to add credibility to their online reputation and increase conversion rates.
In addition to enhancing your business' credibility, the plugin highlights positive customer comments. As a result, businesses have become increasingly dependent on customer reviews to assist potential customers in making informed purchase decisions.
You are now ready to implement the plugin into your website, which will take only two minutes to complete. Once installed, you can concentrate on other aspects of your business while reaping the benefits of improved sales and an enhanced online reputation while you are away from your website.
As one of the best WordPress SEO plugins, Google Review widgets are a great way to show your customers' reviews on your website for free. With a user-friendly interface and a bunch of features, this plugin is a great addition to any business website trying to get more customers.
Key Features:
Provides language support for non-English speaking customers
Assists potential customers in making informed purchase decisions
Easily integrated into any WordPress site
Enhances business' credibility by displaying positive customer comments
Boosts website's SEO to increase online visibility
Display only positive reviews and hide negatives
One of The Best SEO Plugin for WordPress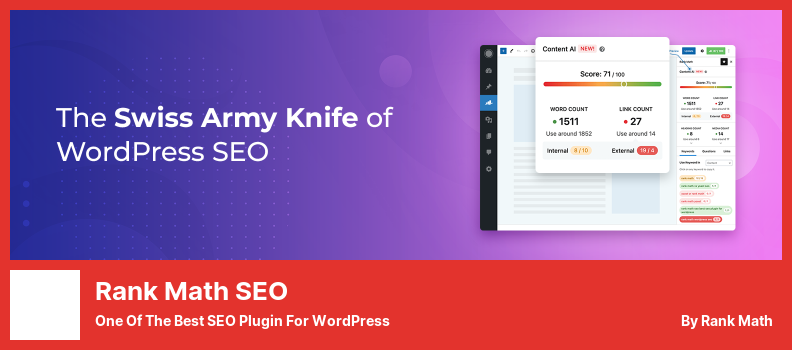 The Rank Math SEO plugin is a great solution for improving your website's search engine optimization. It comes with all the features that you could ever want from multiple WordPress SEO plugins and yet nobody has ever complained that it speeds up your website a lot or makes it clunky.
In addition to activating a schema module automatically on your website, the plugin makes it easy to add Schema markup to WordPress sites, giving search engines the granular information they need. Your site can experience a significant increase in traffic as a result.
This plugin also includes local SEO benefits such as showing star ratings on Google, further making your site stand out from the competition and attract more visitors.
With the plugin's intelligent features and automation, optimizing your posts for SEO is easier than ever. This plugin helps level the playing field and increase traffic for your site thanks to its well-designed interface and years of development by MyThemeShop.
In summary, Rank Math SEO definitely deserves attention if you are seeking an SEO optimization plugin that can enhance your efforts and make them much more effective. In other words, Rank Math SEO can significantly improve your SEO efforts and make them more effective.
Key Features:
Offers a complete, all-in-one solution for improving website SEO
Includes local SEO benefits like showing star ratings on Google
Offers an automatic schema module
Comes with features from multiple WordPress SEO plugins
Speeds up the website and does not make it clunky
A well-designed interface that levels the playing field
The Easiest Way to Use Google Maps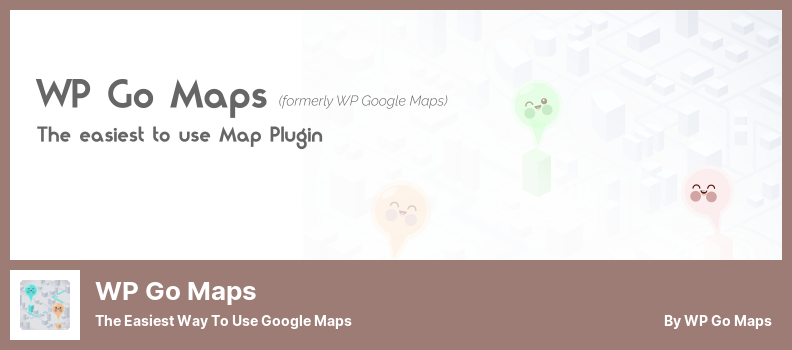 A local SEO WordPress plugin, WP Go Maps, allows you to add Google Maps to your website to improve local search results. You can create your own custom maps with this plugin, adding multiple locations within a given area and including storefront images that use Google Streetview.
You can add a customized Google map or Store Locator to your WordPress posts or pages using the shortcode provided. It's the easiest-to-use Open Layers Map Plugin on WordPress. Maps for contact pages, delivery areas, and routes are perfect for it.
The free version allows unlimited markers to be added to Google Maps. However, upgrading to the Pro version will allow you to create Elementor maps, blocks, and widgets. It has Elementor map block integration that makes it even easier to use.
As a bonus, the Pro version supports Classic Editor widgets for WordPress installations so you won't have to compromise on anything when it comes to adding high-quality markers on your maps with explanations, images, categories, links, and directions.
This plugin is a must-have for any business looking to improve their local SEO. You'll love its easy-to-use, customizable features. If you want to rank higher in local searches and boost your website traffic, try WP Go Maps out!
Key Features:
Shortcode provided for easy integration into WordPress
Unlimited markers can be added to Google Maps
Improves local search results by adding Google Maps
Allows you to create custom maps with multiple locations
Allows for Elementor map block integration
Supports Classic Editor widgets for WordPress installations
a Great Way to Improve The Presence of Your Business On Google
If you have already set up your Google Business Profile, then dropping your articles directly into it is quite straightforward by using the 'Post to Google My Business' WordPress plugin that you just downloaded.
As a result of using this plugin, you will be saving a lot of time and effort since you won't have to worry about manually updating your Google Business Profiles every single day, which can be a very time-consuming task.
This plugin will allow you to create custom posts for events, product updates, and more from within your WordPress dashboard without the need to log in to Google My Business every time.
You can use this plugin's Auto-Post feature to publish your most recent WordPress post instantly on your Google Business Profile based on a preset template and featured image. Without wasting any time, you can improve your website's visibility on Google and gain SEO benefits.
When using this plugin, your Google account is protected using the official API and secure oAuth authentication. You can focus on other important aspects of your business and keep your Google Business Profile updated with the help of this plugin.
Key Features:
Improves website visibility on Google
The auto-Post feature is included
Saves time with no need to manually update
Allows for focus on other important aspects of the business
Uses official API and secure oAuth authentication
Effortless updating of Google Business Profile
Build Customer Trust and Boost Your Sales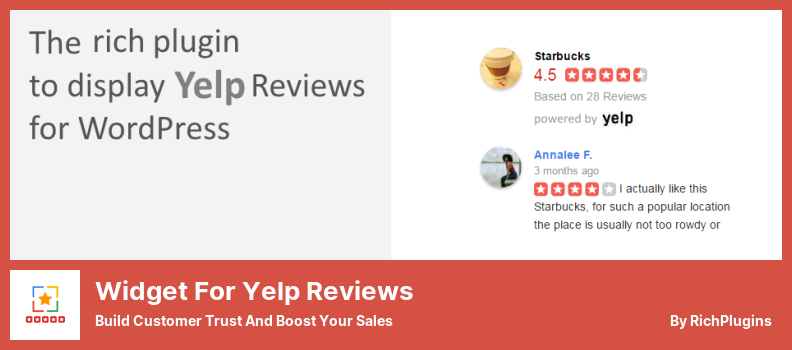 "Widget for Yelp Reviews" is an excellent WordPress plugin that will help you to make your business' reputation known throughout your website and increase customer trust. You will be able to display reviews from Yelp as a widget on your website in the sidebar.
As everything is stored inside the WordPress database, you are not depending on external services to display your reviews, unless you want to do so. In that case, you may choose to use Yelp as your reviews display service.
This plugin has a lot of features that can help you take your business to the next level, and it is extremely easy to use even for beginners. For instance, the plugin has a Business version that is filled with unique features and ensures outstanding performance for businesses.
This is an absolutely fantastic plugin, but you need to possess the Yelp API key in order to be able to use it. You can get the API key by creating a free Yelp account and then creating your own Yelp application.
We have no doubt whatsoever that the 'Widget for Yelp Reviews' will be a game changer for any business trying to enhance its online presence or to promote its reputation in search engines, due to the fact that it is incredibly flexible and reliable.
Key Features:
An option to use Yelp as your reviews display service
Eliminates dependence on external services
Display Yelp reviews on your website with a widget
User-friendly and easy to use, even for beginners
Incredible flexibility and reliability
Achieve increased customer trust and enhance online presence
Displays Facebook Page Reviews and Recommendations
Your Facebook page reviews can be displayed on your website using Social Reviews & Recommendations, a WordPress plugin. To display all reviews, you need admin rights to the Facebook page and use the Facebook Graph API. You can use a widget or shortcode on any page.
In addition to increasing user trust and sales, the plugin also displays Facebook Page Reviews and Recommendations on your WordPress site. The majority of people read reviews on social media platforms before making a purchase, so displaying them on your website could boost your sales.
You need to own the Facebook page whose reviews you want to display on your WordPress site in order for it to work, as described in the plugin documentation. Your WordPress site will automatically display all reviews and recommendations derived from the Facebook page once you gain access to it.
You can use Social Reviews & Recommendations to show off reviews and recommendations from your Facebook page on your website and increase sales as a result. Your business's growth will be boosted by providing trustworthy reviews.
Key Features:
Integrates Facebook reviews and recommendations with WordPress
Widgets and shortcodes are available to display reviews
Displays all reviews and recommendations from the Facebook page
Provides trustworthy reviews to potential customers
Grows business with positive reviews
Increases user trust and potentially boosts sales
Gives You a Complete Track of All Your Inbound Calls
You need CallRail Phone Call Tracking if you want to measure local search success. Your inbound calls can be tracked and you will receive detailed information about each caller and their visit to your site with this WordPress SEO plugin.
You can make informed decisions about what strategies are working best for your business thanks to the plugin since it gives you complete visibility into your digital marketing efforts. With the plugin, you can surface and connect data from calls, forms, chats, and more.
You can gain detailed information about each caller's source and web session by using the Dynamic Number Insertion process in this WordPress plugin. By doing so, you can understand not only where leads are coming from, but also how users interact with your website before calling.
The form tracking tool also lets you track users' actions on your site before they submit forms and attribute form submissions back to their source. In order to boost conversions, it's particularly useful.
A marketer that wants to optimize their local search strategy and boost conversions needs CallRail Phone Call Tracking. A WordPress plugin that takes digital marketing to the next level with its intuitive interface and powerful features.
Key Features:
The form tracking tool is provided
Tracks inbound calls
Complete visibility into digital marketing efforts
Attributing interactions is possible
Dynamic number insertion is included
One of The Best Click to Call Button for WordPress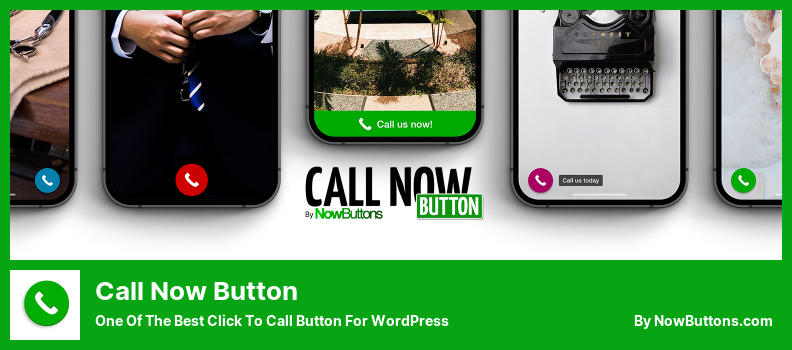 The Call Now Button plugin boosts your Local SEO in a lot of ways. It gives you a 'Call Now Button' so customers know where your phone number is. Using this feature, you'll be able to reach out more often to potential customers, which leads to more sales and in-store visits.
You don't have to have mobile users navigate to your contact page or copy/paste your number manually anymore when you use this plugin. It's as simple as clicking the Call Now button on a mobile device and getting in touch with you.
This plugin is easy to use and install so you don't need technical skills. Whenever you create a Call Now button, it appears at the bottom of your website, so visitors can always use it no matter where they are on your website.
It is undoubtedly a must-have WordPress plugin if you want to boost your local SEO ranking, increase sales, and make getting in touch with potential customers easier. Among the best plugins for local businesses, it integrates seamlessly, is easy to use, and is effective.
Key Features:
Increases sales and in-store visits
Effective in improving local SEO ranking
Creates a 'call now button' for visitors
Boosts local SEO
No need for mobile users to navigate to the contact page
Seamless integration with WordPress
FAQs
What are Local SEO WordPress plugins?
Local SEO WordPress plugins are add-ons that can be installed on WordPress websites to improve their visibility in local search results.

A plugin such as this could help businesses optimize their websites for local search by implementing features such as local keyword optimization, location-based content creation, as well as Google My Business integration to maximize their online visibility.
Why do businesses need Local SEO WordPress plugins?
Businesses need Local SEO WordPress plugins because they help them rank higher in local search results, which increases their chances of being found by potential customers in their area.

By optimizing their website for local search, businesses can attract more targeted traffic, improve their online reputation, and ultimately increase their sales and revenue.
Are Local SEO WordPress plugins easy to use?
Plugins designed for Local SEO WordPress are easy to use even for non-technical users. They have user-friendly interfaces and offer step-by-step installation instructions. In addition, many plugins provide documentation and support.
Conclusion
Using this article, you'll find out about some of the best locally-oriented SEO WordPress plugins available. You can greatly increase your online presence with many of these plugins because they're easy to use.
📌 Note: Don't forget to check out our article on the useful WordPress themes for bloggers and our list of the best WordPress hosting companies.
If you want more information about WordPress or website optimization, be sure to check out BetterStudio's blog. You might find BetterStudio useful in the future as it covers a variety of topics related to WordPress and website optimization.
In the meantime, you can keep up with what BetterStudio is doing on its Facebook and Twitter pages for updates and new features. So follow them to see what's new and what's useful in the future!
You can contact us if you have any questions or problems about this topic by leaving a comment below so that we can assist you in any way that we can by answering your questions and offering you any tips you might need!