Are you looking for an effective way to add auction functionality to your WordPress website? Look no further! In this blog post, we've compiled a list of the 7 best WordPress auction plugins for 2023, both free and paid.
With the massive growth of e-commerce, online auctions are becoming more and more popular. Auctions provide a great way for sellers to maximize profits, while buyers can score amazing deals. But how do you choose the right WordPress auction plugin for your website? Our article will guide you through the top options and help you make an informed decision.
In this post, we'll provide a comprehensive overview of the 7 Best WordPress Auction Plugins. We'll highlight the features, price, and benefits of each plugin, so you can choose the one that best fits your needs.
Whether you're a small business owner or a major blogger, this article is a must-read if you want to create a successful auction website.
Best Auction Plugins for WordPress
If you're looking to add an auction feature to your WordPress site, you're in the right place. In this article section, we have listed the best auction plugins for WordPress in 2023 – both free and paid. Check out these top-rated plugins to find the perfect match for your website's needs.
Ultimate WordPress Auction Plugin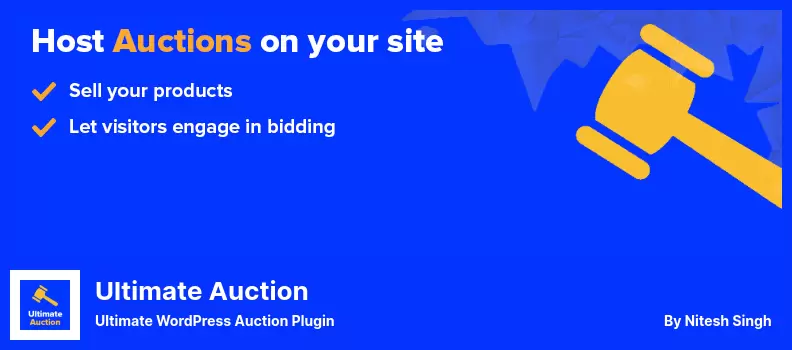 Ultimate Auction is a powerful WordPress plugin that lets you add auctions to your WordPress website or WooCommerce store with ease. With this dashboard, you can add auction products, set bid times, and manage your auctions hassle-free. Payment can be made via PayPal in the free version.
This plugin lets you categorize and search for active offers and transfer them to one system at once. When a price is set, it sends an email to people who have offered lower prices, telling them about the auction process. With AJAX enabled, you won't have to reload your website each time you make a change.
The Ultimate Auction plugin also enables multiple vendors to be integrated into WooCommerce. Sellers can auction off their products on your operating system with this feature.
Its user-friendly interface doesn't require technical knowledge, so you can use it without problems. Conducting a WordPress auction on your website is easy with this plugin, and your registered users can also set their own bids.
Key Features:
Private messages can be sent to each auction page individually
A live auction selection can be displayed on the auction feed page
This plugin facilitates better payment management
Your buyers can post comments on any page, giving them more engagement
You can also conduct virtual product auctions with this plugin
It includes shortcodes that are only available with the upgrade
Auctions Plugin for WordPress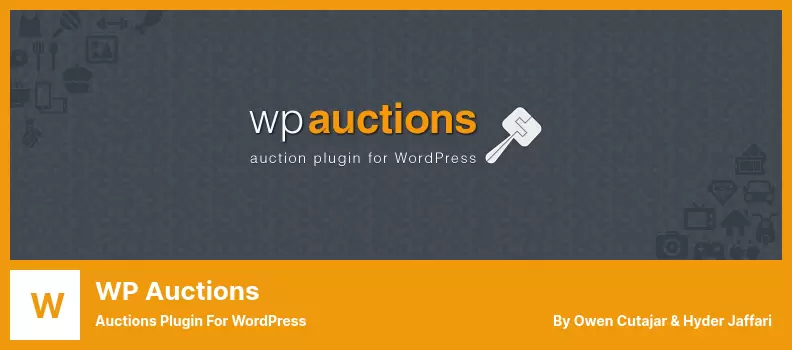 WP Auctions is an excellent WordPress plugin that allows you to set up and run auctions within your website. It's effortless to use; all you need to do is set the starting prices, dates, and wait for bids.
The highest bidder will receive notifications and can go to a PayPal payment page for payment or pay manually through email. You can post your auctions anywhere, such as pages, posts, or sidebar widgets.
WP Auctions allows you to customize your auctions in various ways. You can add prices, shipping costs, and custom contact fields. You can attract users to participate in auctions quickly with built-in list and graphic formats.
A global bid increment can be set for all auctions, and only registered users can participate. With WP Auctions, users can upload high-quality photos, making the auctions even more appealing.
Key Features:
Attach auctions to posts or pages
Set prices and shipping costs
Customizable contact fields available
Choose between list and graphic formats
Set a global bid increment
Allow only registered users to participate
Users can upload high-quality photos
See all bids with an easy summary view
Choose to bid manually or via PayPal
Multiple auctions can be run at once
eBay Products on Your Site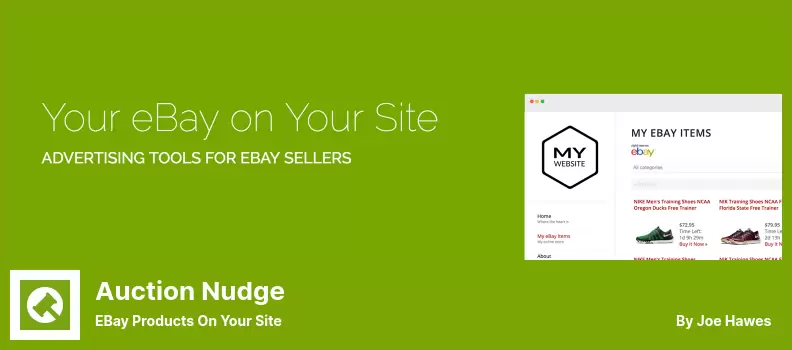 Auction Nudge is a WordPress plugin that allows you to display your eBay products on a separate website. With both a free and paid version, you can customize the plugin to your liking.
The paid version includes features such as SEO, an ad blocker, and more. Not only is it simple to install and set up, but the plugin is also fully responsive and can be accessed from any device.
One of the best parts of Auction Nudge is that you can apply your own design through custom CSS. The plugin is compatible with JavaScript, so you can easily make advanced settings.
You won't need any other related plugins; your users can view up to 100 product listings at once. Additionally, with the plugin, you can filter products and display your eBay profile and feedback with no problems.
Key Features:
Integrate eBay products onto a separate website
Quick and easy installation
Customizable CSS code
Fully responsive and accessible from any device
Display up to 100 product listings at once
Filter products and display eBay profile and feedback
No need for additional plugins or add-ons.
YITH Auctions is an incredible addition to your WooCommerce store. With this powerful plugin, you can create auctions and bidding options for your products, allowing users to submit their bids through the email.
It lets you specify the auction start time and end time. This plugin is compatible with all payment gateways and WooCommerce processes.
One of the outstanding features of YITH Auctions is its compatibility with WooCommerce Multi-Vendor Plugin. You can create an auction for your products and services, and each user can create an auction, with you receiving a share of the proceeds.
The plugin offers flexibility, and you can set the minimum price for the starting bids, specify the minimum bid amount, and allows users to purchase products at fixed prices.
The plugin is designed to end bidding automatically once a product is purchased, and the auction can be closed at a specific time using the countdown timer, adding a high level of convenience.
You can also customize item listing displays according to your preference, and send email notifications to users regarding auction results.
Key Features:
Specify minimum starting price
Set minimum bid amount
Fixed price purchasing option
Automated end of bidding on product purchase
Countdown timer for auction closure
Customizable item listing displays
Email notifications for auction results
Simple Auctio for WooCommerce

WooCommerce Simple Auctions plugin allows WooCommerce website owners to conduct auctions for their products. Buyers can bid on specific products, and the highest bid can be submitted via the plugin.
This plugin does not have any advanced or custom settings, but it offers several features that can meet your auction needs. The plugin adds features to the 'add product' page, the WooCommerce settings page, and the WooCommerce admin panel.
With this plugin, auctions can be set for a specific date and time, and they will begin and end at the specified time. This plugin allows WooCommerce store products to be quickly sold in an auction, which creates competition among your site users.
If you plan to launch an auction site using WooCommerce, WooCommerce Simple Auctions plugin is an excellent choice to consider.
Some key features of this plugin include an auction filter for products in the management section. Customers can download or create auction products virtually, set a minimum auction price, and define a fixed price for instant purchase at auction.
Creating a second batch of auction items is possible, and there is a separation between auction products and WooCommerce products. Finally, the plugin is compatible with the WPML plugin.
Key Features:
Auction filter for products in the management section
Download or create auction products virtually
Set a minimum auction price for products
Conduct auctions at a specific time
Define a fixed price for instant purchase at auction
Create a second batch of auction items
Separation between auction products and WooCommerce products
Compatibility with the WPML plugin
Quick auction setup process
Competitive auction environment provided.
Auctions Made Easy for WooCommerce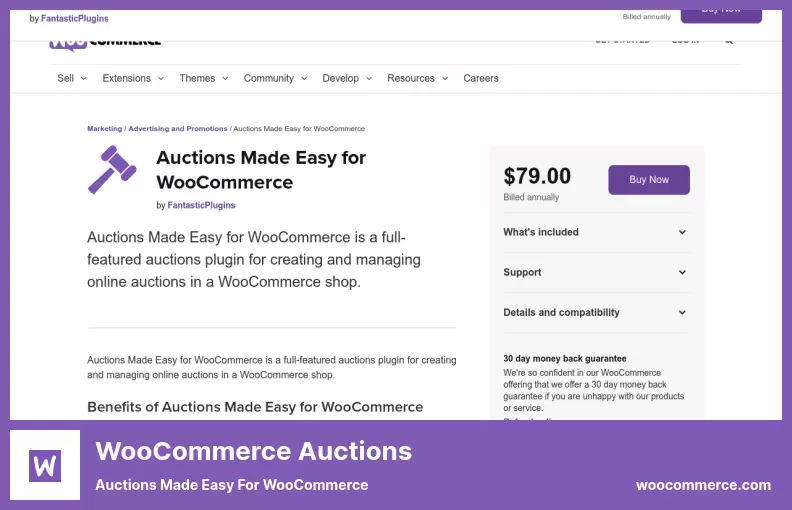 WooCommerce Auctions is an easy-to-use auction plugin designed for WooCommerce stores. It allows customers to access their auction dashboards and participate in different types of auctions like reverse, sealed, and proxy auctions.
By adding an auction product to your WooCommerce store, you can create a FOMO effect on the product page with the help of a countdown timer.
One of the best things about this plugin is that it supports multiple payment gateways and integrates with popular WooCommerce tools and plugins, making your site more efficient. You can also send alerts to your users about payments and other activities via email and provide decent support for your customers.
With WooCommerce Auctions, your site can host standard and professional auctions effortlessly. The plugin is easy to install and configure, and you can reactivate your offers at any time without worrying about them expiring.
If you need to, you can also send SMS notifications to your customers. The plugin also supports tracking of price offers and navigation.
The paid versions of this plugin come with additional features like navigation and customer suggestions tracking. Overall, WooCommerce Auctions is a reliable and feature-packed plugin that can help you add auctions to your WooCommerce store with ease.
Key Features:
Email notifications for payment and activity tracking
Easy installation and configuration
Integration with multiple payment gateways and WooCommerce tools
FOMO effect with a countdown timer
Support for different types of auctions
SMS notifications available
Price tracking and navigation tracking
Additional features in the paid versions
WordPress eBay Products Feed Widget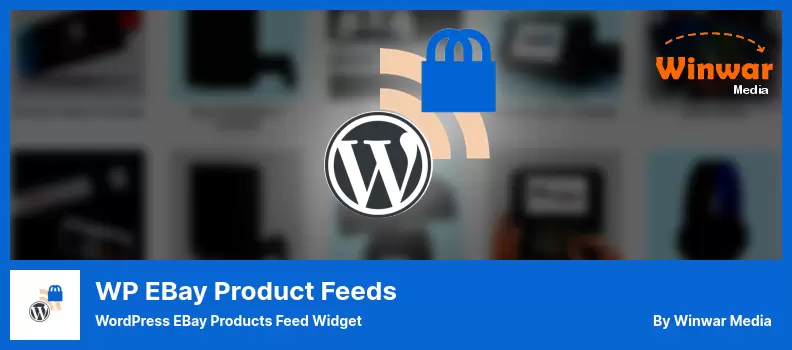 WP eBay Product Feeds is an exceptional plugin for eBay sellers that want to create affiliate marketing websites. It's also a standalone plugin that enables users to connect to their eBay account and submit a quote.
The plugin can be integrated with WordPress Auction and WooCommerce auction plugins, and it's flexible enough to display your auctions the way you want them to be displayed.
One of this plugin's fantastic features is that you can create eBay links using Affiliate IDs, which saves you the stress of adding them manually. Moreover, this plugin supports both the new and old WordPress editors, Gutenberg, ensuring that you use it with whichever editor that you prefer.
WP eBay Product Feeds comes with templates that you can select to fit your preferences, and it provides the option to convert eBay site links to eBay affiliate links. If you have any issues using the plugin, there's a strong support team that you can reach out to for help.
Plus, you can access a range of documents and tutorials that will help you understand how to use this plugin in no time.
Key Features:
Wide range of documents and tutorials
Templates to fit your needs and preferences
Create eBay links using Affiliate IDs
Option to convert eBay site links to eBay affiliate links
Supports the new and old WordPress editors, Gutenberg
Strong support team
Frequently Asked Questions
What are auction plugins?
Auction plugins are add-ons for WordPress websites that enable users to run an online auction. These plugins can be used to sell various products, both physical and digital, and come with a range of features to support auctions, such as bidding, auction end times, and auto-bidding.
What are the benefits of using an auction plugin?
Using an auction plugin can offer several benefits to website owners. First and foremost, it provides an alternative selling method to traditional e-commerce, making it a great way to liquidate slow-moving inventory or clear out overstocked products.

Auctions can also create a sense of urgency and competition among buyers, leading to higher bid values and potentially improved profits. Additionally, auction plugins often come with advanced tracking and reporting features, allowing for data-driven optimizations of your auction strategy.
Can auction plugins be used for any type of product or service?
Yes, auction plugins can be used to sell virtually any type of product or service. Some common examples include clothing and accessories, electronics, art, collectibles, domain names, and even experiences like vacations or concert tickets.

Additionally, auction plugins can be useful for service-based businesses, such as freelance writers or designers, who want to offer their services on a per-project basis instead of a flat fee.
Conclusion
In this article, we have discussed the 7 best WordPress auction plugins in 2023, both free and paid versions. Each plugin comes with its unique set of features, so it's always best to consider what you need before choosing the one that's right for you.
For more related tutorials, you can check out BetterStudio's blog. We offer a plethora of articles covering various aspects of WordPress, from theme and plugin reviews to development tutorials and marketing insights.
If you want to stay up-to-date with the latest news and tutorials, be sure to follow BetterStudio on Facebook and Twitter. We're always sharing new content, insights, and updates to help you improve your WordPress experience.
Thank you for reading this article, and we hope you found it helpful. If you have any questions or problems with any of the plugins we discussed or would like to share your thoughts, please leave a comment below. We always appreciate feedback from our readers.