Do you need the best auction WordPress plugins to add auction functionality to your website?
Making the most of a WordPress plugin requires a lot of research. There are a lot of capabilities integrated with specific features. Which one is right for you?
Throughout this post, we will explore the best WordPress Auction plugins. By using them, you can set up your site right away without spending a lot of time searching for and detecting a crowded list of tools. These WordPress plugins have the best features, support, and straightforward interfaces to get you up and running quickly and are working with all WordPress themes.
Our plugin listing contains auction plugins as well as plugins associated with Auction Widget, and WooCommerce Auction.
Check out our top picks for top WordPress Auction plugins in 2022:
Ultimate WordPress Auction Plugin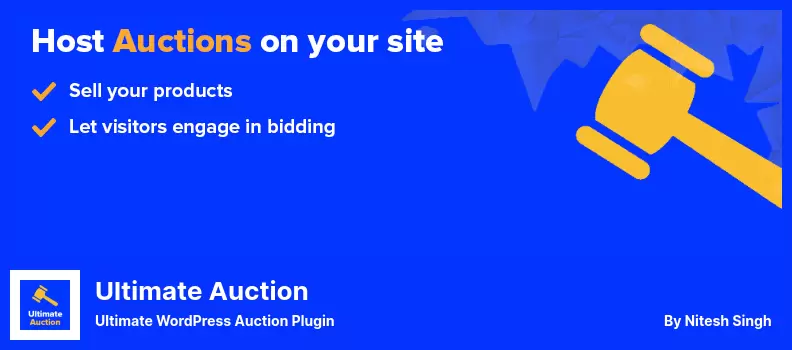 You can use the Ultimate Auction plugin to add auctions to your WordPress website or WooCommerce store. With a dashboard, you can add auction products, set bid times, and manage your auctions. Payment can be made via PayPal in the free version.
The Ultimate Auction WordPress plugin doesn't require technical knowledge, so you can use it without problems.
A WordPress auction can be conducted on your website with this plugin activated. Your registered users will also be able to set their own bids.
This plugin functions by sending an email to people who have offered lower prices, telling them about the auction process when a price is set. Additionally, AJAX will be enabled so that you won't need to reload your website each time you make a change.
Additionally, you can categorize and search for active offers using this plugin. Moreover, all offers can be transferred to one system at once.
Additionally, it allows multiple vendors to be integrated into WooCommerce. Sellers can auction off their products on your operating system with this feature.
---
💵 The plugin is available in a Lite and a Premium version. The Premium version costs $, while the Lite version costs $0.
Key Features:
There are a lot of operators and features offered by this plugin, so you can focus on your site auctions
Private messages can be sent to each auction page individually
A live auction selection can be displayed on the auction feed page
This facilitates better payment management
You can also give your buyers the option to post comments on any page
You can also conduct virtual product auctions with this plugin
The plugin allows you to accept payments
It includes shortcodes, which you can only use if you upgrade
Random Reviews:
It works well, but the support is slow and ridiculous. The money back guarantee is exhausted since the developer insults us by thinking we want to steal the code. No response after four days of enforcing the money back guarantee, Paypal issue escalated to claim to resolve the communication problem.

When our Society for Photohistory holds auctions containing cameras from the past, the free version works perfectly.

I highly recommend this plugin. The support is excellent.
Auctions Plugin for WordPress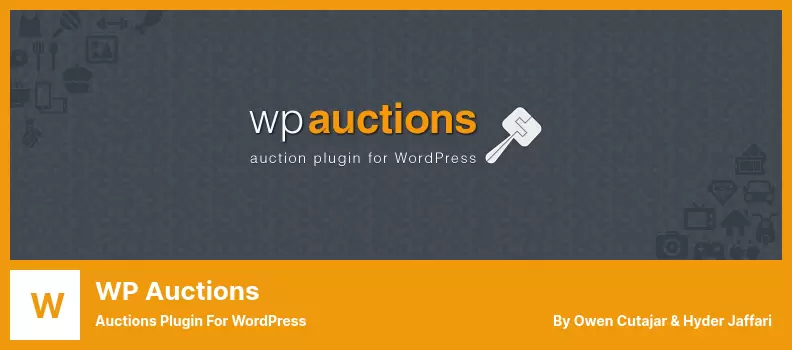 You can also use WP Auctions to conduct auctions within the WordPress environment. With this plugin, you can easily set starting prices and dates for your auctions and wait for bids to arrive.
You can include auctions in posts, pages, or sidebar widgets on your website. If you prefer, you can manually edit your WordPress theme's template tag to show the auctions.
Once the winning bid is selected, you can direct the winner to a PayPal payment page. Alternatively, you can accept payments manually or send an email to the user.
Due to limited payment options and the lack of many features, it is not as powerful as some other plugins on the list. This is an excellent option for those who don't wish to install an e-commerce plugin.
---
💵 There is a $39 for the Premium version and a free version for the Lite version.
Key Features:
An auction can be attached to a post or page
You can add a price and a shipping cost
Customize contact fields, Request phone numbers, and more
List and Graphic formats are available for auction displays
A global bid increment can be set for all auctions
Only registered users can participate
Users can upload high-quality photos for the auction
Random Reviews:
The plugin programming could be improved. For example, there is no way to change the annoying capitalization in every sentence. Additionally, the date format and the keyboard shortcuts can't be changed. Furthermore, it's not possible to translate the plugin 100%. It's bad when different languages are mixed up. This. Really, really stinks when it comes to internationalization in plugins.

A plugin with the most annoying interface I've seen. Docx is obsolete and the UI is just as bad. This topic was modified 2 years, 5 months ago by

What is the point of having an auction on my own? No one else has access to the dashboard, so they cannot add anything
eBay Products on Your Site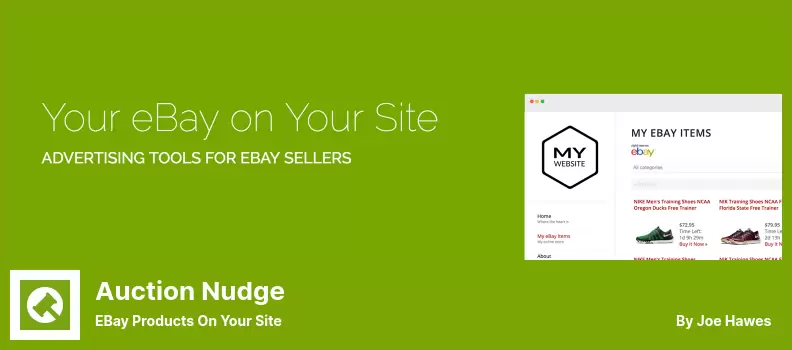 Think about displaying your eBay products on another website when you have an eBay account. A WordPress plugin like Auction Nudge is the best option in that case.
You do not need any other related plugins with the Auction Nudge WordPress plugin. Your users can view up to 100 product listings at once. Additionally, you can filter products and display your eBay profile and feedback with no problems.
This plugin also provides you with the option of applying your own design through custom CSS. In addition to being compatible with JavaScript, this plugin allows you to make advanced settings.
Indeed, the Auction Nudge plugin is a perfect option if you are looking for a handy product auction plugin for your WordPress site.
As well as the free version, a paid version is available that includes features such as search engine optimization (SEO), an ad blocker, and more.
---
💵 This is a Free service with no charge!
Key Features:
Your eBay products can be integrated into a separate website with this plugin
You can customize the CSS code to your liking
You can install and set this plugin up very quickly
It can be accessed from any device. It's fully responsive
Displaying 100 products at once
It is possible to display the views and feedback posted on eBay on your auction website to demonstrate that you are an experienced and professional seller
You will demonstrate that you are an experienced and professional seller by using this plugin
Random Reviews:
Having tested a few eBay plugins, I was hoping to find something that didn't force features I didn't want or become overly complicated. All I wanted was a way to list my items and show my feedback, and this plugin provided me with just that. It's extremely easy to set up, and I'm very pleased.

*Apologies that listings are only shown once. For example, I would have liked to be able to show multiple listings in the footer. On certain posts, I'd like only one listing to highlight the item being reviewed. I hope this is possible in the future.

There is nothing better for the price. Highly recommended.
Auctions for WooCommerce
Yith Auctions is a powerful WooCommerce plugin that provides auctions and auctions for your products. User bids can be submitted through this plugin, the auction's end time and start amount can be specified, and users can submit bids by entering their email addresses.
As for the integration with payment gateways and normal WooCommerce processes, this plugin is compatible with all of them.
YITH Auctions plugin lets you create auctions for your products and your services.
It is possible to create an online auction portal with the YITH
WooCommerce Multi Vendor plugin. Each user can create an auction with the plugin, and you will receive a share of the proceeds.
---
💵 With this plugin, you will get all the updates and 12 months of support time. It charges $115.
Key Features:
The minimum starting price can be set
You can specify the amount of the minimum bid
The possibility of purchasing the product at a fixed price
Bidding automatically ends once the product has been purchased
The auction may be closed at a certain time by adding a countdown timer
Display items in in-store auctions according to your preferences
Send users email notifications of auction results
Simple Auctio for WooCommerce

It allows you to auction off a product on your WooCommerce website with the Simple Auctions Plugin for WooCommerce. Buyers can submit their offers for specific products using this plugin. The highest bid can also be submitted by the buyer utilizing this plugin.
With this plugin, your WooCommerce store products can be quickly sold in an auction. You create competition between your site users by auctioning products on your site.
Users will determine your product's price by using this plugin; therefore, your product will be sold for the highest price possible.
An auction can be set for a specific date and time. The auction will begin at the specified time and end at the specified time.
There is no advanced and custom settings panel in WooCommerce's simple auctions plugin. It will meet your needs simultaneously. The plugin will only add new features to WooCommerce's add product page, the WooCommerce settings page, and the WooCommerce admin panel.
If you plan to launch an auction site using WooCommerce, this plugin may be a good choice.
---
💵 Its price is its price.
Key Features:
In the management section, there is an auction filter for products
Customers can download or create auction products virtually
Customers can set a minimum auction price for products
Auctions can be conducted at a specific time
The ability to define a fixed price for instant purchase at auction
The ability to create a second batch of auction items
A separation between auction products and WooCommerce products
Compatibility with the WPML plugin
Random Reviews:
This was the perfect item for the job. Everything worked flawlessly. Thank you!

Perfect plugin and perfect support, thank you

I am highly recommending this plugin for auctions. It has excellent documentation and support from WPGenie.
Auctions Made Easy for WooCommerce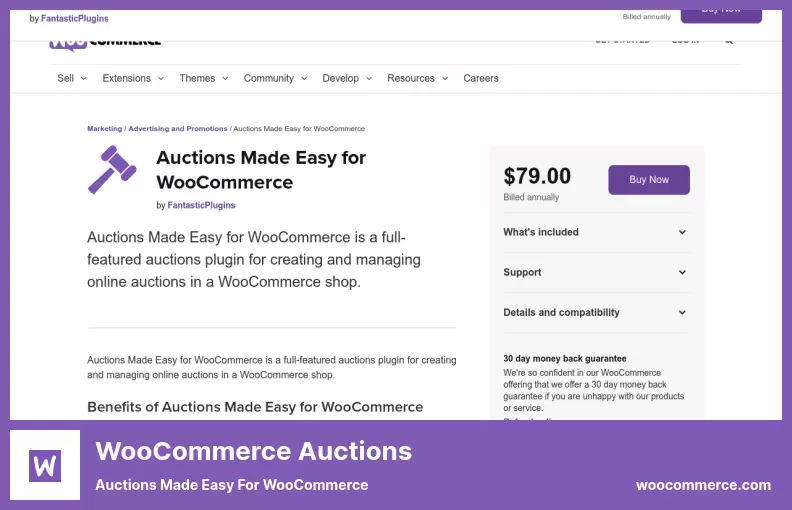 Built explicitly for WooCommerce stores, Auctions Made Easy for WooCommerce is an auction plugin for WordPress. It lets customers log in and view their auction dashboards, including reverse auctions, sealed auctions, and proxy auctions. Customers may bid on auctions and pay for access to see them.
You can use a variety of payment gateways with Auctions Made Easy for WooCommerce and make your site more efficient by using popular tools and plugins for WooCommerce.
With the help of a countdown timer, these auction products create a FOMO effect on their product pages.
Adding an auction product to WooCommerce works the same way as adding any other product. You can set up the program, the initial bid, and other settings when you set up the product as an auction.
Using this plugin, you can send alerts to your users about payments and other activities via email. Also, after your buyers make offers, you can send them information and provide decent support for your users.
---
💵 The WooCommerce Auctions is an excellent plugin at a fair price.
Key Features:
Email notifications of payment and other activities can be sent to your users and contacts with this plugin
Your site will be able to host a standard and professional auction with the help of this plugin
With your offer reactivable at any time, you no longer need to worry about it expiring
This plugin is easy to install and configure
In addition, it integrates a countdown timer
Sending SMS notifications is also supported
Tracking a price offer and navigation is also supported
Paid versions of this plugin offer additional features like navigation and customer suggestions tracking
WordPress eBay Products Feed Widget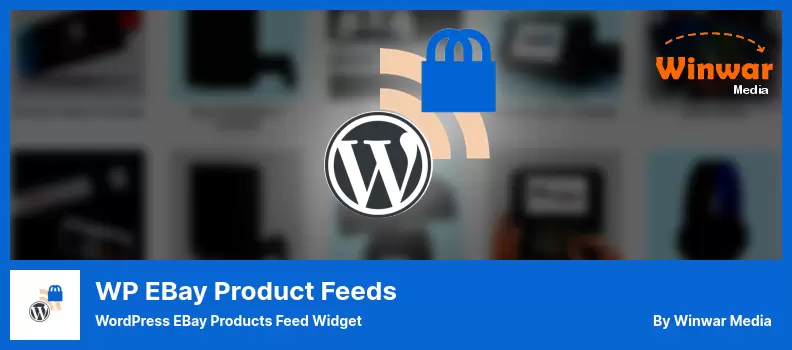 This plugin can display your eBay auctions on your WordPress website. This is an excellent tool for eBay sellers who already sell on eBay and want to create affiliate marketing websites.
Using a third-party service, you can easily use this plugin by adding an eBay ID and converting it into an RSS feed. Following that, you can choose how the products should be displayed in your feeds.
Using the WP eBay Product Feeds plugin, you can show your existing customers that you are an active seller.
It can also be used as a standalone plugin for submitting a quote to your eBay account. The WordPress eBay Product Feeds plugin can be used with WordPress Auction and WooCommerce auction plugins.
The Gutenberg block editor is also supported by this plugin. You can view the auction feed from anywhere on your website.
---
💵 Downloading the Lite version is free, but you will have to pay $price to download the Pro version.
Key Features:
Templates are part of the plugin, so you can choose the template that suits your needs and tastes
Using this plugin, you can create eBay links using Affiliate IDs
Provides the option to convert eBay site links to eBay affiliate links
Integrated with both the new and old WordPress editors (Gutenberg)
If you have any problems with the WP eBay Product Feeds plugin, they have a strong support team that can assist you
You can quickly learn how to use the plugin from its many documents and tutorials
Random Reviews:
I think this is a good plugin if you're just starting with WordPress. Excellent people

I am not sure why it doesn't work… This topic was modified 10 months, 2 weeks ago by Georget.

Plugin has been installed and configured in a minute, works fine! Thx! Update 07.05.2020: With every update the plugin gets better and better. Please continue! This topic was modified 1 year, 8 months ago by doug.
Conclusion.
We reviewed a list of the best Auction WordPress plugins for you in this post. If you are a site owner, you can use these plugins to improve the design and settings of your site.
All the best from our end. I hope you enjoyed this list of the best WordPress auction plugins.
Please share your questions with us in the comments. If you enjoyed this content and think it may be useful to others, let us know on social media!