Since social networking has become the trend for the past decade, a large number of internet users started writing blogs and posts on various platforms, including Facebook, Tumblr, Reddit, LinkedIn, etc.
You as a website owner should always keep your website up-to-date with the latest trends. On almost every social media platform that you go to, you will for sure see a like button. Since WordPress is the most popular website builder and due to its flexibility, you can simply add the like button to your website, so that your audience can give you feedback or even like you on different platforms.
There are also WordPress themes that have social media buttons integrated into them including the Publisher theme.
Now, without further ado, let us introduce the best WordPress like button plugins for 2021.
The first WordPress like button plugin on our list is WP ULike. This plugin is considered the best and fastest plugin to add like and dislike buttons to your WordPress website. WP ULike is a free plugin to add the basic WordPress like button. However, it also comes with a pro version that has way more features.
The pro version includes dislike voting, Elementor widgets, gorgeous looking templates, fast and complete supporting services, etc. WP ULike enables visitors to like or dislike posts, pictures, and even comments on your website.
In addition, it comes with full customization which allows you to create your own style for the dislike or like button. You can take advantage of the comprehensive statistics tools that come with the plugin to create more engaging content on the website.

The WP ULike plugin can be downloaded from the official WordPress website or directly from the WordPress Dashboard itself. Simply, go to your Dashboard > Plugins > Add New and search for WP ULike.
Once the plugin is installed it will appear on the left-hand side menu. The plugin can be configured in 4 tabs General, Posts, Comments and Customize. In the General's tab, you can change the text for both like and dislike buttons. Disable plugin files in chosen pages, etc.
In the Posts tab, you can choose from the 4 pre-designed like themes. Also, make sure the automatic display is checked, otherwise, the plugin won't work. Furthermore, WP ULike gives you the option to enable or disable Google Rich Snippets.
The Comments tab is similar to the previous tab. The last tab allows you to fully customize the button itself. However, this is for more advanced users. Because you may need to add custom CSS code to it.
Finally, make sure to click on 'Save Settings' to save the changes.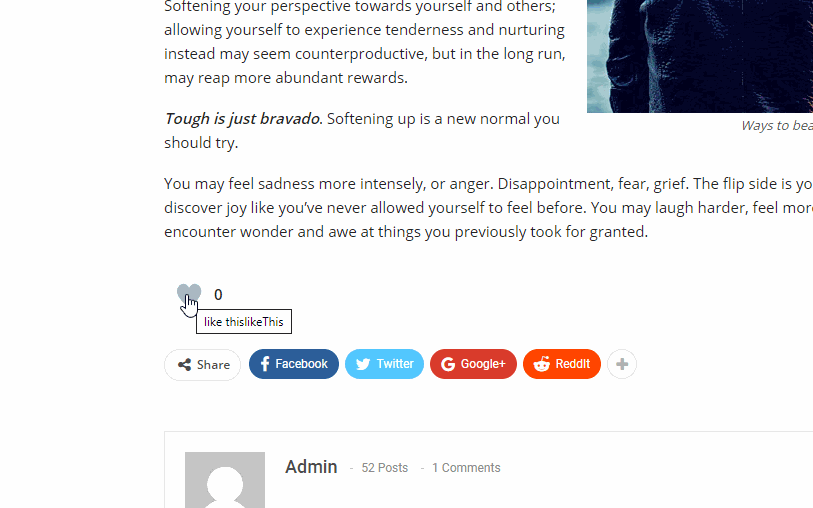 WP ULike has a clean interface and is compatible with the latest version of WordPress. Besides, it fully supports RTL languages and it's already translated into multiple languages.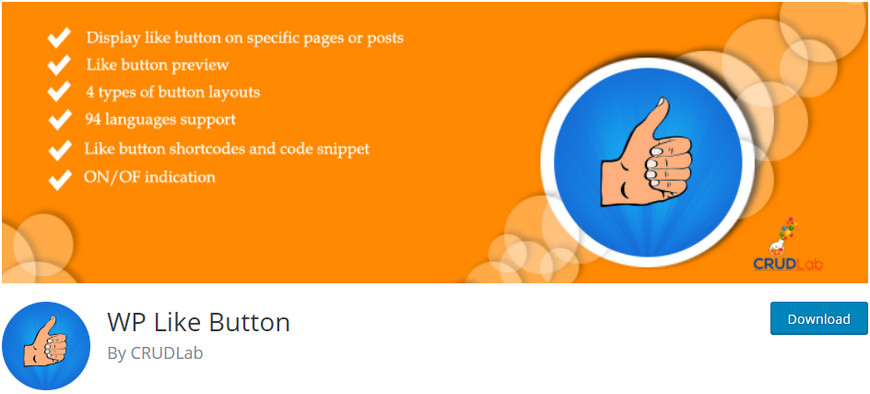 WP Like Button is developed by the folks at CRUDLab and it's yet another great WordPress like button plugin that enables you to add Facebook like and dislike button to WordPress. Besides, it allows you to add share buttons next to like and dislike ones.
This plugin comes with 4 different types of button layouts. In addition, it allows you to create a like button for your fan page, posts, pages and overall your website. WP Like Button can display the like and share button on the homepage, specific pages or even on every single page and posts.
In addition, the button can be added using only a shortcode, and it's fully compatible with most WordPress themes. The plugin doesn't require any activation, simply install it and it's ready to go.
The settings offer a few options. For example, you can choose whether you want to add the button before or after your chosen pages and posts or all of them. Besides, you can change the button's language, position, and even width.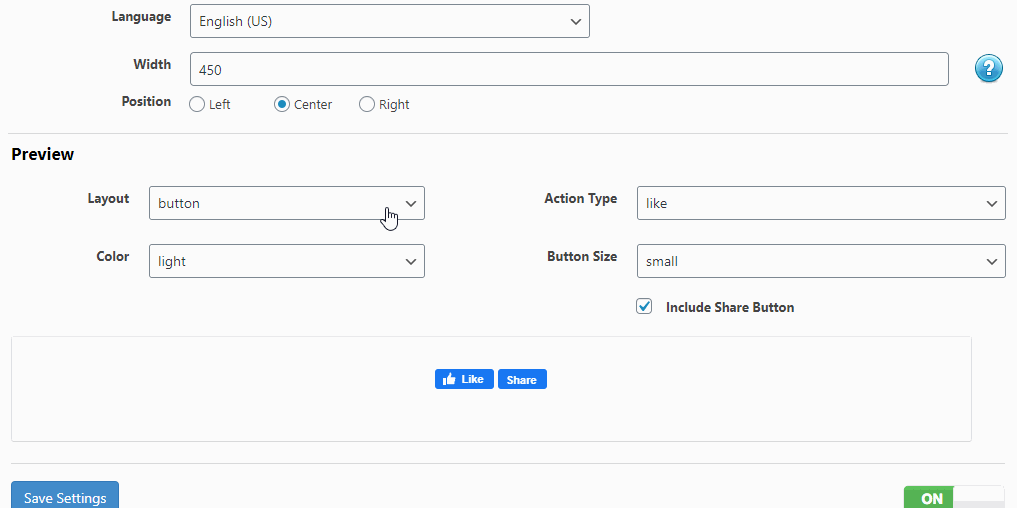 Perhaps the coolest feature of the WP Like Button is the live customizer feature it has in its settings. To disable the Facebook like and share button, simply use the on and off indicator in the settings and save the changes.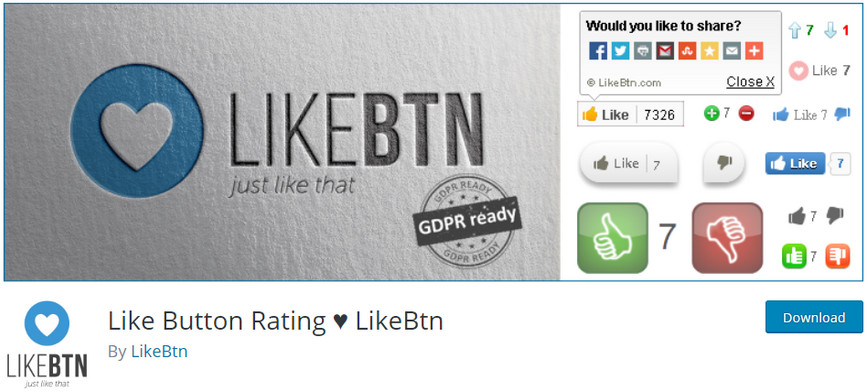 Like Button Rating is a great and useful WordPress like button plugin that helps WordPress admins to add like and dislike button to their websites. This plugin comes with funky buttons that can make the website more appealing to your audience.
This is a free plugin, however, you need to have an account with LikeBtn.com and connect your website in order to fully activate the plugin.
Once the account is activated, you get a 7-day trial and as soon as the trial version is finished, the plugin goes back to using the free plan. To activate the plugin, follow the steps below.
1. From WordPress Dashboard click on Like Buttons.
2. In the Settings tab click on "Get Account Data" you will then get redirected to the registration page, simply sign up by choosing an email address and a password.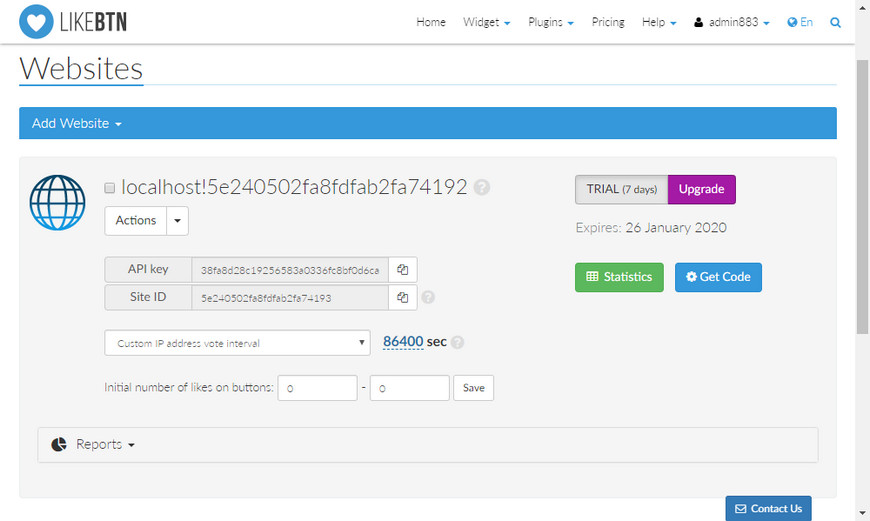 3. Enter your website's domain.
4. Copy your API key & Site ID and paste them in the Settings tab of the plugin. Then, click on "Check Account Data".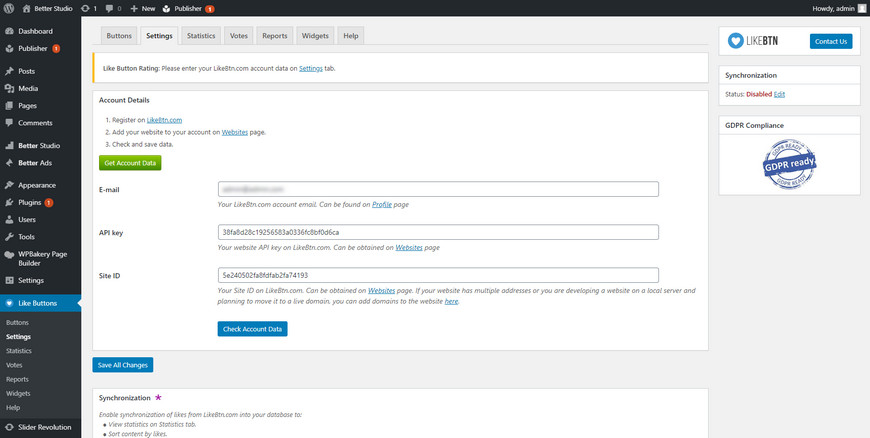 5. Click on "Save All Changes" and you're set!
In the Buttons tab, you can choose a layout out of its 41 pre-designed themes and preview each of them. Besides, you can create your own like and dislike button by clicking on "Custom theme & image" right underneath the themes.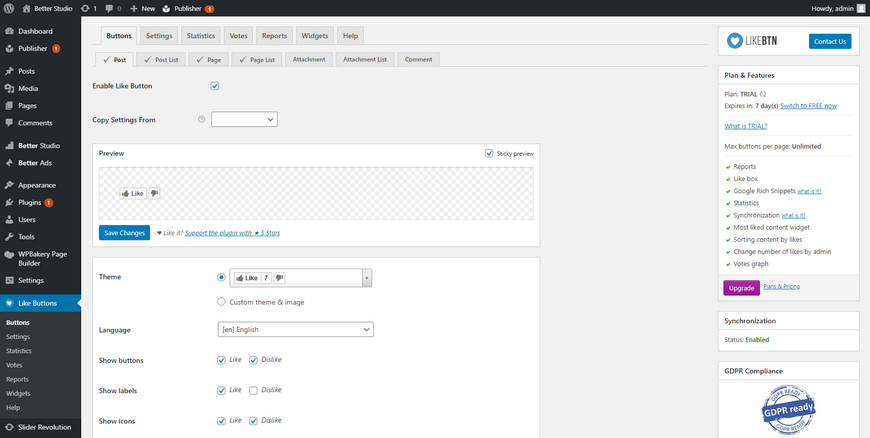 The Like Button Rating by LikeBtn allows you to fully customize the button and it even gives you statistics of total likes and dislike, which can be used to improve your content the way the visitors want.

Liker is a premium WordPress like button plugin that can collect ratings in both opinions and like formats. The plugin is very flexible when it comes to adding those buttons. For example, you can have the regular like/dislike button or you can choose yes/maybe/no buttons or even a simple +1 button.
This flexibility is created to allow you to use the plugin for websites of various subjects. For example, you can use it to determine the effectiveness of the content you are publishing.
Liker is fully compatible with all WordPress themes, Gutenberg editor, major browsers and even page popular page builders in the WordPress repository.
In addition, Liker comes with 13 different button styles and supports RTL.
All-in-one Like Widget is the quickest way to add Facebook like to your WordPress website. This plugin displays a simple box with Facebook Like button and profile picture.
All that you as an admin need to do is to install the plugin, activate it and from Appearance > Widgets, drag and drop the widget wherever you want.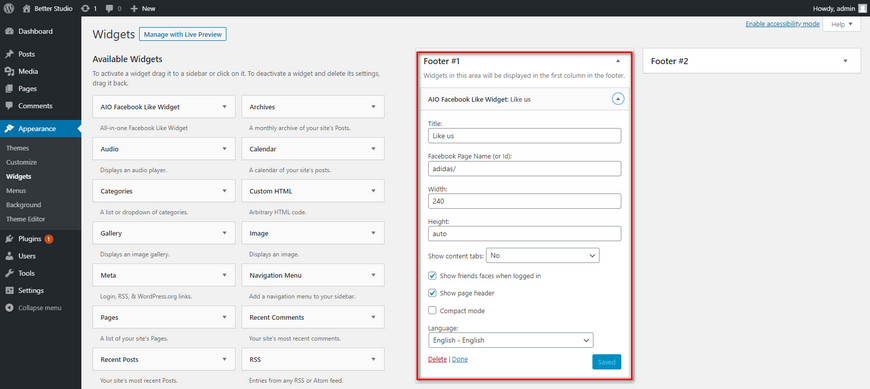 In the widget's setting, you can change the title, width, and language. Keep in mind, in order for this plugin to work, you have to add the Facebook page name or ID in the widget.
Upon activation, Like Dislike Plus Counter adds like and dislike button after each post and right before the comments section with an extra twist that can share the content to social media platforms.
This is yet another WordPress like plugin with modern and beautiful style and comes with more than 600 font awesome icons, 45 custom themes, gradient themes, and it allows you to fully customize the button texts.
The plugin has 3 main tabs in its configurations. Customize Button, Statistics and Setting. In the Customize Button tab, you can choose any of the pre-designed themes it comes with. Besides, there's no need to save the changes after choosing a theme, everything is done automatically.
The Statistics tab displays the number of likes and dislikes you've received on the website. Lastly, in the Setting, you can set the plugin to use cookies. That means users don't need to login to like or dislike a post.
Like Dislike Buttons plugin is completely free and compatible with most WordPress themes.
Comments Like Dislike is a free WordPress like button plugin that adds like and dislike icons to WordPress. This plugin can be downloaded directly from the WordPress Dashboard or the official website. Once the plugin is installed and activated go to Comments Like Dislike under Comments.
The plugin has two main tabs Basic Settings and Design Settings. In the Basic Settings, you can enable or disable likes or dislikes, choose the position, restriction, etc.
In the Design Settings, you can choose 4 pre-designed templates, change colors or even make your own.
MX Like Button is a simple and user-friendly plugin that comes with 6 basic templates. Like, heart, laughter, wow, sad and angry. Once the plugin is installed and activated, it gets added to your posts. However, it comes with simple configurations.


Overall, it has 3 configuration tabs Main settings, Change buttons and Additional. In the Main settings, you can check posts types that need like buttons. By default, every available post types are checked.
In the change buttons' tab, you can change the represented image of each button by uploading your own.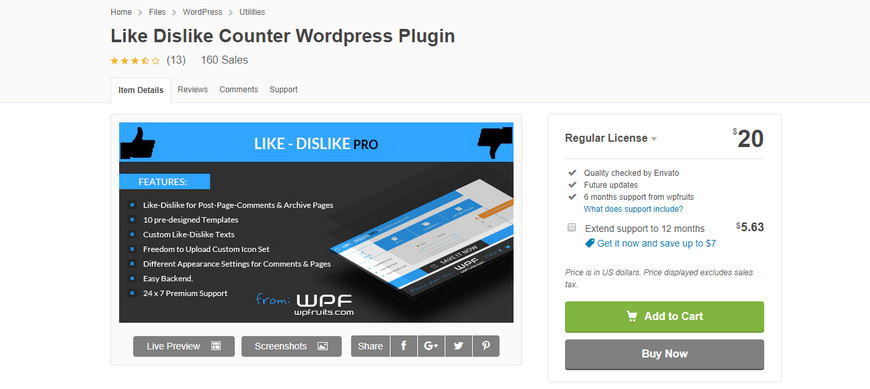 Like Dislike Counter WordPress plugin does exactly what you think it does, it adds like and dislike button to your WordPress website and allow your users to like and dislike posts, pages, post types, and even comments. This plugin is very simple and easy to use.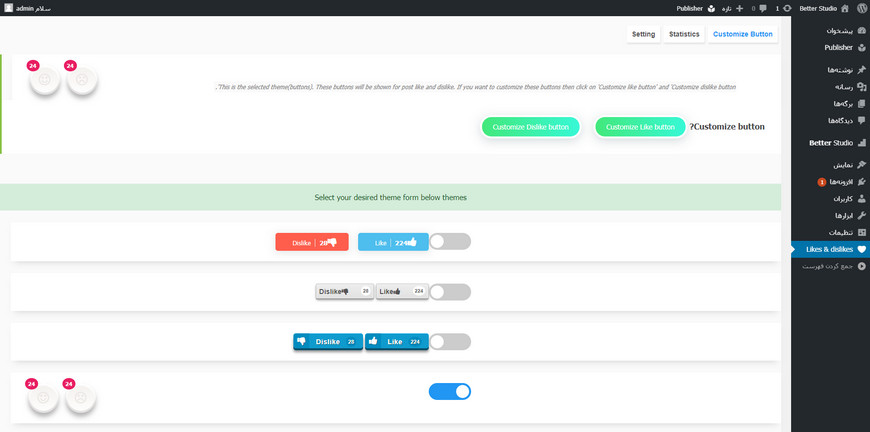 The Like Dislike Counter plugin has a great interface, clean design, premium support and most importantly it comes with 10 pre-designed templates. Furthermore, it is compatible with WordPress Multisite and the latest version of WordPress.
The last plugin on our WordPress like button plugins for 2020 is Sassy Social Share. This plugin enables your website audience to share the published content to Facebook, Twitter, Google, Linkedln, WhatsApp, Reddit and over 100 more social sharing platforms.
WordPress Social Sharing is a simple and neat sharing plugin that comes with optimized vector icons. Besides, Sassy Social Share doesn't save any cookie in browsers, making it a great plugin for those users who are always worried about the security of their browser and computer.
This plugin can be installed the usual way and once it's activated it will appear on WordPress Dashboard. Sassy Social Share is a fully customizable plugin that comes with 6 tabs of options.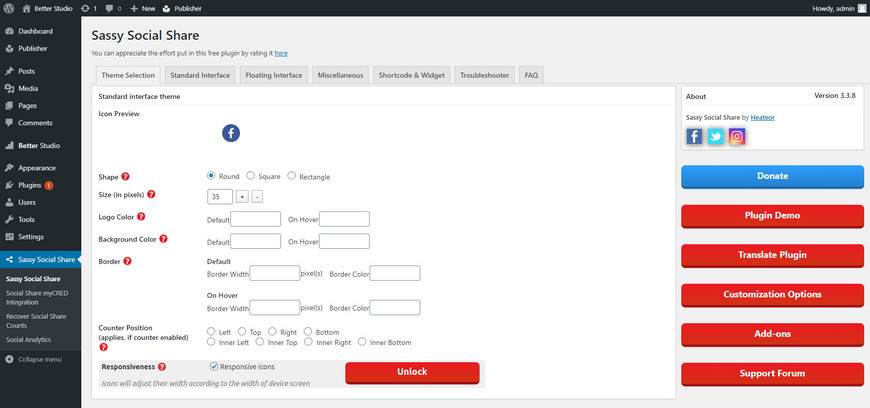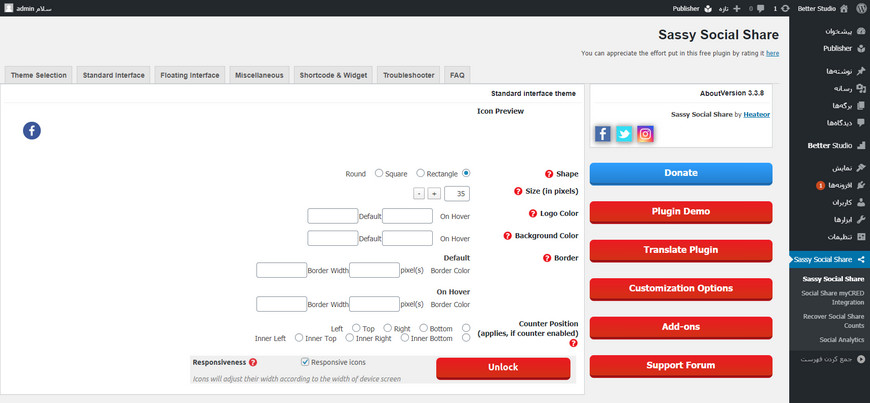 In the Theme Selection tab, you can change the shape of the icons displayed on your website, change their dimension, position, and color.
In the Standard Interface, you can select the social media platforms that you would like to add on your website so the audience can use it.
This plugin is also compatible with Google Analytics, which can give you the chance to improve your content and increase the chance of getting them shared.