Checklists are used in different ways within WordPress. Some of them are solely a reminder for the admin or users. Some other checklists are shown within the post, reminding the author what he needs to do before publishing the post.
Some other checklists are to be shown to viewers within a post or a page, giving them more cause to interact with your page.
If you are curious to know what is WordPress checklist and why is it important or know about the best WordPress checklist plugins, then we recommend you reading this article.
Best Plugins to Embed Checklist in a WordPress Post
Here is a list of plugins to embed checklist in WordPress posts.
There are many plugins designed to add a checklist to your WordPress website. Frontend Checklist is one of the best plugins in this matter. This plugin allows you to create and add a checklist to your website so your visitors can use them.
By default, this plugin is designed to save HTML checklists through your cookies. Therefore, users can check many tasks and re-check to see what they have checked.
Although, if a user deletes their cookies, they no longer can see the checklist option. So, it is best to notify your visitors about this. This plugin offers you the ability to create a PDF file of your checklist. Frontend Checklist is offered for free and comes with the following features:
Installation and activation guide.
Creating checklists and categories.
The ability to enter multiple data in a checklist.
The ability to configure cookies in the background without saving any data.
Checklist is completely free and you can create beautiful and creative checklists. It has print, share, download to your device and other important features. Visitors and users adore lists, therefore, if you have a successful weblog, you surely have a lot of lists.
This plugin is also compatible with mobile devices and you can check your checklists with your phone. Checklist features are: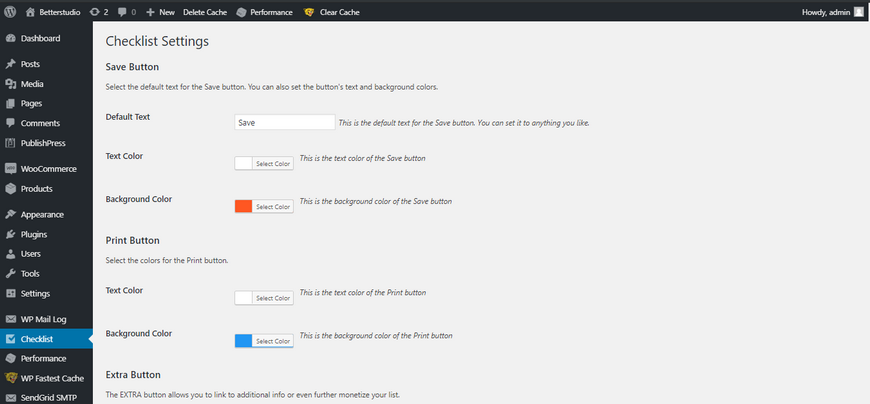 It allows users to have a creative checklist.
It allows users to save the checklist (with a link to your website).
Users can print the checklists.
It provides an opportunity for your website to have more clicks and views.
You can monetize your checklist.
With this plugin, you can add links to your checklist.
Fully customizable.
Responsive.
You can use this plugin for any list, for example:
Activity checklist: tasks you need to perform. For example, DIY commands.
Purchase checklist: things you need to buy.
Commands checklist: which includes different commands.
Travel checklist: a list of attractions/tourism sites.
Guide checklist.
And to summarize, your basic day to day tasks.
Checklist WordPress Plugin is very user-friendly. With this plugin, you can easily add checklists to your posts. You can even edit or delete them from your website.
You can also copy your checklist, add more tasks to it or remove some tasks. This is a premium plugin and you need to pay $13 for it. Some features offered by this plugin are: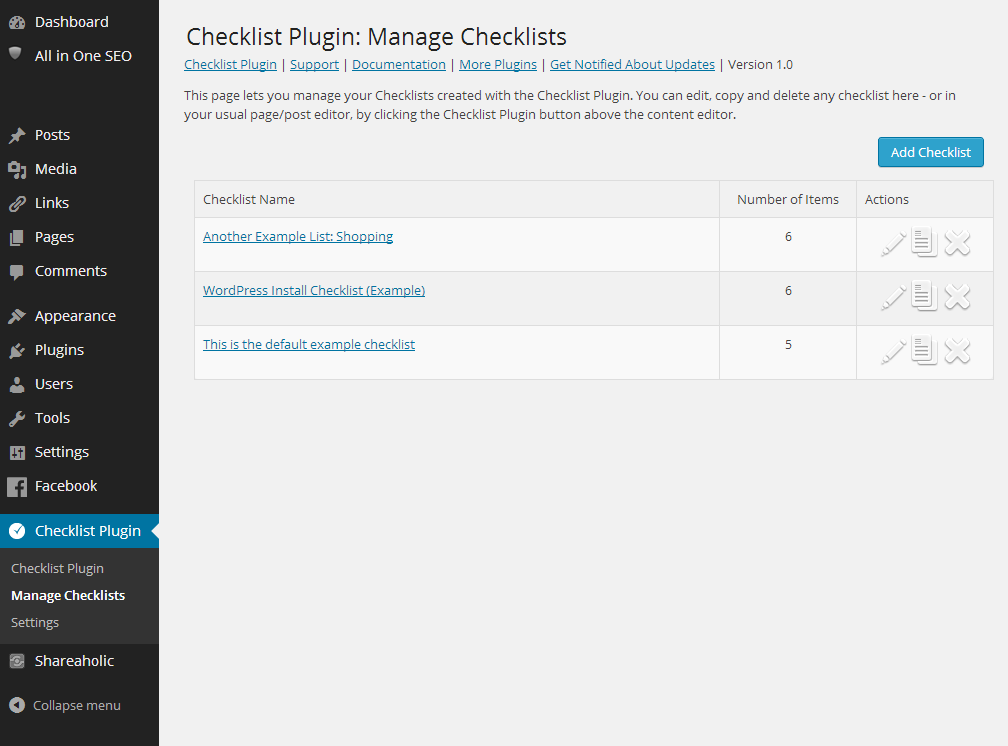 It has 3 pre-made templates.
This plugin is created by widgets. Therefore, installing it won't affect your website's performance.
Allows users to edit the checklist or create a new checklist.
It's compatible with all WordPress themes and widgets.
Checklist in Post plugin is free. With this plugin, you can have your personal checklist on your website. This plugin allows you to add, edit or delete a checklist.
In less than a few minutes with the help of simple codes, you can find your checklists anywhere of your website. Some key features of this plugin are:
It allows users to use simple codes to place a checklist on their website.
Users can create a new checklist by one simple click.
It's customizable. Users can add, edit or delete their checklists.
Parent Category AutoCheck plugin, allows you to add a checklist to your website. This plugin displays your checklists in 3 different categories and when you select child login, it automatically checks the parent category as well.
If you want to add your referral to your checklist, this is the perfect plugin for you. This plugin comes with many features, some of the important features are:
Whenever you check the child category, it automatically gets added to the parent category.
It's compatible with WordPress's popular themes.
You can install and activate the plugin without any programming knowledge.
This plugin gives you an admin panel where you can manage your checklists and categories.
6. PublishPress (Add Checklist for Authors)
In WordPress, you have the ability to use plugins to create checklists for your editors and authors.
To do so you need to after installing PublishPress, install the Content Checklist add-on.
PublishPress is perfect for users who are looking for a new and creative experience in their WordPress.
If you have lots of content, it may be difficult to manage them. By using the Content Checklist plugin, you can identify tasks you need to take care of before publishing your content.
Create your checklist: Authors can view the checklist box next to any post or page. This box contains certain tasks. These tasks could be a request or advice. Whenever authors complete a task, the red text turns green, meaning they have completed the said task.
Customization rules: Other than default rules, you can create your own rules. By clicking on customization items, you can create new rules as well.
Configuration: Each item in the checklist may have different configurations. You can choose which configuration they should have (suggested, needed, and ignore). You can also set a maximum and minimum number.
Confirmation: If your authors don't complete a task, they receive a message telling them what they have missed.
Best Plugins to Add Tasks Checklist to WordPress Admin
Sometimes you just need to add a checklist to your WordPress admin, as a small reminder of what tasks you needed to complete.
Here are 3 great plugins to add tasks checklist to WordPress admin.
Cleverness To Do List is a powerful tool that allows you to add a checklist to your WordPress dashboard.
You can create unique lists (each user can only see themselves), Group lists (only users in the group can see the list) or the main list (every user can view it). You can configure this plugin so each user gets a unique list.
When you are creating the list you can use many features. For example, you can allow the WYSIWYG editor to add media to the list. Also, by using this plugin, you can create different groups for your lists.
When you are checking a tab, you can move it to the main section. If you are the one who is creating the list, these tools can be very useful to you.
The language of this plugin can be converted to Spanish, French, Japanese, and Dutch. This plugin is offered for free to WordPress users.
Maintenance Checklist is a simple yet useful plugin to create checklists in WordPress dashboard.
With this plugin, you can add or remove any tasks or tabs. Also, you can define daily, weekly and monthly tasks. You can use this plugin for any type of checklist.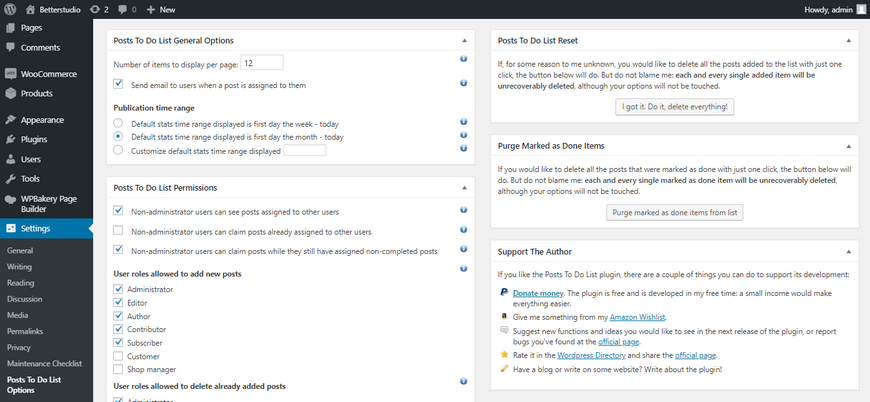 Post to Do List plugin, allows you to define unique tasks for your team. Therefore, your authors can see their daily, weekly and monthly tasks and write content based on their defined tasks.