Are you looking for the best home automation WordPress themes? With the current trend of connected living and automated homes, it's important to find a theme that will help you create a website quickly and easily.
⚡️ Need a quick answer? For a quick solution, here is the Publisher theme for WordPress. It provides many features, is optimized for Google, and contains more than 100 samples that can be imported immediately.
You'll be able to manage your home automation site easier with the best WordPress themes, plus you'll get a modern, appealing look at the same time. The themes let you add personal touches to your website so it stands out from the rest. They also offer a bunch of customization options, so you can make it your own.
Additionally, many of these themes offer features such as responsive design and cross-browser compatibility, giving your visitors an optimal viewing experience no matter the device they use.
This home automation WordPress theme will get you started on the right track whether you're creating a blog or a website. You'll be able to make a website that you're proud of with its easy setup, customization options, and features.
Home Automation, CCTV Security WordPress Theme
Using the Kanni WordPress theme, you can simplify your work as a security and CCTV professional. Kanni WordPress theme is an excellent choice for creating a security and CCTV website. It's got security and CCTV services like CCTV cameras, video surveillance systems
It is possible to make your home automation website retina-ready and fully responsive by using this theme.
Key Features:
Designed in a clean and modern style
Theme with multiple uses
A page builder based on WPBakery
Light plays a vital role in making your images come to life
Easily customizable with a variety of options
Hundreds of free web fonts to choose from
Automation & Security WordPress Theme
The Smart Home theme is a stunning and elegant premium WordPress theme for security companies. Build a classy and modern website with this theme.
As a way of keeping track of the activities of security guards and security companies, you may create a beautiful and functional online presence for them by utilizing the fantastic features that this theme offers.
It is very easy and quick to install this theme on your website and you will be live in minutes. It comes with all the features you need along with the performance you expect.
Key Features:
There are 4 different types of testimonial shortcodes you can use
The installation of two teammate shortcodes on your website is simple and straightforward
An overview of three other price tables
An open-source CSS framework developed by the Zurb Foundation
This theme supports a variety of plugins
The footer elements can be dragged and dropped
Smart Home Automation WordPress Theme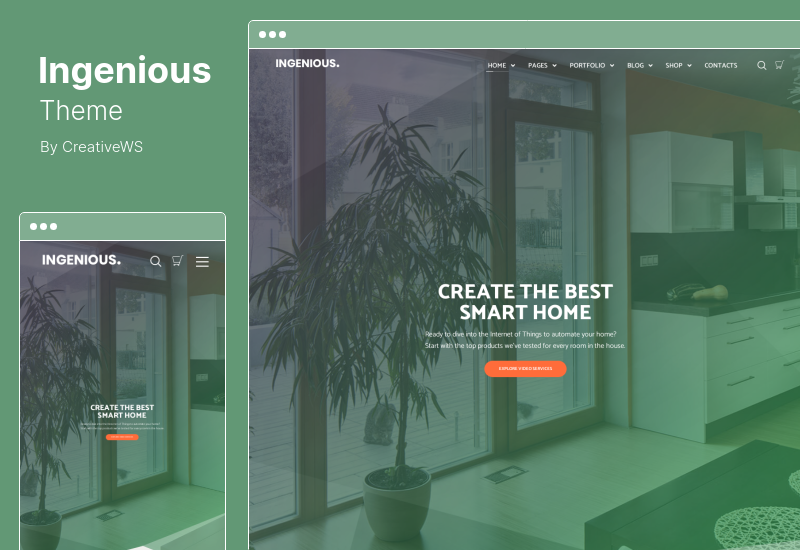 Smart Home WordPress Theme Ingenious offers a wide range of options that will assist you in developing a unique and impressive website at an affordable price.
This theme has been designed to be responsive and retina compatible, making it a great choice if you want to use the theme on tablets and mobile devices as well.
Various types of pages are available either in wide or boxed layouts, and fonts, colors, and icons can be customized in an unlimited amount.
Key Features:
A wide variety of layout options are available
Designed to work on iPads and iPhones
The software can be easily customized according to your needs
Theme settings for Super Theme
It is possible to leave a threaded comment in the section
A variety of custom backgrounds to choose from
Home Automation , CCTV & Security WordPress Theme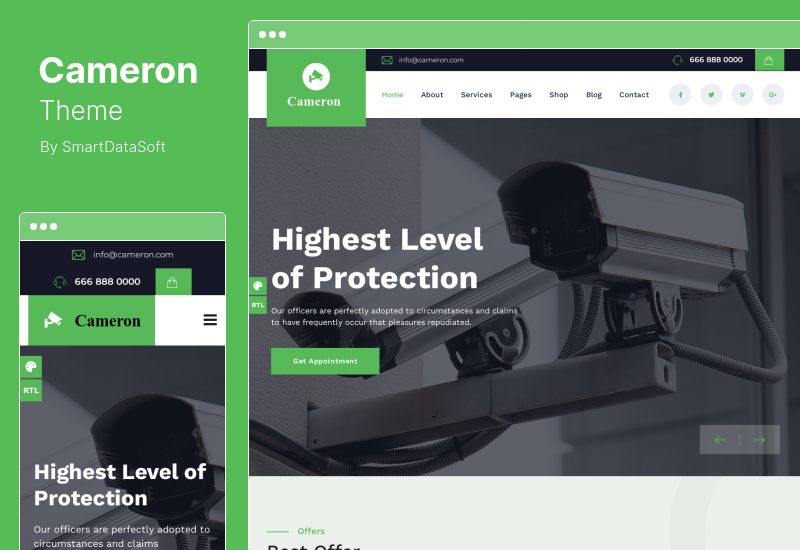 Using Cameron, you can build a security company website and a home automation website at the same time.
Cameron Security Services does residential safety, hotel security, and web security for other security companies as part of its mission statement.
It is perfect for online security companies needing a fully responsive design. It works on all major mobile phones and requires little customization.
Key Features:
You can select from a variety of business-specific pages
A framework for building responsive websites based on Bootstrap
A number of sidebar customizations are available with the theme
Design with a flat, modern, and clean look
The field of typography is advancing at an ever-increasing rate
The font can be customized according to your preferences
Home Security WordPress Theme
With Safedia you can build home security or estate management businesses in houses, villas, apartments, hotels, resorts, and other residential or commercial properties.
It's perfect for any website with an online presence since it works on any handheld device with an internet connection.
A lot of features come with the Safedia theme, like a gallery, testimonials, appointments and booking, and a blog.
Key Features:
Add more features to

Visual Composer

with shortcodes

Contents of the demo are included
Contact Form 7 interface can be customized
JavaScript support for advanced custom scripts
A color management system for themes
An error message page specifically designed for 404 errors
Smart Home Automation WordPress Theme
Softo is a Smart Home Automation WordPress theme that's great for apartment, house, and villa websites as well as energy-saving home security cameras.
There has been a lot of effort put into improving the user experience of the Softo website in order for visitors to have the best possible experience.
A one-click demo importer lets you set up a fully functional WordPress site in minutes, then customize it further by adding your own content and using Elementor page builder.
Key Features:
Optimized to provide the best performance possible
Background images for subheaders are supported
A beautiful layout for the galleries and posts
Integrated with all Woocommerce stores and compatible with all plugins
Both a user and main menu are available
A variety of blog styles are available
CCTV and Security Systems WordPress Theme
With Lockey, you'll be able to create multipurpose WordPress themes that work for CCTV Services, Home Security Systems, and Security Alarm Companies.
Lockey comes with the most advanced live website builder on WordPress. Featuring the latest web technologies, enjoyable UX, and the most beautiful design trends.
This theme comes with several different pre-built websites, so if you want, you can import any demo website within seconds at the click of a button.
Key Features:
There are three types of homepage layouts
A total of 90 UI blocks and options have been added
Sample templates for the About Page
There are several headers and footers to choose from
Real-time theme customization is available through WP Customizer
Page parallax and video backgrounds
CCTV and Security Systems WordPress Theme
The responsive design and high-quality features of the Sekure WordPress theme make it an excellent choice for security companies and websites providing security services.
This theme has solutions, products, and services related to home security, home automation, and CCTV & Security for both residential and commercial users.
Whether you need security products or automation, it provides information about CCTV and home security.
Key Features:
Themes and plugins updated with one click
Sections for scrolling images and videos
Support for shortcodes is available
Inclusion of demo content
Hundreds of color options to choose from
The sidebar is movable and unlimited so that you can customize it in any way you want
CCTV Security WordPress Theme
We would like to mention that, as part of the Vigil Security Series, there is a specific theme designed solely for security companies websites. This theme is specially designed to satisfy the needs of these companies in terms of website design and functionality.
Security products and services are available for residential and commercial use, including home automation, house automation, villa apartments and resorts, as well as CCTV & Security.
Key Features:
Included in the package is Kirki Toolkit, a toolkit designed to help you customize WordPress to fit your needs
This pack includes Unyson, a free plugin available for easy configuration
Using Contact Form 7's unlimited input field rows, you can design any form that you like
Adds premium elements to Visual Composer
You can protect yourself from spammers with Akismet, the best spam filter out there
Smarthome Products WooCommerce Theme
Smarthaus is a very flexible and responsive WordPress theme suitable for online shops and stores selling any product, including smart devices.
The Smarthaus site was made with your customers in mind – it is a mobile-friendly site so they can access your store on their smartphones without any trouble.
The best part about this theme is that it does not require any knowledge of coding on the part of the users in order for it to work.
Key Features:
More than 20 post-animation options are available
Each header will have a separate logo
A system setting that determines whether inheritance and override are to be allowed
A performance-optimized design
Optional layouts for pages with a boxed width and pages with a full width
Different blog styles are available
CCTV & Security WordPress Theme
The Wiguard WordPress theme is made for companies and services that offer security services.
Therefore, it's a great choice for CCTV and security products and services for residential and commercial properties, so you can get home security systems, home automation solutions for villas, apartments, resorts and other home automation stuff.
No coding skills or advanced programming knowledge needed. Its dynamic and fully adaptive layout looks great on all screens, including visuals, cursors, and galleries.
Key Features:
This theme comes with Mega Menus and Push Menus as well
The header layout can be customized
There are several footer layouts to choose from
Adding your own typography and colors
Clean code for your convenience
Compatible with Chrome, Firefox Safari, Opera IE11+
CCTV & Security WordPress Theme
Blackcats WordPress theme offers home automation and security solutions for villas, apartments, resorts, and other residential and commercial CCTV and security services.
It works with Google Maps, Elementor, Contact Form 7, and Gutenberg, among others.
The design is vibrant, stylish, and has a rich color scheme, plus it advertises your products and services effectively with a harmonious combination of colors.
Key Features:
Various styles of inner pages are available
A collection of 15+ animations for the page-loader
Support for all ten post formats in the Blog
A Mega Menu feature is available
Optimized for search engines
A FAQ about WordPress Home Automation templates.
Check out some of the most commonly asked questions for WordPress Home Automation themes.
If your troubles still haven't been resolved, you should always write them down in the comments. We will resolve them wonderfully.
In 2022, which WordPress theme is best for Home Automation sites?
We created a comprehensive article that'll help you compare template options and pick the one that's most suitable for you.

A great website starts with a great theme. We recommend the Publisher theme. Astra is a great theme for home automation websites.
How can I host my Home Automation website?
A Home Automation site hosting company is an important choice you have to make; choosing the wrong hosting company could result in a failed website, so make sure to choose the right one. If you hope to build a Home Automation site from scratch, we suggest using Bluehost, which is a great choice. It offers a lot of speed at a cheaper price.
What are the best home automation WordPress themes?
In order to choose the best home automation WordPress themes, make sure that your theme can be customized easily and integrated with your home automation system in a way that makes it easy for you to use it.

You can easily control your home automation system within WordPress with themes that feature drag-and-drop page builders, responsive design, and plugins that allow you to do just that.
How secure are home automation WordPress themes?
Generally, home automation WordPress themes are very secure, as long as they are updated regularly. Be sure to check for updates on a regular basis, and use strong passwords to protect your website and personal information on it.
What features should I look for in a home automation WordPress theme?
Look for WordPress themes that are built with a mobile-first approach, and have drag-and-drop page-building tools and customizable widgets. Additionally, you should look for themes that come with pre-made templates and plugins that make it easy to integrate your home automation system into your website.
What are the benefits of using home automation WordPress themes?
Home automation WordPress themes provide a range of benefits. They make it easier to create and manage websites, as well as provide a wide range of features including dynamic content, integrated analytics, and secure payment processing.

Additionally, they can help save time and money when setting up your website as they come with all the necessary tools already included.
Conclusion
Home automation WordPress themes can contribute greatly to the success of your website by providing a safe and secure place to display your products.
When you choose the right home automation theme, you can instantly customize features such as lighting control, doorbells, blinds, and so many more.
You can build a website that demonstrates the latest in home automation technology with a WordPress theme. Aside from providing a great platform to sell your goods and services, they're also really secure. And you can customize and make them your own, so you stand out from your competitors.
If you want to learn more about home automation WordPress themes, check out BetterStudio blog for more related tutorials. Also, follow BetterStudio on Facebook and Twitter to get the latest tutorials.