How do you find the best WordPress plugin for video conferencing?
The following article will assist you with choosing the best WordPress Video Conference plugin that suits your needs. They have the best features, support, and easy interfaces to assist you quickly. In addition, we ensure these plugins work well with all popular WordPress themes.
The Video Conference plugin options are diverse, so we chose the best WordPress plugins. But these plugins can also be used for Online Video Consultation, Online meetings, Video calls, and webinars.
The following are the hand-picked video conference WordPress plugins in 2022:
Manage Meetings, Schedule Conferences, and Webinars and Control Users Directly
The eRoom site-based software is a great choice for both individuals and businesses alike. Purchasing a license for 25 sites can be costly for someone on a limited budget, but a single site plugin may not cost much.
In addition, this plugin will enable you to schedule meetings and events from any page or post within your WordPress dashboard. You will also be able to display a countdown timer to the event as well.
The platform will be updated and supported for a year after purchase, ensuring that it is always up to date and can serve all your requirements.
With eRoom's integration with the WooCommerce plugin, creating a purchasable meeting is very simple. You simply add the meeting as a new product in WooCommerce, which then makes it available to be purchased.
Users have the option of joining the meeting via the Zoom app or browser, as well as having the opportunity to communicate with the meeting host via messages. It is undoubtedly one of the best online video consultation plugins available now.
💵 The plugin comes with a variety of features and 12 months of free support. It is available at 29$.
Key Features:
Provides engagement reports after your conference
The ability to run meetings from any page of your site using the new shortcode
The ability to set up a purchasing process for your webinars quickly, allows you and your viewers to save time
The ability to provide suggestions and ideas regarding how to improve and revitalize the event
The ability to sync your calendar with Google Calendar or iCalendar to keep track of your appointments
Easily Add Live Streaming or Video Conferencing Functionality to Your WordPress Posts and Pages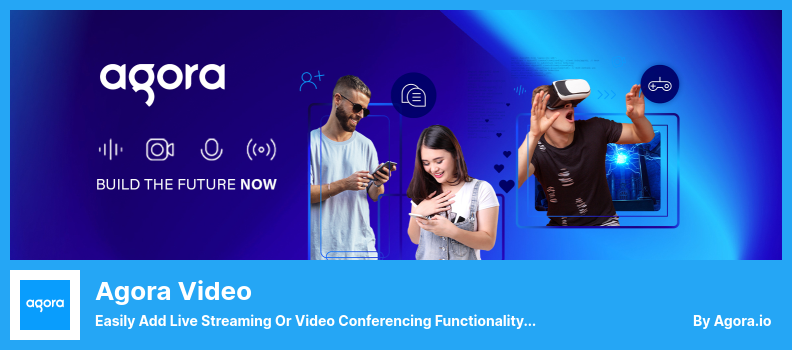 Agora Video WordPress Plugin is a flexible streaming plugin that can be customized according to your needs within a lightweight and responsive framework. From its simple and easy-to-use user interface to its variety of features, this is an impressive product.
This video conferencing tool boasts of having over 200 data centers across the globe where up to 1 million concurrent users can join at any given time. It also offers live streaming, real-time recording, and messaging capabilities.
Aside from having the ability to integrate video calling and live streaming into your WordPress platform, it also offers an interactive live streaming feature with which users can feel connected with the host in real-time. You can also use it for your online meetings.
Unlike LiveSmart Video Chat, it is an affordable and flexible solution, it is ideal for small and large businesses alike, with a range of services from less than a dollar for 1000 minutes of audio to 100,000 free minutes per month.
💵 It costs $(Needs Quote) for the Premium version. The Lite version is free.
Key Features:
Delivers high-quality streaming with low latency
S3 platform ensures that you have reliable access to storage right when you need it
The audience can participate in the event
A custom user interface and the ability to share a screen
The ability to text, use emojis, send virtual gifts, and play sounds simultaneously
Provides you with a backup solution for all your streams
Random Reviews:
Live streaming and video calls are easy to add.

This plugin is simply wonderful but isn't working on mobile phones. Is it not supposed to work on mobiles? Also a href="https://betterstudio.com/wordpress-plugins/best-wordpress-caching-plugins/" target="_blank" rel="noopener">affects performance/a>.

A couple of hours to install
Simple Plugin Which Gives You The Extensive Functionality to Manage Zoom Meetings, Webinars, Recordings, Users, and Reports
An important component of a Video Conferencing with Zoom is the Zoom WordPress plugin that assists in streamlining our live streaming experience through the use of a number of useful accessibility and support features.
Zoom features are fully integrated with WooCommerce, allowing you to create webinars without purchasing any additional tools. Clients and members can join a webinar using the traditional front-end methods.
By integrating Zoom for Video Conferencing with your WordPress site, you will be able to manage your attendees, meetings, and recordings directly from your dashboard. The process of adding an event is as simple as adding a post or embedding a shortcode on your site.
There are some disadvantages to this plugin, it has been developed with much less effort than paid ones, so it has fewer features than paid plugins and this can lead to some inefficiencies for some users.
💵 It is a free plugin. It is not a paid product.
Key Features:
The ability to add other add-ons such as WooCommerce Appointments, WCFMS, or many others
Provides LearnPress compatibility & LearnDash compatibility
The ability to manage live sessions using the available options
There is a nice Countdown timer
Meetings can be attended by up to 100 people simultaneously
Monitoring the accounts on a daily basis is possible
Random Reviews:
The plugin seems fine to me. In any case, proceed to improve. Thank you!

The support cleared up a problem with a button not showing up properly quickly and very kindly. I strongly recommend it.

I solved all Zoom integration issues without writing any code!
Online Communication for Audio Meetings, Video Meetings, and Seminars
KI Live Video Conference provides us with an impressive experience. It met the needs of several high-end, demanding users, had a large number of features and has a reasonable amount of customer service.
The difference between this video conferencing tool and others like eRoom is that it becomes operational shortly after installation. It offers a wide range of collaboration features such as screen sharing, live streaming, and recording capabilities that make it great.
Usability-wise, it is not particularly unique. Any person can pick it up and start using it in few seconds, regardless of its limited features.
In addition, the plugin encrypts patient data in accordance with relevant rules and regulations. The plugin is also built on an open-source foundation and is supported by the company, so we anticipate seeing fewer changes and updates going forward.
Despite the lack of WooCommerce integrations and other critical ones typical in today's day and age, it does have a few other integrations that would encourage its use in many other capacities.
💵 It's a progressive plugin built by a powerful author. It is FREE.
Key Features:
The ability to integrate with Gutenberg's editor, giving them a polished appearance
The possibility to use a fully integrated short code system
Provides a moderator panel, to control the meeting, and to save your streams for future reference by selecting the recording option
A method of remotely diagnosing, treating, and evaluating patients through a reliable intermediary
Random Reviews:
It is easier to use than other tools, but it still violates private life. We highly recommend it.

I love this plugin so much, it's better than any paid version plugin for zoom meetings! Highly Recommended!

Easy to use and implement, I would add a shortcode generation function.
Host Your Own Live Video/chat Sessions, Interact With Your Visitors and Boost Your Sales
Despite being a relatively old plugin, LiveSmart Video Chat still functions very well! It is a powerful piece of software that offers a large amount of functionality and still competes well in today's market. It is quite expensive, considering most people have limited finances.
With the help of this amazing plugin, you may link directly to meetings from your WordPress website. However, separate software needs to be installed on your server in order for this to function well enough.
With regard to UI quality, we have never seen a plugin that has a more intuitive, easy-to-use layout. It is incredibly simple while still possessing a wide variety of features under the hood. However, it lacks integration with some major applications.
We do not expect frequent updates from this open-source software since multiple developers have access to it. Although files can be transferred as well as audio and video messages, So we do not expect frequent updates.
---
💵 Basic: Free, Premium: 69$.
Key Features:
The ability to save streams, which is a tremendous benefit if you wish to play them back later
By using the HTML5 web chat system, you will be able to communicate with people on any platform
Gives you much more control over who is able to see what you're doing by using a private room system
includes live video calls, a chat room, and an interactive digital whiteboard as standard features
Random Reviews:
easy to install easy to use !!!
As a conclusion
In this article, we review a variety of Video Conference plugins. If you're trying to make your site better, you can choose one of these plugins.
Thank you for reading this collection of the best Video Conference WordPress plugins. I hope you found a beautiful new theme for your site. We regularly publish articles describing the best WordPress blog themes and the best WordPress plugins for bloggers, and these are often voted for, referred to, and shared by our audience.
We would love to hear your thoughts. Please tell us what you think in the comment section. If you enjoyed the article, please share it on Facebook and Twitter.