Are you a WordPress website owner looking for the best video conference plugins to enhance your online presence? Or maybe you're thinking about incorporating video conferences into your WordPress site but aren't sure where to start.
Well, fear not! In this blog post, we will explore the top five WordPress video conference plugins, both free and pro, to help you make an informed decision.
Now, you might be wondering why video conference plugins are so essential for your WordPress site. Well, let me share some stats with you. According to recent data, video conferencing has skyrocketed in popularity, with a whopping 97% of companies using it for business meetings and collaboration.
Additionally, video calls have become the norm for remote work, virtual events, and online courses. So, if you want to make your WordPress site stand out and provide a seamless video conferencing experience, choosing the right plugin is crucial.
In this article, we will delve into the five best video conference plugins available for WordPress. We'll explore their features, ease of use, pricing (if applicable), and overall user experience.
Whether you're new to video conferences or looking to upgrade your current plugin, this guide will help you find the perfect solution for your WordPress site. Let's get started!
Best Video Conference Plugins for WordPress
If you are looking to take your WordPress website to the next level with video conference capabilities, look no further! In this article, we've curated a list of the 5 best WordPress video conference plugins, both free and pro, that will enhance your website and provide an interactive and engaging experience for your visitors.
So, whether you're hosting virtual meetings, webinars, or online classes, these plugins have got you covered. Keep reading to discover the perfect video conference solution for your WordPress site.
Manage Meetings, Schedule Conferences, and Webinars and Control Users Directly
eRoom is a versatile video conference plugin that caters to individuals and businesses alike. It offers a cost-effective solution for those on a limited budget, with the option to purchase a single site plugin without breaking the bank.
This plugin has seamless integration with WooCommerce. With this integration, users can easily make meetings purchasable by adding them as new products in WooCommerce. That way, you can monetize your meetings and make them easy to buy.
It provides multiple options for joining a meeting, including both the Zoom app and browser access. This flexibility ensures that participants can join meetings in a way that suits them best. The plugin also offers a messaging feature, allowing meeting attendees to communicate with the host directly.
Scheduling meetings and events within your WordPress dashboard has never been easier with the plugin. You can schedule them from any page or post, adding convenience and efficiency to your workflow.
Moreover, the plugin will also enable you to display a countdown timer for an upcoming event that can be displayed on the website so participants are able to get excited as soon as possible about the event.
With a year of updates and support included, eRoom ensures that your plugin is always up to date and meets all your requirements. This commitment to continuous improvement guarantees that you can provide the best online video consultation experience to your users.
Easily Add Live Streaming or Video Conferencing Functionality to Your WordPress Posts and Pages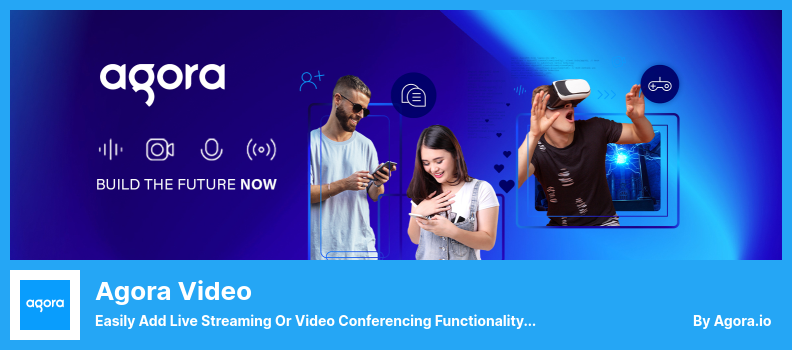 You can stream videos with Agora Video using a lightweight, responsive framework. It has a simple user interface and plenty of features, so it's a great plugin for small and big businesses. You can customize everything you want, so your video conferencing experience is exactly as you want it.
With a wide range of services, it's a cost-effective option for businesses of all sizes. It's available for less than a dollar for 1000 minutes of audio, which makes it a great option for businesses of all sizes. In addition, it offers 100,000 free minutes every month, which is a great deal for budgeters.
Aside from its extensive network of data centers worldwide, this plugin makes it stand out from the rest. With this plugin, you get reliable storage and can join video meetings from anywhere. There are also 1 million concurrent users, so you can have large-scale online meetings.
In addition to its video conferencing capabilities, the plugin offers live streaming and real-time recording. This means you can easily stream your events or meetings to a larger audience. It also has messaging capabilities, allowing for seamless communication between participants.
The plugin's standout feature is its interactive live-streaming feature. It makes participants feel connected, and engaged, creating an interactive live stream. Video calling and live streaming are also built right into WordPress, so it's convenient and user-friendly for you.
Video conferencing can be customized to match your site or brand with this plugin. You can also share screens, so you can show off documents. This plugin lets you text, emoji, give virtual gifts, or play sounds at the same time, so video conferences get more interesting.
Lastly, Agora Video ensures that your streams are backed up with its reliable S3 platform. This means you won't have to worry about losing your valuable content and can confidently host your events or meetings without any interruptions.
Key Features:
Messaging capabilities with emojis and virtual gifts.
High-quality streaming with low latency
Reliable access to storage through the S3 platform
Interactive live streaming for real-time engagement
The customizable user interface for a personalized experience
Screen sharing for easy collaboration
Simple Plugin Which Gives You The Extensive Functionality to Manage Zoom Meetings, Webinars, Recordings, Users, and Reports
You're going to love Video Conferencing with Zoom if you want to stream live. This plugin streamlines the management of attendees, meetings, and recordings within your WordPress dashboard with its easy-to-use interface and powerful features.
One of the key advantages of this plugin is its seamless integration with WooCommerce, saving you the hassle of purchasing additional tools. With this integration, you can effortlessly create webinars and allow clients and members to join using familiar front-end methods.
While the plugin offers numerous benefits, it's important to note that it may not have as many features as paid alternatives. This could potentially limit its efficiency for some users. However, its simplicity and accessibility make it a valuable option for those who prioritize ease of use.
Furthermore, you can use it with many popular WordPress plugins, like WooCommerce Appointments, WCFMS, LearnPress, and LearnDash, and it's pretty cool. Then you can customize your video conferencing experience to meet your specific needs with more add-ons.
Additionally, the plugin provides a countdown timer, which adds a sense of urgency and professionalism to your meetings. This feature ensures that both presenters and attendees stay on schedule and make the most out of their time.
Another advantage of Video Conferencing with Zoom is its ability to handle large groups. With the capability to accommodate up to 100 simultaneous participants, you can confidently organize webinars and virtual events without worrying about attendee limitations.
Key Features:
Compatibility with WooCommerce Appointments

, WCFMS, LearnPress, and LearnDash

A countdown timer for time management during meetings
Seamless integration with WooCommerce and popular plugins
Accommodates up to 100 simultaneous participants
Easy account monitoring for daily updates and tracking.
Online Communication for Audio Meetings, Video Meetings, and Seminars
With KI Live Video Conference, users get an awesome experience the moment they install it. In contrast to other video conferencing tools, the plugin gets going quickly and comes with a bunch of collaborative features like screen sharing, live streaming, and recording. It's super easy to use, so anyone can use it right away.
One of the standout features of this plugin is its ability to encrypt patient data in accordance with relevant rules and regulations. This is particularly important for healthcare professionals who need a secure platform for remote diagnoses, treatments, and evaluations.
Additionally, the plugin is built on an open-source foundation and receives continuous support from the company, ensuring that users can expect fewer changes and updates in the future.
While the plugin may lack WooCommerce integrations and some other critical integrations, it does offer a few other integrations that make it suitable for various purposes beyond video conferencing.
Furthermore, its ability to integrate with Gutenberg's editor allows users to create a polished appearance, and the fully integrated short code system provides even more flexibility and customization options.
One of the standout features of the plugin is the moderator panel, which allows users to control meetings and save streams for future reference by selecting the recording option. This feature is particularly useful for professionals who need to review past meetings or share important information with others.
Key Features:
Integration with Gutenberg's editor for a polished appearance
Fully integrated short code system for added flexibility and customization
Moderator panel for controlling meetings and saving streams
Encryption of patient data for enhanced security
Remote diagnostics, treatments, and evaluations for healthcare professionals.
Host Your Own Live Video/chat Sessions, Interact With Your Visitors and Boost Your Sales
LiveSmart Video Chat is a plugin that provides a powerful and functional video conference solution for WordPress websites. Despite being an older plugin, it still performs well and competes effectively in the market.
The plugin offers a wide range of features and has a user-friendly interface that is intuitive and easy to navigate. However, it may not be fully integrated with all major applications.
One of the standout features of the plugin is its ability to save streams, allowing users to play them back later. This is especially useful for those who want to review or share recorded meetings.
Additionally, the plugin utilizes an HTML5 web chat system, enabling seamless communication across different platforms. Whether your audience is on a desktop, laptop, tablet, or smartphone, they can easily participate in video conferences.
With the plugin, you can make video conferences private by letting people know who's in it. Companies or organizations that need high levels of privacy and discretion will appreciate this feature. Private rooms can be created and specific people or groups can join, so communication is secure and confidential.
The LiveSmart Video Chat plugin has live video calls, chat rooms, and a digital whiteboard. With these features, you can have a face-to-face conversation, collaborate in real time, and share ideas on a whiteboard, so you can have an interactive video conferencing experience.
Key Features:
Stream saving for playback at a later time
HTML5 web chat system for cross-platform communication
Private room system for enhanced privacy and control
Live video calls, chat room, and interactive whiteboard included
Interactive features for collaboration and idea sharing
Powerful and functional video conference solution.
Frequently Asked Questions
What are video conference plugins for WordPress?
Video conference plugins for WordPress are tools that allow you to host live video conferences or webinars directly on your WordPress website.
These plugins provide features such as video and audio communication, chat, screen sharing, and more, making it easy for you to connect and collaborate with others remotely.
Why should I use video conference plugins for my WordPress website?
Using video conference plugins on your WordPress website can bring numerous benefits. Firstly, it enables you to hold virtual meetings, webinars, or online training sessions without the need for external software.
This helps save time, streamline communication, and enhance productivity. Secondly, it allows you to connect with your audience, clients, or team members in a more personal and engaging way, fostering stronger relationships.
Lastly, video conference plugins offer flexibility and convenience, as participants can join meetings from anywhere, eliminating the need for physical presence.
What are the advantages of using pro versions of video conference plugins?
Upgrading to the pro version of a video conference plugin offers additional features and benefits. Pro versions often provide advanced functionalities like recording meetings, hosting bigger events with more participants, integration options with other tools, customization options, and priority support.
If you require more advanced capabilities, enhanced security, or dedicated customer support, investing in a pro version may be worth considering.
Conclusion
To recap, in this article, we explored the top five WordPress video conference plugins, both free and premium options. We discussed the features and benefits of each plugin, helping you determine which one suits your needs best.
If you found this article helpful and would like to delve deeper into WordPress tutorials and related topics, I encourage you to visit the BetterStudio blog. There you'll find a wealth of resources to enhance your WordPress website and optimize your online presence.
Stay up-to-date with the latest tutorials and tips by following BetterStudio on Facebook and Twitter. By doing so, you'll be the first to know about new releases, updates, and valuable insights to take your website to the next level.
Thank you for taking the time to read this article. I hope it provided you with valuable information and assistance in selecting the right video conference plugin for your WordPress website.
If you have any questions or encounter any problems, please feel free to leave a comment below. Our team and the BetterStudio community are here to help!