Have you been searching for the perfect Markdown editor plugin for your WordPress website? Look no further! In this blog post, we will be diving into the 8 best Markdown editors plugins for WordPress in 2023, both free and pro versions. We understand your concern about finding the right plugin that meets your needs, so let's explore the options together!
Now, let's talk about what you can expect from this article. We've done our research and compiled a list of the top Markdown editor plugins that are currently available for WordPress websites. Whether you're a beginner or an experienced user, we have options for everyone.
In this article, we'll not only provide you with the names of the plugins, but we'll also share some interesting stats and facts about each one. So, you'll not only know the options, but you'll also understand their popularity and performance.
Without further ado, let's kick off this article with a rundown of the 8 best Markdown editors plugins for WordPress in 2023. We believe that you'll find this list helpful in choosing the best plugin that suits your website's needs. So, let's get started and explore the exciting world of Markdown editors for WordPress!
Best Markdown Editors WordPress Plugins
Looking for the best Markdown Editors WordPress plugins to enhance your website in 2023? Look no further! We've rounded up the top options, both free and pro, that will revolutionize your editing experience. Read on to discover the perfect plugin for your needs.
WordPress Markdown Editor
WP Githuber MD is a powerful Markdown editor plugin for WordPress. With this plugin, you can easily create posts or pages using a Markdown editor that provides a live preview of your content. Plus, it offers a specially designed tool to convert HTML to Markdown, making it a breeze to work with.
But that's not all! WP Githuber MD also comes with additional features that enhance your Markdown editing experience.
It supports Gutenberg's text editor, allowing you to seamlessly integrate Markdown into your workflow. It also supports custom post types, giving you the flexibility to use Markdown in various content types.
One of the standout features of WP Githuber MD is its spell checker. No more worrying about typos or misspellings in your posts or pages.
The plugin also makes it easy to insert images by allowing you to simply copy and paste them. And if you want to optimize your content for search engines, you can enter keywords for better SEO performance.
Key Features:
HTML to Markdown conversion tool
Markdown and non-Markdown posts
Keyword entry for improved SEO performance.
Support for custom post types
Additional syntax features in Markdown
Spell checker for error-free content
Easy image insertion via copy and paste
The Simplest Plugin for a Developer to Write Content in WordPress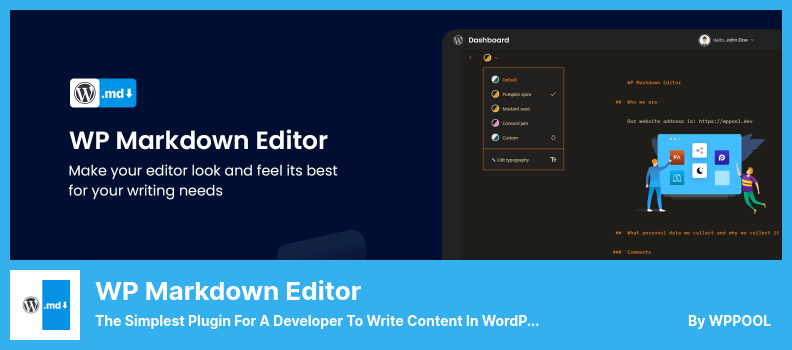 WP Markdown Editor simplifies the process of editing content in WordPress by providing a user-friendly interface that eliminates the need to remember complex blocks.
With this plugin, you can create a dark version of the WordPress admin interface that automatically adjusts to each user's operating system, making it easier to work at night.
One of the standout features of WP Markdown Editor is its immersive and peaceful writing experience. Ideal for both Markdown enthusiasts and those new to the format, this plugin allows you to write in a natural and seamless manner. This makes it a great choice for developers who write content for WordPress during late-night sessions.
In addition to its user-friendly interface, WP Markdown Editor offers several customization options. You can make use of the available cheat sheet to simplify the use of Markdown syntax.
The plugin also allows you to choose your preferred font type, adding a personalized touch to your content. To make your content more interactive, there is even an option to add engaging emojis.
Personalizing the look of your editor is also possible with WP Markdown Editor. You can select your favorite color from a range of options provided in the existing color scheme. This allows you to customize not just the background of your text, but also the color of the text itself.
To summarize, WP Markdown Editor is a powerful tool that simplifies the editing process for WordPress website owners. Its user-friendly interface, customization options, and focus on an immersive writing experience make it a top choice for those who work with Markdown.
Whether you're a seasoned Markdown user or just getting started, this plugin offers a seamless and intuitive editing experience.
Key Features:
Cheat sheet for easy Markdown syntax.
Customizable font selection.
Interactive content with emojis.
Choose from a variety of colors in the existing color scheme.
Customize not only the background but also the text color for a personalized look.
Simple and intuitive user interface.
Immersive writing experience.
Perfect for working at night.
Suitable for beginners and Markdown enthusiasts alike.
Enhances vision protection during nighttime content creation.
Replaces The Default WordPress Editor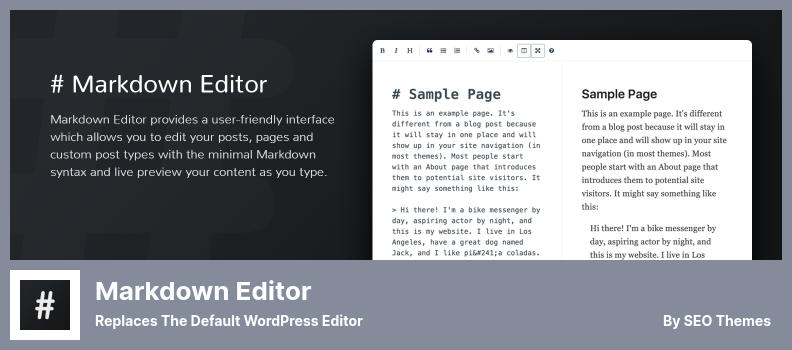 Markdown Editor is a WordPress plugin that allows you to switch from the default editor to a Markdown-compatible one.
With the Jetpack Markdown module installed, you can easily convert Markdown into HTML. This plugin offers four different editor layouts: standard, preview, full-screen, and split-screen. You can choose the one that suits your editing style the best.
One of the standout features of Markdown Editor is its syntax highlighting for code blocks. This makes it easier for developers and coders to write and edit code within their WordPress posts or pages. You can also view a live preview of your content as you write it, giving you an idea of how your final post will look.
By default, the plugin is limited to posts, but you can easily enable it for pages and custom post types with just a few settings adjustments. This flexibility allows you to use Markdown Editor across your entire WordPress site, giving you a consistent editing experience.
One downside of Markdown Editor is that the left-side menus are not functional while editing. For example, the Settings button does not appear when hovered over, and clicking it briefly navigates to the settings page. This can be a bit frustrating, especially if you need to make changes to your settings frequently.
To summarize, Markdown Editor is a powerful plugin that brings the simplicity and efficiency of Markdown editing to your WordPress site.
It offers syntax highlighting, live previews, and multiple editor layouts to enhance your editing experience. Just be aware of the limitations of the left-side menus while editing.
Key Features:
Live preview of content as you write.
Four different editor layouts to choose from.
Enable it on both pages and custom post types.
Easy conversion of Markdown to HTML.
Enhanced editing experience for developers and coders.
Consistent editing experience across your WordPress site.
Customizable settings for personalized editing.
Improved readability and formatting of your content.
Seamless integration with the Jetpack Markdown module.
The Most Popular WordPress Plugin for Anything and Everything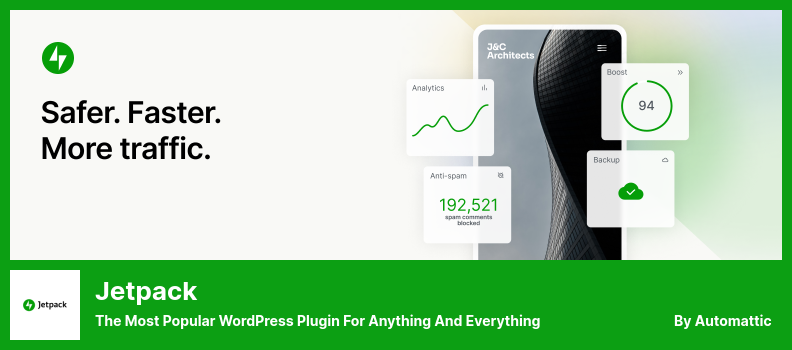 Jetpack is a multifaceted WordPress plugin that aims to improve the security, efficiency, and functionality of your website. It offers a wide range of features and integrates with various third-party services.
One of its standout features is its ability to support Markdown editing right out of the box. This means you can easily paste or type Markdown text directly into the provided block, and the content will be rendered correctly when published or reviewed.
Apart from its Markdown support, Jetpack also offers automation for publishing blog posts and products. This feature allows you to streamline your content creation process and save time. Additionally, the plugin's auto-update functionality ensures that your website stays up to date with the latest improvements and bug fixes.
Jetpack also provides the option to enable the Classic Editor, which can be useful for those who prefer the older editor interface. This allows you to have a familiar editing experience while still benefiting from the other features and enhancements offered by Jetpack.
Key Features:
Markdown editing support
Automation for publishing blog posts and products
Auto-update functionality
Option to enable the Classic Editor
Personalized content delivery for visitors.
a Markdown Editor You Can Count On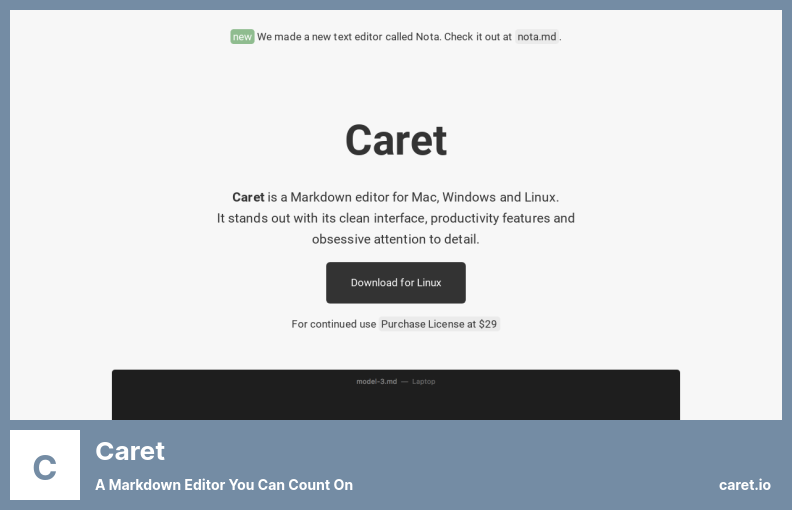 Caret is an amazing plugin for WordPress that allows you to use it as a Markdown editor, regardless of the operating system you are using. Whether you have a Mac, Windows, or Linux, this plugin has got you covered. It was built from scratch with powerful features and abilities to assist you in getting things done.
One of the standout features of Caret is its editor. It is the centerpiece of this plugin and offers a seamless writing experience.
It provides auto-completion for things like file paths, codes, emoji names, and even offers contextual actions like spelling error correction and opening links. This makes it an ideal tool for any writer who works with markdown-based code.
The plugin also boasts a professional sidebar that keeps track of your files and headings. It offers a Go-To feature that makes browsing through your documents a breeze.
In addition, Caret offers various customization options, allowing you to tailor the application to your liking. Whether you want to export your work as HTML or PDF files, Caret has got you covered.
Key Features:
Enhanced formatting capabilities for tables, lists, HTML, fences, and links.
The sidebar feature provides easy access to your files and headings.
Auto-completion for pathnames, emoji names, HTML, and code.
Built-in support for viewing Math LaTeX expressions within the editor.
Ability to make multiple changes at once, saving you time and effort.
a Markdown Editor With Beta Versions for All Three Major Operating Systems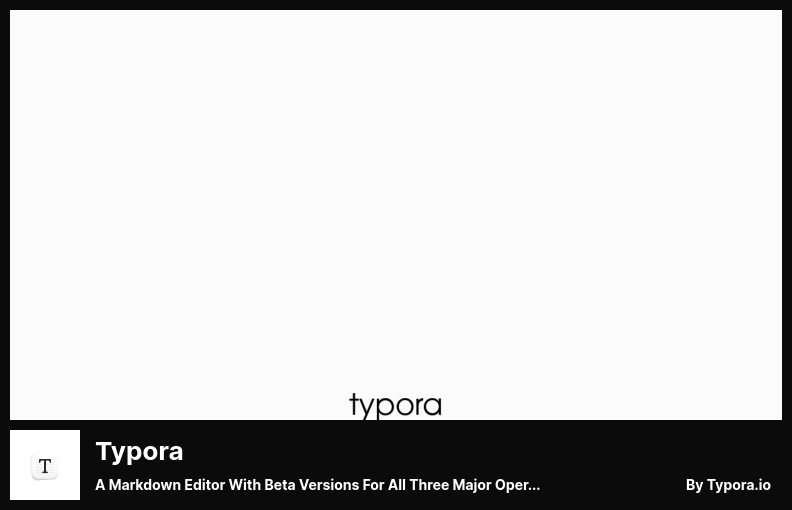 Typora is an incredibly useful plugin for WordPress that offers one of the best writing and reading experiences for markdown editors. It allows you to have complete control over your writing, starting as soon as you open it and then learning more about different formatting options as you go.
One of the standout features of Typora is its real-time preview. Unlike other markdown editors, there's no need for a separate preview window.
You can immediately see how your text will appear as you write, making it much easier to make adjustments and catch any mistakes. This ensures that no detail is missed and saves you valuable time.
Not only is Typora easy to use, but it also offers a seamless experience for both writers and readers. The intuitive design and user-friendly interface make it accessible for anyone, regardless of their technical skills. Whether you're a seasoned writer or a beginner, Typora provides a smooth and enjoyable writing process.
Typora goes beyond just text by allowing you to incorporate tables, diagrams, and even mathematical calculations.
This versatility makes it a valuable tool for various types of content, from research papers to white papers to case studies. It's a convenient solution for those looking to create visually appealing and informative documents.
Another great feature of Typora is its ability to remove distracting elements. By focusing solely on the writing experience, it helps you stay in the zone and avoid any unnecessary distractions. This allows you to stay focused and fully immerse yourself in your work.
Key Features:
Real-time preview for a seamless writing experience
User-friendly interface for both writers and readers
Support for tables, diagrams, and mathematical calculations
Complete control over your writing
Removal of distracting features
WordPress Post and Page Editor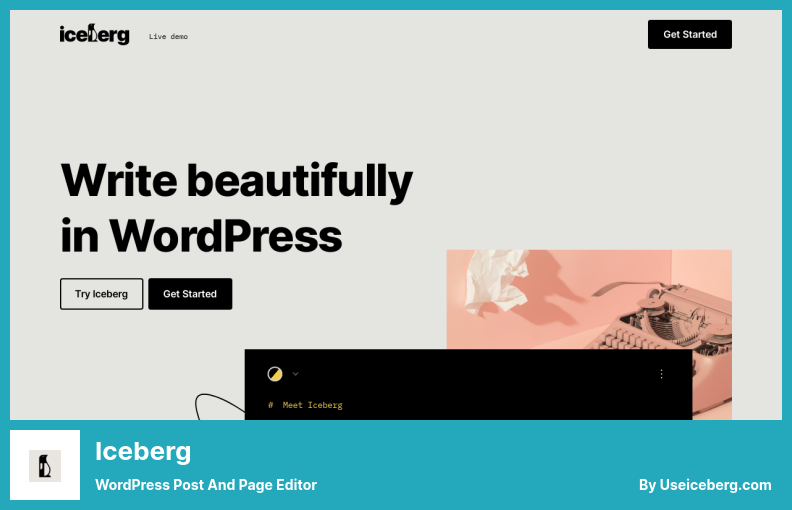 Iceberg is a simple WordPress plugin that allows users to swap out the blocky post editor for Markdown. With its sleek and minimalist design, it resembles a word processor rather than a post builder, making it perfect for those who are particular about their work environment.
One of the standout features of Iceberg is its ability to fade away unnecessary information as you write, allowing you to focus solely on your writing tasks. This streamlined approach encourages productivity and eliminates distractions, making it ideal for users who want to concentrate on what they need to accomplish.
Additionally, Iceberg offers three different color schemes, giving users the freedom to customize their writing experience. Whether you prefer a dark, light, or sepia theme, this plugin has you covered. Furthermore, Iceberg provides various writing options, allowing you to format your content in a way that maximizes its effectiveness.
However, it's important to note that Iceberg does not have a free version like some other similar plugins, such as Caret and Typora.
While this may be a downside for budget-conscious users, the functionality and customization options offered by Iceberg make it a strong contender for those willing to invest in a premium plugin.
Key Features:
Enjoy a more natural and easier writing experience in the WordPress block editor.
Stay focused on your current post while easily managing your next one.
Swap out the blocky post editor for a sleek Markdown editor.
Focus solely on your writing with a minimalist and distraction-free interface.
Choose from three different color schemes to personalize your writing environment.
Format your content in various ways to maximize its effectiveness.
Enhance your productivity and workflow with a streamlined writing experience.
Create visually appealing posts with the attractive blocks editor.
Easily customize your writing environment to suit your preferences.
Format your content with ease to make it more engaging and impactful.
a Markdown Editor That Facilitates Collaboration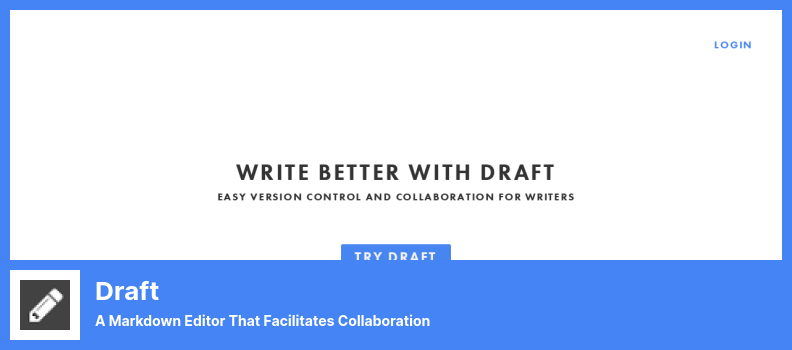 Draft is a markdown editor that makes collaboration a breeze. With this powerful WordPress plugin, you can easily write and publish content on your own or collaborate with others on various projects. It even allows you to convert audio and video files and offers a range of other handy functions.
One of the standout features of Draft is its version control capability. This means that even when working with others, their changes won't affect your original document. You can compare different versions of a document and see how it has evolved over time, ensuring that the final result meets your expectations.
Another great feature is the ability to import documents from popular cloud storage platforms such as Dropbox, Evernote, and Google Drive.
This makes it convenient to work with your existing files and ensures seamless integration with your preferred tools. On the flip side, you can also export your drafts to platforms like Blogger, Mailchimp, and LinkedIn, based on your preferences.
Draft also offers a powerful view that allows you to see the changes made to your document over time. This feature provides valuable insights into the evolution of your work, making it easier to track and manage any revisions that have been made.
Key Features:
Easy publishing on Tumblr, WordPress, Ghost, and other websites.
Powerful view to track the changes in your document over time.
Transcripts available upon request for further reference.
Importing documents from cloud storage to work locally.
Tracking significant changes made to your work for better management.
Frequently Asked Questions
What are Markdown editors?
Markdown editors are tools or plugins that allow users to write and format text using the Markdown language. Markdown is a lightweight markup language that uses plain text formatting syntax to create documents that can be easily converted to HTML or other formats.

These editors provide a user-friendly interface for writing and formatting content without the need for complex HTML coding.
Why should I use Markdown editors for WordPress?
Markdown editors offer several benefits for WordPress users. Firstly, they provide a simplified writing experience by allowing users to format text using simple syntax rather than complex HTML tags. This makes it easier and faster to create content.

Additionally, Markdown editors often offer built-in features like live previews, syntax highlighting, and spell-checking, enhancing the overall writing and editing process. Lastly, Markdown files are portable and future-proof, as they can be converted to various formats, meaning your content won't be locked into a specific platform or CMS.
Conclusion
In conclusion, we've taken a look at the 8 best Markdown Editors plugins for WordPress in 2023, both free and pro options. We've discussed the features, functionality, and ease of use of each plugin, helping you make an informed decision for your website.
If you're interested in exploring more tutorials and articles related to WordPress and website optimization, I encourage you to visit the BetterStudio blog. Our team frequently updates the blog with valuable insights and tips to help you enhance your WordPress experience.
To stay updated with the latest tutorials and articles, I recommend following BetterStudio on Facebook and Twitter. By doing so, you'll never miss out on the latest updates and resources to elevate your website game.
Thank you for taking the time to read our article! We appreciate your support. If you have any questions or need further assistance with the content discussed in this article, please feel free to leave a comment below. Our team is here to help you.