Are you looking for the best WordPress Facebook reviews plugin? Are you interested in having the best Facebook reviews WordPress plugin on your WordPress site? 
Or even are you enthusiastic enough to keep reading Facebook reviews? Or surfing websites to find the best Facebook reviews widget for the sidebar of your WordPress site? 
So, this article is right for you. Keep reading to find 5 of the best WordPress Facebook reviews plugins for your WordPress site in 2021. You use WordPress Facebook feed plugins for adding your Facebook posts to WordPress.
Best Facebook Reviews Plugins for WordPress⭐
But before we start introducing our list, let us start with a basic explanation of a WordPress Facebook review plugin: 
What's a WordPress Facebook Review Plugin?
It's wonderful for you to display Facebook reviews about your business on your WordPress site. By using an excellent WordPress Facebook reviews plugin, your visitors can write their thoughts. 
You can empower your visitors to make your site's conversation rate and traffic better. And the most important items are helping your business to improve more and more and increase the trust of your audiences. Thus, it increases your sale. But, what exactly is a WordPress Facebook review plugin?
You know, positive reviews help all businesses to progress in the field of their activities. Genuine reviews play an essential role in influencing anonymous web visitors. 
If you have a Facebook account, you can connect it to your WordPress site through different plugins. A Facebook reviews WordPress plugin can display all the core reviews from your Facebook account. 
When your visitors see these impressive reviews, they can trust your business more and add more social proof to your site. You can also display recommendations on your WordPress sites via your Facebook reviews widget. These plugins use Facebook APIs to get more traffic to your site. 
Check out our top picks for the best Facebook Reviews WordPress plugins of 2022:
Business Reviews Widgets for WordPress
The WP Business Review plugin will support your business for a year and give you an activation review license for one site.
This plugin makes it easy to connect Facebook reviews to your WordPress site. These embed Facebook reviews WordPress plugin works well with other social media and connection tools.
So, take complete control of your reviews and handle your website's progress with an easy-to-use plugin with a clean design. Using the WP Business review plugin brings a lot of calls to your business, increases sales, and improves your profession.
WP Business Review Plugin is one of the best WordPress Facebook reviews plugins with automatic updates.
This Facebook reviews WordPress plugin ensures you a 30 days guarantee of money back in any case. This guarantee means that you can refund 100% of your money back without any question or reason in the case of any unsatisfying.
💵 For a price, you can get the WP Business Reviews plugin and a bunch of additional services.
Key Features:
Facebook Reviews
Zomato Reviews
Facebook Reviews and Recommendations for WordPress
One of the best WordPress Facebook reviews plugins is the Social review and recommendation. This solid and perfect plugin has a strong Facebook reviews widget.
It displays Facebook reviews and recommendations on your WordPress website. This plugin is also one of the best Elementor Facebook reviews plugins.
It can support other page builders such as Gutenberg, SiteOrigin, Beaver Builder, WPBakery, and Divi. Since this plugin uses Facebook's APIs, you need admin rights to connect to the Facebook page.
💵 Free Lite and Premium versions are available.
Key Features:
SEO Friendly
Full support for using Shortcode
The option of an automatic refresh for reviews
Display ALL Facebook reviews
The use of the 'read more' link for long reviews
Shows genuine reviews from Facebook users to increase user confidence
Easy to get to Facebook pages and show reviews
Review list theme
Random Reviews:
It was easy to set up and works great.

Many thanks.

I don't know much about technology, but even I can tell when something is working well and has been updated.
Widgets for Social Reviews & Recommendations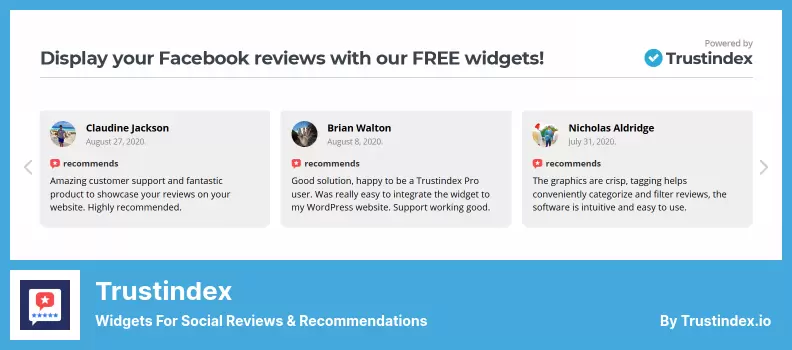 Widgets for Social Reviews & Recommendations' is the name of one of the most responsive Facebook reviews widgets. It helps your business a lot. In two minutes, this WordPress plugin displays your Facebook reviews and recommendations for FREE.
By using pre-designed widgets, this plugin can help you to display all recommendations and reviews. You can also design your own widgets, filter your reviews, and display the desired ones.
💵 With all the features and functions above, It is Free!
Key Features:
35 widget layouts
The option of having 16 pre-designed widget styles
Review filtering support
Support for more than 40 Languages
Shortcode Integration Support
Dark Mode style included
Use in any page builder such as Gutenberg, Elementor, WPBakery, Divi, and Classic
Random Reviews:
Definitely one of the best Social Review Plugins. Beautiful and doesn't slow down your site! Highly recommended.

Setup took me five minutes

This program is easy to install and very good code. Even if you use the free version, it does not bother you to update this every week. Kudos to the developer*
Facebook Reviews Slider for WordPress
WP Review Slider is another Facebook reviews WordPress plugin. By using this easy-to-use and the best WordPress Facebook reviews plugin display all your reviews.
In the new update of this strong Facebook Review Plugin, you can display your tweets from your Twitter account. So, increase the trust of your visitors by working with this completely easy and modern plugin.
By using WP Review Slider, in three steps display all your Facebook and Twitter reviews you wish and enjoy helping your business.
💵 There is a free Lite version as well as a paid Pro version.
Key Features:
Create a fantastic slider for both Facebook reviews and Twitter tweets
Display Reviews in a responsive grid or list
Facebook page reviews downloading and displaying
The option for creating many templates for using on your Posts, Pages, & Widget areas
Displaying options for templates like show/hide date/star rating, border radius, background, and text colors
Choose how many reviews to display per row
The option of having many rows for displaying reviews
Sort the reviews by date or random
Random Reviews:
I love it!! This topic was modified one month ago by

This plugin is easy to use, with excellent support.

I've been using it for a while now, and it's working fine. It would be nice if there were more styles in the free plan.
Official Facebook Pixel Plugin for WordPress
Our last plugin from the list of WordPress Facebook reviews plugins is Facebook for WordPress Plugin. This plugin captures all actions of visitors by installing a Facebook pixel on your WordPress page.
By using the Facebook WordPress plugin, you can send events from the server of your page, thanks to the support of Facebook APIs. Facebook for WordPress plugin has built-in support for other WordPress plugins, too. Some instances include Gravity Forms, WooCommerce, WPForms, and more like them.
💵 You can use this plugin for free. It is available for download for free.
Key Features:
Understanding how cross-device ads impact conversions is key
Utilize your Facebook pixel dashboard to gain insight into how people are using your website
Facebook Audiences can be created based on visitors to the website
Random Reviews:
It is bad for your health to stop chewing

Use of this plugin is strongly recommended if you are using Gravity Forms. An incompatibility causes notification and/or redirects to not function properly. The entry details will be submitted, but visitors will not know that since the 'working' circle keeps spinning. This issue has been happening for several months, and no resolution has been seen yet.

Quite glitchy
An Overview Of What We Have Discussed
You can use one of these plugins to make your site more appealing. We reviewed the best Facebook Review plugins for WordPress in 2022.
We hope this list of Facebook Reviews plugins has been helpful to you. You can also check the best WordPress blogging themes and best WordPress hostings.
Give us your comments if you have any trouble or questions about creating a website. We would be happy if you shared this post on social media.