Do you want to know the best WordPress plugins for WooCommerce product designers?
We will share with you the best WordPress plugins for WooCommerce Product Designer in this article. Finally, we will give you a few recommendations for dedicated scenarios. With these plugins, you can set yourself apart from the competition. In conclusion, all the top WordPress themes will utilize these plugins.
These topics are intended for WooCommerce Product Designer. Still, you can also use them for WooCommerce Product Customizer, Product Personalization Plugin, or Interactive Product Designer.
📌 Note: Use an advanced WooCommerce theme that provides the features you need with a beautiful design to improve the appearance and functionality of your store. Also, for choosing advanced plugins for your store, check out our article about top WooCommerce plugins.
In this text, we'll share our gathered WordPress plugins for WooCommerce Product Designer in 2022:
Create Personal, Unique Designs for The Products
It is possible to customize the products in your store comprehensively using the KILB product designer plugin, allowing your customers to personalize the items they desire.
With this WooCommerce product designer plugin, you can display mugs, posters, t-shirts, and other items, allowing your customers to customize them based on their preferences.
The plugin allows you to upload your images or choose from available images. Suppose you are interested in experimenting with fonts or adding QR codes to products. In that case, this plugin will allow you to do so.
In addition to adding the product to their cart, customers can see a preview image of the finished product. A preview will appear as soon as the customer has ordered the item, and you can view the design on the WordPress website.
💵 Invest in this beautiful plugin for $299.
Key Features:
You can customize it via JavaScript and CSS.
SVG support is available for image uploads and design exports
Compatible with WooCommerce
There are product designs for each article and variant

There is a straightforward backend
Allows Users to Design The Products As Per Their Needs
This plugin allows customers to customize items within your store, improving their shopping experience. Furthermore, customers can design different aspects of their products, which will be presented in a unique design interface.
This WooCommerce product customizer plugin has many components to the design process, including images, text, clipart, and shapes. Customers can design their products and add them to the shopping cart for purchase.
Moreover, store owners can charge customers individually for the components they wish to sell. It is also possible to customize each attribute by your needs and to apply a charge accordingly.
With this theme, your product may be customized in several ways, including customizing the editing interface, saving designs, and selecting pre-designed templates.
💵 There is a price of $99. You will get 7×24 support for one year.
Key Features:
Provides new customers with a positive experience
You have the option of customizing the Edit Zone
It is possible to save designs
Increases the level of customer satisfaction
Several attributes are associated with a product
Generates additional revenue for the site
The Ultimate Product Designer Toolbox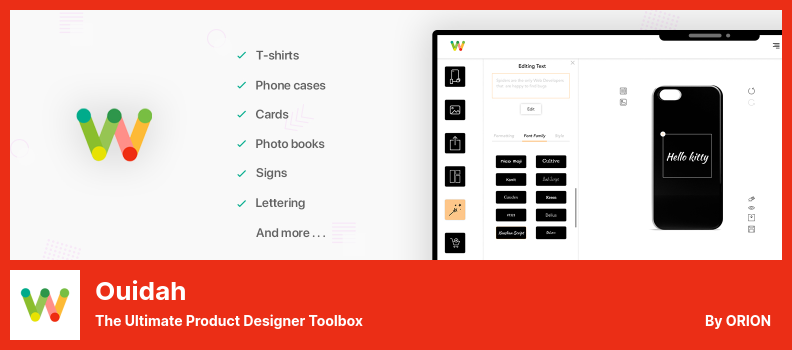 The Ouidah plugin can be used to customize any product, so there is no restriction on what can be created with it. Furthermore, a live preview of the changes allows you to view them in real time.
There are numerous features available as part of this plugin, including the creation of templates, the addition of clip arts, and the addition of shapes.
This product personalization plugin comes with an array of customization options that will add value to the website you are developing and give you the flexibility to customize it in whatever way you choose. With the help of this plugin, you will also be able to define specific rules for pricing each design.
This plugin has been developed using best practices for WordPress both on the front-end and back-end. This resulted in a robust, easy-to-use plugin that meets the requirements of WordPress users.
With the plugin, you can choose from either the default WordPress themes or the latest version of the WooCommerce plugin.
💵 Version Lite is free. Version Premium costs $61.
Key Features:
There are various templates
Custom pricing rules are available
There are SVG and PDF outputs available
There is an SVG colors editor
The ability to design products using SVG, JPGE, and PNG is provided
Custom TTF fonts support is provided
Random Reviews:
For a free plugin, it works well. If you want to sell different sizes of t-shirts, however, it will not work with Variable products.

In truth, I found some unfinished parts right away, but in the end, it does its job well.
Take Your WordPress WooCommerce Website to The Next Level
Combining the Design 'N' Buy plugin with a leading eCommerce platform can create a successful process for personalizing products.
This plugin will be available for download to ensure that online printers can access Web-to-Print solutions that allow them to sell customized items like T-shirts, caps, mugs, greeting cards, and more.
With this plugin, you can design custom products right from the shopping cart, allowing your clients to order products from the comfort of their own homes.
With this interactive product designer plugin, customization is possible by providing editable templates for a variety of products so that your customers can customize them as desired.
Furthermore, you may choose to sell products online based on your preferences, and you are free to choose which ones to sell and how many you wish to sell.
In addition, the users can use a live quotation calculator that allows them to estimate the price of the print job. Another option is to customize your backend so that the design studio theme matches your organization's brand.
💵 The plugin costs $(Needs Quote) and comes with free support for the first year.
Key Features:
You can manage orders and download ready-to-print vector output files in PDF and CMYK
You can boost client happiness and attract new customers
You can set up product catalogs, add clipart and photos, and assign colors and fonts
You can stock and manage pre-decorated products and readymade design templates

Your offerings can be expanded, and your revenue can be increased

Your business can be built, and your efficiency can be improved
The Most Successful Product Designer

Several powerful features are available with the Fancy Product Designer plugin, which will increase your sales and overall revenue. You can customize unlimited products without limitations, which is an impressive feature.
With this plugin, you can upload your products, view them individually, and define bounding boxes to allow you to customize the product more precisely and efficiently.
Furthermore, the layered design allows you to track the progress of your changes within the application easily. A powerful color picker is included in this plugin, making it easy for customers to select their preferred color in a hurry.
Since the plugin is flexible, customers can adjust the size, position, color, and several buttons on their interface and choose from predefined layout options.
Apart from customizing the product designer's modules and activities, the users can also design their modules and activities to meet their requirements.
In addition, this plugin is responsive, meaning its functionality is independent of the type of device on which it is installed.
💵 The plugin for $93 includes 12 months of free support and updates.
Key Features:
Image uploads are supported in SVG, PNG, and JPG formats
Products and elements can be set to have variable prices
Combines several layouts to create your user interface
Provides users with the opportunity to set flexible prices for their products
Provides customers with the ability to upload and add images from any device
Maintains a record of all applied designs
Random Reviews:
It was hell at first, but now it's beautiful… thanks Radikal.

It has served me well, is the center of my business, and is an excellent bargain.

A bit complicated but functional. Color adjustment is a complex and responsive view that sometimes has problems. Curve text does not work well.
A Simple Way to Add WooCommerce Product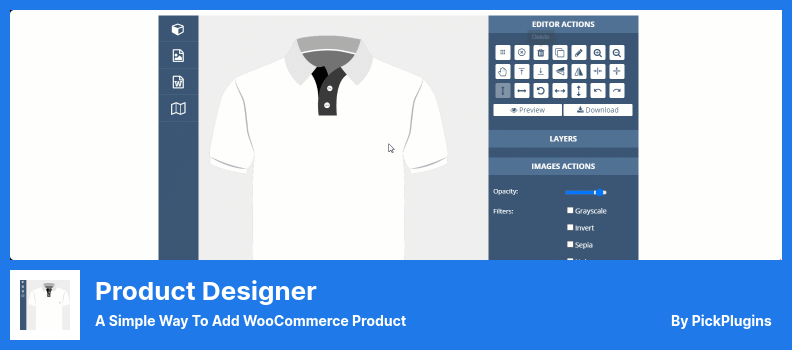 The Product Designer plugin allows you to customize and design your products straightforwardly. It is compatible with any WooCommerce store that supports the plugin. With this plugin, your customers can customize their purchases before placing their orders.
This plugin allows customers to add custom text shapes, graphics, and other website elements to their websites.
Using this plugin, you can add as many sides to the product as you wish since it is template-based, so you can reuse the same template for different types of products.
Also, customers can preview and download their designs before making a purchase and add unlimited customizations such as text art and clipart before making their purchase.
Using this plugin on any device allows you to design and customize products easily. You can use the plugin on an Apple iPhone, a Samsung Galaxy tablet, or a desktop computer.
This plugin features many design options, making it one of the best product designer plugins we have ever used.
💵 A Premium version is available for $(Needs Quote), and a Lite version is free.
Key Features:
Allows you to store valuable quotes that users on their products can use
QR codes and bar codes can be easily added to your design
A loop item can be customized on the WooCommerce shop page
A selection of over 50 handpicked Google fonts are available for you to use
You can design unlimited angles and parts of a product
The customer can upload shapes or clipart according to the text type
Random Reviews:
It is not impossible to preview or download the design once it has been edited.

Despite this being a great idea, I couldn't figure out how to configure it. The documentation is highly brief and unclear.

Although this designer works excellently, it doesn't help you if the design you receive from the customer does not add to the order.
Allow You to Create and Sell Customizable Products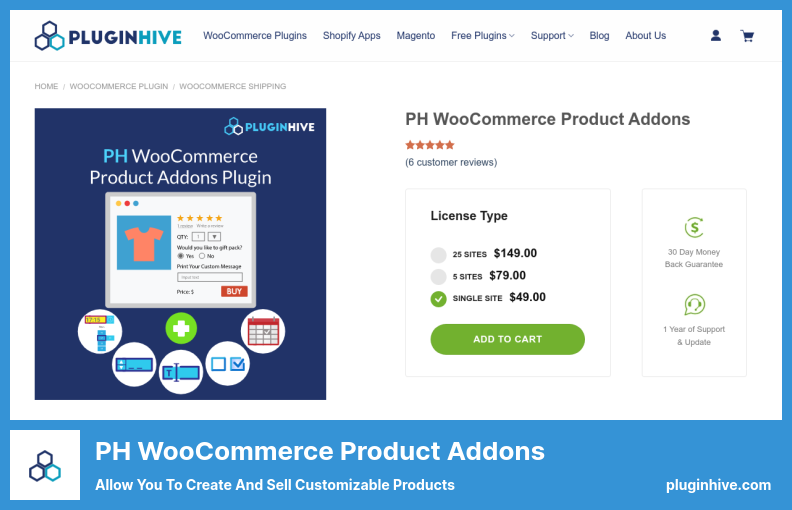 The PH WooCommerce Product Addons plugin allows store owners to sell customized products through their WooCommerce stores.
This plugin offers a variety of options to add additional options to WooCommerce products, including checkboxes, radio buttons, drop-down menus, multi-select options, color pickers, date and time pickers, and text numbers, and phone numbers.
Multiple control options are available for each product, each of which has its price and conditional logic so that you can customize your products as you see fit.
With this plugin, your customers can customize their products before placing their orders, allowing them to understand better what they are ordering. If you are looking for a product designing extension, this is the one to check out.
💵 This is an essential plugin for $49.
Key Features:
The price and addon summary of the product are combined
There is an English and French version available
Displays additional options based on the selection made by the user
Flexible pricing for extra product options is available
There is full customer support via chat, phone call, zoom call
Product Designer for WooCommerce WordPress
With the Lumise plugin, you can customize a variety of different types of products, from cards to hoodies. It was possible to ensure the highest level of customer satisfaction while providing an intuitive interface to the user through this plugin.
Several features are included in this plugin, including a mask layer, photo effect, curved text, and others. It is also possible to create PNG, SVG, and JPG files using this plugin. This plugin provides a versatile editing area for a wide range of products.
By providing a user-friendly interface and tools that will assist you in setting up an online print store, this plugin allows you to create an online print store that sells print services and print goods.
Furthermore, this plugin is equipped with a wide range of powerful features that are available only through this plugin. Additionally, it features a user interface that makes it simple for users to create any type of design they desire.
💵 $93 allows you to buy this plugin and get 12 months of support.
Key Features:
Multi-output printing is supported
Pre-templates can be created for products
Provides support for multiple product types
Exporting and importing designs are available for your customers
Pre-built design templates are available
Random Reviews:
Using Lumise has been an enormous time-saver and life-saver for putting designs online quickly; later, we can customize them and even offer our customers to customize their shirts.
A Complete Business Solution for Selling Custom Printing Products
There is a possibility that the WooCommerce Custom Product Designer plugin may provide you with the most appropriate solution to meet your business needs for WooCommerce.
You will no longer have to communicate verbally with your customers if you add this plugin to your website. Once you have installed the plugin, everything else will naturally fall.
With this plugin will be possible to change the size, color, and position of your interfaces by using this plugin. It will also be possible to customize the layout for each product easily.
This plugin offers a wide range of essential features, making it one of the most comprehensive solutions on the market.
With its feature of not requiring any coding or programming knowledge, you can begin using this plugin as soon as possible. Due to its additional feature, you can also have greater creative control over your products.
This plugin has a drag-and-drop feature so customers can move images, resize them, create short layers, alter the area design to fit product images, etc.
💵 $66 is the price at which you can purchase this plugin.
Key Features:
Users without coding knowledge may take advantage of the easy option
Provides support for different types of products and printing methods
There is a product builder in the admin panel
There is a drag-and-drop designer with advanced features
An HTML5-based responsive product designer
Random Reviews:
It appears that there is an active PHP session that could interfere with REST API and loopback requests. The session should be terminated with session_write_close () before any HTTP requests can come in.

In addition, the conversion from CM ( image size) to Pixels (canvas size) does not work in the product designer option either.
Create Professional Customized Products or Services
Using the WooCommerce Multistep Form & Product Designer plugin, you can customize your products using different product designer tools, cost calculators, etc. Furthermore, you can customize your products to meet your specifications in many steps.
Besides offering you and your customers the ability to design multilayered products, this plugin also offers several other features that enhance the user experience.
With this plugin, your customers can customize any product they desire, which includes gift cards, gift boxes, mugs, clothing products, perfumes, etc.
An essential feature of this plugin is that it is WooCommerce-integrated, which utilizes both WooCommerce's payment and shipping functions and its product management capabilities.
In this plugin, there is an option to bind forms to WooCommerce products, adding them to WooCommerce carts before and after their submission.
You can easily add, delete, and rearrange elements with the admin area. One of the best features is that it is responsive and cross-browser compatible, so it can be used on any device.
💵 For $29, you can get all of these advanced features.
Key Features:
Provides support for automated updates through the

WordPress dashboard
Utilizes powerful form-building tools to create beautiful forms
Customers can change the order of form items by dragging and dropping them
Users can create unlimited product elements in multiple steps
A product designer can resize, drag, and rotate design layers
Random Reviews:
This plugin has a lot of promise; the developer is responsive, and I strongly recommend it.

I was not impressed with this. It isn't very user-friendly and needs a lot of work. It was a complete waste of money.
Plugins for WooCommerce Product Designer WordPress: A roundup
You can use these plugins to boost your website. We reviewed these plugins and showed you why they're impressive.
📌 Note: Please take a few minutes to review our posts highlighting the modern WordPress blog themes and the best WordPress plugins for your blog, which are regularly used, voted, and shared by our readers.
This is a complete list of the best WooCommerce Product Designer WordPress plugins that I hope you enjoy.
We appreciate your questions if you want us to elaborate on any of the points discussed here. If you'd like to support us, feel free to share your thoughts on Facebook and Twitter.