Trying to find the best WooCommerce Extra Product Options WordPress plugin?
This post will present you with a list of the best WordPress plugins for WooCommerce Extra Product Options. You will find all these plugins to be clean and robust. We hope you will choose the best plugin for your WooCommerce Extra Product Options site by reading this article. They support all the top WordPress themes of all types.
All of these topics are intended to be used for WooCommerce Extra Product Options. Still, they can also be used for Custom Product Addons and Product Options Dropdowns.
📌 Note: You might benefit from reading our article about advanced plugins for WooCommerce and powerful WooCommerce themes to find out how to select a theme that will both enhance the appearance and functionality of your WooCommerce store.
Check out our recommendations and decisions for the best WooCommerce Extra Product Options WordPress plugins in 2022:
Offer Add-ons for Your Products.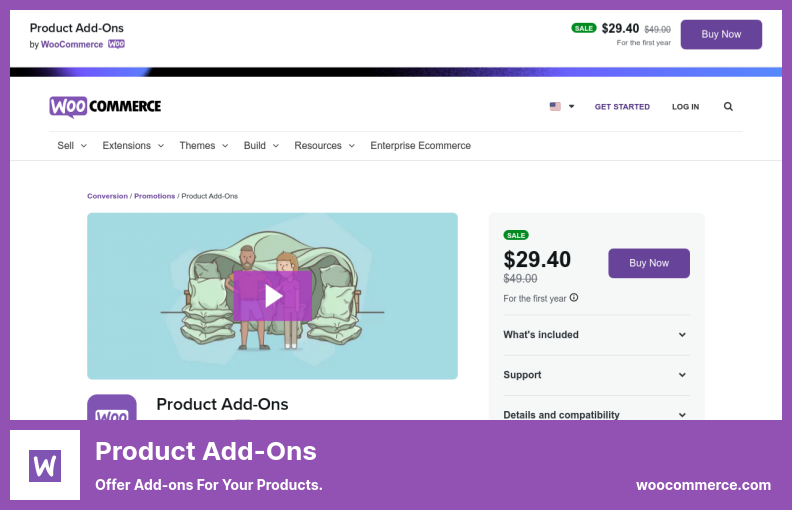 With the Product Add-Ons plugin, you can enhance your customers' shopping experience by offering them additional products on your website.
Your WooCommerce website can be transformed into a fully customizable and technologically advanced shopping experience with this plugin by WooCommerce.
With this custom product add-ons plugin, you can provide your customers with personalized products and let them enter their engravings, or you can upgrade the product material to a style that more closely fits their preferences.
In order to encourage your online customers to spend more at your store, you will want to reward them for their business. Multi-product options can be added to your products, either globally or individually, using this popular WooCommerce plugin.
In addition, you can choose whether you wish to charge flat-rate, percentage, or quantity-based fees for any additional product fields you wish to add to your WooCommerce products.
In this way, you will be able to charge your customers for the additional expenses your business incurs when dealing with large quantities of items or when your customers choose a premium product option that your business has developed.
💵 The plugin comes with one year of support and updates. It costs $29.
Key Features:
Options include text boxes, dropdown menus, text areas, checkboxes, and custom price inputs.
It is possible to name, describe, reorder, and optionally charge add-ons
Provides customers with a flat fee regardless of the number of products they order
Add-ons can be selected from a dropdown menu of predefined options
It is possible to add add-ons per product or globally from the edit product page
Create Unique Shopping Experiences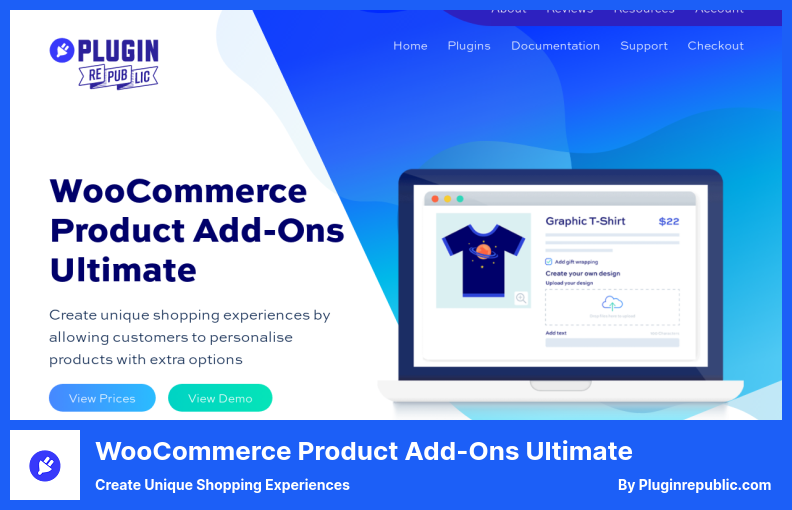 You can use the WooCommerce Product Add-Ons Ultimate plugin, among its many features and functionalities, to allow your customers to customize your products before they add them to their shopping baskets and check out.
It is a great plugin to use if you do not have much technical knowledge and wish to make customizations to your WooCommerce products.
With this plugin, a unique product can be created on your WooCommerce site within a few seconds, and additional custom fields can be added to the product.
This plugin allows you to add over 15 types of add-on fields to product pages and display product details using child products or product image swatches.
This plugin offers your customers a choice of personalizations and the opportunity to add their details that will make your products more appealing to them.
💵 The WooCommerce Product Add-Ons Ultimate plugin can be purchased for $69 and has many additional features.
Key Features:
Provides the customer with the ability to upload one or more files
Formulas can be created to calculate cost areas and other values
Fields and field options can be customized with prices
Add-on fields can be inserted into your product pages
Provides a superior shopping experience for your customers
Custom Product Addons and Fields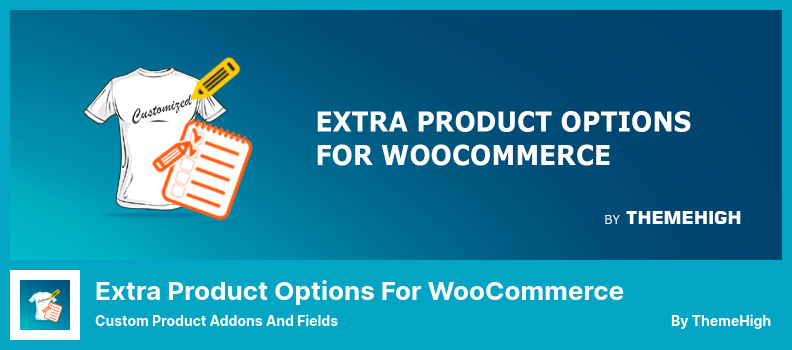 The Extra product options For the WooCommerce plugin allow you to add custom product fields to product pages, such as custom sizes, colors, and shapes, making them more usable and functional.
This plugin simplifies and streamlines the process of displaying your products. This plugin can also allow you to target niches such as fashion, travel, and gifts, regardless of whether you are a small or large retailer.
This plugin can add various product options to product pages to enhance functionality. In addition, this plugin provides custom product fields for displaying various products and options for almost any WooCommerce store.
Using sections on a product page allows you to quickly group similar fields so they can be accessed easily. There are two predefined places on the page where sections can be displayed.
💵 The Premium version can be downloaded for $39, and the Lite version can be downloaded for free.
Key Features:
There are advanced display rules
Custom validators are available
You can modify Add To Cart button text
There are custom product fields
Custom sections are available
Random Reviews:
It provides my customers with a steady mix-and-match section that they can adjust to suit their needs. In addition, the plugin has all the variables they need, like price, picture, and total price.
Add Paid or Free Advanced Options to Your Product Pages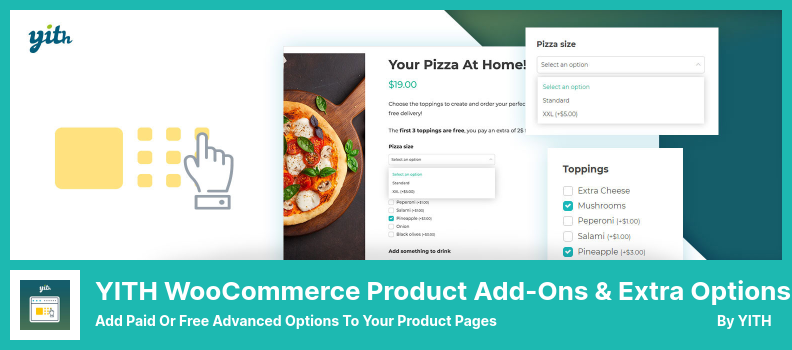 The YITH WooCommerce Product Add-Ons & Extra Options plugin allows you to add additional paid and free options to your online store.
The WooCommerce store can be enhanced with advanced product add-ons by selecting various field types, including product options dropdown menus, radio buttons, checkboxes, and custom text input boxes. This plugin allows you to add additional and additional features to your online store's product pages.
This plugin can add additional warranty fields when you sell products on your WordPress site. This allows customers to pay a refundable premium if they require a replacement warranty.
Your customers have the choice of a variety of product options when purchasing your products through WooCommerce, making it easier for them to customize their products before adding them to their shopping carts, increasing sales and the average value of every order they place on your website.
💵 This plugin offers both a free and a premium version. The Pro version costs $99.
Key Features:
Blocks of options may be created in an unlimited number
Blocks are displayed in all products/just specific products/specific product categories
Provides unlimited options within each block
Specific products can be hidden from the options
An image can be uploaded to clarify the purpose of the option
Random Reviews:
If you want custom CSS styles for specific options, you must use plugin-generated ids to target the options. This is inefficient if the ids number in the hundreds.

My premium plugin doesn't demonstrate the features of adding color swatches, quick views, etc.
Create WooCommerce Product Addons Easily

Using the WooCommerce Extra Product Options plugin, you can create custom product pages for your WooCommerce store. The plugin allows you to build forms and has an easy-to-navigate interface.
This plugin allows conditional logic rules to be applied directly to form builder elements. In essence, this allows you to create custom options based on the attributes of variable products, such as dropdown boxes, radio buttons, images, and colors.
One of the great features of this plugin is that it allows you to display custom fields or product options depending on the value of other products or variations of products you have chosen. You may also calculate the final product price using mathematical formulas on the front-end.
This plugin also allows you to give specific users specific privileges and create exclusive items on your site. For example, you can allow VIP customers to access premium product add-ons. In contrast, regular customers will only be able to view free items.
💵 You will have no worries with this plugin, which comes with complete documentation and 24/7 support. You can purchase it for $65.
Key Features:
Besides the main item, you can add one or more products to the cart
Several options are available for placing the elements and totals boxes
Designed to be compatible with WooCommerce Composite Products
Calculates element prices according to a mathematical formula
Provides additional options when viewing the shop or category
Random Reviews:
Thanks so much! We've been using this plugin for years, and the support is excellent.

Thank you so much! Excellent support; I was helped even though I didn't have a plugin issue. A very professional and professional team and a perfect plugin. Thank you so much!
Allows You to Add Extra Options Price Fields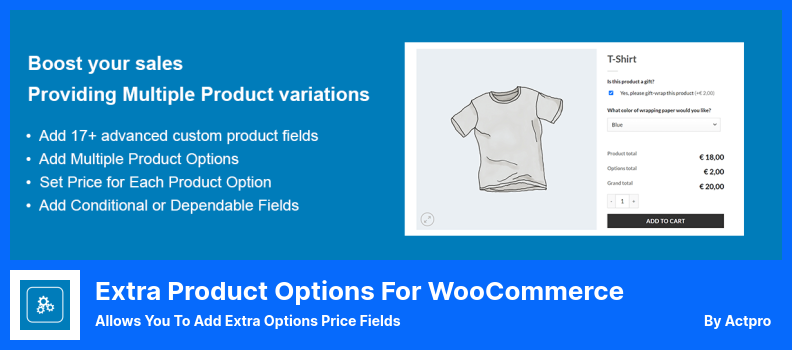 With the Extra Product Options for WooCommerce plugin, you can easily add extra fields to your products. Depending on your business requirements, you can include various options and price fields in your products.
With this plugin, a WooCommerce store owner can increase their profits by adding additional product options, whether simple options for gift wrapping or more complex choices for PC configurations.
The ability to obtain extra product options is easier and faster than the ability to obtain variable product options. Consequently, your customers can tailor their products according to their precise specifications by adding text fields, checkboxes, radio buttons, and dropdown menus.
Installing this plugin will enable you to add additional product options to selected categories and products. With this plugin, you can add a price to each field of your customized products, and the price will be added to the order total based on the field value.
💵 There is a free version available and a paid version for $46.
Key Features:
There is no need to increase inventory levels
You will be able to stand out among your competitors
Enhances the profitability of the company
Enhances the loyalty of customers
Sales can be generated more effectively
Random Reviews:
With this plugin, we could add additional product pricing options, such as installation, to each of our products, which was exactly what we needed. It is relatively easy to implement. Some formatting options would be excellent, but hey, it's free! If needed, I will upgrade to the premium version.
Allows You to Create Extra Product Options
YayExtra is a plugin that allows you to create additional options for your WooCommerce products, which you can assign to each product and use on the checkout page.
This plugin allows the creation of dropdown lists, multiple choice lists, radio buttons, check boxes, text inputs, color swatches, and many other data displays.
This plugin allows you to create a group of related product custom fields and arrange them in vertical rows or columns. One product's field will display the next product's field in a vertical row or column.
This plugin allows you to specify a set of product fields for all products within a product category that belong to a specific tag or category.
Using this plugin, you can create conditional options and combine them with existing variables to create the next options that appear when the user selects the option.
💵 Lite is free, but Premium costs $59.
Key Features:
A bulk assignment of product pages is possible.
It is possible to add advanced product fields to your products
You can customize the fields to fit your website design
You can create a group of product options
Allows your customers to personalize the product item
Random Reviews:
The plugin allowed me to show related products together, which I was looking for.
The final thoughts
Finally, we have reviewed the best WordPress WooCommerce Extra Product Options plugins above. Select a plugin and improve your site with one of these great plugins!
📌 Note: We strongly suggest checking our list of expertly selected modern WordPress hosting providers to enhance your website's performance. You may also wish to consult our list of modern WordPress security plugins to enhance your website's security.
Let us know what you think of this article.
In the comments below, please share your thoughts. Please also consider sharing this article on Facebook and Twitter.