What is the best WordPress plugin for Checkout Field Editor?
As a part of this article, we will look at the top WordPress plugins for the Checkout Field Editor. This list of WordPress plugins will help you choose the plugin that fits your needs. Also, all the best WordPress themes are compatible with these plugins.
In addition to these WordPress plugins, we created this list for the Checkout Field Editor plugins. However, this plugin is also compatible with Checkout Custom Fields, Customize Checkout Fields, and Checkout Manager.
📌 Note: The article on advanced WooCommerce plugins provides information on valuable plugins that can assist with providing the features you need and are beautiful to enhance the appearance and functionality of your website. Please refer to the article on the most useful WooCommerce themes if you want information on useful themes.
You can probably find the right and best WordPress Checkout Field Editor plugin in 2022 by scrolling down:
Adding Custom Fields to WooCommerce Checkout Page
With the Checkout Field Editor for the WooCommerce plugin, you can easily customize the checkout page of your WooCommerce store according to your preferences without any knowledge of WordPress.
This plugin will not work until you have installed and configured the WooCommerce plugin for customizing checkout fields. This plugin allows you to add, edit, delete, and reorder fields as you see fit without coding them.
Using this extension, you can change the title and label of the field and the placeholder text and class within the field. Furthermore, you can choose whether the field will appear on the Order Details Page and in customer emails.
The plugin allows temporarily disabling a field in the checkout details, order details, or emails. If any complications occur and the fields need to be reset to their default settings, click the button, and it will be disabled.
💵 Free plugin.
Key Features:
Send emails and show order details with a field
Set the fields back to their default values
Checkout fields can be reordered in the checkout process
Fill placeholders with text and class
Edit the fields you want to enable, disable, or remove with ease
Create new custom fields based on the data you provide
Random Reviews:
In addition to being very useful for editing payment fields, this plugin is also straightforward to use.

It's a big surprise that it has been so long since I've written a post. I thought I'd start writing for fun.
 Customize Checkout Fields for WooCommerce Plugin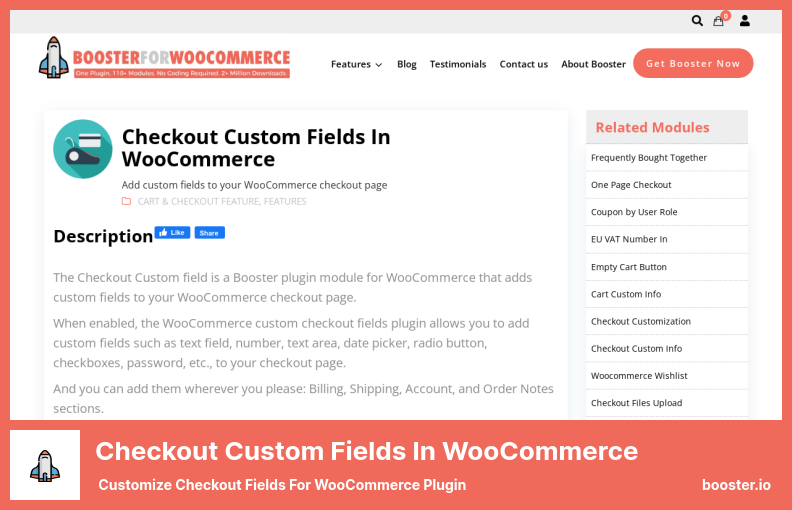 This Checkout Custom Fields in the WooCommerce module can be used with the Booster plugin for WooCommerce to add custom fields to the WooCommerce checkout.
You can add custom fields, such as text fields, date pickers, radio buttons, checkboxes, and passwords during your website's checkout process, using the WooCommerce custom checkout fields plugin.
In the Billing Shipping Account and Order Notes sections of your checkout page, you are given the option of adding custom fields if you desire. Adding custom fields to your checkout page increases your chances of making sales.
It is possible to make your customers more likely to become customers and reduce your online store's bounce rate considerably by including the appropriate fields on your checkout page.
💵 The plugin is easy to use, and you can purchase it reasonably. It costs $99.
Key Features:
Sets options for radio and select fields
Displays custom fields in admin emails
Contains 'Order received' field templates before and after
Custom fields are available for 'Thank you and 'View Order.'
Email template may be enabled before or after fields
Optional checkbox types can be set

Fill in all fields in customers' emails
Dynamically Add Custom Fields and Send With Order WooCommerce Plugin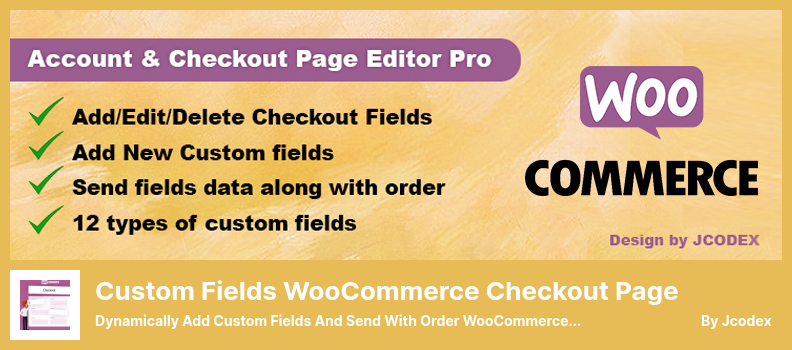 There are many ways to customize your site using the WooCommerce checkout page. Still, Custom Fields WooCommerce Checkout Page is designed to make it easy to add custom fields to the Checkout Page for WooCommerce users.
Adding new fields to your WooCommerce checkout page is easy, and you can customize existing ones without requiring coding knowledge. You can also add a custom heading to your WooCommerce checkout page.
You can also add fields using a drag-and-drop interface, which allows you to rearrange the columns in the database. When adding a field, you can specify the field's name, label type, placeholder text, and number of characters.
Additionally, this plugin allows the user to manually decide which fields are required or hidden. This handy plugin achieves what it is supposed to do without causing unnecessary inconvenience.
💵 You don't have to pay for it. You can download it for free.
Key Features:
Customize WooCommerce checkout page headings
The WooCommerce Checkout field order can be changed
Orders page and emails display fields
Organize WooCommerce fields
Set checkout fields back to default
Add a required or hidden field
Random Reviews:
This is an excellent plugin. I love it.

After I posted in their support forum and contacted them through their website, I received no after-sales support.
Adding, Editing, and Deleting Fields On The Checkout Form Plugin
The WooCommerce Easy Checkout Field Editor is a premium plugin that allows you to customize form fields during the checkout process. Still, it does not emphasize the bells and whistles it offers more than what it can accomplish.
As part of the plugin, you can upload, edit, delete, and reorder the fields on your checkout form. Moreover, it supports 11 types of custom fields, such as text passwords, dropdown lists, and date pickers.
Moreover, conditional logic can be employed to display or hide specific fields depending on the value of a field in the shopping cart. For instance, particular fields might be displayed if an item is in the shopping cart.
It is not only possible to add new fields to the configuration process, but it is also possible to revert to default fields if any problems occur during the process of configuring the system.
💵 The Woocommerce Easy Checkout Field Editor plugin is priced at $24.00 with a free 12-month support period.
Key Features:
Use drag and drop to reorder custom fields
Adding conditional fields to a checkout form
Enhance the shipping address form with new custom fields
A preview of a field can be viewed in the admin panel
Confirmation emails and emails with submitted fields
A total of 11 types of custom fields are available
Random Reviews:
This plugin satisfies my requirements.

Amicable and fast customer service.
A Great Tool for Boosting Conversions and Sales for WooCommerce
A WooCommerce Checkout Manager plugin is the perfect solution for customizing your store's checkout process. It functions as both an editor for fields and an administrator for the checkout process so that you can use it in whatever way you choose.
As a result of the checkout page tool, you can customize 15 different types of fields on your online store's checkout page. This tool also allows you to rearrange, rename and even extend the fields on the checkout page to suit your specific needs.
Besides uploading files during checkout, WooCommerce Checkout Manager offers another unique feature. It is intended to enhance customers' purchasing experiences by providing an array of valuable tools that will make them feel more satisfied during their purchases.
This is an example of how it works. Users can upload files during checkout, and administrators can manage them. We also provide the ability to manage files through the admin panel.
💵 Getting this progressive and fully documented plugin will only cost you $49.00.
Key Features:
Depending on parent fields, you can show or hide fields
During checkout, users can upload files
Add additional field types and placeholder types to Billing Shipping and Additional fields.
Checkout fees are customizable.
Once customers complete the process, they receive an email notification
Optimize Checkout Process to Increase Conversion Rates Plugin
One of the best WooCommerce checkout field editor plugins is Direct Checkout for WooCommerce, which comes with a unique approach to simplifying the checkout process, making it one of the best WooCommerce checkout field editor plugins for WooCommerce.
When you choose Direct Checkout, you will be able to avoid all unnecessary fields during the checkout process rather than being able to add and edit them as you need to complete the purchase.
A vital feature of this app that sets it apart from its competitors is the ability to add an 'Add to Cart button to every product page. Visitors can skip to the checkout page and complete their purchase faster, decreasing cart abandonment rates.
Suppose you want to simplify and speed up the checkout process of WooCommerce. In that case, WooCommerce Direct Checkout is the right choice for you if you want to increase your conversions.
💵 Plugin features are available for a $20.00.
Key Features:
Speed up checkout by removing unnecessary fields
Improve checkout by linking product pages to checkout
One-page checkout allows customers to finish the whole purchase process in one step
Adding a product to the cart via ajax on a single page
The ability to simplify your checkout process
Manage The Checkout Page Fields in WooCommerce Store
The WooCommerce checkout field editor and manager plugin allow you to easily edit and manage your WooCommerce checkout fields. Drag and drop functionality will enable you to customize checkout fields and change or add new fields as needed.
Various customization options are available for checkout fields, including adding new fields, changing their order, and editing the default field.
The plugin allows you to adjust the width of the checkout column so that the users can see the details of their order and have the information sent to their email address. It is compatible with both polylingual and compatible with multilingual WPML plugins.
Custom sections may be edited, deleted, and so forth according to your chosen field. Suppose you wish to create another area at a different location on the checkout form. In that case, you will have to pay an additional fee.
In the checkout section, you can select conditions based on the product type, the user role, and the shipping method. You are also able to use the fields and sections that are available at the time of checkout.
💵 Free plugin.
Key Features:
Drag and drop fields to change their order
Default fields can be edited through the checkout field manager
View order details for fields filled out by customers
Activate WooCommerce checkout fields – Enable or deactivate them
Your checkout page can be customized with new fields
Default WooCommerce checkout fields can be hidden
Random Reviews:
Stable, easy, and has what I need

This tool allows me to quickly and easily edit the checkout fields without coding. So far, I am delighted with it.

It's constructive. Easy to use. I love the UI.
Customize The Checkout Page in an Advanced Way for WooCommerce
With the YiTH WooCommerce checkout manager, you can add labels to your checkout pages. The manager features an advanced Checkout Field Editor that allows you to customize your checkout pages as you see fit.
Additionally, you are permitted to create unlimited custom fields when creating a checkout page. For example, you may add radio buttons, simple text boxes, checkboxes, drag-and-drop options, etc., to customize the checkout page to your personal preferences.
A few clicks of the mouse will enable you to modify the appearance of your checkout field. In addition to changing the way errors appear to users, you can select a different style for inserting data. The radio button allows you to choose text fields and type the information into them.
The JavaScript language allows users to make changes to their inputs in real-time, before payment, by enabling them to check and change inputs throughout the payment process.
As a result of this plugin, it is possible to sort field data such as shipping notes, billing information, etc., into two columns. This tool is designed to make WooCommerce checkout pages more user-friendly by adding two columns.
💵 YITH WooCommerce Checkout Manager $€59.99 only includes all features + 12 Months of support + All plugins + Lifetime updates for 1 year.
Key Features:
Display checkout fields you want.
Make mandatory fields visible with Javascript Field Validation
Select colors for labels and tooltips
Customize fields with text or multiple selections
Move fields anywhere with Drag & Drop
Make fields one column or use WooCommerce's default style
Summarizing
It presented the best Checkout Field Editor WordPress plugins for you to find and use for your site. They are beneficial. You may have an innovative website if you use them.
📌 Note: Additionally, you may find our list of top WordPress security plugins useful for enhancing the security of your website. We also recommend you look at our expertly selected WordPress hosting providers.
We hope you enjoyed our article on the best WordPress Checkout Field Editor plugins.
Please share this post with your friends and leave a comment if you have any questions.