Have you ever thought about adding voice messaging capabilities to your WordPress website? Maybe you want to engage with your audience in a more personal and interactive way.
Well, you're in luck! In this blog post, we will explore the four best WordPress voice message plugins, both free and pro, that will allow you to easily integrate voice messages into your website.
So why should you consider adding voice messaging to your WordPress site? Well, according to a study conducted by Adobe, 91% of online users prefer voice messaging over traditional text messages.
This means that by incorporating voice messaging into your website, you can provide a more convenient and enjoyable experience for your visitors. Plus, voice messages can help you stand out from your competitors and foster a stronger connection with your audience.
Now, let's dive into the four best WordPress voice message plugins that you can start using today. Whether you're looking for a free option or are willing to invest in a pro plugin with advanced features, we've got you covered.
These plugins offer various functionalities such as recording and sending voice messages, receiving and managing voice messages, and even transcribing them for easy reference.
So, no matter what your specific needs are, there's a plugin on this list that will suit your requirements. In the next section, we'll take a closer look at each plugin and discuss its features, pricing, and user reviews. So, stay tuned!
Best Voice Message Plugins for WordPress
These incredible voice message plugins will surely assist you in adding a personal touch to your WordPress website, so be sure to check them out if you are interested in adding one to your website!
Whether you want to engage with your audience or provide a convenient way for visitors to communicate with you, these plugins are a must-have for any WordPress site owner. So, let's dive in and explore the best voice message plugins for WordPress!
SMS messaging for WordPress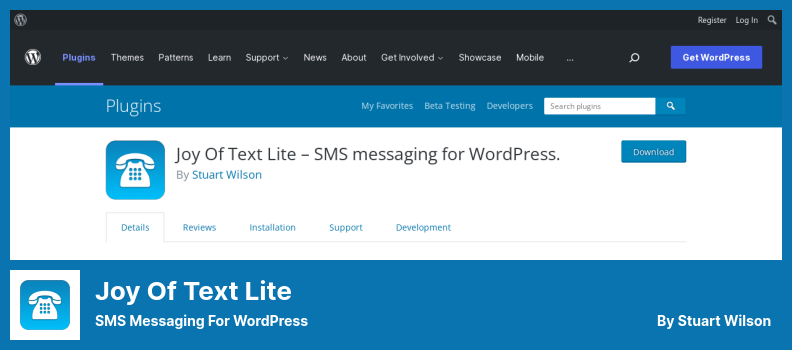 Joy Of Text Lite is a powerful WordPress plugin that allows website owners to send customized voice messages to their customers. With this plugin, you can include tags for the customer's name, phone number, or any other information you desire to personalize the voice message.
The integration with WooCommerce makes it even more convenient as you can send voice messages to your customers regarding their purchases. Not only can you send text messages, but you can also send voice messages, and the plugin can even translate your message into the customer's native language.
One of the standout features of the plugin is the ability to create groups. This means you can send voice messages simultaneously to multiple clients, saving you time and effort in reaching out to your audience.
The Joy of Text Lite is not only a voice messaging plugin but also an audio recorder plugin. This means you can easily record and send voice notes to your clients, adding a personal touch to your communication.
Key Features:
Add, delete, and update group members with ease
Send SMS or MMS messages, text-to-speech, and audio files
A wide variety of merge tags are available for customization
Create multiple subscriber groups for better organization
Receive inbound SMS messages and MMS messages from your clients
SpeakPipe is a WordPress voice message plugin that allows you to integrate your IT account with your WordPress website. It gives your website the ability to receive voice messages and allows you to post content by voice.
The plugin allows visitors to your site to record voice messages in real-time, and you can receive them directly to your email by sending them to the address provided in the plugin.
One of the key features of the plugin is that it does not require users to have an account in order to leave you a voice message. This makes it easy for anyone to send you a message without any barriers. All they have to do is click the record button and start speaking, no need for them to type anything.
The plugin integrates seamlessly with WordPress sites, so you can start receiving voice messages right away. It takes just a few clicks for the plugin to be up and running on your site. You and your visitors both benefit from this, since they can leave a voice message with no problem.
The ability for your website to accept voice messages directly from your audience is a powerful feature. It allows you to engage with your visitors in a more personal and interactive way. Whether you're running a podcast or creating videos, it can be a valuable tool for answering questions sent to you by your audience.
Another great aspect of SpeakPipe is that it allows you to store all of your voice messages and data with speakpipe.com. This ensures that you have a secure place to keep your messages and access them whenever you need to. Plus, it offers a range of useful functions that can enhance your overall experience.
Key Features:
Secure storage of voice messages and data with speakpipe.com
No account is required to leave voice messages
Seamless integration with WordPress sites
Direct voice messaging from your audience
Easy message sending with just a few clicks
Heyoya is a WordPress plugin that offers simple and customizable tools to manage your comments settings for voice. Also, you can display the best voices on your blog while hiding the most moderated comments. This feature not only increases user engagement but also improves your blog's search engine ranking.
One of the key features of the plugin is the ability to send and receive text messages, voice messages, and video messages. This adds a unique and personalized touch to your blog's comments section.
Additionally, you can easily share your comments and reviews on various social media sites with this plugin, further expanding your reach and visibility.
Similar to the Joy Of Text Lite plugin, the plugin allows your visitors to record voice notes when they post a comment on your blog. This feature enables them to express themselves in a more intimate and authentic way, enhancing the overall user experience.
By using the plugin, you can increase the quality of your content and grow brand loyalty. This plugin allows you to avoid spammers and abusive content, ensuring that your comments section remains a safe and valuable space for your readers.
Furthermore, this plugin helps keep your readers on your site longer, lowering bounce rates and ultimately improving your website's performance. One of the major advantages of the plugin is its ability to generate better user-generated content.
By incorporating voice and video messages into your comments section, you encourage your readers to share their thoughts and opinions in a more meaningful manner. This not only strengthens your site's credibility but also attracts more traffic and engagement.
Lastly, Heyoya helps you develop your online community and keep your readers engaged. With its customizable tools and features, you can create a comments section that reflects your brand's identity and encourages active participation.
Key Features:
Quality content enhancement
Spammer and abusive content prevention
Decreased bounce rates and increased user retention
Improved site credibility and increased traffic
Online community development and reader engagement
Excitel is a WordPress plugin that offers a voice communication option to help website owners effectively respond to customer inquiries and improve sales and customer loyalty. It allows you to customize the call button, forward calls, record calls, export call data, and manage your availability for receiving calls.
One of the standout features of the plugin is its ability to export data into Microsoft Excel, making it easier for you to analyze and track call statistics. This feature can help you identify trends, optimize your customer service strategies, and ultimately improve your overall business performance.
Another great attribute of the plugin is its focus on quick issue resolution. With this plugin, customers can connect with you directly through voice calls, allowing for faster and more efficient problem-solving. This not only enhances customer satisfaction but also helps build trust and loyalty.
It also allows you to customize the time for receiving calls, making it convenient for you to manage your work hours and be available when it suits you best. Additionally, it enables you to retrieve the history of each call, ensuring that you can access past conversations and gather valuable insights.
A valuable aspect of Excitel is its option to forward calls to other operators or managers. This feature enhances team collaboration and allows for seamless transfer of customer calls, ensuring that no inquiry goes unanswered or unresolved.
Key Features:
Data export to Microsoft Excel
Quick issue resolution for customers
Customizable call receiving time
Call history retrieval
Call forwarding option
Frequently Asked Questions
What are WordPress voice message plugins?
WordPress voice message plugins are add-ons that allow users to send and receive voice messages on their WordPress websites. These plugins provide a convenient way for visitors to leave voice messages instead of typing out their feedback or inquiries.
What are the benefits of using WordPress voice message plugins?
WordPress voice message plugins offer several benefits. Firstly, they provide a more personal and engaging way for visitors to interact with your website. Voice messages can convey emotions and tones that may be lost in written text.

Additionally, voice messages can save time for both website owners and users, as it is often quicker to leave a voice message than to type out a message. These plugins also provide a unique and innovative feature that can make your website stand out from the competition.
How do voice message plugins work on WordPress?
Voice message plugins for WordPress typically integrate with existing contact forms or provide standalone voice recording features. Users can simply click on a button or widget, record their message using their microphone or phone, and submit it.

The plugin then converts the voice message into a digital file and sends it to the website owner via email or stores it in a designated location for easy access.
Conclusion
To sum it up, in this article we explored the four best WordPress voice message plugins, both free and pro. We discussed their features, benefits, and how they can enhance your WordPress website with voice messaging capabilities.
Whether you're looking to add a personal touch to your website or improve user engagement, these plugins can help you achieve your goals.
For more in-depth tutorials and resources related to WordPress plugins and website optimization, be sure to check out the BetterStudio blog. They provide valuable insights and step-by-step guides to help you make the most out of your WordPress website.
To stay up-to-date with the latest tutorials, tips, and tricks in the WordPress world, make sure to follow BetterStudio on Facebook and Twitter. By doing so, you'll never miss out on any new content or updates that can benefit your website.
Thank you for taking the time to read this article. If you have any questions or encounter any problems while implementing these voice message plugins, please feel free to ask in the comment section below. Our team and fellow readers will be happy to assist you. Happy website building!