Do you own a WordPress website but worry about underage users accessing your content or products? If you answered yes, then you're in luck! This blog post is just for you.
In this post, we will share with you the 9 best WordPress age verification plugins that will solve your problem in seconds. Whether you sell age-restricted products, run a gambling or adult content site, or simply want to keep your content safe, we have got you covered.
As we all know, minors accessing adult content or inappropriate products can lead to severe consequences. Therefore, in this post, we will introduce you to the best age verification plugins available. Let's dive into it!
Best Age Verification Plugins for WordPress
If you are looking to add an age verification feature to your WordPress website, then you are at the right place. Our carefully curated list of the best age verification plugins for WordPress will help you safeguard the content of your website. Check out these top-rated plugins now!
Age Verification For WooCommerce
Online shops that sell products need to verify age, so Agy is the perfect plugin for them. WooCommerce age verification plugin that makes sure you verify a person's age before they access adult content. A sister WordPress plugin protects passwords, and you can set up different verification methods.
The plugin provides three different age verification methods, including date picker, simple slider, and Yes/No, to ensure its effectiveness. Users can customize the appearance of the age verification system to be more modern and appealing.
You can even whitelist or blacklist specific products to make the process more personalized. You can customize and set age gate texts and their appearance formats.
The plugin can also restrict age-gate access to non-registered users using WooCommerce as their backend. If certain posts, pages, or products are directed at underage audiences, it provides exclusion options. Unfortunately, Agy lacks the feature to blur front-end images of products or categories unless a user verifies.
Key Features:
Add additional checkboxes to the checkout or registration pages
Exclusion options for specific posts, pages, and products
Compatible with the WPML and Polylang plugins.
Only non-registered users allowed age-gate access
Three types of identity verification, includes date picker, simple slider, and Yes/No
Customize the appearance of the age-gate to be more modern and appealing
Most Complete Content Protector Plugin for WordPress
WPShield Content Protector is a WordPress plugin that ensures underage users cannot access your site content by disabling the right-click menu items, view source code and Inspect Elements.
This unique plugin offers 15 built-in protectors that securely protect text, video, audio, and source codes in one place so that you don't have to use multiple plugins. It is quick and compatible with any WordPress theme or plugin, making it an ideal choice for those seeking comprehensive protection for their website.
This plugin is the only content protector that can entirely disable the Inspect Elements system, which is the primary tool for bypassing content protectors. It also clears site content automatically if the developer tool is opened, preventing copying of the site's content.
This content protector stands out with its 15 built-in protectors that provide and guarantee complete privacy, ensuring your content is only viewable for those who have permission. Plus, it's an affordable solution that offers high-quality content protection for your WordPress site.
In addition, the comprehensive step-by-step documentation available on the website makes setup and protection easy for anyone.
Key Features:
Clears site content automatically if the developer tool is opened
15 built-in protectors for all types of content
All-around protection is provided
Complete privacy guarantee.
Random Reviews:
I tried many content protections and all of them have lack of features but it does a great job and brings protection on the top level. There may be other plugins that offer similar functionality, but I have found that this plugin is the only one that disables the developer's tools and CTRL+SHIFT+C completely>
An Age Verification For Your Checkout Page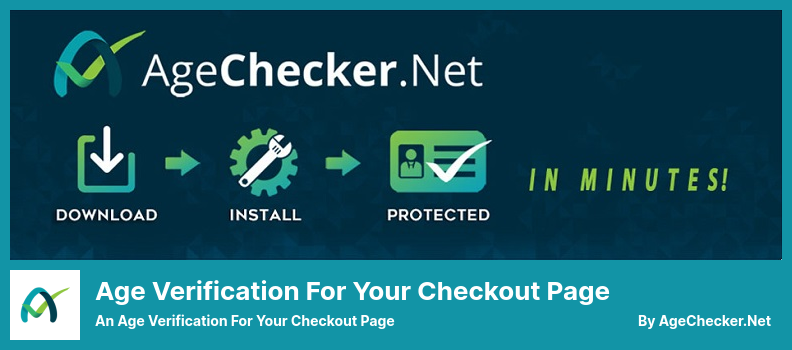 Age Verification For Your Checkout Page is a plugin that goes beyond a simple age verification threshold. By verifying customers' ages, it eliminates the need for manual verification and prevents underage sales.
The plugin ensures compliance with federal, state, and FDA regulations. Their identity database verifies nearly 90% of customers during checkout, and for a small percentage that require additional authentication, an image of their identity can be downloaded.
Key features include the ability to set a minimum age, disable verification for specific customers or product groups, integrate with any eCommerce platform, and a flexible API for custom integrations.
There is also a manual identity verification feature that adheres to the same rules that are followed by the FDA, state laws, and federal laws.
Key Features:
Compliance with FDA, state, and federal laws
Manual identity verification option
Disable verification for certain customers/products
Integrates with any eCommerce platform
Small percentage requiring additional authentication.
A Simple Solution To Age Restrict Cannabis Content
Marijuana Age Verify is an age verification plugin that makes it easy to set up an age verification system for your marijuana-related website. It offers customizable features that work for both recreational and medical marijuana users to make sure that only those of legal age can access your website.
This plugin is tested to ensure that it contains only high-quality, well-written code. It also includes free updates to maintain compatibility with the most recent release of WordPress, as well as security and functionality changes.
The free version offers basic security and age-gating capabilities, while the premium version provides advanced features and premium support, including updates.
It is developed and designed in the United States and can be used on dispensaries' websites, stores selling goods through WooCommerce, and websites presenting CBD and cannabis products restricted to a particular age group.
Showing A Popup For Visitors To Verify Their Ages
CPS | Age Verification is a plugin that protects your website's content by displaying an Age Verification Pop-up when visitors access the site. This Pop-up asks visitors to verify their age before they can continue browsing, ensuring they are of legal age to view the content on your website.
In addition to this, you can also use the plugin to comply with the EU Cookie Law or to communicate with users who have unsubscribed from the site.
One of the plugin's main features is the ability to set a header image or logo to accompany the pop-up. You can choose from several different themes and customize button styles as well.
Users can also set a background image and choose between WPML and Polylang. A unique feature that sets the plugin apart is the ability to select a light or dark mode for the pop-up style to suit your website's look and feel.
To summarize, CPS | Age Verification is a user-friendly plugin that helps you protect your website's content, comply with laws and regulations, and provides a customizable user experience.
Its features include multiple themes, customizable button styles, the ability to set background images and choose between WPML and Polylang, and the option to select light or dark mode pop-up styles.
Key Features:
Header image/logo field
Multiple theme options
Customizable button styles
Background image setting
Choose between WPML and Polylang
Light/dark mode pop-up styles.
Allows You To Set A Restriction On What Content Can Been Seen Or Restricted
Age Gate is a free WordPress plugin that allows website owners to establish age restrictions depending on their preferences. This plugin features a simple user interface that is easy to use, and it can restrict access to specific content sections on a website as a content warning plugin.
One of the excellent features of the plugin is that search engine bots and crawlers do not manipulate the process of age verification, making websites more search engine friendly.
The plugin can be added to any page, and several options are available for verifying age, such as Yes/No buttons or selecting age from a drop-down box without manually entering information.
Users can configure the plugin so that their website has a different minimum age requirement, as well as customize the age verification screen in a variety of ways that they choose.
Age verification can be done in three different ways, and the plugin allows users to restrict access to specific parts of their website or the entire website. There are versions of the plugin both with and without caching, depending on users' preferences.
Key Features:
Establish age restrictions based on website preferences
Simple user interface that's easy to use
Restrict access to specific content sections
Not manipulated by search engine bots or crawlers
Add age gate to any page on the website
Customize age verification screen.
Provides Great Looking Website Age Verification
Like many other age verification plugins on the market, AgeVerify provides an all-in-one solution that can be used to verify the age of visitors to your website in an easy and straightforward manner.
The plugin features several customizable templates to suit the needs of your users. Available in multiple languages, it is tailored to meet the requirements of beer breweries, e-cigarettes, wineries, distilleries, and many other industries.
The free version of the plugin comes with advertisements. However, if you intend to remove those ads, you can opt to purchase the pro version.
This plugin allows you to easily design and implement an eye-catching age verification prompt. The free version of this plugin is less functional than the premium edition, but it is still a great option to consider.
In terms of flexibility, this plugin is quite decent. You are able to customize cookie expiration dates and redirect URLs. Additionally, it provides a variety of attractive background images to suit your needs. The plugin is secure and utilizes the SSL/HTTPS protocol for better security.
Key Features:
Customizable with personalized background images and logos
Functions seamlessly with any language
Makes the age verification process effortless for your visitors
Redirect underage users to a separate webpage
Highly secure thanks to the use of SSL/HTTPS protocol.
An Age Verification For WordPress
Age Verifier for WordPress is a plugin that provides an age verification solution for your WordPress website. With an easy-to-use integrated editor, this plugin allows you to customize the settings and set the age gate based on your preferences, without any coding knowledge.
Furthermore, this plugin provides the ability for you to display an animation when an age gate pops up for a specific age group when a particular age gate is activated.
This plugin comes up with design options, along with a visual builder to set up an age-gate that matches your website's exact specifications. However, for those deciding to buy, it should be noted that there is no free version available.
The plugin includes features like hiding your website before displaying the age verification screen, asking a user's date of birth, and allowing them to drag a slider to put in their age.
It also allows changing the website's background color and image, changing the color of the text, and control the background color through some controls.
Key Features:
Design options with integrated editor
Visual builder to customize age-gate
Various verification procedures
Cookie expiration period setting
Nine predefined color schemes
Date of birth input with slider option.
An Age Verification Plugin For WordPress

Age Checker For WordPress is a plugin that verifies the age of visitors before entering a website, which is especially useful for industries like alcohol, gambling, and adult content.
A unique feature of this plugin is that it offers three different types of background: solid colors, pictures, and videos, which is not available in other plugins.
Besides these features, one of the most unique aspects of this plugin is the fact that it offers two check boxes and additional verification information, such as the capability to check the identity of the user.
Users have the option of changing the cookie lifetime, inputting dates in two formats, and modifying the validation and field text if necessary. The admin editor offers an instant preview following any modification.
Key Features:
Three background types (solid colors, pictures, and videos)
Checkbox and verification information such as ID verification
Modifiable validation and field text
Instant preview in the admin editor area
Cookie lifetime can be changed
Standard search engine crawlers not included in validation process.
Frequently Asked Questions
What are age verification plugins?
Age verification plugins are tools that help website owners verify the age of their users before they access certain content or services.
Why do I need an age verification plugin on my website?
Using an age verification plugin is important for websites that have content or services that are only accessible to users above a certain age limit. It is important because it helps you comply with legal regulations and prevent minors from accessing inappropriate content.
What are some important features to look for when choosing an age verification plugin?
When choosing an age verification plugin, it is important to look for features such as customizable design, multiple verification methods, easy integration, and compatibility with your website's theme.
You should also look for plugins that allow you to set different age limits for different content or services.
Conclusion
To wrap things up, we have discussed the top 9 WordPress age verification plugins, which can benefit your website significantly. From the first, every plugin holds its unique features, indicating the importance of selecting the right one that suits your website requirements.
For more informative and engaging tutorials related to WordPress, check out our BetterStudio blog, where you'll find a wealth of information to help you improve your website.
Don't forget to follow us on Facebook and Twitter to get updates on the latest tutorials and news related to WordPress. We would love to keep you in the loop.
We hope that this article has been useful to you and helped you choose the best WordPress Age Verification Plugin for your website. If you have any queries or problems, please let us know in the comment section below. We would be more than happy to assist you. Thanks for reading!