Are you looking for the best and most popular WordPress plugins for accessibility?
We reviewed and tested many of the best WordPress plugins for Accessibility to ensure you choose the right WordPress plugin for your needs. We selected only the best of the best, and all the plugins in this selection provide the necessary features and are easy, with good support, and fast. In other words, they work with any of the latest WordPress themes.
We chose plugins that are the absolute best for Accessibility. Although this plugin listing provides plugins associated with Ada Compliance, Screen Reader, and Disabled Helper usages.
Best Accessibility Plugins for WordPress 🥇
Below we showcase the top 10 WordPress Accessibility plugins in 2022:
Helps With a Variety of Common Accessibility Problems in WordPress Themes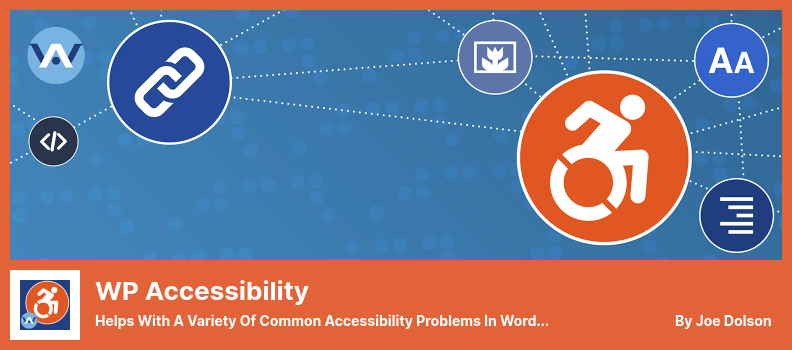 WP Accessibility is one of WordPress's best plugins for addressing accessibility problems. This plugin includes many accessibility features without requiring administrators to modify any code, and its settings can all be adjusted by the main admin area.
Also, this plugin is notable for its ability to create a line to outline focusable elements so that you can indicate to your users where their attention is currently focused on a page, whether it's a button, link, input field, or something else.
Plus, the outline's color can be customized to suit your theme.
In addition, screen reader users can use this plugin to jump to different web page sections by using the skip links provided. The skip links allow screen reader users to skip to different web page sections while avoiding irrelevant content.
Furthermore, you can use this plug-in to specify the language of your page for screen reader pronunciation, to add long text descriptions for chart and graph items, and provide links to more information.
💵 The Lite version is free, and the Pro version costs $(Needs quote).
Key Features:
Make anything obvious by defining it with an outline
It has a function for skipping links
In screen reader applications, you can indicate your native language
Descriptions for images can be added
Random Reviews:
A great tool to speed up things. Extremely time- and money-saving. This plugin has enhanced our customers' browsing experience.
The Fastest Plugin to Help You Make Your Website More Accessible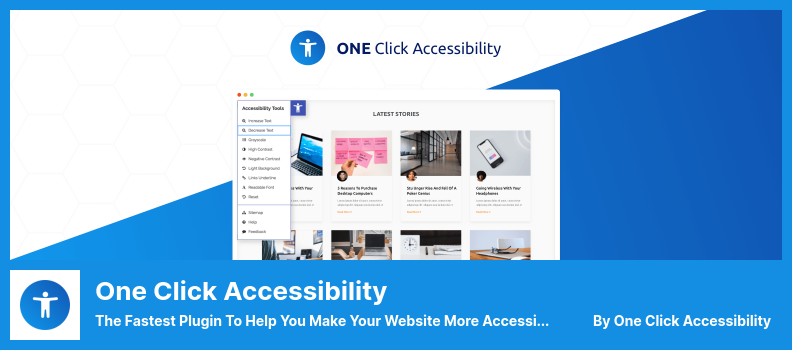 The One Click Accessibility plugin is another free accessibility plugin for WordPress that can be installed from the WordPress plugin repository. It can be installed and configured straightforwardly and makes a number of helpful changes to your site.
As part of its accessibility toolbar, its links will be underlined, the font size can be modified, the high contrast and low contrast settings can be selected, and a sitemap will be accessible.
In addition to basic accessibility enhancements, this fantastic tool offers navigational enhancements, including highlighting focus and ARIA landmarks and removing the target attribute from links to prevent them from opening in a new tab.
Using this nice plugin, you can optimize your web pages for user and search engine purposes, ranking them higher in search engine results. It is truly a great Disabled Helper tool.
💵 The plugin is free. There are no costs associated with it.
Key Features:
Includes landmark roles in all links
The target attribute may be removed from links
Provides style adjuster for customization
Includes outline focus for focusable elements
best for users that are looking for a plugin that is not too complex and complicated
Allows skip to content choices
Random Reviews:
Easy to use, simple and practical.

Spo*nia his primary objectives. Polecam*
Solve Accessibility Problems Like Font Size, Contrast, Titles and Aria Label Tags, Images Alt and Much More
WP Accessibility Helper, just like AccessiBe allows you to adjust various accessibility options from the dashboard. You can alter font sizes, change colors, underline and highlight links, and disable page animations and styling, among other things.
This plugin offers a premium version that is a little pricey and is seen as a downside.
However, it also offers several bonus features you will not find in free plugins, such as accessible widgets and pop-up windows, accessibility helper buttons, support for WPML, PolyLang, and sepia monotone mode.
Suppose you integrate WP Accessibility Helper into your WordPress website. In that case, you can customize its appearance to ensure that users can access all elements and functions regardless of their disabilities for almost all kinds of people.
Those who wish to build small, simple websites can choose to use the free version without paying an additional fee.
💵 The plugin is free to use. It is not a paid product.
Key Features:
Documentation and videos are included for your convenience
Set up and also the customization system is incredibly practical and efficient
A neat and simple widget that allows viewers to enable/disable tons of accessibility settings
Provide complete web accessibility that is compliant with WCAG and ADA
Random Reviews:
*Warning for people considering buying this plugin. The author is unresponsive. He has not responded to my email for the past five days, regardless of the fact I paid for support. I am updating my experience, so others don't have to endure the same thing.
An Ai Powered Service Created to Enhance Accessibility & Usability of Any Website
As part of AccessiBe, you have access to a cloud-based software platform that enables you to improve your website's accessibility by leveraging artificial intelligence to identify accessibility issues on both the front and back end.
Furthermore, it restructures your web pages to enhance keyboard access, including modifying dropdowns, pop-ups, forms, and skip links and monitoring daily changes to your content, allowing you to make quick and easy updates to your site.
Depending on the purpose of each element on the page, it adjusts alt tags, ARIA attributes, icons, buttons, forms, and other factors to ensure a better, more accessible user experience.
In terms of the free trial period, all plans are available. If you are comfortable integrating automation into your accessibility projects and have the budget to support it, the Pro version is a good choice.
💵 It's free to download the Lite version, and it's $480 for the Pro version.
Key Features:
Full customization with a variety of options to provide even greater customization for accessibility
The free version supports you for most of the essential tasks you may have
Ensures that regular audits and continuous monitoring are performed on your website to ensure that accessibility standards are being met
AI-supported screen reader adjustments based on an understanding of context and recognition of images
Random Reviews:
It is worth downloading and using this excellent accessibility plugin as it makes the job easier and allows many things to be done

It was easy and quick to install! Now we're accessible to people with disabilities. Fast and fantastic service, thank you!
Provides Business Owners of Any Size an Affordable Yet Comprehensive Accessibility Solution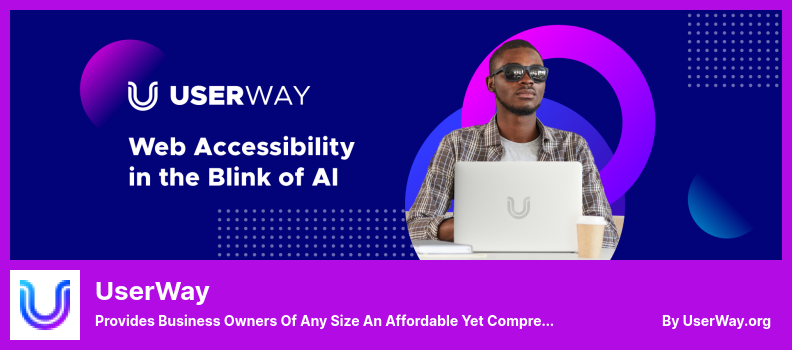 Through the UserWay platform, WordPress site owners can automate the process of adding accessibility to their sites without making any coding changes. The intelligent scanning of its platform monitors the site for accessibility issues, such as keyboard-only navigation.
Additionally, you can add a free widget to your website, which allows the addition of basic accessibility features. These can include color, color contrast, keyboard navigation, and focus controls.
This popular plugin allows you to ensure that your website is accessible even to those with severe disabilities by ensuring your content can be viewed easily by those with disabilities. It allows you to make intelligent modifications to the website that help increase its accessibility.
The Accessibility by UserWay package comes with a superb screen reader that facilitates the improvement of the content's readability.
This plugin is a paid subscription service with three monthly plans, which can be a good choice for many businesses.
💵 For Free/Lite versions, this plugin costs no money. For premium versions, it costs $49/m per month.
Key Features:
Fantastic support and developer team for all of your possible issues
It ensures that your website is entirely keyboard-only navigable with complete text and font readability features
Configuration and modification are well designed for everybody
Accessibility menus and screen readers that utilize Hotkey
Random Reviews:
The plugin is great, but the customer service is even better!

Our AI-based technology solutions provide barrier-free access to websites.
Most Comprehensive Web Accessibility Solution for WordPress
In contrast to the previously mentioned plugins, which alter your website to meet accessibility standards, WP ADA Compliance Check plugin does not alter your website; instead, it scans it for accessibility issues and provides recommendations.
In the free version of this great plugin, you are limited to 25 posts or pages, and the plugin will not check theme files. So you can scan your entire website in one pass without selecting each post individually.
It further checks for compliance with Section 508 and WCAG 2.1 Level A/AA Web Accessibility Standards, which is an excellent point for your SEO ranks.
There are free and paid versions of the app, which can be integrated with various WordPress plugins and various page builders, including Elementor, Beaver Builder, and others.
You will also receive accessibility reports that include instructions on how to make the necessary adjustments to ensure strict compliance with accessibility standards. The only definite downside is its cost which can make you think twice.
💵 Lite version is free, and the Premium version costs $179.
Key Features:
It's a good option for both pro and beginner users
Evaluations are performed according to WCAG 2.1 and Section 508 standards
You can edit the impacted content by clicking on a link in the exact place where code needs to be changed
The application automatically corrects several issues without your efforts
Random Reviews:
As soon as some questions were raised about performance, the developer found out what caused the problem and fixed it immediately.
Top Accessibility Plugins, Final Thoughts!
It was the list of the best WordPress plugins for you in 2022. Still, these plugins are useful for improving your website.
📌 Note: Please take a few minutes to review our posts highlighting the modern WordPress blog themes and the best WordPress plugins for your blog, which are regularly used, voted, and shared by our readers.
This was hopefully profitable for you.
What plugins did I miss from the above list? Please let us know in the comments below. Please share this article on Facebook and Twitter! Thanks!