What are the best WordPress WooCommerce Products Compare plugins for your website?
In case you lack time or knowledge of WordPress, we have compiled a hand-selected list of the best WordPress plugins for WooCommerce Products Compare that will help you save time and energy. The plugins work well with all the latest WordPress themes and are mobile-friendly and speed-optimized.
The plugins below are for users looking for a WooCommerce Products Compare plugin. This collection of plugins is also related to WooCommerce Product Comparison, Compare WooCommerce Products, Product Comparison Tables, and other relevant plugins.
📌 Note: You might benefit from reading our article about advanced plugins for WooCommerce and powerful WooCommerce themes to find out how to select a theme that will both enhance the appearance and functionality of your WooCommerce store.
This is the handpicked list of the best WooCommerce Products. Compare WordPress plugins in 2022:
Customers' Opportunity Select Products to Compare Plugin
Using the WooCommerce Products Compare plugin, your customers can compile a list of products based on their features and benefits to compare across an extensive catalog of products with several similar items to choose the right one.
This application allows you to add products to your lists of categories and compare them based on their features. Your customers will be presented with several options to choose from to make an informed choice about the product they want.
Using comparison tables within your store can provide information on various aspects of your products, such as their prices, stock levels, and customer satisfaction ratings, and allow you to display those comparisons in multiple places throughout your store.
💵 Using this plugin is very straightforward and can be purchased for $49.00.
Key Features:
Compare products based on the selections the customers make
Tables showing detailed comparisons will be displayed
Assist customers in finding the right solution for their needs
Make your store look as professional as possible by adding a comparison option
Compare Product Differences in The Table WooCommerce Plugin
With the YITH WooCommerce Compare plugin for WordPress, eCommerce shoppers can compare similar products within your store easily and effectively, making the shopping experience even more enjoyable.
In your store, customers can view a table that displays all the product options that may interest them while shopping, allowing them to compare price differences, features, ratings, alternatives, and alternative products.
Suppose your store has a vast inventory of similar products. In that case, this tool is a good option because it allows consumers to evaluate the effects in your store objectively and provides you with the opportunity to adjust your price accordingly.
This comparison plugin allows for several key features to be presented in tablet format to make comparison easier for users. As a result, clients can save time and can improve their sales as a result of using this method of comparison.
💵 There is no cost to use it. It's entirely FREE.
Key Features:
Integrating social media

into your business strategy

The comparative product page shows related products
Reduces the number of comparison products
Widget for comparing products
Categorizes products for comparison
A comparison table is available for the product SKY
Random Reviews:
This plugin is excellent for comparing products.

This popup shows me remove with no titles and no products when you try to compare products.
An Add-to-compare Button for WooCommerce Plugin
With Products Compare for WooCommerce, you can use well-structured, well-organized product comparison options to compare products through your WooCommerce website. Due to its user-friendly features, your customers can compare products as quickly as they need.
As well as customizing the comparison table according to your needs, you may include as many product features as possible. This will make it easier for you to understand the differences between the products.
It is possible to enable the 'Add to Compare' button in your WooCommerce store, which lets customers compare two products in detail with just one click. The switch, as well as the comparison page, can also be customized to meet your requirements.
Also included with the plugin are various widgets that can add selected products to the comparison and edit the comparison itself as you wish. These widgets can also be customized and customized according to your preferences.
💵 You don't have to pay for it. You can download it for free.
Key Features:
Create custom button text
View the comparison page in a new window
The button to add the item to the compare list
Compare products with custom URL
Comparing attributes by choosing the appropriate ones
A variety of widgets
Compare page and button customization
Compare selected products with widget
Random Reviews:
Everything about this plugin is perfect, from the localization to the customization.

Very flexible, suitable for a lot of things. I recommend it.
A Powerful Tool for Boosting Online Sales WooCommerce Plugin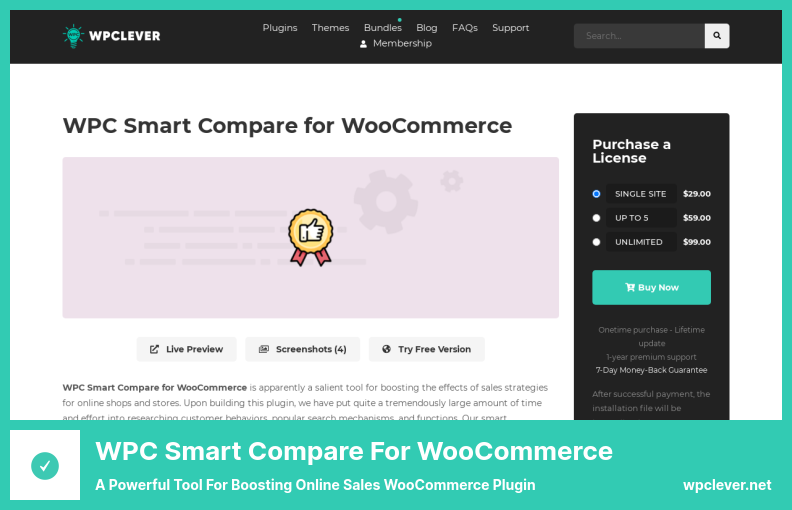 The WPC Smart Compare for WooCommerce plugin has also proven to be an effective tool for improving online marketing efforts.
The product comparison feature is a feature that allows your store to stand out from the competition in terms of functionality and options by allowing you to add, delete, and customize the features associated with this feature.
With the new Ajax-based interface, users can select whether to display the comparison table vertically or horizontally, facilitating faster product loading while maintaining the site's performance.
You can drag and drop the order of products in the comparison line to rearrange them. You can also change between the horizontal and vertical views in the comparison table by clicking the horizontal/vertical buttons.
The comparison list allows you to add new products instantly by selecting the search button, selecting products from selected categories, and adjusting the visibility of the Compare button.
💵 There is a $€36.00 for this plugin, and it comes with 12 months of free support.
Key Features:
Unlimited color choices for buttons and backgrounds
Add buttons to pages using custom shortcodes
Comparison table with sticky first column and row
Clear comparison table by hiding/showing attributes

Sticky column and row options for comparison tables
Product Comparison Feature on E-Commerce Website Plugin
The Compare Products for WooCommerce Plugin allows an eCommerce store to compare similar products quickly and easily. A comparison table can be created with just one click that compares the selected products. The user can choose the one they are interested in.
Using this application, you can conveniently configure products and compare them directly on a product-by-product basis. This comparison table may also be scrolled horizontally, saved for future use, and printed.
It is this feature that enables a customer to compare a variety of different products in detail based on their characteristics. Product comparison tables can be added to a product page and can be reached for further information.
Using widgets, you may be able to modify the text buttons on product comparison lists so that you may add or remove products. Additionally, you can enable or disable the functionality of creating a product comparison table to compare products over time.
One of the most valuable tools for large and small businesses is an application that allows prospective customers to select and compare products.
💵 Free! Compare Products for WooCommerce is a $0 plugin!
Key Features:
Comparing products increases sales in stores.
A product-by-product comparison feature is available.
A widget similar to the WooCommerce Product Cart widget that compares items
Any feature or specification can be added for comparison
A variety of options for showing the compare feature on product pages or cards
Random Reviews:
Despite purchasing the premium version, I lost all my data after upgrading. I've been waiting almost two months to hear from their support team.

Comparing products with WooCommerce plugins has been challenging, but nobody can come close to Compare Products Pro by a3Rev.
The Ultimate WooCommerce Compare Products Plugin
In WooCommerce Better Compare, you can compare product prices on WordPress for various applications. WooCommerce Better Compare offers four demos: a shop demo, a single product demo, a shortcode demo, and a WP-admin demo.
Through this plugin, customers may create comparison tables by selecting the attributes to compare, helping them to identify the most significant differences between the products and making the most informed decision.
In addition, this plugin requires no complicated configuration, as it is designed to work with WooCommerce Product Comparison websites. Once enabled, the plugin's shortcode will produce a comparison table within seconds.
Furthermore, WooCommerce's Recent Compare widget provides easy access to the users' tables. SEO optimization ensures that the comparison page is unique to the customer, so both the customer and their friends can find the perfect product for them.
As well as displaying detailed comparison tables on any store page, WooCommerce Better Compare provides the customer with a product view on all subsequent pages as they navigate the website, which makes it an ideal option for both customers and store owners.
💵 For $39.00, you can purchase this plugin.
Key Features:
Table Options for Printing and Saving
Compare Widget and Comparison Table sync when an item is removed from the table
A widget similar to the WooCommerce Product Cart widget that compares items
Comparing multiple products with a horizontal scrolling comparison table
Random Reviews:
The plugin is perfect for comparing attributes and products. The plugin is responsive too 🙂
Easy-to-use Product Comparison Plugin for WooCommerce
Suppose you want to compare several products using a WooCommerce plugin. In that case, you will find Ever Compare a potent and effective tool.
Therefore, when shopping online, customers can compare the products offered by different eCommerce websites and thus choose the most appropriate product based on their preferences.
A user can make comparisons between multiple products using this plugin. Users can do so based on the unique features of each product, which include the product's colors, price size, weight, and customer reviews, as well as other aspects of the development.
In addition to being compatible with a wide range of WooCommerce plugins, such as Load More Products for WooCommerce and Product Previews for WooCommerce, this plugin is also capable of creating product previews for WooCommerce.
It provides a comparison tool that enables customers to compare products at the click of a button. The comparison tool assists the customer in making a more informed purchase decision. This ultimately increases customer satisfaction, resulting in additional conversions and sales.
💵 The plugin is free of charge. No fees apply.
Key Features:
Customize the WooCommerce product comparison table and select what fields to display
A product-by-product comparison feature is available
Modern product comparison features for WooCommerce
Add a compare button to the single product page and product list
Analyze WooCommerce Product Differences in a Comparison Table

WordPress Pricing Tables stands out among this list of tools as one of the most uncomplicated and straightforward. This plugin has been designed specifically to assist affiliate marketers in creating comparison tables.
As well as being an excellent WordPress plugin, this plugin offers many attractive features that will enable you to display all the main product details professionally.
A comprehensive and well-organized presentation of the data and information is provided in this table. The data and information presented are straightforward, hassle-free, and easy to understand.
A product comparison feature allows you to compare your products against as many custom benchmarks as you wish. This handy feature enables you to perform a more detailed analysis of your criteria.
There are over 50 different designs in the comparison plugin, and they are all strikingly creative, professional, and highly aesthetic. Overall, the plugin is an excellent choice for those looking for an easy-to-use tool that compares products.
💵 Be sure to check out this awesome WordPress plugin. It charges a tiny amount like $24.00.
Key Features:
Complex comparison tables are created automatically.
Ten templates for product sliders
Use pre-made templates or customize your own
Price tables built-in with 50+ templates
Including one-click Buy Now links in your emails and social media
Random Reviews:
It was speedy and easy to get support.

Fantastic customer support, easy to configure. Highly recommended.
Those are the final words; thank you for reading
Our intent in this article was to give you information about the best WordPress WooCommerce Products Compare plugins. They are useful. By using these plugins, you can have a fantastic site.
📌 Note: Don't forget to check out our article on the useful WordPress themes for bloggers and our list of the best WordPress hosting companies.
Thank you for reading this article. I hope it was helpful to you.
Comment if you have any concerns, feedback, or comments. Share it on Twitter and Facebook if you have them.