Find the best WordPress WooCommerce FedEx Shipping plugin?
In this article, we will help you pick the best WordPress plugins for WooCommerce FedEx Shipping that best suits your requirements. These plugins are reviewed extensively and selected so as to help you choose the best WooCommerce FedEx Shipping plugin for your site. We also ensure that these plugins work with all modern themes for WordPress.
All of these topics include relevant plugins for WooCommerce FedEx Shipping. However, this plugin listing includes a wide range of features, including printing order labels for WooCommerce with the integration of FedEx.
📌 Note: To enhance your store's look and functionality, we recommend that you use an advanced WooCommerce theme that includes both useful features and a nice design. Also, we suggest you see our article about the most useful WooCommerce plugins.
Let's see what our experts suggest as the best WooCommerce FedEx Shipping WordPress plugins in 2022:
Shipping Rules Creation for WooCommerce Plugin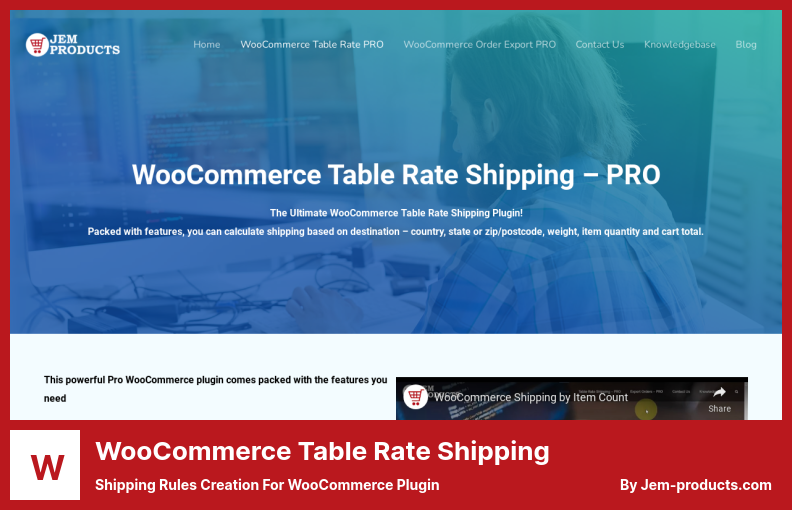 The WooCommerce Table Rate Shipping is one of the best WooCommerce shipping plugins that will able you to easily set UPS shipping rates with a simple method, yet maintain the possibility of doing so in both a simple and advanced manner.
With the use of table rate shipping, you will be able to customize both the simple and advanced methods in which you will be performing such action.
An eCommerce FedEx shipping plugin has a wide range of features that are sure to meet the needs of any online store as a shipping component is an integral part of any online shop, as receiving and shipping packages is a crucial part of any online shop.
Several key features of this product include its ability to calculate shipping according to multiple conditions, the ability to set up fine-grain rules, and the ability to analyze shipping classes.
Also, you have the ability to create unique names for shipping methods, conceal shipping methods, import and export shipping methods, and finally the ability to force a certain shipment method as the default shipping method.
Moreover, there is also a free lite version that is available for download through WordPress.org that allows you to create multiple product and service price tables based on the weight of your purchase and the cost of your order.
💵 In $79.00, WooCommerce Table Rate Shipping plugin is the price.
Key Features:
Orders can optionally be charged handling fees
Identify the shipping rates which are most appropriate for your business
Choosing the shipping method you want, such as Standard, Overnight, Express, Freight, etc., is entirely up to you
Set up shipping rules so that only logged in users can make use of them
Using a number of items or other settings to calculate the charge
Depending on the items in the cart, certain shipping methods may be hidden
USPS and DHL Labels Printing From WooCommerce Dashboard Plugin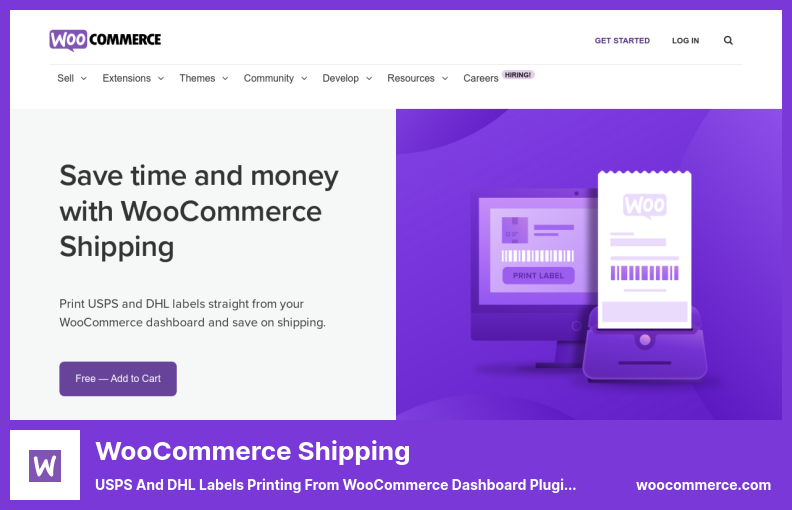 Using WooCommerce Shipping, printing, and paying for USPS shipping labels is easily done from inside the WooCommerce dashboard.
The new button titled Create shipping label can be found from the Orders interface, but if you cannot see it, then you should visit your main menu where Applications is located.
The button allows you to create shipping labels for all open orders in the system, and you can even pay for them.
It is now possible to print the package labels, apply them to the boxes, have them mailed to the address, and the package is ready to be picked up by USPS.
The plugin replaces the tedious process of manually entering tracking information which is required by other solutions and instead, adds a tracking number to an email sent after an order has been marked as completed, for example after a label has been printed.
In the previous section, I mentioned that it was important to keep in mind one thing regarding WooCommerce Shipping. The plugin is free, but it must be paired with the USPS Shipping Method plugin previously mentioned in order to be able to see accurate shipping rates.
In order to complete the installation of Jetpack on your website in order to take advantage of the plugin's features, you should also install the plugin.
💵 It's made with automatic updates and offers 12 months of support. It can be purchased for $79.00.
Key Features:
Get discounted shipping rates to save money on shipping
From the WooCommerce admin dashboard, you can access details regarding over 220 countries and territories
From your WooCommerce dashboard, you can easily print U.S. Postal Service and DHL labels
Clearly state shipping rates in advance and provide realistic delivery deadlines to manage customer expectations
Use your PC, laptop, or mobile device to print and manage USPS labels
WooCommerce Fulfillment Workflow Automation Plugin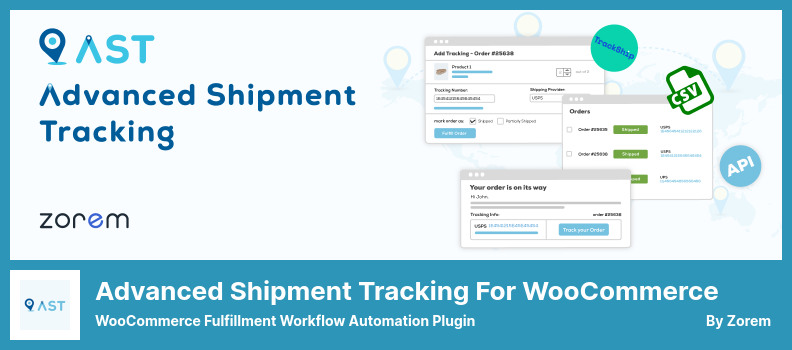 The Advanced Shipment Tracking for WooCommerce plugin allows you to manage and display tracking information from over150 different carriers.
Additionally, this plugin makes it easy for you to display order tracking information both in your emails to your customers and on their account pages, as well as customize order statuses such as 'Shipped', 'Delivered', etc.
If you would like, you may also want to consider TrackShip (a service that is paid) that will notify you whenever your package passes certain checkpoints, such as In Transit. En Route to delivery. Delivered.
Secondly, if you wish to rename the completed order status to 'Shipped' or add a custom order status called 'Partial Shipped', this plugin, for example, can be downloaded and installed for free.
It allows you to identify shipments that may be delivered in several packages, that may be delivered several days apart or may be delivered simultaneously.
The tracking info widget for your website appears in all emails to your customers informing them of their order status, as well as on the My Account page.
Its purpose is to allow your customers to see their tracking info and order status automatically in emails and on the My Account page with a fully customizable responsive widget.
Adding tracking information to a WooCommerce order is entirely possible when editing the order on the Orders summary page or viewing the list of orders on the Orders page.
💵 Plugin's Premium version costs $price. A Free version can also be downloaded.
Key Features:
Add custom tracking links to custom shipping providers
Maintain completion orders for virtual orders by creating your own shipping workflow
Hundreds of shipping providers are available for you to choose from
Organize order tracking by splitting it into two and attaching tracking numbers to each item
A centralized dashboard for managing and fulfilling orders
Using the Shipment Tracking API endpoint, update tracking numbers generated by 3rd-party services and automate the fulfillment of orders
Random Reviews:
What the plugin does very well is what it was designed to do.

Thanks for sharing this useful information

However, it would have been great if the entire tracking details can be seen on the order details page rather than having to open the Courier website in a new tab.
All-In-One WooCommerce Order Tracking Plugin
By using AfterShip, you will be able to generate customer loyalty and sales by offering your customers the most effective shipping experience on your website. The plugin can be configured to add tracking numbers and courier fields automatically as part of the shipment process.
The tracking information and the courier fields are automatically added to your admin panel after you have installed AfterShip for WooCommerce. Once the order has been fulfilled, you are able to add the tracking number and choose the shipping carrier from within WooCommerce.
With the plugin, your customers are able to track their orders and they can also access information about their orders online. Over 550 shippers from a variety of international markets utilize the plug-in/service currently.
Through the system, you are able to attach tracking numbers to orders, as well as create a tracking page on your website, so prospects and customers access tracking information without having to visit other websites, such as the US Postal Service website.
Depending on whether your software's premium edition allows you to send real-time notifications to your customers, such as those alerting you when a package is in transit, ready for delivery, delivered, or failed to arrive, you may receive such alerts based on the conditions above.
On the other hand, AfterShip offers a free version in which you can track up to 50 packages per month, but you do not receive any real-time feedback about the status of your packages.
💵 To download this plugin, all you need is a free browser extension.
Key Features:
Keep customers engaged with custom email workflows
Set a deadline for each method of delivery in order to set clear expectations
Determine if any delays or exceptions have occurred in the delivery of your shipments
Organize shipments by dates, carriers, and shipping providers
Send SMS updates at the right time to reach your customers
Using SMS and Email, notify customers of delivery and shipping information
Tracking shipments using 7 standard statuses
Internal notifications can be sent to you via email and SMS
Random Reviews:
Although the plugin is good, it does have some flaws in its integration with the Android app, which is obviously a help to those who can't always be close to their computers.

I'm signing up as A Customer because of Prathik. Prathik deserves a raise.

I've just tried it, and it's very impressive.
Real-Time FedEx Shipping Rates Displaying Plugin for WordPress
FedEx Shipping Plugin for WooCommerce with Print Label makes it possible for online shoppers to ship FedEx packages through their WooCommerce store by using it automatically.
Additionally, the plugin displays shipping rates in the shopping cart and checkout page as well as enables payment for postage and creates labels from WooCommerce as well as identifies boxes automatically, and tracks shipments.
Your WooCommerce checkout page is displayed along with a full list of shipping options available from FedEx, including rates for domestic and international shipping. This plugin calculates and displays real-time rates from FedEx as they are updated.
The bulk Shipping Labels feature allows you to effortlessly generate and download WooCommerce FedEx Printing Label with one click.
Getting FedEx shipping labels printed is as simple as selecting all of the shipments for which labels are required and then clicking on Print Shipping Labels.
Using WooCommerce FedEx Shipping With Print Label, customers are automatically notified via email of the status of their packages.
As part of FedEx's tracking process, customers will also receive their FedEx tracking ID and the Shipping Date in order to assist them with tracking their packages.
Using WooCommerce, you can set a minimum and maximum shipping cost to present to your customers. This will keep shipping costs within a reasonable range.
💵 When you buy the plugin for $69.00, you will receive 12 months of support.
Key Features:
Immediately generate FedEx shipping labels for orders as soon as they are placed, either manually or automatically
Easy steps for creating FedEx return labels
Shipping is available both domestically and internationally
Customized email notifications for customers and store owners
FedEx Label Evaluation assistance is available from the PluginHIve support team
Rates for FedEx shipping is updated in real-time
Toward a conclusion
In addition, you may have already gotten an idea of what plugin you're looking for. If you want to achieve a better site, choose one of these plugins.
📌 Note: We also suggest that you check out our articles on the best WordPress blog themes and best WordPress plugins for bloggers.
We hope you have been able to think through that decision more clearly and made a confident decision.
Let us know if you have any questions about this list by leaving a comment. Please share this list with your friends and Facebook followers if you find it useful.