Have you ever wondered which are the best WooCommerce FedEx plugins available for your WordPress website? Well, you're in luck! In this blog post, we will explore the top five WooCommerce FedEx plugins that are both free and pro options.
Whether you're a small business owner or an experienced web developer, finding the right plugin can greatly enhance the functionality and efficiency of your website.
Now, let's dive into this exciting topic! In this article, you'll find everything you need to know about the five best WooCommerce FedEx plugins. We'll not only provide a detailed overview of each plugin but also share some interesting statistics and facts along the way.
Using these plugins, you'll be able to streamline your shipping processes, deliver better customer satisfaction, and enhance sales, which, ultimately, will lead to an increase in sales for your business.
So, let's get started on this journey to find the perfect WooCommerce FedEx plugin for your WordPress website. From understanding the features, benefits, and pricing options to exploring real-life user reviews, we've got you covered.
By the end of this article, you'll be equipped with all the information you need to make an informed decision and take your shipping capabilities to the next level. Let's dive in!
Best FedEx Plugins for WooCommerce
If you are looking to optimize your WooCommerce store's shipping process, check out our handpicked selection of the best FedEx plugins for WooCommerce, designed to simplify and streamline your shipping experience.
We have compiled some of the best options for shipping out there and have a look at them to see which one is most suitable for your business.
Shipping Rules Creation for WooCommerce Plugin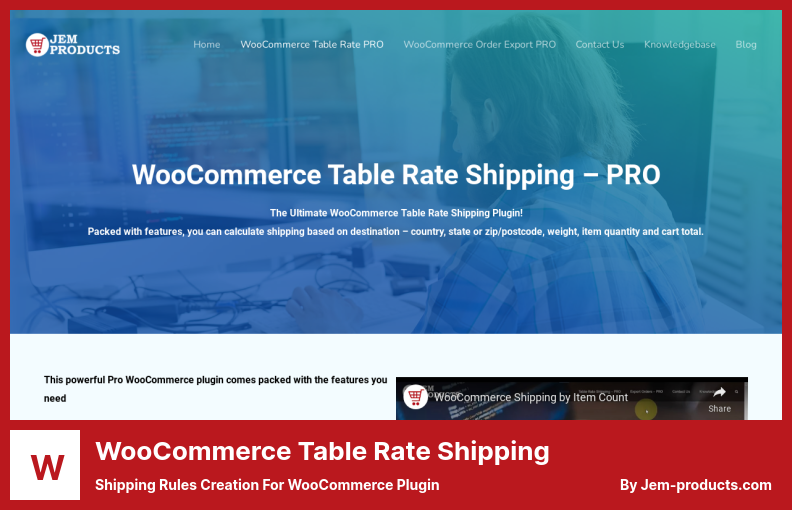 WooCommerce Table Rate Shipping is a powerful plugin that allows you to easily set UPS shipping rates in a simple and advanced manner. It offers various features such as calculating shipping based on multiple conditions, setting up fine-grain rules, and analyzing shipping classes.
You can choose from a variety of shipping methods to suit the needs of your particular business so that you can ensure that your money is going towards something that you can actually use.
One of the highlights of this plugin is its ability to create multiple product and service price tables based on the weight of your purchase and the cost of your order. This feature allows you to offer different shipping rates for different products or services, ensuring that you can accurately charge your customers for shipping.
As an online store owner, having a reliable shipping component is crucial, and this plugin provides you with all the necessary features to manage your shipping efficiently.
From creating unique names for shipping methods to hiding certain shipping methods, you have full control over how you present shipping options to your customers.
Key Features:
Optional handling fees for orders
Customizable shipping rates based on your business preferences
Ability to choose from various shipping methods
Set up shipping rules for logged-in users
Calculation of charges based on the number of items or other settings
Hide specific shipping methods based on the items in the cart.
USPS and DHL Labels Printing From WooCommerce Dashboard Plugin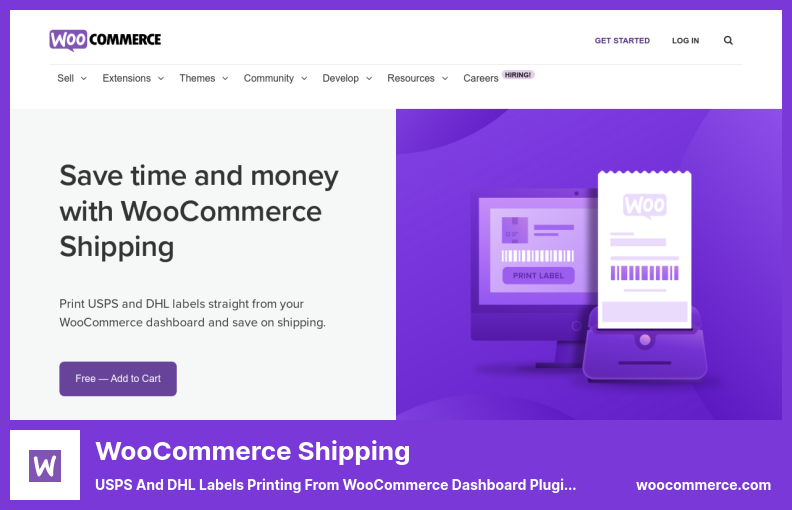 WooCommerce Shipping is a plugin that allows you to create shipping labels for all your open orders in the system, making the process quick and easy. With this plugin, you can also pay for the shipping labels directly.
No more manual tracking information entry, as the plugin automatically adds a tracking number to the email sent after an order has been marked as completed.
It integrates seamlessly with the WooCommerce dashboard, allowing you to print and pay for USPS shipping labels right from within your website. However, it's important to note that in order to see accurate shipping rates, you need to pair this plugin with the USPS Shipping Method plugin.
The Create shipping label button can be found in the Orders interface, but if you can't see it, you can check your main menu where Applications is located. Once you have printed the package labels, applied them to the boxes, and had them mailed to the address, your package is ready for pick up by USPS.
Key Features:
Print and manage USPS labels from your PC, laptop, or mobile device.
Get discounted shipping rates to save money on shipping
Access details on over 220 countries and territories
Easily print U.S. Postal Service and DHL labels from your WooCommerce dashboard
Clearly state shipping rates in advance and provide realistic delivery deadlines
WooCommerce Fulfillment Workflow Automation Plugin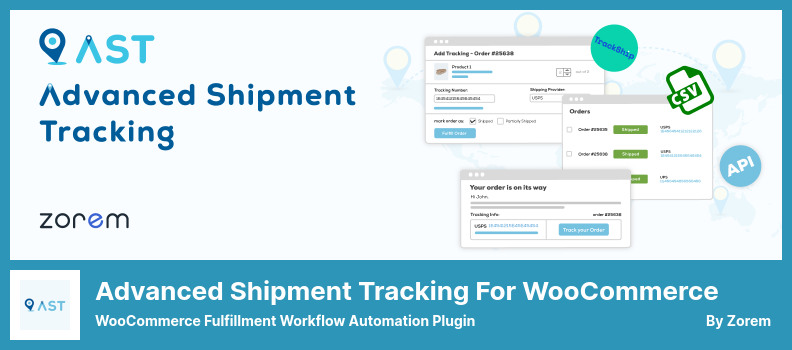 Advanced Shipment Tracking for WooCommerce is a plugin that allows you to easily manage and display tracking information for your WooCommerce orders.
With this plugin, you can customize order statuses, add tracking information to emails and customer account pages, and even create custom tracking links for shipping providers. It also offers a centralized dashboard for managing and fulfilling orders.
One of the standout features of this plugin is the ability to rename the completed order status to 'Shipped' or add a custom order status called 'Partial Shipped'. This can help streamline your order management process and provide clear communication to your customers.
Another great feature is the flexibility it offers for displaying order tracking information. You can choose to display tracking information in emails to your customers, as well as on their account pages. This ensures that your customers always have access to up-to-date tracking information for their orders.
The plugin also allows you to manage and display tracking information from over 150 different carriers. This means that no matter which shipping provider you use, you can easily integrate their tracking information into your WooCommerce orders.
If you need even more advanced tracking capabilities, you may want to consider using TrackShip, a paid service that can notify you at various checkpoints during the delivery process, such as In Transit and Delivered.
Key Features:
Customizable order statuses, including renamed completed order status
Display tracking information in emails and on customer account pages
Integration with over 150 different carriers
Custom tracking links for shipping providers
Centralized dashboard for managing and fulfilling orders
Split order tracking and attach tracking numbers to each item.
All-In-One WooCommerce Order Tracking Plugin
AfterShip is a WordPress plugin that allows you to attach tracking numbers to orders and create a tracking page on your website. This enhances the shipping experience for your customers, as they can easily access tracking information without having to visit external websites.
One of the key features of AfterShip is its ability to automatically add tracking numbers and courier fields to your admin panel during the shipment process. Once an order is fulfilled, you can simply add the tracking number and select the shipping carrier within WooCommerce.
With AfterShip, your customers can easily track their orders online and access information about their shipments. This not only provides a convenient experience for your customers but also helps to build customer loyalty and boost sales.
The plugin also offers a free version that allows you to track up to 50 packages per month. However, it does not provide real-time feedback on the status of your packages. If you require real-time notifications, such as alerts when a package is in transit or delivered, you may need to upgrade to the premium edition.
AfterShip is used by over 550 shippers worldwide, making it a reliable and trusted solution for managing your shipments. It allows you to organize your shipments by dates, carriers, and shipping providers, ensuring efficient management of your shipping processes.
Additionally, AfterShip offers features such as custom email workflows to keep your customers engaged, setting delivery deadlines to manage customer expectations, and notifications via SMS and email to provide timely updates to your customers.
Key Features:
Custom email workflows to keep customers engaged
Set clear expectations by setting deadlines for each delivery method
Get notified of any delays or exceptions in the delivery of your shipments
Send SMS updates at the right time to reach your customers effectively
Notify customers of delivery and shipping information using SMS and email
Track shipments using 7 standard statuses for accurate monitoring.
Real-Time FedEx Shipping Rates Displaying Plugin for WordPress
Introducing the WooCommerce FedEx Shipping Plugin with Print Label – the ultimate solution for WordPress website owners looking to streamline their shipping process. This plugin offers a range of features that make it easy to manage FedEx shipments directly from your WooCommerce store.
With this plugin, your customers will receive automatic email notifications, including their FedEx tracking ID and shipping date, keeping them informed every step of the way. Plus, you can set minimum and maximum shipping costs to ensure reasonable pricing for your customers.
The real-time rates feature is a game-changer, displaying accurate shipping rates from FedEx as they are updated. This means no more manual calculations or surprises at checkout. And when it comes to printing shipping labels, it's as simple as selecting the shipments you need and clicking "Print Shipping Labels".
One of the standout features of this plugin is the bulk shipping labels option, which allows you to generate and download multiple FedEx labels with just one click. Say goodbye to manual label creation and hello to increased efficiency.
But that's not all – this plugin offers even more functionality. It displays shipping rates on both the shopping cart and checkout pages, making it easy for customers to see exactly what they'll be paying.
Plus, it enables payment for postage and creates labels directly from your WooCommerce dashboard. And the best part? It automatically identifies boxes and tracks shipments, taking the hassle out of shipping management.
Key Features:
Instantly generate FedEx shipping labels for orders
Effortlessly create FedEx return labels
Enjoy domestic and international shipping options
Customize email notifications for both customers and store owners
Get top-notch support from the PluginHive team for FedEx label evaluations
Real-time updates ensure accurate shipping rates.
Frequently Asked Questions
What are WooCommerce FedEx plugins?
WooCommerce FedEx plugins are tools that integrate FedEx shipping services into your WooCommerce online store. These plugins allow you to generate FedEx shipping labels, calculate shipping rates, track shipments, and provide real-time shipping information to your customers.
Why should I use WooCommerce FedEx plugins?
Using WooCommerce FedEx plugins can streamline your shipping process and enhance the overall customer experience on your online store. These plugins automate shipping calculations, label generation, and tracking, saving you time and effort.

They also provide accurate shipping rates and real-time tracking information, helping you to set transparent shipping policies and build trust with your customers.
How do I choose the best WooCommerce FedEx plugin?
When choosing a WooCommerce FedEx plugin, consider your specific shipping needs and budget. Look for plugins that offer the features you require, such as label generation, real-time tracking, rate calculation, and integration with other shipping carriers.

Also, check user reviews and ratings to ensure the plugin is reliable and easy to use. Finally, consider your budget and compare the pricing plans of different plugins to find the one that fits your requirements.
Conclusion
To wrap up this article, we explored the five best WooCommerce FedEx plugins, both free and pro options. We discussed how these plugins can enhance your eCommerce store and streamline your shipping process with FedEx integration.
There are plugins on this list with the functionality you're looking for, whether it's real-time shipping rates, label printing, or order tracking, you're sure to find one that meets the needs you have.
If you're hungry for more tutorials and helpful articles like this one, head over to the BetterStudio blog. We have a wealth of resources to help you maximize your WordPress website and make the most of your online business.
Don't forget to follow BetterStudio on Facebook and Twitter! By doing so, you'll stay up to date with the latest tutorials, tips, and tricks, ensuring you never miss a beat in the world of WordPress and web development.
Thank you for taking the time to read this article. We hope it has provided valuable insights and solutions for your WooCommerce FedEx plugin needs.
If you have any questions or encounter any problems related to this article, please don't hesitate to reach out and leave a comment below. Our team is here to assist you and address any concerns you may have. Happy shipping!